March 19, 2020
View our Important Dates page for upcoming events and milestones.

GFWC Headquarters – Temporary Closure
As the nation and the world battle COVID-19, GFWC is temporarily closing Headquarters to help prevent the spread of the virus. Staff will be working remotely for much of the next few weeks (scheduled to reopen fully on April 3), and this may result in some minor delays for Marketplace orders, gold pins, and club anniversary requests. Staff will be working at Headquarters for short periods of time to ensure GFWC's services to members are maintained, but we appreciate your patience and understanding at this time. We hope you're all taking care of yourselves and your loved ones. Please monitor the GFWC website and future issues of News & Notes for any updates!
Participate in Convention Business Sessions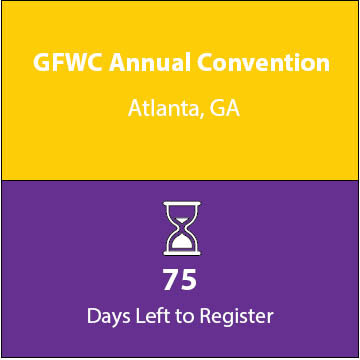 GFWC is monitoring the spread of COVID-19 and the recommendations issued by public health authorities. This is an unprecedented situation, and much can change in the next few weeks. We appreciate your concerns, and please know that the health, safety, and well-being of GFWC members is our top priority. We will keep you apprised of any updates to the plans for the GFWC Annual Convention in Atlanta, GA. 
Meanwhile, read the Call to Convention online and get ready to actively participate in all of the Business Sessions. Amendments to the Bylaws and proposed new, amended, rescinded, and unchanged Resolutions will be discussed at each session. 

Don't miss the opportunity to vote at Convention, and set the path for GFWC's future and to be part of the legislative process from the very beginning! Register by April 15 to secure the early bird rate. 
Legislative Blitz April 24, Federation Day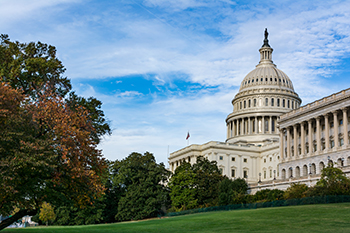 Participate in our legislative blitz to celebrate GFWC's Federation Day, April 24, 2020! Plan to have your club members together with family and friends call, email, or write your United States Senators and Representatives on that day and urge them to pass Miranda's Law (S. 1787 and H.R. 2793) and the 3D Printed Gun Safety Act (S. 1831 and H.R. 3265). We also urge you to meet with your members of Congress or their staff during the month of April to advocate for these bills. These meetings can be held at local district offices or in Washington, D.C. offices. Be sure to reach out early to schedule your meetings. 
For those who have already called, sent messages through our Legislative Action Center, or even sent your own message through email, we encourage you to ensure that at least three others have done the same. You can find information sheets on these bills in the Advocacy in Action section of our Legislative Action Center. Use the provided informational pieces as leave-behinds for your members of Congress and their staffers. Let's bombard legislators with requests to make two of our Brand Initiative bills into law.
Volunteers in Action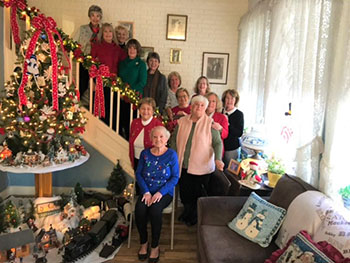 This week's GFWC Blog  features GFWC Women's Club of Farmingdale (New York), and GFWC MacClenney Woman's Club (Florida). Read and comment on their activities hosting a Christmas program, delivering donations to service men and women, and providing donations to local organizations in their community.

Think Outside The Box
by Phyllis Skubic, GFWC Arts Community Service Program Chairman 

With spring and summer just around the corner, it's time to plan some art projects for the young and the "young at heart" in your community. Enrich those young minds by hosting an arts and crafts booth during community festivals. Kids love chalk drawing, face painting, seasonal craft kits, and make-your-own mosaic designs using dried beans, rock salt, dried flowers, seeds, or other inexpensive materials. Old buttons, jewelry, and pom-poms also make great craft projects materials.
Many clubs host music nights in the city park by inviting the local talent to perform: school musical groups (instrumental and vocal), a community kitchen band, teenage garage band trying to find their rhythm and an open door, or the street artists who make magic by playing buckets, cardboard boxes, and anything else that will hold still their drumsticks. Think outside the box and fill the air with the sound of music!
Take those crafting ideas to the memory care, senior housing, and veteran facilities. Help bring their creativity to life. Add some music from their lifetime with a CD player and some CDs from the public library! Toes will be tapping and feet will be dancing to Glenn Miller or Ray Charles.
Each year, GFWC clubs sponsor thousands of students with art scholarships for secondary education or summer camps. Invite the recipients to a club meeting. Ask them to showcase their artwork and report back on what they learned and accomplished with your club's funds. 

A Must-Read this March on Women's Suffrage
by Sharon Sheridan, GFWC ESO Chairman 
As part of your Women's History Month observance, I recommend picking up a copy of American Suffragists and the Battle for the Ballot by Winifred Conkling. The Florida Epsilon Sigma Omicron Society is already reading it, and it would be a great book for the entire Federation's celebration of the centennial of the 19th Amendment. A book for young adults, it's an easy read while still providing a comprehensive history. The book also contains photography, a timeline, and a bibliography. This book is excellent for encouraging Juniorettes to learn about all of the brave women who cleared the way for where we are today. Consider giving a copy to each of your club's Juniorette members in conjunction and purchase copies for your local public libraries. 
American Suffragists and the Battle for the Ballot is available on Amazon in hardcover, paperback, Kindle, and audio book formats. 
One Week Left: Convention Program Ad Sales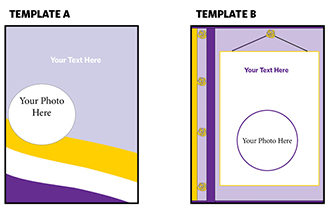 Orders and payment for Convention Program ads must be received by March 27 to guarantee space. If your order isn't already in process, submitting the order form electronically and paying via credit card is highly recommended.
Don't miss this opportunity to share your love and appreciation for the clubwomen in your life. Whether they're doing a great job as leaders or they've been there for you through difficult times, a 2020 Convention Program ad is a chance to shine a spotlight on them! Design your own or select from one of two designs in three different sizes.
Place your ad order now. Submit your form and payment via credit card now to mba@gfwc.org.
State Director's Project: Virginia, Trina Behbahani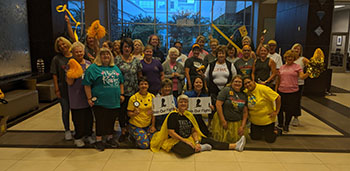 With her State President's Project addressing a critical issue in Virginia, awareness and prevention of human trafficking, the Director of Junior Clubs for Virginia did not prioritize a specific project for fundraising and donations. Instead, Trina Behbahani selected a broad-based theme to Spread Joy and Serve Others in 2018–2020.
To Spread Joy included spreading awareness of GFWC, positively impacting membership retention and recruitment and strengthening the members' connection to the Federation. As a member who didn't always understand the "big picture" but has reaped the benefits of involvement at all levels, it was important for Trina to share her enthusiasm for GFWC and help others do the same. The goals were fairly simple: increase members' knowledge of GFWC history, awareness of all levels of GFWC—District, State, Region and Headquarters—and awareness of GFWC in local communities.
While the goals were simple, the metrics of success are a bit more complex. What can be said for certain is that GFWC Virginia members did Spread Joy. Members proudly displayed GFWC apparel; more Juniors stepped up to serve in the next Administration; and new Junior and Juniorette clubs were federated in Virginia.
To Serve Others focused on supporting the Junior Special Project Advocates for Children. Members at all levels were encouraged to participate in Advocates for Children Week in October, and opportunities were presented to support national organizations like March of Dimes and St. Jude Children's Research Hospital. Clubs and members, both Woman's and Juniors, made blankets for babies, put together personal hygiene kits for parents with babies in the NICU, and participated in fundraising walks. Additionally, at the GFWC Southeastern Region conference hosted by GFWC Virginia, the Virginia Juniors hosted a fun night raising $2,100 which was distributed across the Region with an earmark to support the Junior Special Project.
Parliamentary Pointers: Unanimous Consent
by GFWC Parliamentarian Deen J. Meloro
One of the best friends Robert's Rules of Order, Newly Revised has given each of us is the concept of unanimous consent. It saves a lot of time and effort.
If the president feels that almost everyone is in agreement with the motion being discussed or with the business at hand, unanimous consent (formerly known as general consent) can be used. Many of the rules we are given by Robert's Rules of Order, Newly Revised are made to support the will of the majority while protecting the rights of the minority. If there is little or no objection to the business at hand, there is no minority to protect.
The president simply says:" If there is no objection …" and looks around. If no one says, "I object!" then the president can say:" Since there is no objection, we will… (states the action). She then goes on to the next business in order.
Using unanimous consent does not necessarily mean that everyone present is in favor. It may mean that if there is any opposition they acknowledge that their position will not be upheld. Also, if someone does say, "I object" they may not oppose the business under discussion, but they want to see a formal vote.
Writing Bylaws, a Guide for GFWC Clubs
"Writing Bylaws, A Guide for GFWC Clubs" is now available at GFWC Headquarters. This can be used by any club or state. To get a copy, write to Melanie Gisler at mgisler@gfwc.org and she will send you one electronically. You can also find a copy in MemberSuite under "Digital Library." 
Marketplace: WHRC Collections Book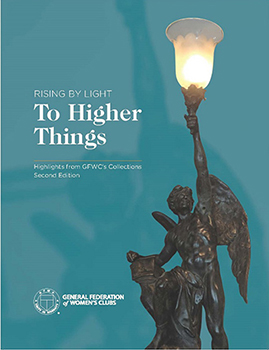 The WHRC Collections Book is the perfect way to brush up on your GFWC history this March before Women's History Month ends. Detailing over a century's worth of the organization's history, it's a recruitment tool that will have your guests wanting to be a part of that history. Get your copy for $15 in the GFWC Marketplace.
Visit the version on www.gfwc.org and then click the magenta printer icon in the utility panel on the right side. 
Unsubscribe from News & Notes
Don't want to receive News & Notes any longer? Log in to your person profile on the GFWC Member Portal and uncheck "News & Notes" in the list of message types that you are currently receiving. 
GFWC
www.gfwc.org