Support Miranda's Law (HR 2793 and S 1787)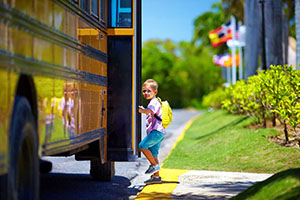 Miranda's Law seeks to make an employer notification service for school bus drivers across the country mandatory. This would require school bus drivers to register and would notify employers within 24 hours when the driver receives a moving violation.
It's one of GFWC's Brand Initiatives to get clubwomen to make 1,000 contacts through phone calls or emails to their Congressional representatives on September 23, 2019. Miranda's Law will create universal safety regulations to help keep students safe when they ride the school bus.
Make an event of it and organize a contacting party with your club to raise your voices together. Visit the Legislative Action Center to learn more and plan to support Miranda's Law next month!
Log in to the GFWC Member Portal
It'll be Fall before you know it, and it's time to gear up for recruitment and club activities by logging into MemberSuite. GFWC's Member Portal puts you in control of your membership experience! Decide your communication preferences, add seasonal addresses or an address for work, and make sure you're associated to the right club or clubs.
When you log in to GFWC's Member Portal, you are logging into a community. But every community starts with its individuals. MemberSuite will soon be home not only to GFWC's resources but to exciting new ways to connect with GFWC and fellow clubwomen. Don't miss out—log in today and join the community!
President's Project: Nevada, Connie Macauley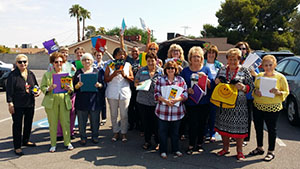 The four GFWC Nevada clubs have hardworking volunteers, so one focus of Connie's special project is to promote the efforts of each club.  The GFWC Lamoille Women's Club in Northern Nevada is celebrating 101 years of service and continues their good work with an emphasis on Domestic Violence Awareness and Prevention and several projects to improve the lives of veterans in their area. The GFWC Green Valley Club in Southern Nevada fundraises and volunteers for Relay for Life. GFWC Nevada's Past President's Club is a fun group that promotes leadership. The Mesquite Club of Las Vegas is 108 years young and includes a daytime and an evening chapter. This club has a long legacy of promoting education; the arts; and needs of veterans, elders, and the homeless.
In addition, Connie's project is preserving Nevada's rich history. The University of Nevada, Las Vegas (UNLV) houses the precious archived materials from GFWC Nevada and its clubs. Continuing to acquire materials for the University's Special Collections has been the goal. Representatives from the University spoke at the Nevada State Convention about the new ways to send the library information and how to find archived historical records from home. In a recent visit to the UNLV Library, Connie was honored to go through GFWC Nevada's minutes and photo albums describing clubwomen volunteering from the early 1900's: "These priceless materials are humbling and our state must continue to regularly archive the data so every bit of our efforts are preserved. The women of Nevada, from the north to the south, have always been remarkable in their efforts and continue to serve in their communities and beyond."
Check out GFWC's Pinterest for additional photos.
Volunteers in Action

The GFWC South Baldwin Woman's Club (Alabama) and GFWC Lilburn Woman's Club (Georgia) are featured on GFWC's Blog.
Say Cheese for March of Dimes
March of Dimes is seeking photos of GFWC clubwomen doing activities for their organization! Send your photos to Meredith Goodwin Repik, the Director of Strategic Volunteer Partnerships.
Turning Point Suffragist Memorial
Equality Day is next week, making it the perfect time to celebrate the women who fought for gender equality through the adoption of the Nineteenth Amendment. Donate to the Turning Point Suffragist Memorial to honor the contribution of those women.
Parliamentary Pointers: Types of Meetings
by GFWC Parliamentarian Deen J. Meloro
Regular Meeting
Business meeting of a permanent group held at weekly, monthly, quarterly, or similar intervals. The day (like the first Wednesday of the month) should be prescribed in the bylaws, with time and place prescribed in the standing rules.
Special Meeting
Separate session of a group held at a different time than regular meetings and called to consider only one or more items specified in the call to the meeting. They may only be called if they're included in a group's bylaws. Members should receive notice of time, place, and purpose a reasonable number of days in advance. The bylaws should state who can call a special meeting and the number of days in advance notice is sent.
Adjourned Meeting
Continuation of the previous regular meeting that takes place before the next regularly scheduled meeting. This is usually done to finish business that was not completed at the previous regular meeting.
Annual Meeting
Term given to one regular meeting a year. At this meeting, in addition to regular business, elections are held, officers and chairmen report on the previous year, and any other business prescribed by the bylaws is done. The minutes of an annual meeting are approved at the next regular meeting.
Executive Session
Specific meeting, or portion of a regular meeting, where proceedings are secret, such as disciplinary trials. A motion to go into executive session only needs a majority vote to approve and should specify who will be in attendance, such as only officers, the entire membership, particular staff members or employees or special invitees. So, in the case of a board or committee going into executive session, anyone who is not a member of the board or committee, even if they are members of the organization, may not attend.
GFWC Marketplace: WHRC Collections Book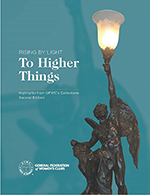 Celebrate Monday as Women's Equality Day by getting your copy of the WHRC Collections Book. It details the history of GFWC and the women who have carried on its legacy through the decades. Your $15 purchase will directly support the WHRC, allowing GFWC to continue collecting and preserving the organization's legacy.
Subscribe to News & Notes
Create an account on GFWC's Member Portal and select the options under Communications Preferences to receive News & Notes. Have a personal profile already? Check that the "Do Not Email" option is not checked and that the "News & Notes" is checked.