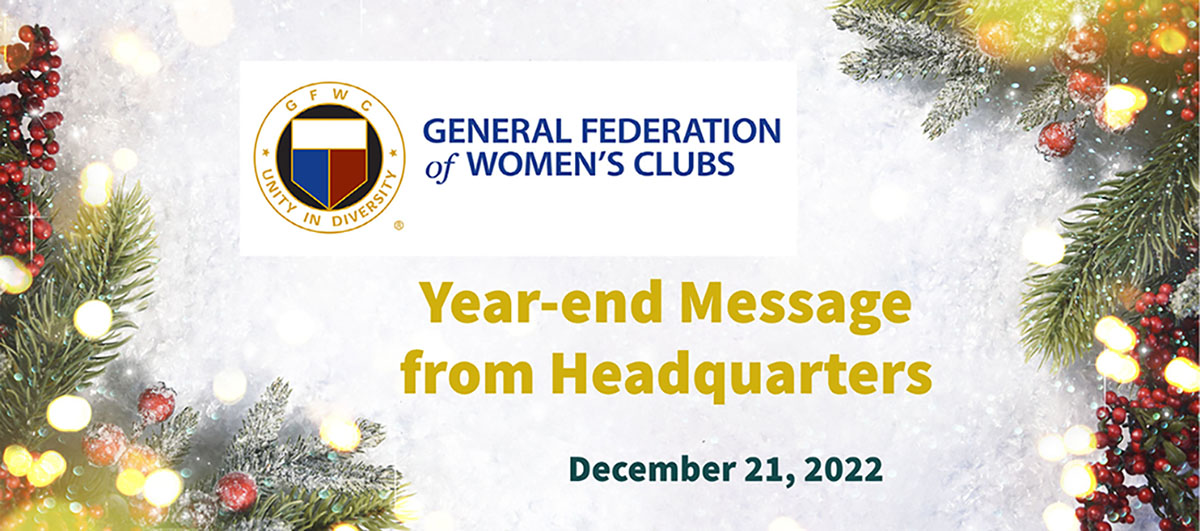 A Special Message from GFWC International President 
Dear GFWC Members,
On behalf of the GFWC Executive Committee, Board of Directors, and staff, please enjoy the "Holiday Open House" video recorded at Headquarters on Wednesday, December 7. The essence of this year's theme, "Home for the Holidays," is reflected in the video.
Thank you for the loyalty and positivity you bring to GFWC. You helped make this year a bright one for so many. May your heart be full of happiness and warmth and your home filled with peace through the holiday season and forever!
Warmest wishes,

Marketplace Update
GFWC members that placed orders this week, please note that Headquarters will be closed from Friday, December 23 through Monday, January 2, 2023. Orders received after December 19 will be shipped the week of January 3-6. GFWC extends its appreciation for your patience. Wishing all good cheer to you and yours!
News & Notes
The next issue of News & Notes will be published on Thursday, January 5, 2023. On behalf of the editorial team that compiles the weekly newsletter, we want to thank you for your continued support, collaboration, and weekly contributions.
General Federation of Womens Clubs 1734 N St NW Washington, DC 20036-2990