August 6, 2020
View our Important Dates page for upcoming events and milestones.

Visit the GFWC Digital Library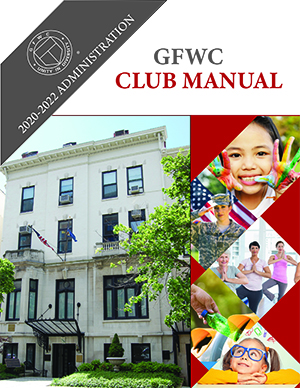 GFWC's members-only digital library is now exclusively available in the GFWC Member Portal! MemberSuite, the system hosting the members-only digital library, allows documents to be downloaded much faster than was previously possible on the GFWC website. The Portal's digital library also has a more advanced filing system, making it easier to find specific documents such as:
GFWC emblem and logo files
GFWC governance documents
Forms
Icons for the Special and Community Service Programs
Resources for recruiting and building your club membership
And much more!
After logging in to the Member Portal, click on "My Digital Library" under the profile icon in the upper right corner and select the GFWC Resources folder. Resources are organized in A–Z folders, and in the root GFWC Resources folder there is an Index of documents.
Check out the digital library now. Please don't hesitate to email GFWC@GFWC.org if you have trouble logging in!
Empower Women by Asking Them to Join
by Becky Wright, 2020–2022 GFWC Membership Chairman 
Twenty-five years ago, I was new in town, hours away from friends and family. I was looking for a place to belong—where I could become involved in the community, make friends, and make a difference. My new town was home to two woman's clubs, each with limited membership and both considered to be exclusive. Would I meet the criteria? Probably not, I thought. And then someone in one of the clubs asked me to join! Someone opened the door and invited me into the circle.
Consequently, membership in GFWC has provided opportunities to cultivate lasting friendships, nurtured personal enrichment, provided leadership training that is second to none, and introduced me to grassroots service projects that empower others to be their best. Membership is empowering—shouldn't all women have this opportunity? Over the next two years, it is my goal to encourage members to embrace the Hats Off to Membership Campaign and open their circle to create a "u" to allow more women the opportunity to belong.
By providing encouragement through Motivational Monday monthly themes on Facebook and #IamGFWC, it is my vision to eliminate the stereotypes of what a clubwoman may look like. Let's break down the barriers to grow our GFWC network, building relationships along the way to expand our reach, strengthen our voice, and empower our membership. Embracing our motto, Unity in Diversity, my hope is that we all begin to create an opening in our circles to diversify our membership, grow our enthusiasm, stay visible with meaningful service projects, and just ask, "I am GFWC—would you like to be?"
Cares and Concerns
GFWC extends its sympathy to Legislation/Public Policy Chairman Vicky Ann Trimmer whose sister, Renee, has passed away. Cards can be sent to Vicky Ann at 600 East Winding Hill Road, Mechanicsburg, PA 17055.
Volunteers in Action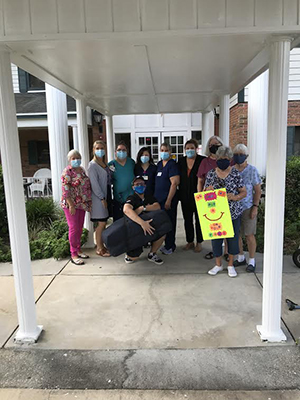 This week's GFWC Blog features GFWC Hudson Women's Club (New Hampshire), GFWC Corralitos Woman's Club (California), and GFWC Florida High Springs New Century Woman's Club. Read and comment about their butterfly garden, mask donations and fundraising, and pizza luncheon for a senior living residence.
Have a success story to tell? Share it with us by emailing PR@GFWC.org.
Stay Engaged with Members While Apart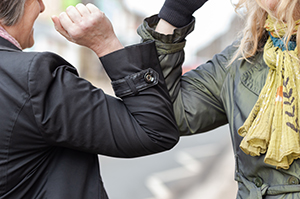 Living the Volunteer Spirit has not been canceled! For safety, social distancing is key during these uncertain times. Yet, for the health of membership, staying engaged and nurturing our members is more important than ever. A stable core of active members is the backbone of every club, but how can clubs be active apart? Keeping the guidelines of your state in mind, many projects can be carried out in person, however, with a little creativity, many of those same projects can be accomplished from home with virtual engagement. Host a watch party using videos from our Affiliate Organizations to learn more about the organization and possibly make items from their wish list as a follow up. Offer to drop off needed project supplies to members unable to get out and then later gather the completed project. Phone calls, cards, and thank you notes are always important and a great way to stay connected.
What is your club doing to stay engaged? Share on GFWC's Facebook page. 
Techie's Tips: Don't Lose Your Work on Fillable PDFs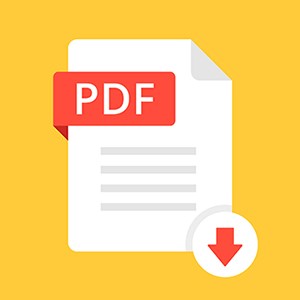 Have you ever spent time typing out responses on a fillable PDF only to lose everything you just wrote? GFWC offers fillable PDF forms for your convenience, but they must be properly saved. Whether you want to finish filling out a PDF later or want to have a copy of what you wrote for your records, save your PDF with these simple steps:
Fill out the form.
Select "File" and then "Save as" from the menu.
Rename your document and select "Save."
Select "Save" anytime you add content.
This will create a new file that you can always come back to. Once it's ready to go, you can attach it to an email and send it with ease!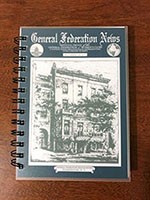 Get creative with service projects that follow local social distancing guidelines. This unique spiral-bound notebook is the perfect place to write your innovative ideas on how to make a difference in GFWC's five new Community Service Program areas: Arts and Culture, Civic Engagement and Outreach, Education and Libraries, Environment, and Health and Wellness! It features a 1929 cover of General Federation News that has a beautiful illustration of GFWC Headquarters. Get yours for $12 in the GFWC Marketplace.
Please remember that Headquarters is operating with limited staff daily and the Postal Service is also experiencing service delays in many communities.
Club Anniversaries and Gold Pin Recipients
Anniversaries
85th
GFWC  Needham Women's Club (Massachusetts) 

100th
GFWC Winder Woman's Club (Georgia)
135th
GFWC of Tennessee Ossoli Circle (Tennessee)
Gold Pin Recipients
Janet Sixta, Dorothy Moore
GFWC Clarkson Woman's Club (Nebraska)
Deloris Apsley, Ann Bellemore, Pat Bickel, Margi Fox, Pris Parker, Linda Robinson,Hope Royer, Mary Shuman
GFWC Kanawha Woman's Club (Virginia)
Freddie Finkner-Olhausen
Progress Club of Las Cruces (New Mexico)
Joyce Dreger, Thelma Comparato
North Brunswick Woman's Club (New Jersey)
Leola Bonge 
GFWC Bennington Woman's Club (Nebraska)
Paula Mendenhall
Mesquite Club (Nevada)