April 14, 2022
View our Important Dates page for upcoming events and milestones.
Honor the Most Unique and Magnificent Places on Our Earth 
By Karen Martinek, GFWC Environment Chairman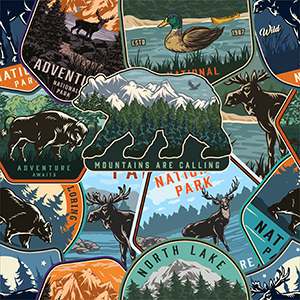 National Park Week 2022, set by a presidential proclamation, was declared by U.S. President Joe Biden to take place on April 16-24. Our National Parks and Monuments are spectacular and deserve to be honored. I'm looking forward to finding out which five National Parks received the most must-visit votes in the 2022 Summer Clubwoman Magazine!
The primary difference between National Parks and National Monuments lies in the purpose for preserving the land. National Parks are protected due to their scenic, inspirational, educational, and recreational value. National Monuments may have objects of historical, cultural, and/or scientific interest. Although they may contain memorials or historic structures, monuments are similar to other kinds of national park sites and are not individual statues.
Some information you might find interesting:
National Parks can only be established by an act of Congress.
National Monuments are created by U.S. presidents using the authority granted to them by Congress in the Antiquities Act of 1906.
Annual passes, America the Beautiful Passes, are $80. Free passes are available for military members, veterans, gold star families, and for all fourth-grade students. Senior passes are $80 for a lifetime pass and $20 for yearly passes. The entrance fees are waived on six dates each year to encourage everyone to visit and enjoy the national parks.
Increased visitor numbers in the National Parks are causing some Parks and Monuments to require reservations in 2022. Some parks must turn cars away at the entry gate. Check before you go!
If you are unable to visit in person, consider visiting a park virtually. Connect with the parks on social media using #FindYourPark or #EncuentraTuParque. Visit www.nps.gov or www.nationalparks.org (which has a Healthy Parks Healthy People Resources page) for live tours, kids' activities, reading lists, digital suggestions, and many more park opportunities from your home.
For your club, consider a speaker or create a program about the health benefits and other rewards of our parks, such as encouraging biodiversity and environmentalism. Or, consider backing legislation that is in favor of preserving and maintaining our parks.
Support U.S. National Parks by visiting, paying for passes or use fees, and enjoying them safely and responsibly. Engaging with nature will make you smarter, stronger, healthier, happier, and more productive.
Monday Morning Business Session Speaker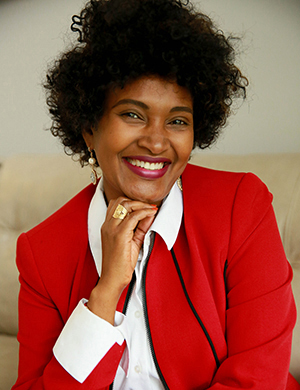 Be a part of building inclusive cultures where everyone feels accepted for who they are. At the 2022 GFWC Annual Convention, Seconde Nimenya, the Monday Morning Business Session Speaker, will give a thought-provoking presentation on how to make the world a better place for everyone.
Seconde is the author of five books on personal and professional leadership development. The most recent, Unlocking Diversity: How to Create Inclusive Cultures in a World of Differences, shares the best practices to support institutional leaders and individuals in their diversity, equity, and inclusion efforts, while bridging the gaps between diverse and multicultural communities.
Early Bird Deadline: April 30
Register for Convention to enjoy one of the most inspirational talks for our times. View the Convention Agenda Page for the preliminary schedule, available as a printable PDF or as an interactive Outlook or Google calendar. For more details on how to use this interactive calendar, view our Interactive Agenda Calendar FAQs.
Volunteers in Action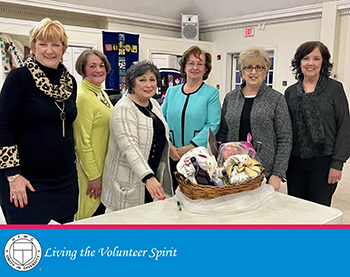 This week's GFWC Blog features GFWC Delaware and GFWC West Side Women's Club (Pennsylvania). Read how clubwomen raised more than $13,000 to contribute to the humanitarian relief efforts in Ukraine and hosted a fundraiser to support the Fill a Glass with Hope project.
Have a success story to tell? Email PR@GFWC.org to have you club project considered for the GFWC Blog.
International President Marian St.Clair Visits Capitol Hill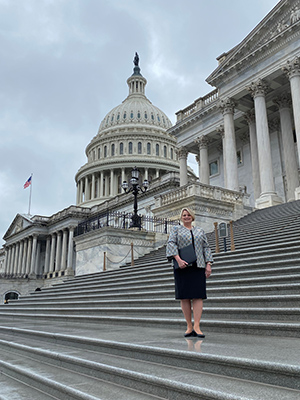 On April 7, GFWC International President Marian St.Clair visited Capitol Hill and met with legislative staff for Senator Tim Scott (R-SC), a member of the Senate Health, Education, Labor and Pensions Committee. In the context of the GFWC Juniors' Special Program: Advocates for Children, discussion centered on the Senator's legislation to reauthorize the Child Care and Development Block Grant. The bill supports a variety of child care options for families, improves reimbursement rates for child care providers so they can recruit and retain qualified staff, supports the education and professional development of child care staff, expands the supply and capacity of child care providers so working parents have multiple quality child care options to best suit their family's needs, and removes unnecessary regulations that restrict home-based child care providers in rural areas.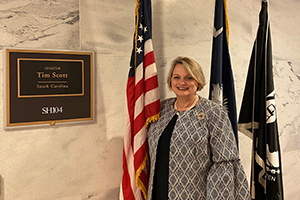 We're Almost at the Finish Line 
By Mary Jo Thomas, Capital Campaign Chairman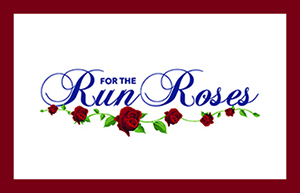 What an exciting time to be a member of the General Federation of Women's Clubs! We have now celebrated our first one hundred years of ownership of our magnificent home and offices. We have embarked on our second century of GFWC Headquarters located at 1734 N Street NW in our nation's capital. This is our home and we have the opportunity and responsibility to ensure it is here for future generations of club members, for the second hundred years and beyond!
Congratulations and thanks for what you have already done for our Capital Campaign, our Campaign for the Future. We are most appreciative. Yet much remains to be done in these final days of our last phase, Run for the Roses, as we wrap up the campaign and cross the finish line.
We are so close to our goal. We are within reach with your help.
Not only does April mark our ownership anniversary, Federation Day is celebrated globally on April 24. This is the perfect day to donate, to have a special fundraising event, and to dig a little deeper to put the campaign over the top while having fun with your Federation family.
You are the key to our success in this campaign.
As a reminder, donations received prior to June 1, 2022, will be considered in awards calculations. Donations for campaign wrap up should be received by June 28, 2022.
Any questions? Please let me or one of our committee members know. We cannot imagine a world without GFWC, nor GFWC without our Headquarters. With your help, we do not have to worry about those things. We are in this together! We can do it! Let's wrap this campaign and celebrate!
Registration Open: GFWC 100th Anniversary Virtual Tour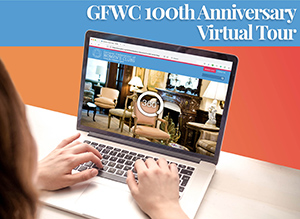 GFWC Headquarters at 1734 N St. NW in Washington, DC, has been a site of art, culture, and community leadership since the Federation took ownership of the building. Now 100 years since that fateful day on April 1, 1922, the mansion in the Dupont Circle neighborhood remains a beloved space for fostering connections and sharing stories of volunteerism. Join us in celebrating this milestone by registering for the GFWC 100th Anniversary Virtual Tour, hosted by International President Marian St.Clair and President-elect Deb Strahanoski. Member Portal. Once you have registered, you will receive a link to view the virtual tour. The tour link will be active until the end of June. In addition to the virtual tour, residents and visitors to the area will be able to learn more about GFWC Headquarters and the Federation by participating in a walking tour organized by the Woman's National Democratic Center. This walking tour, which GFWC is excited to be a part of, features the headquarters of several national women's organizations in Dupont Circle that continue to be engaged in civic engagement throughout the country and world. Follow News & Notes for more information about this exciting walking tour.

Registration is available through the

Reminder: 2022-2024 Candidates for Office Questions

During a business session at our 2022 Annual Convention in New Orleans, GFWC will host a Q&A session with the 2022‒2024 Candidates in a contested position. We are soliciting thoughtful questions to pose to the candidates regarding their individual experiences, strategic vision for GFWC, and leadership skills. Questions will be selected at random, and the candidates will have two minutes to answer. Please send your questions by email to GFWC Elections Committee Chairman Linda Crish by May 15, 2022.

Help Shot@Life Provide Global Access to Lifesaving Vaccines

Did you know that vaccines can save up to 5 million lives each year? GFWC Affiliate Organization Shot@Life aims to ensure that children around the world have access to lifesaving vaccines. Help support this effort today by taking a few minutes to sign Shot@Life's petition urging strong U.S. support for lifesaving global childhood immunization programs in 2023.

As Congress kicks off the 2023 budget planning season, Shot@Life advocates from all 50 states will rally together to encourage policymakers to fund investments in global vaccine programs in the U.S. budget and raise awareness around the importance of vaccine equity – especially during the COVID-19 pandemic. In just one year, the pandemic has erased more than a decade's worth of progress, leaving 3.7 million more children un- or under-vaccinated in 2020 than in 2019.

If you would like to get more involved alongside other advocates in your community, visit Shot@Life's Advocate to Vaccinate webpage.

Continue to Support UNICEF's Humanitarian Response in Ukraine 

Volunteers with GFWC Affiliate Organization UNICEF USA are continuing to provide essential services to vulnerable children and families being impacted by the ongoing war crisis in Ukraine. You can contribute to this humanitarian response by donating to support UNICEF's efforts. Your donations will help ensure children have access to clean water, nutrition, health care, education, and safe conditions.

GFWC continues to hold the Women's Club of Ukraine in its thoughts. For continuous coverage on this war crisis, visit apnews.com.

St. Jude Welcomes Patients and Families from Ukraine

GFWC Affiliate Organization St. Jude Children's Research Hospital was pleased to welcome new patients and families from Ukraine last month. The patients were greeted by First Lady Jill Biden and St. Jude National Outreach Director Marlo Thomas during a special virtual event.

During a tour of St. Jude, Dr. Biden met 5-year-old Khrystyna from Ukraine, who escaped the ongoing war crisis to continue the fight against her brain cancer diagnosis. Khrystyna was one of the first Ukrainian childhood cancer patients who arrived at St. Jude in March after being evacuated to the U.S. to continue their lifesaving cancer treatments, now unavailable to them in their home country.

As their global humanitarian effort to improve cancer outcomes for children around the world continues, St. Jude is grateful for the support from people that allows them to make a difference in children's lives

Club Anniversaries and Gold Pin Recipients

Club Anniversaries

50th
GFWC Clifton Community Woman's Club (Virginia)

60th
GFWC Seminole Junior Woman's Club (Florida)

70th
GFWC Junior Woman's Club of Loudoun (Virginia)
GFWC Spotsylvania Woman's Club (Virginia)
GFWC Woman's Club of Cleveland (Texas)
GFWC Woman's Club of South Norfolk (Virginia)

75th
GFWC Amici Club (Arkansas)

80th
GFWC Floyd Woman's Club (Virginia)

85th
GFWC Blacksburg Junior Woman's Club (Virginia)
GFWC Narrows Junior Woman's Club (Virginia)

90th
GFWC Clermont Woman's Club (Florida)
GFWC St. Petersburgh Junior Woman's Club (Florida)
GFWC Woman's Club of Fredericksburg (Virginia)
GFWC Woman's Club of Ocoee (Florida)

95th
GFWC Woman's Club of Accomack County (Virginia)
GFWC Woman's Club of Hampton (Virginia)

100th
GFWC Community Woman's Club (Florida)
GFWC Fort Walton Beach Woman's Club (Florida)
GFWC Williston Woman's Club (Florida)
GFWC Woman's Club of Fernandina Beach (Florida)
GFWC Woman's Club of the Eastern Shore (Virginia)

105th
GFWC Fairmont Woman's Club (Nebraska)
GFWC Woman's Club of Newport News (Virginia)

120th
GFWC Tucson Woman's Club (Arizona)

125th
GFWC Woman's Club of Jacksonville (Florida)

130th
GFWC San Diego Woman's Club (California)

Gold Pin Recipients

Peggy Allen
GFWC Warrenton Woman's Club (North Carolina)

Luce Anspauch
GFWC Women's Civic League of Cheyenne (Wyoming)

Lois Ashman
GFWC Women's Club of Newtown Square (Pennsylvania)

Karen Brannon
GFWC Casper Active Service Group (Wyoming)

Jackie Bresnen
GFWC Ebell Club of Fullerton (California)

Joan Enloe
GFWC Orinda Woman's Club (California)

June Flannery
GFWC Suburban Woman's Club of South Plainfield (New Jersey)

Barbara Gault 
GFWC Women's Club of Spring Grove (Pennsylvania)

Sara Johnston
GFWC Decora Study Club (Texas)

Eileen Meyers
GFWC Delmar Progress Club (New York)

Shirley Powders
GFWC Casper Active Service Group (Wyoming)

Ree Robertson
GFWC Warrenton Woman's Club (North Carolina)

Norma Spinney
GFWC Ebell Club of Fullerton (California)

Mary Sprague
GFWC Ebell Club of Fullerton (California)

Caroline Stekel
GFWC Woman's Civic Club of Hillsboro (Wisconsin)

Pamela Tice
GFWC Yorba Linda Woman's Club (California)

Janis Theel
GFWC Muskego Woman's Club (Wisconsin)

Maria Wellington
GFWC Women's Club of Newtown Square (Pennsylvania)

Stephanie Zichichi
GFWC Martinez Women's Club (California)

GFWC Marketplace: GFWC License Plate Frame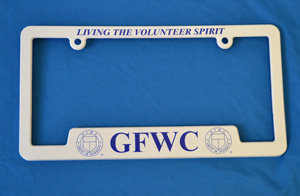 Show off your volunteer pride while driving around with a GFWC License Plate Frame! This white frame with the blue GFWC logo and Living the Volunteer Spirit tagline fits easily around your car's license plate and is the perfect way to spread awareness of GFWC. Order yours today.
For information on mail service in your area, visit the USPS Service Alerts page. To speed up processing of your order, we request that you pay for your order at time of purchase in the Member Portal.
GFWC
www.GFWC.org