April 15, 2021
View our Important Dates page for upcoming events and milestones.

National Park Week Starts Saturday  
By Karen Martinek, Environment Community Service Program Chairman
National Park Week is April 17-25, and your club can help the National Park Service raise awareness about the 63 National Parks in the United States. Support National Parks by visiting them in-person or remotely, purchasing passes, volunteering, making donations, and supporting legislation to protect parks and their usage.
The New River Gorge National Park and Preserve in West Virginia is the newest park, which has 70,000 acres along the New River. This popular rock climbing and whitewater rafting destination is just one example of what National Parks have to offer.
Help promote National Park passes:
Gold Star Families and U.S. military veterans receive lifetime free access.
The Every Kid Outdoors program gives fourth grade students access.
Free entry for fifth graders and their families.
Free entry for U.S. citizens or residents with a permanent disability.
Senior citizen fees have changed: year-long ($20) or life-long passes ($80).
An Annual Pass costs $80.
Everyone can enter all National Park sites free of charge on these five days in 2021:
What else is new from the NPS?
There is a new free app that provides maps, hiking trails and suggestions, food recommendations, lodging, reservations, audio tours, restaurant hours, etc. The app is available for free on Android and Apple.
If you are unable to travel, visit the parks and participate in activities remotely.
Participate in other programs and activities from the comfort of your home.
Is your club planning to visit a National Park or project supporting one near you? Share your story with PR@GFWC.org to be considered for the GFWC Blog.
Calling all Clubwomen to "Run for the Roses"
By Mary Jo Thomas, Capital Campaign Chairman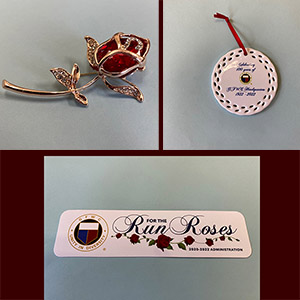 The goal is $1,000,000 and the time is now!
Now is the time to pick up the pace. The Campaign for the Future is in its final phase, rounding the last turn, and in the home stretch…
Your dimes, dollars, and checks will help us successfully cross over the finish line as we "Run for the Roses" together.
Please utilize the Capital Campaign information and donation forms found in the Club Manual, available with the "C" Resources of the Member Portal's Digital Library. Gifts of any size are welcome and appreciated with three recognition levels:
$1000+ (a dazzling Red Rose pin)
$500-$999.99 (a Run for the Roses porcelain ornament)
$202.20-$499.99 (a Run for the Roses bookmark)
The $202.20 is to honor the 100 years—from 1922-2022—that we have owned our magnificent Headquarters at 1734 N Street and to look forward to the second 100 years and beyond. We will preserve GFWC for future generations. Individuals, clubs, Districts, State Federations, and Regions … we are all in this together. Our creative committee members are here to help.
Together we can "Run for the Roses," raise a lot of money, and have a million dollars worth of fun. Nothing is going to stop us now! Make your donation.
Cares & Concerns 
With great sadness, we announce the passing of Barbara Wallace, Michigan State President (1984-1986). Barbara passed away on March 11.
Condolences can be shared with the family by accessing the guestbook at daggetgilbertfuneralhome.com.
Volunteers in Action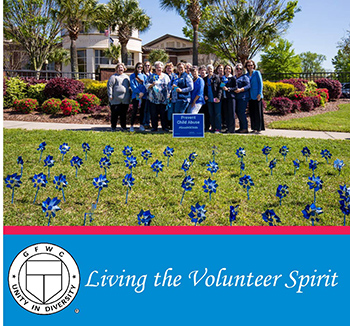 This week's GFWC blog features GFWC South Carolina clubs, GFWC Peninsula Hills Women's Club (California), and the Woman's Club of Clayton (North Carolina). Check out these stories about how members are participating in Prevent Child Abuse America's Pinwheels for Prevention project, showing their appreciation to frontline workers, and working with their communities to create a pollinator garden.
Have a success story to tell? Email PR@GFWC.org to be considered for the blog.
Register for Convention by June 15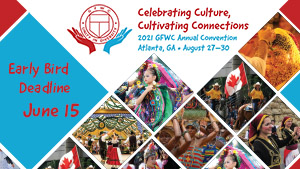 Celebrate culture and cultivate connections at the 2021 GFWC Annual Convention in Atlanta, GA, from August 27-30. Early bird registration closes June 15. Register now through the GFWC Member Portal.
Participate in the Celebration Banquet Video
The GFWC Southern Region is honored to be your host for the Celebration Banquet on Friday night, August 27, 2021.
The Region is producing a video of photos that will display on the big screen during dinner to celebrate all of the incredible work you and your club perform in your community.  To be included in the video, email a photo (you can send more than one) before August 1 to Julie Walters.
Celebrate Federation Day with GFWC Facebook Profile Frame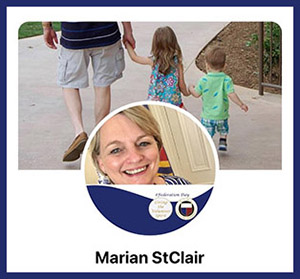 It's time to get excited about Federation Day on April 24! Join International President Marian St.Clair in using the new Facebook profile frame to celebrate the sisterhood of service that is GFWC. When logged into your Facebook account, a "try it" button will appear in this post.
Every April 24, Federation Day gives us an opportunity to commemorate  the history of GFWC and look forward to the goals we hope to accomplish in the future. This year, in addition to the Facebook frame, GFWC is leading up to Federation Day by celebrating National Volunteer Week from April 18-24 with a special blog series that will include a new post on April 19, 20, and 21. Help us share your volunteer success stories by emailing information about your club's community service projects to PR@GFWC.org.
April 30: Croly Award Applications Deadline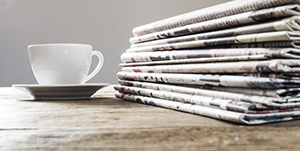 There's only a couple weeks left for journalists in your community to apply for the 2021 Croly Award! Encourage all journalists you know who have helped advance the rights of women to apply by April 30, 2021, and consider sharing the award information on Facebook. All journalists who contribute to newspapers, broadcast news programs (radio, television, and digital), magazines, or online publications, either on staff or in a freelance capacity, are welcome to apply. A deserving journalist could be working right next door!
Techie's Tips: Resetting Your Member Portal Login Information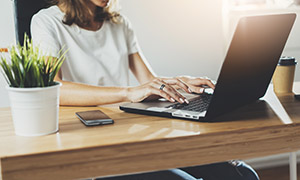 Do you need to log into your GFWC Member Portal account to register for the 2021 GFWC Annual Convention or check out one of the many vital member resources in the Digital Library, but can't remember the password you used to create your profile? Use these quick tips to make sure you can always get access to your account
Reset Member Portal password:
Go to the new GFWC Member Portal login page.
Click on "Forgot your password" under the Password field.
Enter the username/email address associated with your account.
A password reset code will be automatically sent to the email address associated with your Member Portal account.
Enter that code into the "Code" field on the next screen.
Type in a new password and confirm that password. All passwords must be a least eight characters long, contain one number, one uppercase letter, one lowercase letter, and one special character.
Click on "Change Password."
Log into your account with your new password.
If you complete these steps and still have issues logging into your account, email GFWC@GFWC.org with your concerns and someone will assist you as quickly as possible.
State President's Project: Karen Retzlaff, North Dakota
GFWC North Dakota is re-grouping now that 2021 is underway, but clubs have been staying safe and socially distanced as the COVID-19 pandemic continues. While 2020 kept our clubwomen from meeting regularly in-person, each member continues to gain knowledge and prepare for the time when gathering together will be a reality.
"Happy at Home…All Cooped Up (Yet Not Alone)" was one club's motto that inspired others to think beyond the confines of their homes and improve their communities by planting gardens to grow fresh vegetables and fruits for food pantries. Of course, that will begin when warmer weather arrives. Members are also encouraged to plant flowers in local parks and near their homes to beautify their communities. Bees and birds will appreciate their efforts, as will neighbors.
With the isolation caused by the pandemic, members are more aware of increased domestic violence and are focusing on supporting shelters and providing assistance to those affected. Club members are being encouraged to donate blankets, quilts, clothing, personal health items, and other necessities as needed.  Human trafficking is another problem that concerns our clubwomen. Members continue to learn more about this issue and to share information within their communities about ways to prevent young people from becoming involved in this crime.
Anti-bullying programing is still supported by clubs in local schools. Clubs have purchased and shared materials for young people to learn about the effects of this behavior. Along with anti-bullying programs, suicide prevention has also been embraced as a goal of clubs in the state.
Despite the far-reaching effects of the pandemic, North Dakota clubwomen have learned to use this time to help make better lives for the people in their communities.
GFWC Marketplace: GFWC Bling Pin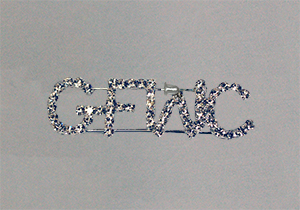 Show off your GFWC spirit in style with the GFWC Bling Pin! The rhinestone pin measures 3/4" by 2-1/2" and includes a pin safety and clasp. This pin will be the perfect way to add a bit of sparkle to any outfit or bag this spring. Order yours today.
There have been reports of mail service delays in many communities throughout the United States. GFWC staff is processing Marketplace orders as quickly as possible, but Headquarters is still operating with limited staff onsite daily. In order to speed up processing of your order, we request that you pay for your order at time of purchase in the Member Portal. For details on mail service in your area, visit the USPS Service Alerts page.
GFWC
www.GFWC.org