April 16, 2020
View our Important Dates page for upcoming events and milestones.

Ready to Read: Call to Convention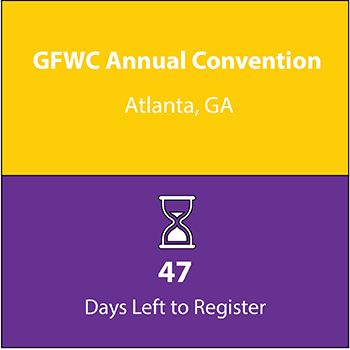 Have you read the 2020 Call to Convention yet? Curl up on your favorite couch or chair and read the proposed amendments to the Bylaws and proposed new, amended, rescinded, and unchanged Resolutions.
Having to stay at home right now is the perfect time to fully prepare for the Convention Business Sessions. Actively participating in these sessions is a key way to make a difference in how our Federation moves forward on multiple fronts. Resolutions kick off the legislative process and Bylaws define how our Federation will be governed in the future. Prepare to vote and read the online 2020 Call to Convention!

Register today. In the event that the 2020 GFWC Annual Convention needs to be canceled, you will receive a full refund. Room reservations can be canceled up to 24 hours prior to arrival without penalty.
Make Our Brand Initiatives Bills Laws 
Participate in our legislative blitz to celebrate GFWC's Federation Day, April 24, 2020, to pass Miranda's Law (S. 1787 and H.R. 2793) and the 3D Printed Gun Safety Act (S. 1831 and H.R. 3265). You can find informational pieces on these bills in the Advocacy in Action section of our Legislative Action Center. Let's bombard legislators on April 24!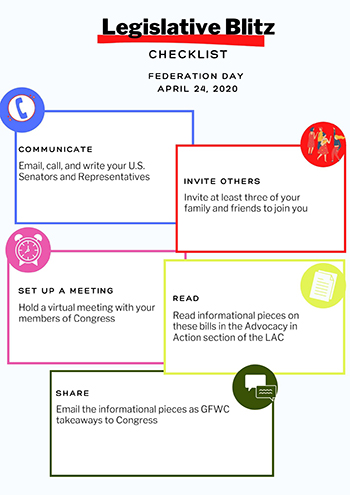 Cares & Concerns 
It is with great sadness that GFWC announces the passing of GFWC Arizona Past President, Peg Matteson (1974–1976). Please keep Peg's family in your thoughts during this time.
Volunteers in Action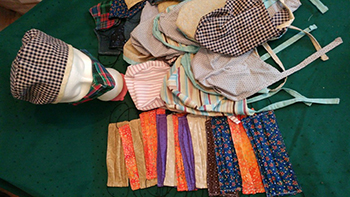 This week's GFWC Blog features Woman's Club of Parsippany-Troy Hills (New Jersey), GFWC Woman's Club of West Milford Township (New Jersey), and GFWC Woman's Club of West Broward (Florida). Read and comment about how these clubs are working to support their local healthcare workers during COVID-19.
Have a success story to tell? Share your clubs volunteer story with us! Email pr@gfwc.org.
Set Aside Shoes to Donate While Spring Cleaning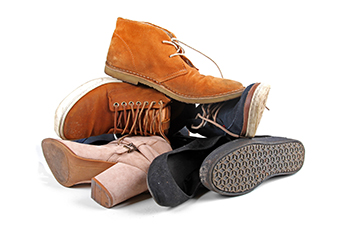 Clearing out closets and other areas of your house is an excellent way to pass some time at home! While spring cleaning, set aside some gently-used pairs of shoes to donate to either Soles4Souls (accepts all types of shoes) or Nike's Reuse-a-Shoe Program (accepts athletic shoes).
As we cope with the effects of the current pandemic, it's easy to forget that thousands around the world still lack basic essentials such as shoes. Urge your club to make plans to contribute to the 2018–2020 Used Shoe Grand Initiative remotely. If you haven't done so already, register on the Soles4Souls website so that a representative can provide operational updates for your club's area.

Advocate for Shot@Life from Your Living Room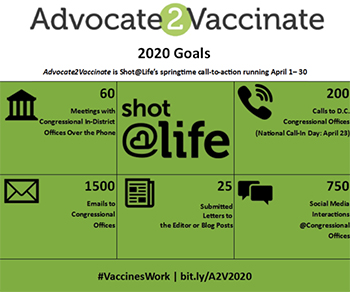 Now more than ever, it's important to strengthen health systems and to protect the most vulnerable. Shot@Life is seeing the impact of strong funding for the lifesaving programs of its partners, like the Centers for Disease Control and Prevention and the World Health Organization.
In light of everything going on with the COVID-19 crisis, Shot@Life is helping equip champions and supporters to use their voices and advocate right from their living rooms. Shot@Life has transitioned all of its activities into things that you can easily do over the phone or on the computer. Check out the resources, toolkits, training webinars, and everything else you'll need at shotatlife.org/advocate2vaccinate.
These fundraising and advocacy activities are open to champions and general supporters alike. Please email champions@shotatlife.org any questions or to brainstorm ways that your club can get involved.
Upcoming Johns Hopkins Medicine Webinars 
As the coronavirus pandemic, COVID-19, persists, Johns Hopkins Medicine's A Woman's Journey continues to provide critical health information. Participate in a four-week webcast series, Facts That Matter, featuring hour-long discussions with Johns Hopkins experts. The complimentary webcasts will be held 7–8 p.m. EDT on Tuesdays through May 5.
Tuesday, April 21: A COVID-19 Update
Epidemiologist and Senior Director of Infection Prevention Lisa Maragakis
Register 
Tuesday, April 28: Mindfulness and Meditation
Psychologist Neda Gould
Register

Tuesday, May 5: Health Disparities
Internist and Vice President and Chief Diversity Officer Sherita Golden

Following remarks, each speaker will address your questions. You can participate by video with audio or by audio only. Dial in early — participation is limited.
In the meantime, the Johns Hopkins COVID-19 website remains an important source of updated medical and epidemiologic information that will help you protect yourself and your loved ones.
For questions, email awomansjourney@jhmi.edu or visit hopkinsmedicine.org/awomansjourney.
GFWC New England Region: Mary Baird
As a GFWC leader with an extensive medical background, it was only natural for Mary Baird's signature project to be "Children First to Nourish to Love." In politics, humanitarian aid, and social science, hunger is a condition in which a person, for a sustained period, is unable to eat sufficient food to meet basic nutritional needs.
What happens when a child faces hunger? Many struggle in school and have social and behavioral problems. Where can we help? School nurses see the children every day and can assess their needs. That's why feeding children facing hunger is a main priority and the project of this GFWC New England President. Below are just two of the Region's "Children First to Nourish to Love" efforts.
"68 Hours to End Hungry"
Through these backpack programs, food items are placed in students' backpacks on Friday afternoons for the weekend. Maine, Massachusetts, and New Hampshire have clubs that work in providing food items and helping to assemble the bags during the school year.

"SNACK SACKS BAGS"
The bags have a water bottle and 2 healthy snacks, fruit, yogurt, or cereal bars. Volunteers check in every 2 weeks or as needed to refill the nurses' supplies. Leaving gift cards to local markets is also appreciated by the nurses.

Massachusetts has had clubs supporting the schools for the past year with the "Snack Sacks" Program. The GFWC Sandwich Women's Club received a $500 grant from Community Health Network Cape & Island. GFWC Rhode Island, Connecticut, and Vermont have donated snacks to their local food pantries to distribute to their school nurses.

Whatever avenue clubs choose, what they do will help fight childhood hunger.
Marketplace: Seven Grand Initiatives T-Shirt & Shoe Bag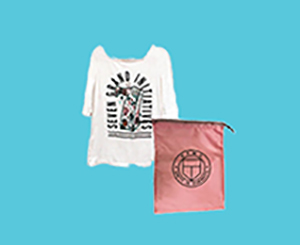 Our GFWC clubs have been doing an awesome job helping to reach the Seven Grand Initiatives goals! Celebrate the projects that you have already completed in style with the GFWC Seven Grand Initiative T-Shirt. With its extra soft cotton and beautiful colors, this might just become your new favorite shirt!
With spring cleaning in full effect, stay organized with our GFWC Shoe Bags. These shoe bags are a great way to minimize spacing and show off your GFWC style.
Don't want to receive News & Notes any longer? Log in to your person profile on the GFWC Member Portal and uncheck "News & Notes" in the list of message types that you are currently receiving. 
GFWC
www.gfwc.org