April 21, 2022
View our Important Dates page for upcoming events and milestones.
GFWC Celebrates Volunteer Service this Federation Day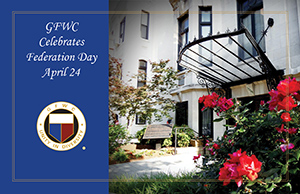 For more than 130 years, GFWC members have dedicated their time to helping others through volunteer service. We are proud to celebrate our clubwomen and their tireless efforts to make their communities a better place this Volunteers in Action Week. Your dedication to improving the lives of people around the world are an inspiration to all. See the Volunteers in Action section below for details on this week's special GFWC Blog series.
This legacy of GFWC's volunteer spirit began when women from 63 clubs from across the country met in New York City to officially form the General Federation of Women's Clubs and adopt its constitution under the leadership of Jane Cunningham Croly. Now, GFWC celebrates this historic occasion on every April 24 by calling attention to the Federation's legacy of community service. While Federation Day is a chance to reflect on where we have been as an organization, it also gives us an opportunity to look to the future and the goals we hope to accomplish.
Virtual Tour of Headquarters
You can join us in celebrating GFWC's storied past and bright future by enjoying a tour of the home at the center of it all.
To commemorate the centennial anniversary of the Federation owning the building at 1734 N St. NW, International President Marian St.Clair and President-elect Deb Strahanoski are hosting the GFWC 100th Anniversary Virtual Tour. This tour will offer an interesting and educational look inside the mansion in the Dupont Circle neighborhood that has served as GFWC's Headquarters and been home to clubwomen for decades. This rich history can be seen through the art and cultural artifacts on display throughout the building.
Register today through the Member Portal to be part of this exciting milestone.
President's Pick
By Marian St.Clair, International President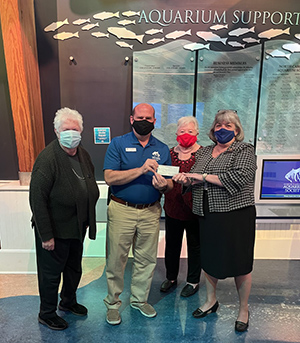 Every month, the GFWC Blog is filled with inspiring stories of successful and meaningful club projects that I not only love to read, but that are a great resource for new ideas! Although this recognition typically goes to one club, this month's "President's Pick" is unique in that it honors an entire District that came together to make a positive difference in their community.
The clubwomen of GFWC North Carolina District Nine dedicated their time and resources to protecting marine wildlife and local waterways in several ways, including donating funds to the Sea Turtle Assistance & Rehabilitation (STAR) Project at the North Carolina Aquarium Roanoke Island. The mission of the STAR Project is to take in and care for sea turtles that have been tangled in nets, stunned by cold waters, hit by boats, or suffered other severe injuries that need to be healed, with the goal of helping them return safely to the wild. With the continued pollution of our lakes, rivers, and oceans, it is more important than ever that clubwomen support programs that help our wildlife and planet.
Clubwomen also aimed to raise member awareness and understanding of the dangers sea turtles and other marine wildlife face by visiting and touring the aquarium, where they were able to observe some of the turtles being rehabilitated. "We wanted to do whatever we could do to help save these beautiful sea turtles," District President Donna Harrell explained. "STAR does wonderful things to rehabilitate these turtles that are found injured or sick."
In addition to these efforts, members also work to collect plastic that can easily end up in waterways. The plastic bags they gather are then donated to the NexTrex Recycling Challenge, a program that allows people to recycle plastic items that are not permitted in curbside recycling, such as plastic grocery bags, newspaper bags, case plastic wrap, bubble wrap, and more.
Congratulations to President Harrell and GFWC North Carolina District Nine for taking these steps to care for the environment and wildlife!
Volunteers in Action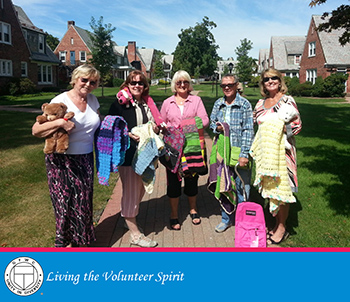 In recognition of Volunteers in Action Week, GFWC celebrated by shining a light on clubwomen with a special three-part blog series. This series featured the Ousamequin Club (Massachusetts), Clifton Community Woman's Club (Virginia), the Women's Club of Madison (Connecticut), the Madeira Woman's Club (Ohio), GFWC North Pinellas Woman's Club (Florida), GFWC St. Petersburg Junior Woman's Club (Florida), and the Bent Mountain Woman's Club (Virginia). Read how clubwomen throughout the country have participated in long-term projects and partnerships with other local organizations to make their communities and the world a better place.
Have a success story to tell? Email PR@GFWC.org to have you club project considered for the GFWC Blog.
GFWC Signature Program Luncheon Speaker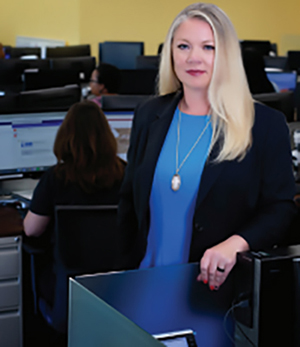 Hear about the latest on domestic and sexual violence awareness and prevention at the 2022 GFWC Annual Convention from Katie Ray-Jones, the CEO of the National Domestic Violence Hotline. Katie, who will speak at the GFWC Signature Program Luncheon on June 27, leads the only hotline that links survivors to more than 4,500 shelters and domestic violence programs across the United States, Puerto Rico, Guam, and the U.S. Virgin Islands.
Katie is a member of the National Task Force to End Domestic and Sexual Violence. She is well known on Capitol Hill for her work in domestic violence prevention and was chosen by Congress to deliver testimony to the Labor-Health and Human Services Appropriation Committee.
View Katie's full bio.
Early Bird Deadline for Convention: April 30
Register for Convention by the Early Bird deadline so that you don't miss Katie's presentation. View the Convention Agenda Page for the preliminary schedule, available as a printable PDF or as an interactive Google or Outlook calendar.
Haven't booked your room yet? The New Orleans Hilton Riverside still has rooms! If you have any trouble booking, please feel free to contact Events Manager Nishu Raina directly at nraina@gfwc.org or 202-628-2478.
Celebrate Earth Day on April 22
By Karen Martinek, Environment Community Service Program Chairman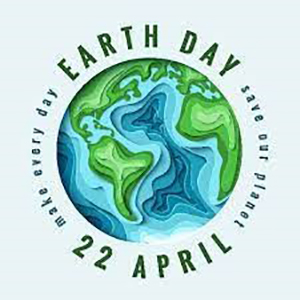 As stated on earthday.org: "A healthy planet is not an option — it is a necessity." We all must take an active role in the health and wellbeing of our Earth by following more sustainable practices. This year's theme for Earth Day is "Invest in Our Planet."
Direct observations made by NASA show the planet's climate is significantly changing. Human activities are the primary driver of those changes, changes that are causing increased carbon dioxide emissions into the atmosphere. According to the Center for International Environment Law, the production of plastics is a large contributor of carbon dioxide in the atmosphere at each stage of the plastic lifecycle: 1. fossil fuel extraction and transportation, 2. plastic refining and manufacture, 3. managing plastic waste, and 4. its ongoing impact in our oceans, waterways, and landscapes.
In its lifetime, one reusable bag can eliminate the consumption of 600 single-use plastic bags. What else can we do to reduce the impact of single-use plastic?
Hold cleanups on roadways, beaches, rivers, and city streets to keep plastics, especially those that are lightweight, from blowing into our waterways.
Recycle, reuse, and repurpose when possible.
Refuse products with unrecyclable plastic packaging.
Pledge to discontinue single-use plastics and support anti single-use plastic legislation.
Here are other green activities for every day:
Encourage reforestation and support the Earth Day Canopy Project by planting trees in your yard and community.
Support pollinators by planting flowers that attract butterflies, hummingbirds, and native bees.
Sustain the ecosystem by planting native plants and wildflowers.
Encourage wildlife by providing bird houses, feeders, and bee hives.
Enrich and preserve the soil by composting and mulching.
Avoid toxic chemicals inside and outdoors.
Conserve water and harvest rainwater for gardens and flowers.
Improve health by greening your diet.
Get kids involved by teaching a love of nature and the earth.
Never underestimate the power of your vote; cast your ballot for environmentally-minded politicians.
Are you an early riser? Enjoy the wonders of the universe on Earth Day. The annual Lyrid Meteor Shower is expected to reach its peak on the night of Thursday, April 21, and into the early hours of Friday, April 22, along with a full "pink" moon.
However your club celebrates Earth Day, be sure to submit your success stories to PR@GFWC.org to be considered for the GFWC Blog.
Mark Your Calendars: World Immunization Week

April 24 – 30 is coming up and Shot@Life needs your help! Shot@Life is asking everyone to join advocates across the country for its Call-In Day event on Tuesday, April 26. Calling your legislators is a quick and easy way to advocate for global childhood immunizations directly. You'll find scripts, instructions, and everything else needed on the Advocate to Vaccinate page; visit the "Call your Legislators" section.  To make the biggest impact and allow Shot@Life to track its outreach efforts, please make sure you use the patch-through system by dialing 202-902-6614. If you can't participate on April 26, you can call anytime throughout the month of April.If you haven't already signed the new petition, you can help make a difference today. Take a few minutes to urge strong U.S. support for lifesaving global childhood immunization programs in 2023.
UNICEF Continues to Support Children and Families in Ukraine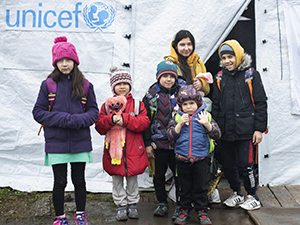 Over the past several weeks, GFWC Affiliate Organization UNICEF USA has continued to provide essential services to vulnerable children and families impacted by the ongoing war crisis in Ukraine. As of early April, GFWC members had raised more than $20,000 for UNICEF's humanitarian response, but there is still much to be done. You can help those in need by donating to support UNICEF's efforts to ensure children and families have access to clean water, nutrition, health care, education, and safe conditions. GFWC continues to hold the Women's Club of Ukraine in its thoughts. For continuous coverage on this war crisis, visit apnews.com.
Avis and Budget Car Rental Savings Program
Whether you're traveling for business or booking your next getaway, make the experience safe and comfortable with deals from your GFWC Avis and Budget Car Rental Savings Program. With the Pay Now feature, members can save up to 35% off base rates on every rental, plus receive additional offers like dollars off, a complimentary upgrade, or a free weekend day.
You can also skip the counter and paperwork at many locations. Go straight to your car for faster pick-up and drop off when you sign up by using your complimentary membership in the Avis Preferred® or Budget's Fastbreak Rewards Program.
When making a reservation with Avis, be sure to use your Avis Worldwide Discount number B155149. When booking with Budget, use your Budget Customer Discount number R584749.
GFWC Marketplace: GFWC Navy Face Mask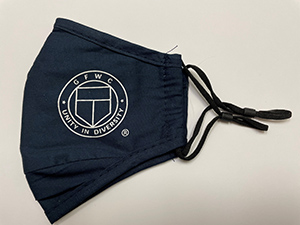 Debuted at the 2021 Annual Convention, the GFWC Emblem Mask is the perfect way to show your Federation spirit while also keeping yourself and others safe from the spread of COVID-19 and its variants. The new solid navy mask has adjustable ear loops and is perfect for everyday use. Order yours today.
For information on mail service in your area, visit the USPS Service Alerts page. To speed up processing of your order, we request that you pay for your order at time of purchase in the Member Portal.
GFWC
www.GFWC.org