April 28, 2022
View our Important Dates page for upcoming events and milestones.
Celebrate the 150th Anniversary of the Tree-Planter's Holiday   
By Karen Martinek, Environment Community Service Program Chairman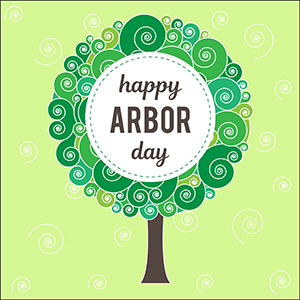 "A focus on the Future — While most holidays celebrate something that has already happened and is worth remembering, Arbor Day represents a hope for the future. The simple act of planting a tree represents a belief that the tree will grow to provide us with clean air and water, cooling shade, habitat for wildlife, healthier communities, and endless natural beauty—all for a better tomorrow." www.arborday.org
National Arbor Day is tomorrow, April 29, 2022, and our planet's climate is in crisis at this time—a condition caused in part by an increase of CO2 in our atmosphere. Hope for a sustainable future depends upon lowering carbon emissions and carbon-capture methods for climate regulation. Trees naturally capture CO2 from the air as they grow and store it in their leaves, branches, trunks, roots, soil, and fallen leaves. The larger the tree, the more CO2 it stores. Approximately one-third of the CO2 released from burning fossil fuel is absorbed by forests every year.
The world's forests are actively being destroyed by clear-cutting for agriculture, ranching, development, and unsustainable logging for timber. When the land is cleared and the soil tilled, carbon is released back into the atmosphere. Forests are also destroyed by severe weather, bringing strong winds that intensify forest fires and damage trees. As the trees die, they not only release their stored carbon but also lose their future ability to absorb carbon or produce oxygen. Reforestation can take from 10-30 years to capture the same amount of carbon as was stored in an old mature forest. Planting trees and restoring our forests is important; the priority, however, is to prevent the destruction of existing forests.
Here are a few ways to help prevent deforestation:
Reduce paper usage and go paperless.
Buy recycled paper, then recycle.
Support only sustainable logging.
Use firewood sparingly.
Avoid purchasing products with palm oil, as palm oil plantations are increasing replacing jungles to produce more of the oil, which is a lucrative cash crop.
Donate to restoration programs through the U.S. Forest Service and the Bureau of Land Management, Penny Pines Plantation, The Nature Conservancy, Arbor Day Foundation, or other organizations of your choice.
Receive 10 free seedlings with a membership to the Arbor Day Foundation. Seedlings may also be available through the Department of Natural Resources, the National Wildlife Federation, and other local agencies.
Planting trees is Tree-ific! For 150 ways to celebrate Arbor Day, browse arbordayblog.org.
ESO Breakfast and Monday Afternoon Business Session Speaker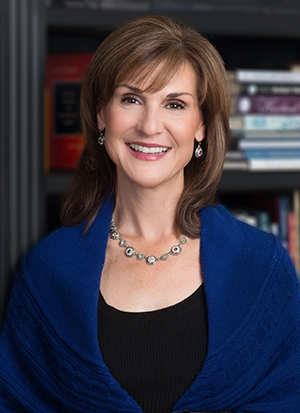 New York Times bestselling author Karen White will speak twice at the 2022 GFWC Annual Convention—first at the Monday Afternoon Business Session and then at the ESO Breakfast.
Karen has played an invaluable role in furthering the love of reading as the author of more than 30 novels, including her new series The Shop on Royal Street (set in New Orleans), which will be for sale the morning of the ESO Breakfast. She has also authored the Tradd Street series, The Last Night in London, Dreams of Falling, The Night the Lights Went Out, Flight Patterns, The Sound of Glass, A Long Time Gone, and The Time Between. She is the coauthor of four collaborative novels, including The Lost Summers of Newport with New York Times bestselling authors Beatriz Williams and Lauren Willig.
Early Bird Deadline for Convention: April 30
Register for Convention by the Early Bird deadline so that you don't miss Karen's presentation. View the Convention Agenda Page for the preliminary schedule, available as a printable PDF or as an interactive Google or Outlook calendar.
Haven't booked your room or bought your airline tickets yet? There is a new number to call for GFWC's Group Rate at the Hilton New Orleans Riverside: 504-556-3774. If you booked a room and received a reservation-change notice, we apologize for this error at Hilton: your reservation has not changed and GFWC's room-block rate ($199 plus taxes for 1-4 guests) will be honored.
For discounted airline tickets, American Airlines is offering a 4% discount on applicable flights to New Orleans; use the promo code 3862GC and contact 800-221-2255 for assistance.
Cares & Concerns 
It is with great sadness that we announce the passing of Millie Brown, GFWC Virginia Past President (1972-1974). Millie also served several Administrations as the GFWC Parliamentarian and was a dedicated clubwoman and friend for 75 years.
Volunteers in Action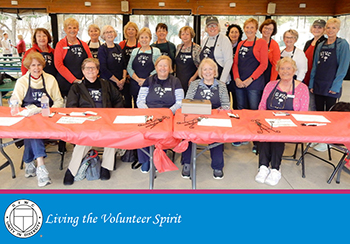 This week's GFWC Blog features GFWC Woman's League of the Lowcountry (South Carolina) and GFWC Junto Woman's Club (Virginia). Check out these stories of how clubwomen organized a benefit walk for St. Jude Children's Research Hospital and formed a 20-year partnership with their local Meals on Wheels to help feed housebound individuals in their community.
Have a success story to tell? Email PR@GFWC.org to have you club project considered for the GFWC Blog.
Legislative Corner 
To encourage participation in the democratic process, this monthly column aims to inform members about current legislation and programs that are germane to the GFWC Resolutions. It also highlights important actions of the House, Senate, and White House, and provides follow-up information about GFWC Legislative Action Alerts.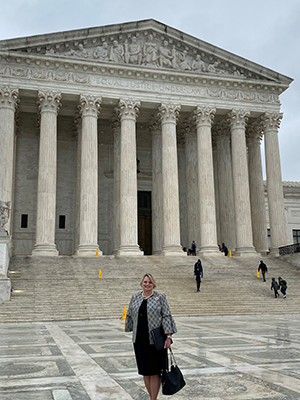 International President Marian St.Clair in front of Supreme Court on April 7, 2022, the day Judge Ketanji Brown Jackson was confirmed by the Senate.
Judge Ketanji Brown Jackson
On April 7, by a bipartisan vote of 53-47, the Senate confirmed Judge Ketanji Brown Jackson as the next Associate Justice of the United States Supreme Court. She will take her seat when Associate Justice Stephen Breyer retires this summer at the end of the term. Not only is Judge Jackson making history as the first Black woman to be confirmed to the Supreme Court, but she will join Justices Sonia Sotomayor, Elena Kagan, and Amy Coney Barrett. For the first time in history, there will be four women on the Supreme Court, bringing gender parity for the institution long dominated by men. Justice Sandra Day O'Connor was the first woman to join the nation's highest court in 1981.
Judge Jackson was serving on the U.S. Court of Appeals for the D.C. Circuit, confirmed by the Senate in 2021. She graduated magna cum laude from Harvard University, then attended Harvard Law School, where she graduated cum laude and was an editor of the Harvard Law Review. Judge Jackson served as Vice Chair of the U.S. Sentencing Commission, a position confirmed by the Senate in 2010. She will be the first former federal public defender to serve on the U.S. Supreme Court. Early in her career, Judge Jackson served as Justice Stephen Breyer's law clerk, so she knows how important it is for a Supreme Court to build consensus.
Violence Against Women Act (VAWA)
With the Violence Against Women Act reauthorization complete, the FY 2023 annual appropriations process is underway. Advocates for domestic violence and sexual assault education, prevention, and services programs are seeking increased funding to correspond to the increased funding levels authorized in VAWA. GFWC is joining the National Task Force to End Sexual and Domestic Violence (NTF) to urge Congress to fully fund VAWA and the Family Violence Prevention and Services Act programs and provide sustainable funding for Victims of Crime Act (VOCA) programs, including a tribal funding stream.
COVID Recovery
Restaurants are still feeling the effects from the pandemic and disruptions in the supply chain. The House of Representatives passed legislation to allocate $42 billion more for the Restaurant Revitalization Fund; the bill is pending in the Senate.
A Week of Celebration and Preservation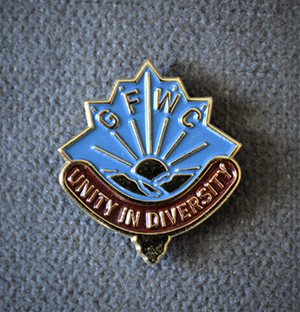 We are excited to recognize Preservation Week from April 24-30 and the anniversary of the Women's History and Resource Center! When the WHRC opened on May 1, 1984, it did so with the mission of preserving the rich history of the Federation and the volunteers for generations to come. Now, the week-long observation of Preservation Week encourages libraries, museums, and other historic organizations to focus on collections to ensure nothing gets lost, damaged, or becomes obsolete.closed to the public, GFWC still needs your support to record and preserve its history. Purchase a WHRC Heritage Pin, a reproduction of GFWC's first membership pin, or make a donation through the Member Portal.

Although the WHRC remains temporarily

May 1: Convention Raffle Prizes Due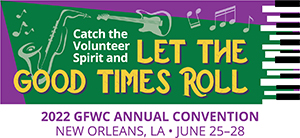 Support the Big Easy Raffle at the 2022 GFWC Annual Convention by signing up to make a donation by the close of Sunday, May 1.  Not sure what to donate? Consider a gift card(s). The GFWC Fundraising Committee will be building a gift card display onsite as one of the raffle prizes.
Volunteer to Support March of Dimes
With the help of volunteers around the world, GFWC Affiliate Organization March of Dimes has been able to continue to support moms, babies, and families in need. There are always new opportunities for you to support this nonprofit organization with your time and talents, including signing up to be a volunteer for March for Babies, a movement to ensure that every mom, baby, and family gets an equal, healthy, and safe start to life.
Along with volunteering for March for Babies, you can also support March of Dimes by becoming an ambassador for their Publix Retail campaign through May 1. For the past 27 years, Publix associates and its customers have raised more than $95 million for March of Dimes. Funds are raised a dollar at a time when a customer donates. To make 2022 a success, March of Dimes has been rallying volunteers to thank associates for their commitment to moms and babies. Check out opportunities near you to become an ambassador.
To show their appreciation for all the work you do, March of Dimes is also offering various awards to the dedicated volunteers who support them each year. If you know a fellow clubwomen who works tirelessly to help this organization, consider nominating them for a Volunteer Leadership Award. Nominations are open until June 1.
Register Now: GFWC 100th Anniversary Virtual Tour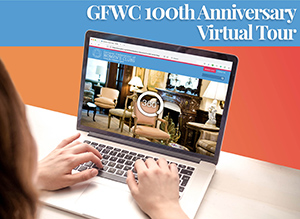 Join us in celebrating the history of the Federation by registering for the GFWC 100th Anniversary Virtual Tour. Hosted by International President Marian St.Clair and President-elect Deb Strahanoski, the tour commemorates the centennial anniversary of GFWC owning the building at 1734 N St. NW in Washington, DC. The tour offers an interesting and educational look inside the mansion in the Dupont Circle neighborhood that has served as GFWC's Headquarters and been home to clubwomen for decades.  Register today through the Member Portal to be part of this exciting milestone.
Avis and Budget Car Rental Savings Program
Whether you're traveling for business or booking your next getaway, make the experience safe and comfortable with deals from your GFWC Avis and Budget Car Rental Savings Program. With the Pay Now feature, members can save up to 35% off base rates on every rental, plus receive additional offers like dollars off, a complimentary upgrade, or a free weekend day.
You can also skip the counter and paperwork at many locations. Go straight to your car for faster pick-up and drop off when you sign up by using your complimentary membership in the Avis Preferred® or Budget's Fastbreak Rewards Program.
When making a reservation with Avis, be sure to use your Avis Worldwide Discount number B155149. When booking with Budget, use your Budget Customer Discount number R584749.
GFWC Marketplace: Drawstring Bag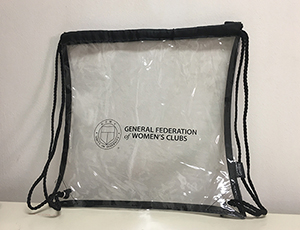 The GFWC Drawstring Bag is transparent, making it the perfect accessory for outdoor events, parades, and other activities. Keep your objects in one convenient bag that's easy to carry to your next volunteer event. Order yours today.
For information on mail service in your area, visit the USPS Service Alerts page. To speed up processing of your order, we request that you pay for your order at time of purchase in the Member Portal.
GFWC
www.GFWC.org