April 29, 2021
View our Important Dates page for upcoming events and milestones.

Celebrate Arbor Day Tomorrow, April 30
By Karen Martinek, GFWC Environment Community Service Program Chairman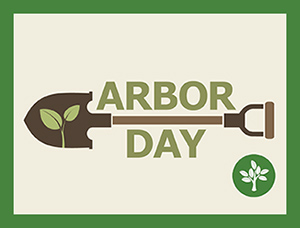 "He who Plants A Tree, Plants A Hope"- Lucy Larcom
Tomorrow is the national observance of Arbor Day. It is a day not only to plant trees but to plan for tree-themed events each month until April 29, 2022, the 150th anniversary of Arbor Day.
According to the "History of Arbor Day," pioneers moving into the Nebraska Territory marked it lacked trees. They not only missed trees but needed them for windbreaks, erosion control, building materials, and a form of shade. On January 4, 1872, Sterling Morton proposed a tree-planting holiday to be called "Arbor Day" to the State Board of Agriculture. It was estimated that 1 million trees were planted in Nebraska on April 10, 1872, that first Arbor Day.
Climate change has caused extreme weather patterns. Our states have suffered derechos, tornados, hurricanes, floods, and wildfires that have eliminated millions of trees. It is widely reported by scientists that trees help slow climate change by removing carbon dioxide from the air and releasing oxygen into the atmosphere. The Arbor Day Foundation says: "a mature leafy tree produces as much oxygen in a season as 10 people inhale in a year."
It is imperative that we replace our lost trees. The Arbor Day Foundation website offers many project ideas to celebrate on Arbor Day and throughout the year:
Hike through a forest and learn the names of trees.
Have a tree-themed coloring or poster contest for children.
Take an online class on trees.
Host a remote "Ask the Arborist" Q&A session.
Plant a tree in your backyard or at a public location.
Have nature-based craft sessions.
Partner with local businesses or schools to give away free tree seedlings.
Purchase books on trees for your local or school library.
I look forward to reading about your tree-planting events on the GFWC Blog. Submit stories to PR@GFWC.org for consideration.
There's Still Time to Submit Jennie Award Entries
By Linda Beatty, Jennie Award Chairman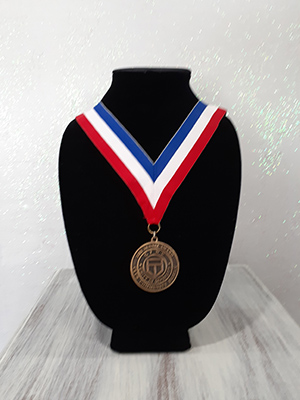 Submit a nominee from your club for the prestigious Jennie Award by the June 1 deadline. However, since some states set earlier deadlines, you should first check with your State President to make sure a selection has not already been made.
Since this is the only award that GFWC presents to an individual clubwoman, it's an excellent way to spotlight someone who exhibits all the extraordinary characteristics of our founder Jane Cunningham Croly, also known by her pen name Jennie June. Simply being nominated as a candidate is a great honor. Since 2006, 64 women have been chosen as the Jennie Award winners from their respective Regions—a highlight of their volunteer careers.
Although she lived in the 1800s, Jane Cunningham Croly was way ahead of her time—wife, mother, homemaker, journalist/author, seamstress, breadwinner, and activist for women's rights. Sounds a lot like women of this generation, doesn't it? Had she not been excluded from an all-male event held by the New York Press Club honoring Charles Dickens, our Federation might not have been formed. After being denied admittance to that event, she formed her own club, Sorosis, and invited Dickens to be the speaker at its meeting (he declined.) Her idea of forming a woman's club became quite popular and spread across the United States. She not only united some of those clubs to form the General Federation of Women's Clubs, but also established the New York Women's Press Club.
Look around you and surely you'll see someone who would be an excellent candidate for this award. Then get busy and complete the paperwork. Award entry details can be found in the 2020–2022 Club Manual, available within the Member Portal's Digital Library under "C" Resources. The Jennie Award section of the Club Manual is also available as a separate document within the "Awards and Contests" sub-folder (please allow 12-24 hours to receive access after signing into your account).
Volunteers in Action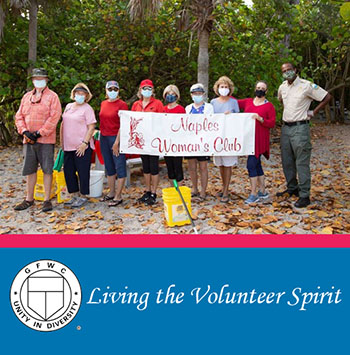 This week's GFWC blog features the Naples Woman's Club (Florida), Lisle Woman's Club (Illinois), Exeter Area GFWC (New Hampshire), and Woman's Club of Fredericksburg (Virginia). Read about how clubwomen helped pick up trash from area beaches, collected plastic bags to make bed mats for people without homes, raised funds for a local nonprofit, and participated in Prevent Child Abuse America's Pinwheels for Prevention Campaign.
Have a success story to tell? Email PR@GFWC.org to be considered for the blog.
Register for Convention by June 15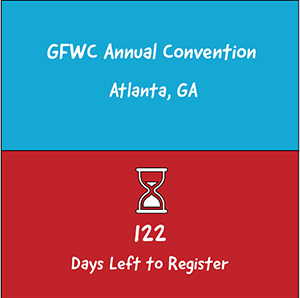 Let's "Celebrate Culture and Cultivate Connections" at the 2021 GFWC Annual Convention in Atlanta, GA, from August 27-30. The opening Celebration Banquet will take place August 27, and Convention extends through 1:00 p.m. on August 30.
This year's Convention theme focuses on how culture reflects a society's values and customs. With a greater understanding of culture, we can bridge any divides that hinder our efforts to have a positive impact in our communities and around the world.
Early bird registration closes June 15. Register now through the GFWC Member Portal.
Continue Celebrating World Immunization Week and Join UNICEF USA's Campaign to End the Pandemic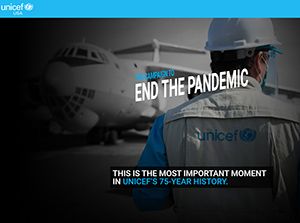 GFWC Affiliate Organization UNICEF USA is encouraging GFWC members to continue celebrating World Immunization Week through tomorrow, April 30. Immunization Week aims to promote the use of vaccines to protect people of all ages against disease, build trust in vaccines, and combat misinformation. Immunizations save millions of lives every year and are widely recognized as one of the world's most successful health interventions. For every like, share, or comment on posts mentioning a UNICEF account and using the hashtag #VaccinesWork through tomorrow, UNICEF partners will unlock $1 for our life-saving vaccine programs up to $5M.
Today, vaccines are the best hope people have of ending the COVID-19 pandemic and rebuilding their lives. Vaccines act as a protective shield. But for vaccines to fulfill this aim, they require investment, trust, and confidence.
As people grapple with the impact of COVID-19, UNICEF USA reminds us that every year 14 million babies globally do not receive any vaccines against preventable diseases.
Continue to Support the Success for Survivors Scholarship Fund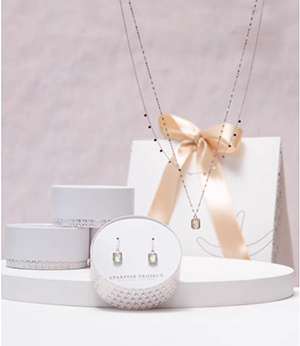 With Mother's Day only a little more than a week away, Starfish Project has launched new gift sets featuring many beautiful pieces of jewelry, as well as two necklaces designed specifically for mothers everywhere. Customers also have the opportunity to include a handwritten gift note with any purchase worth more than $50. For only $5.99, members can turn orders into their own gift set and enjoy ready-to-gift special gold and white packaging for whichever products they choose. Through a fundraising agreement for the 2020–2022 Administration, purchasing any Starfish Project products at this dedicated link will supply 25% of the proceeds to the GFWC Success for Survivors Scholarship Fund! Your support has allowed GFWC to award an additional scholarship this year.
Starfish Project supports women escaping human trafficking and exploitation. The organization is currently working with more than 150 survivors to provide a fresh start in life by arranging safe housing, healthcare, education, and training, and by employing them to make jewelry and garments to support its mission. Order your next piece of jewelry today and help a survivor of human trafficking succeed!
Summer 2021 Magazine Will Be Digital
The GFWC Executive Committee has authorized for the Summer 2021 issue of the GFWC Clubwoman Magazine to be distributed digitally. This magazine issue will take the place of a printed version. Paid subscribers will receive an email on June 2 with a secure, direct link to download the digital-only magazine. The Summer 2021 magazine will also be available to all members through the GFWC Member Portal's Digital Library, within the "C" Resources under Clubwoman Magazine.
For fall, we will revert to a printed issue, as the Executive Committee and GFWC Staff continue to evaluate the future design and content of the magazine.
Legislative Corner
While the Senate is still confirming Biden/Harris nominations, work is beginning in the House of Representatives on FY 2022 appropriations bills. This will be the topic of our next, forthcoming GFWC Legislation/Public Policy Committee Quarterly Newsletter. The following is a legislative update.
American Rescue Plan Act of 2021
Congress enacted the COVID-19 economic recovery bill, providing $1.9 trillion to bolster the nation's healthcare response and to provide resources for economic recovery. Significant funding was included for GFWC priorities, such as child abuse prevention and treatment; services for domestic violence and sexual assault survivors; entrepreneurs, small businesses, and restaurants; state and local governments; broadband infrastructure; food banks and other nutrition programs; child care; K-12 and higher education; housing stability; workforce development; and much more. Federal agencies are working through the procedures to distribute the funding, with guidance expected to be announced before mid-May.
Child Abuse Prevention and Treatment (CAPTA)
Programs would be reauthorized through 2027 under H.R. 485, approved by the House of Representatives on March 16 with strong bipartisan support. GFWC has long supported these programs through our collaboration with Prevent Child Abuse America. On April 21, GFWC issued a Legislative Alert to call upon the Senate to approve the reauthorization bill, and for the House and Senate Appropriations Committees to approve $750 million in FY 2022 specifically for the Community-Based Child Abuse Prevention Grant Program.
Global Vaccinations Need Funding
Many GFWC clubwomen have been active with Shot@Life and participated in their legislative training. On April 27, GFWC joined Shot@Life and urged Congress to fully fund global childhood immunizations. Every 20 seconds, a child dies from a vaccine-preventable disease, resulting in 1.5 million deaths every year and accounting for nearly a third of all childhood deaths. Vaccines are one of the safest, most cost-effective ways to save children's lives, improve healthcare systems, and reach a goal of long-term economic stability.
Census Numbers Released
By the end of April, states will learn if they're going to gain or lose seats in the House of Representatives. Projections show that states in the South and West will once again gain seats while the Northeast and industrial Midwest have continued to lose population. The state population counts redistribute the 435 seats in the House of Representatives and impact federal-formula funding for healthcare, education, transportation, community and economic development, and many other federal programs. Based upon the new census numbers, state legislatures will then redraw congressional district maps and state legislative district maps for the 2022-2030 elections.
State President's Project: Jeanne O'Sullivan, New Hampshire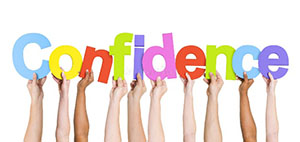 In keeping with GFWC's Signature Program: Domestic and Sexual Violence Awareness and Prevention, GFWC New Hampshire State President Jeanne O'Sullivan's project is Go Forth With Confidence – New Hampshire, a scholarship for survivors of domestic, sexual, and intimate partner violence. It is the first and only scholarship of its kind in the state. It was modeled after the GFWC Success for Survivors Scholarship, using a title with an acronym that replicates "GFWC NH" and promotes branding along with the scholarship. The mission of the project is to offer financial aid to survivors who are seeking to improve their lives through post-secondary education and training. After two years of development, clubwomen are proud to be ready to award the initial scholarship in 2021.
Two online fundraisers have been planned to benefit the scholarship during the past year. In the fall, clubwomen hosted a Facebook event, Raise Your Glasses to Survivors, which brought in more than $2,000. By the time this article appears in News & Notes, the second remote event will have been completed, the Evening of Unity, scheduled for the eve of Federation Day. The goal is to ultimately earn at least $10,000 to ensure sustainability of the scholarship into the future.
GFWC Marketplace: WHRC Heritage Pin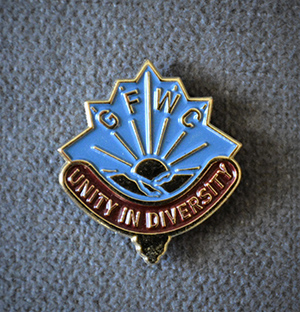 In 1892, the Committee on the Federation Badge Pin was created to design an image that would reflect the aim of GFWC. Appointees included GFWC's founder, Jane Cunningham Croly, and its first president, Charlotte Emerson Brown. The Committee chose the sun's rays and the color blue as elements to symbolize the Federation. The resulting pin, GFWC's original emblem, featured an image of the rising sun in a blue sky above snow-capped mountains with its rays illuminating "GFWC" in block lettering. An upturned, russet-colored banner displayed the motto, "Unity in Diversity."
In recognition of Preservation Week, from April 25 through May 1, purchasing the WHRC Heritage Pin for yourself or as a gift is a great way to support the Women's History and Resource Center. The pin design offers a faithful facsimile of the original emblem on an updated lapel pin with a magnetic back. Proceeds from the Heritage Pin will be used to repair or replace the picture frames that display GFWC's historic collection of International Past President Portraits. Order yours today.
There have been reports of mail service delays in many communities throughout the United States. GFWC staff is processing Marketplace orders as quickly as possible, but Headquarters is still operating with limited staff onsite daily. In order to speed up processing of your order, we request that you pay for your order at time of purchase in the Member Portal. For details on mail service in your area, visit the USPS Service Alerts page.
GFWC
www.GFWC.org