April 30, 2020
View our Important Dates page for upcoming events and milestones.

Suffrage at 100: The Symbols of Suffrage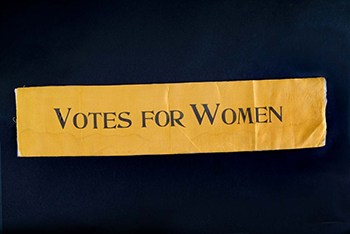 From the National Museum of American History Collection
What proponents of the suffrage movement wore were just as important as what they said. This month, we're exploring some different symbols of the movement and what they meant to those who wore them.

The Suffrage Colors
In 1908, the Women's Social and Political Union in England adopted the colors of white, purple, and green to distinguish their political movement for the right to vote.
In 1867, gold replaced green in tricolor displays when suffragists from Kansas began using gold as a representative of their state flower: the sunflower. From then on in the United States, gold was incorporated into suffrage displays.

A 1913 edition of The Suffragist, a weekly newspaper published by the Congressional Union for Woman Suffrage, stated that: "Purple is the color of loyalty, constancy to purpose, unswerving steadfastness to a cause. White, the emblem of purity, symbolizes the quality of our purpose; and gold, the color of light and life, is as the torch that guides our purpose, pure and unswerving."

The Suffrage Sash
Sashes were worn at parades and rallies to show loyalty to the suffrage movement. Different organizations such as the National Woman's Party and the Women's Political Union made their own sashes. However, they were usually adorned with the one or all the suffrage colors. "Votes for Women" was the most popular slogan embroidered on the sashes.

Check out this sash from the National Museum of American History!

The Yellow Rose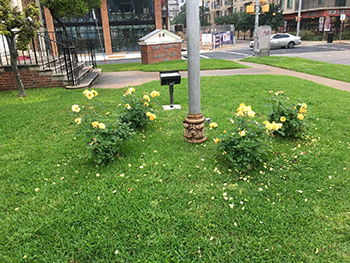 The rose bush planted in Austin during the 2019 GFWC Annual Convention left a mark at the GFWC Texas Headquarters
The yellow rose gained national attention in 1919 when Tennessee became the final state to vote in favor of the 19th Amendment and ensure its ratification. "Antis," people who were against women's suffrage, wore a red rose to symbolize a "no" vote. Representatives who planned to vote "yes" adorned themselves with a yellow rose. Notably, the vote which ensured the passage of the amendment was passed by Harry T. Burn. Harry, the youngest member of the State Legislature, had planned on voting "no" until he received a letter from his mother Febb E. Burn. Febb, a GFWC clubwoman, implored Harry to be a "good boy" and vote "yes."

Learn more about Febb and Harry Burn and the yellow rose!

Interested in learning more about suffrage symbolism and history? Check out these great resources:

Login and Renew Your Magazine Subscription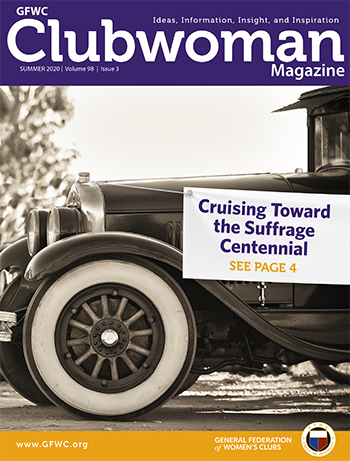 Are you receiving your Clubwoman Magazine? A feature has been added to the GFWC Member Portal that allows you to renew your one-year or two-year GFWC Clubwoman Magazine subscription online! The Clubwoman is a quarterly magazine that keeps you up-to-date with all things GFWC! Make sure you are subscribed to receive the 2020 Summer Clubwoman. To ensure that you are receiving your magazine, follow the steps below:

After logging in, go to the Marketplace tab and then select "Education Add-Ons."


A one-year and two-year Clubwoman subscription should then be the options on the next page.

Having trouble logging in? Try selecting "Forgot your password?" and entering the email address with which you are receiving this News & Notes. You will then receive a prompt to check your email for a temporary login code. Don't hesitate to contact us if you have any difficulties logging in. 
Volunteers in Action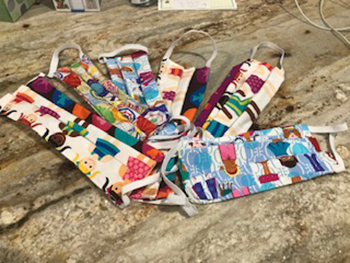 This week's GFWC Blog features GFWC Temecula Valley Woman's Club (California), GFWC Woman's Club of Spring Lake (New Jersey), and GFWC Georgia North West District. Read and comment on their activities donating supplies to their local hospital, making masks for those in need, and completing projects to help their communities during the pandemic.
Have a success story to tell? Share your clubs volunteer story with us! Email pr@gfwc.org. 
GFWC Supports Continued Funding for the World Health Organization
 GFWC, at the request of United Nations Foundation Shot@Life Campaign, has signed a letter to President Trump urging the continued support of the World Health Organization (WHO) with copies of the letter going to Secretary of State Mike Pompeo, Secretary of Health and Human Services Alex Azar, Speaker of the House Nancy Pelosi, Senate Majority Leader Mitch McConnell, House Minority Leader Kevin McCarthy, and Senate Minority Leader Chuck Schumer. Visit the Advocacy in Action page for more information. 
Participate in Your Own Convention Service Project
The goal of the 2020 Convention Service Project was to create school supply "kits" for students in the Atlanta Public School District. Though the 2020 Convention has been canceled, you can still participate in your own version of this year's service project! Due to the COVID-19 pandemic, many parents have been furloughed and may not have money for their children's school supplies in the fall. Here are some steps you can take to help the students in your area before the next academic year:
Work with your club to find a local school where you can donate supplies.

Call or email an administrator at the school to see what they need most (tissues, sharpies, colored pencils, notebooks, etc.).

Pool your resources as a club to order the items the school needs—buying in bulk is a great value!


In order to avoid handling items before they get to the school, see if you can ship the items directly to your school contact.



We look forward to seeing what you and your club members can do to bring the 2020 Convention Service Project to life in your towns!
A Week of Celebration and Preservation
This week is not only Preservation Week, but also the WHRC's 36th Anniversary! When the WHRC opened on May 1, 1984, it did so with the mission of preserving the priceless history of GFWC and women volunteers for generations to come. Appropriately, the week-long observation of Preservation Week is a way to encourage libraries, museums, and other historic organizations to focus on collections care to ensure the longevity of priceless history.

This year's Preservation Week theme is Preserving Oral History. Over the last few months, the WHRC has embarked on a campaign to do just that. With your help, we have raised the funds to digitize hundreds of oral histories conducted with clubwomen, International Past Presidents, and female community leaders. Over the coming year, the WHRC will make these oral histories available through our online catalogue, ensuring that these voices are preserved for future generations.
Curator's Corner 
Lizette Woodworth Reese was a nationally acclaimed poet, educator, and clubwoman who was known for her skill with lyrics and sonnets.

Reese was born in Maryland in 1856 and spent her life living and working in Baltimore. A graduate of the Baltimore school system, Lizette gained a reputation for her strong lyrical style, even as a child. In 1873, she accepted her first teaching post at St. John's Parish School and published her first poem only a year later.

Reese published several volumes of poetry throughout the latter half of the 19th century, but it was her 1899 poem "Tears," published in Scribner's Magazine, which earned her national renown. After its publishing, famed writer H.L. Mencken commented that Reese's work was "one of the imperishable glories of American literature." "Tears" was also published in a 1935 edition of The Clubwoman.

Aside from her poetry, Lizette was also known for being an active clubwoman. In 1890, she became a co-founder of the Women's Literary Club of Baltimore. Additionally, in 1931 GFWC named Reese the poet laureate of Maryland.
Parliamentary Pointers
by GFWC Parliamentarian Deen J. Meloro
Now is the time when most clubs are voting on candidates for the coming year's officers. It's also the time that questions arise about when a sitting president can vote.

A presiding officer cannot maintain the neutrality she is supposed to show if she votes on every issue. Anytime members are voting by voice vote, standing vote, or a show of hands, the president does not vote except to make or break a tie. If a vote ends in a tie, the motion is lost because there is no majority. If the president wants the motion to pass, she can vote for it and break the tie. If the vote ends with one more in favor of the motion than the votes against the motion, the president can vote to create a tie, causing the motion to fail. While it is her privilege to vote to make or break a tie, she is not obligated to do so.

If ballots are being used for a vote, which is usually the case in an election, the president can vote at the same time everyone else does, because no one will know how she voted. If a roll call vote is being used, the president votes last if she wishes to vote.

A Parliamentarian never votes except if it is a ballot vote.

Update: In the March 19 issue of News & Notes, a new guideline for writing bylaws was announced. While this was only six weeks ago, the world has changed in that time and a new version has been written, which includes a sample of how a club or state might have an article on coping with emergencies. For a copy of "Writing Bylaws," email Melanie Gisler and she will send you a copy electronically.
Marketplace: Seven Grand Initiatives T-Shirts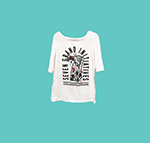 Our GFWC clubs have been doing an awesome job helping to reach our Seven Grand Initiatives goals! Celebrate the projects that you have already completed in style with the GFWC Seven Grand Initiative T-Shirt. With its extra soft cotton and beautiful colors, this might just become your new favorite shirt! Order one at the GFWC Marketplace.  
Unsubscribe from News & Notes 
Don't want to receive News & Notes any longer? Log in to your person profile on the GFWC Member Portal and uncheck "News & Notes" in the list of message types that you are currently receiving. 
GFWC
www.gfwc.org