August 18, 2022
View our Important Dates page for upcoming events and milestones.
What Annual Giving Means for GFWC  
By Shelli R. Fehr, Annual Giving Program Chairman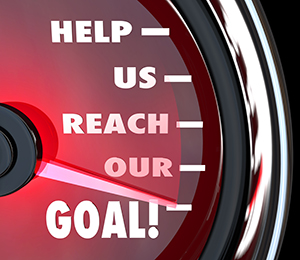 What does it mean for individuals, clubs, states, Regions, and outside organizations to give annually to GFWC? Monetary contributions signify that donor/s desire and passionately hope that GFWC thrives into the future and exceeds its mission and goals.
What GFWC's Annual Giving Program is not? It is not about requiring donors to contribute a specific amount annually or otherwise. It is about contributors donating when they can do so to any of the indicated GFWC funds.
All monetary donations are tallied and will be kept cumulatively under the donor's profile in the Member Portal. This includes club, state, and Region contributions.
As members attend their Region Conferences in the next few months, they will hear more detailed information about GFWC's Annual Giving Program and might even consider donating then! *Wink*
Donations to the Region are tallied under the Region's donations, not the individual who made the donation to the Region, but members can donate for themselves as well. Individual and group contributions will not only honor GFWC's legacy, but also help it continue to inspire the future.
What does giving annually to GFWC mean? That this more than 130-year-old organization continues to prosper so that generations well into the future have the privilege of knowing what GFWC can do for them and their communities. Honor the Legacy, Inspire the Future of GFWC by donating today!
The Annual Giving Program form is available in the "A" Resources folder or the "Club Manual" subfolder of the "C" Resource folder in the Member Portal Digital Library.
Express Yourself
By Donna Shibley, Writing Contest Chairman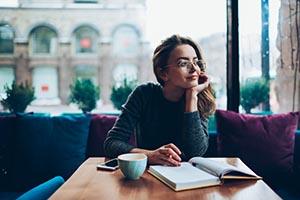 There are so many ways to express yourself. Do you like to express yourself through writing? Do you enjoy reading poetry or short stories? Have you thought about writing your own poem or story?
If you answered YES to any of the above questions, then you should grab your pen, let the creativity flow, and take the leap. Your final piece expressing your feelings is something to be proud of, and now it is time to think about sharing your gem with others. Please consider entering the GFWC Writing Contest.
All entries must be written in 2022 and submitted with the Creative Arts Waiver, located in the "Club Manual" subfolder of the "C" Resources folder of the Member Portal Digital Library.
Youth Writing Contest
Encouraging our youth to be creative writers is a wonderful way for them to express emotions, use their imagination, improve intellectually, organize thoughts, and build confidence.
Does your club sponsor a poetry and/or creative writing contest? Consider giving certificates and prizes. Post winners' entries in the local newspaper or town social media sites, making sure you include GFWC in your announcement.
Grade Level Categories:
Category 1: Grades K, 1, and 2
Category 2: Grades 3, 4, and 5
Category 3: Grades 6, 7, and 8
Category 4: Grades 9, 10, 11, and 12
When kids are heading back to school is a perfect time to get this project going in your club and to get your club's name out. All entries must be written in 2022 and submitted with the Creative Arts Waiver.
Take a break from technology, grab that favorite pen or your keyboard, and let the creativity sparkle while you encourage the writer's love of the written word.
Cares & Concerns 
GFWC extends its sympathy to GFWC New Hampshire State President Beth Roth, whose mother Dorothy Malfara, passed away on August 7. Please keep Beth and her family in your thoughts.
Volunteers in Action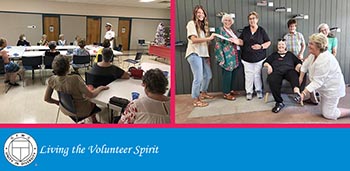 This week's GFWC Blog features GFWC Valamont Woman's Club (Tennessee) and GFWC Woman's Century Club (Idaho). Read how clubwomen in Tennessee hosted a Christmas in July gathering to get sponsors and raise funds for Wreaths Across America and how Idaho members donated several hundred dollars to a nonprofit organization that provides long-lasting shoes to children in need around the world.
Have a success story to tell? Email PR@GFWC.org to have your club project considered for the GFWC Blog.
The GFWC Emblem: A Visual Representation of GFWC 
By Penny Peterson, Communications and Public Relations Committee Member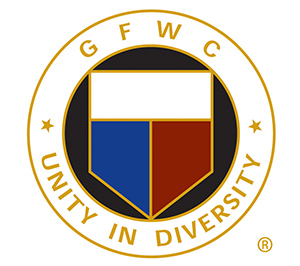 The GFWC emblem represents our history of enhancing the lives of others through volunteer service for more than 130 years. The GFWC emblem visually helps to present our organization consistently to the world. Use the GFWC emblem in ALL your written communications, including your email signature.
To download the emblem, log into your Member Portal account, click on the profile icon in the upper right-hand corner of the screen, and select "My Digital Library" from the dropdown menu. You will then click on the "Resources" folder and locate the "L" folder. Once you are in this folder, you will see another folder labeled "Logos," which contains all GFWC's logos available for use.
Many options are available, including the GFWC emblem in black and white, full color, and with or without text. Various types of image files are offered that you can select to best meets your needs. For example, if you have a non-white background, select a PNG file because it can handle graphics with transparent backgrounds.
The GFWC emblem is a registered trademark and the ® should be included as part of the emblem. Images representing the 2022-2024 Administration, Special Programs, and Community Service Programs may also be found within the Logo folder. Please refer to the GFWC Stylebook regarding the GFWC Trademark Use Policies.
For more information about using the GFWC emblem, review the Member Portal FAQs.
GFWC Boosters Meet at GFWC Annual Convention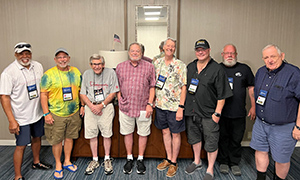 (From left) Larry Hankerson, Robert Greenstein, John Phillips, Charles (from Texas), Gregg Geis, Chris Jensen, Michael McCombs, Tracy Johnston

The GFWC Boosters gathered in their own lounge for a meeting to conduct business and elect officers in New Orleans, Louisiana, at the 2022 GFWC Annual Convention. Members of the South Central Region were exceptional hostesses and provided an incredible variety of treats, gifts, and hospitality to club members' biggest supporters. The lounge provided a place to rest, get snacks and drinks, and gather in fellowship.GFWC@GFWC.org.

The Boosters also convened to organize their club, which hadn't met formally since before the COVID-19 pandemic. They elected new officers, discussed fundraising projects, and the possibility of more Booster excursions at next year's GFWC Annual Convention in Louisville, Kentucky.  If you are interested in becoming a GFWC Booster or to learn more, please contact

Bylaw Requirements for Tax-Exempt Status

By 2022-2024 GFWC Bylaws Committee

Should a club or State Federation desire Federal tax-exempt status, the bylaws of that organization must comply with IRS requirements, which include the charitable purpose of the organization, a clause that no member profits from the income, the fiscal year, a dissolution clause, and other clauses. Federal tax-exemptions under section 501(c)(3) include tax-exemption for any money donated to the club, including dues. Many businesses and corporations will not contribute to an organization that does not have a 501(c)(3) designation. A state designation usually exempts a club from paying a sales tax on materials purchased for club use, but each state is different. Please refer to the Leadership Toolkit's Club, District, and Leadership Resources Section located in the "L" Resources folder of the Member Portal Digital Library. Specific to this topic is Investigate Applying for 501(c)(3) Status and Start with Sample GFWC Club Bylaws. These resources can assist in the decision to seek tax-exempt status. While a few State Federations have assisted clubs with obtaining tax-exempt status, most have not. Individual clubs are not covered under the state's EIN and tax-exempt status unless otherwise noted and should seek their own if the status is desired.

The Internal Revenue Service has recently revised its standing on 501 (c)(3) status for organizations with income averaging under $5,000. Refer to the IRS website for an overview. Other resources are found at www.irs.gov by typing "501 c 3" in the search bar of the IRS website. Publication 4220, Applying for 501(c)(3) Tax-Exempt Status and Form 1023-EZ, Streamlined Application for Recognition of Exemption Under Section 501(c)(3) of the Internal Revenue Code are two examples. Should the organization elect to pursue tax-exempt status professional tax and/or legal assistance may be desirable, especially for those with income averaging more than $5,000. Whether the organization decides to defer seeking tax-exempt until later, amending the bylaws to comply with IRS and state requirements now may speed the process later.

UNICEF Works to Keep Girls in School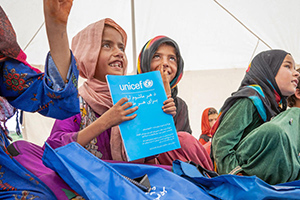 As schools reopen around the globe after pandemic-related closures, it is estimated that more than 10 million girls who attended before the COVID-19 crisis may not return to their classrooms. While the pandemic causes global poverty to increase for the first time in 25 years, girls who already face a disproportionate share of household chores are seeing those responsibilities overwhelm their chances of returning to a classroom. GFWC Affiliate Organization UNICEF USA is working relentlessly with global partners to re-open schools everywhere as soon as possible, along with continuing to distribute basic supplies such as books, backpacks, and desks.
GFWC members can help by advocating for the bipartisan Keeping Girls in School Act designed to harness the power of U.S. Government to address the barriers that prevent girls from getting an education.
Take the time to urge your members of Congress to support legislation that empowers girls around the world.
Honoring the 2022 Jennie Award Winners
It is our pleasure to shine a light on the eight 2022 GFWC Jennie Award honorees who have dedicated countless hours of their lives to their communities, schools, and other local organizations, on top of their Federation work. Throughout August, GFWC will be featuring two of these inspiring awardees in each News & Notes. Stay tuned to learn more about these hardworking clubwomen.
South Central Region: Marsha Wellman
Before she became a clubwoman, Marsha Wellman served her country as an Army wife for 21 years. No matter where they were stationed, Marsha found a way to volunteer, even learning to speak German.
She has served as president and other officers of three clubs and is an invaluable asset as advisor to the DB Harbor Juniorettes. In 2020, she received her 25-year membership pin. One member noted that even having surgery did not slow down – her club calls her the Energizer Bunny. She was named Outstanding Club Woman in 2000 and 2017, was voted as a Lifetime Member, and District Outstanding Club Woman in 2014. Marsha has served her State Federation in various positions and committee chairmanships. She shares her wealth of Federation knowledge with her club at monthly meetings to keep them connected.
Other organizations that have benefitted from her leadership abilities include the Aransas Pass Library, Ed & Hazel Richmond Public Library, Boy Scouts, Girl Scouts, Texas Extension Education Club, and more.
Southeastern Region: Mary Jo Thomas
As a third-generation clubwoman with 54 years of service, Mary Jo Thomas is the epitome of volunteerism.
Her leadership skills have helped her serve as president of four different clubs, District Director, State Director, SER President, and GFWC as Strategic Planning Committee member, Legislative Chair, Capital Campaign Chair, 1734 Society Chair, and as Meetings Chair. Through the Rhododendron Girl's State, she also helped educate young ladies about leadership.
Fundraising skills are her specialty. As the second woman to be president of the Salvation Army Board, she was responsible for overseeing the construction of the multi-million-dollar Booth Towers. As fundraising chair for Fairmont General Hospital Foundation, the committee raised $560,000 for a new mammography machine and $250,000 for a navigational Bronchoscope machine. Additionally, her "Dancing with The Stars" project generated $45,000, and the Celebration of Lights netted $75,000.
Bouts with two serious illnesses did not slow her down and she continues to support her family, club, and community with the same devotion she always did.
Congratulations Marsha and Mary Jo for being selected as Jennie Award recipients for 2022!
GFWC Marketplace: GFWC Pop Socket Grip 
This collapsible Pop Socket Grip makes it easy to hold on to your phone with one hand. Prop up your phone to watch a video, take a club selfie without worrying about dropping your phone, or simply show off your love of GFWC! Order yours today.
For information on mail service in your area, visit the USPS Service Alerts page. To speed up processing of your order, we request that you pay for your order at the time of purchase in the Member Portal.
GFWC
www.GFWC.org