August 19, 2021
View our Important Dates page for upcoming events and milestones.

Read the Convention Daily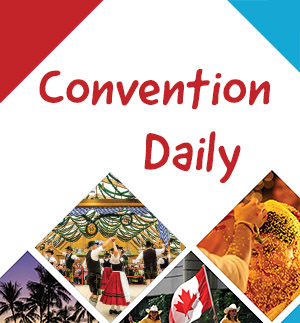 The 2021 GFWC Annual Convention is rapidly approaching, and we look forward to seeing everyone attending there. Visit our Convention FAQs and travel information online to plan the final details of your trip.
For those who cannot make it, GFWC's Communications and Public Relations Committee will offer a peek into some of the action at the Atlanta Marriott Marquis through the Convention Daily. From agenda highlights to impromptu memorable moments, the Daily will capture glimpses into how GFWC is celebrating culture, cultivating connections, and paving the way for the next Convention in New Orleans, June 25–28, 2022.
The Convention Daily will be distributed to all members who subscribe to News & Notes.
Celebrate Women's Equality Day on August 26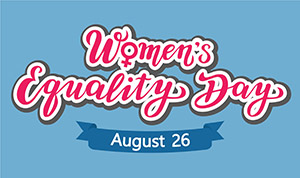 Last year's 100th anniversary of the 19th Amendment was a special moment in history, which we continue to celebrate a year later. On August 26, join us for Women's Equality Day to thank all of the women before us who have created new avenues for political power and influence, grassroots activism, and policymaking. The passage of the Amendment opened the door for even greater changes seen today as more and more women take positions of power in local, state, and federal government.
For decades, suffragists across the nation had fought for the right for women to vote, and on August 26, 1920, this effort came to fruition. The 19th Amendment was adopted into the United States Constitution, prohibiting states and the federal government from denying citizens the right to vote on the basis of sex.
Shortly after the Amendment was adopted, 20 women's organizations, including GFWC, joined forces to form the Women's Joint Congressional Committee (WJCC). The WJCC helped to advocate for policy that would improve the lives of women and children. In 1925, clubwoman Nellie Tyloe Ross became the first female governor of Wyoming, championing assistance for the poor, banking reform, and laws that protected women workers and prohibited child labor. She later was sworn in as the first woman director of the United States Mint in 1933. Another GFWC member who found herself in the political arena after women gained the right to vote was Margaret Chase Smith, who became the first woman to serve in both the House of Representatives (1940-1949) and the Senate (1949-1973).
Many other women have followed this example and worked to make their communities and the nation a better place—and continue to do so. As we gather this month for the 2021 GFWC Annual Convention, you will have an in-person opportunity to celebrate Women's Equality Day with clubwomen throughout the Federation. Take this time to share stories and reflect on how those before us have paved the way for future strives toward equality.
Volunteers in Action
This week's GFWC Blog features GFWC High Springs New Century Woman's Club (Florida) and GFWC West Side Women's Club (Pennsylvania). Read how clubwomen came together with their community to raise thousands of dollars to purchase protection hoods for local fire departments and donated food to a pantry serving hundreds of families in need each year.
Have a success story to tell? Email PR@GFWC.org to have your club project considered for the GFWC Blog. The next two issues of the GFWC Blog will be published on August 24 and August 31.
News & Notes Convention Announcement
To focus on the 2021 GFWC Annual Convention, News & Notes will not be issued on August 26 or September 2. Stay tuned for the next News & Notes issue on September 9.
Help Support Relief Efforts for Haiti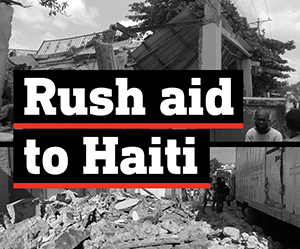 If you would like to join people around the world offering their help to the residents of Haiti, you can do so by supporting the efforts of GFWC Affiliate Organization UNICEF USA. On August 14, a magnitude 7.2 earthquake struck Haiti, causing serious damage, injuries, and casualties. The earthquake hit Haiti while residents were already facing multiple crises, including COVID-19, and now they need any help available. As of Monday afternoon, 724 people were reported dead and more than 2,800 injured, according to Haiti's civil protection service.
UNICEF is working on the ground to provide safe water, medical care, and protection services to children and families in need. Donate to UNICEF's relief efforts and share the messages of support on Facebook. You can also mail checks for donation to UNICEF USA c/o Global Cause Partnerships at 125 Maiden Lane Fl. 11, New York, NY 10038.
Attention Junior Banquet Attendees: Print This Out
If you are registered for the August 28 "Mayhem at the Mansion," be sure to pack a printout of the Pageant Press in your suitcase for the 2021 GFWC Annual Convention. This handout will give you the bios of key roles for the "Mayhem." Anyone with major or minor roles for the "Junior fun" should have received an email this past week with vital information about your character; be sure to check your email and read the attachment. If you did not receive an email, you will be a spectator trying to solve the crime. For questions, please contact Loretta Caron.
Participate in Our Soup Recipe Contest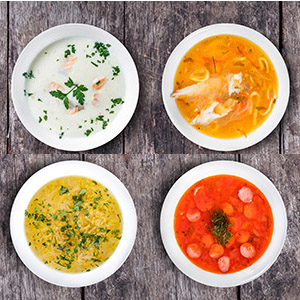 Soup's on this January, and we need your culinary talents for National Soup Month! Submit your healthy, best-kept secret soup recipe by Friday, September 17, for a chance to be featured in the Winter 2022 GFWC Clubwoman Magazine. We're looking for GFWC members' original culinary creations of all kinds—broths, creams, purees, bisques, and chowders.
International President Marian St.Clair will review all of the recipes and handpick six finalists to cook and be tasted at GFWC Headquarters. Four of these soups will be published in GFWC Clubwoman Magazine, one President's Pick and three others selected by Headquarters judges. Each submission should include:
How many servings the recipe makes.
A list of ingredients with exact measurements.
Preparation instructions in the order that they should be followed.
The cooking time and temperature.
Submit your original recipe by Friday, September 17, to PR@GFWC.org. With your submission, please include your full name as you would like it to appear in print as well as your club's name and state. High-resolution (300 DPI) photographs of your prepared soup are welcome but not required.
Prevent Child Abuse America Hosts Back-to-School Campaign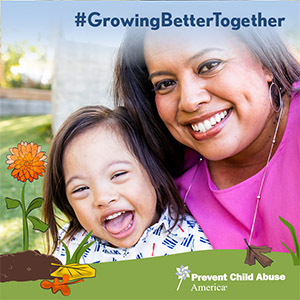 As young people begin to return to school, GFWC Affiliate Organization Prevent Child Abuse America is working to "grow a better tomorrow for all children." Prevent Child Abuse America is hosting their back-to-school campaign "Growing Better Together" through September 30, to celebrate students heading back to the classroom as COVID-19 vaccination rates increase. For some students, this will be their first time being back in a classroom in more than a year, and all students will attend with a wide variety of emotions, opportunities, and challenges facing them.
Real-world school settings will also return to being important environments to support healthy child development and critical sites to report and intervene when risk factors for student well-being appear. This campaign engages education professionals, school staff, and parents and encourages them to understand the roles they play and actions they take in proactively promoting student health and helping stop childhood adversity, including abuse and neglect, before it starts.
Your club can participate in this campaign by sharing their photos and responses for how they are working to create a better future for all children. The campaign will depend on the user-generated content platform, Cheerity, which allows people to create and share empowering and relevant messages. For questions, please contact PCAA.
Legislative Corner
As we head to Convention and Congress goes on recess, it is exciting to report that three GFWC-supported bills have been enacted by Congress. The Great American Outdoors Act enacted in August 2020, provides significant resources to national, state, and local parks and recreation. The Victims of Crime Act (VOCA) Fix to Sustain the Crime Victims Fund Act was enacted in July 2021 and will restore funding to local domestic violence shelters, rape crisis centers, legal services programs, and child abuse treatment programs in every state. The PAWS for Veterans Therapy Act was enacted in early August 2021 and will create a pilot program to provide dog-training skills and service dogs to veterans with mental illnesses.
Domestic Violence
The Family Violence Prevention and Services Act bills (H.R. 2119, S. 1275) have been approved by the relevant committees, the House Education and Labor Committee and the Senate Health, Education, Labor, and Pensions Committee, making the bills ready for floor action. These bills reauthorize domestic violence programs providing shelters, services, 24-hour hotlines, and education and prevention.
The Violence Against Women Act (VAWA) reauthorization passed the House of Representatives in March and the Senate bill is expected in September/October. Separately, the Hold Accountable and Lend Transparency (HALT) on Campus Sexual Violence Act was introduced late July. While some of the provisions were included in the House-passed VAWA bill, this legislation is more comprehensive.
Military Sexual Assault
In early July, Secretary of Defense Lloyd Austin supported the recommendations of the Independent Review Commission on Sexual Assault, chaired by our friend Lynn Rosenthal, former White House Advisor on Violence Against Women, advocating for the removal of cases of sexual assault from the chain of command, making sexual harassment a standalone offense in the Uniform Code of Military Justice; comprehensive prevention strategies; and specially-trained personnel. These efforts will shift responsibility from military commanders for prosecuting sexual assaults and related crimes, as well as domestic violence offenses, child abuse, and retaliation. Now leaders are working to insert these military justice reform recommendations into the annual National Defense Authorization Act and to increase funding for the Military Criminal Investigative Organizations in the FY 2022 Defense Appropriations bills. House and Senate bills are being readied for floor action. It is important to note that both House and Senate Military Personnel Subcommittees are chaired by women who are leading advocates for military justice reform, Rep. Jackie Speier (D-CA) and Senator Kirsten Gillibrand (D-NY). GFWC will activate the Legislative Action Center in support of these historic changes in September when Congress returns to Washington.
State President's Project: Karen La Voie, Oregon
GFWC Oregon State President Karen La Voie's project is Make-A-Wish Oregon, an organization that is very close to her heart. Her daughter, Michelle, was granted her wish in 1990. Even though Michelle lost her long, hard-fought battle with cancer in 1996, Karen and her family still treasure the memories of that wonderful trip to Paris. Since its inception in 1983, Make-A-Wish Oregon has granted more than 4,300 wishes. Though the COVID-19 pandemic created many challenges in their ability to grant wishes, the extremely small staff and numerous volunteers worked wonders to find ways to continue doing great work.
The theme of Karen's Administration is "Stars." The kids whose wishes are being granted by Make-A-Wish are truly stars. Each of them is fighting a life-threatening illness day in and day out; often, year in and year out. The wish requests are as varied as the children making the wishes. Whether it's a trip, a computer, a play structure, tickets to a sporting event, or numerous other possibilities, being granted their wish makes each child feel like a star–exactly how they should feel as they continually deal with something no one would have chosen to face.
To Karen, the GFWC Oregon clubwomen are also stars. The pandemic caused many challenges in how they cared for their communities, but thinking out of the box helped them find ways to assist those in need. When Karen presented Make-A-Wish as her President's Project, members stepped up immediately. Each of the nine Oregon clubs is finding their own way to help. One of the smallest clubs held a garage sale and raised $600. Another held a tea party to raise money on Federation Day. Other clubs donated cash, and some have ongoing projects to benefit Make-A-Wish. Karen is so thankful for and grateful to all of the GFWC Oregon Stars.
GFWC Marketplace: International Pin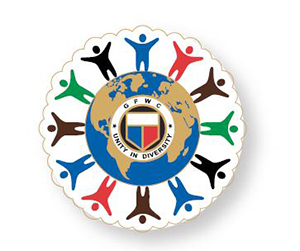 GFWC clubwomen aren't just throughout the United States, but around the world! This pin represents the beautiful bonds that have been made with GFWC International Affiliates. Order yours today.
There could be some mail service delays throughout the pandemic. To speed up processing of your order, we request that you pay for your order at time of purchase in the Member Portal. For information on mail service in your area, visit the USPS Service Alerts page.
GFWC
www.GFWC.org