August 20, 2020
View our Important Dates page for upcoming events and milestones.
Think Outside the School with Juniorette Membership
by Trina Behbahani, GFWC Juniorette Chairman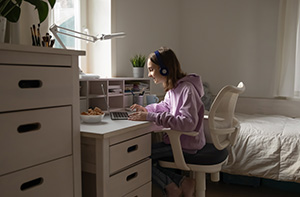 For many clubs, the end of summer means a return to club meetings and the kickoff of a new club year. For our GFWC Juniorettes, the end of summer also means a return to classes, and this year that likely involves a fully virtual or hybrid school week. Since these club members are students, this new approach to school may have an impact on how and where they accomplish their projects. Placing a donation box in the front office or hosting a bake sale at a school festival may no longer be realistic options. Let's make sure we are thinking outside of the school and identifying opportunities to serve others in a socially distanced manner so that we can stay engaged and connected to club work, our communities, and each other. Consider making masks for teachers, starting a pen-pal program with a local nursing home, or virtual fundraisers such as bingo nights or 5Ks.
Let us know how your Juniorette Club is preparing to go back to school and continue Living the Volunteer Spirit! Send your success story with at least one action-oriented photo to PR@GFWC.org.
New Club Manual Content: Resolutions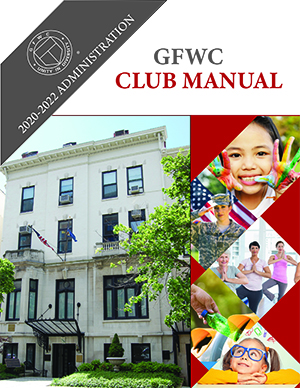 The Resolutions currently pending review for the five Community Service Programs and two Special Programs have been added to the Club Manual section of the digital library in the GFWC Member Portal! Visit the "Club Manual" folder under "C" to download individual Club Manual sections. Alternately, the updated entire Club Manual is available as one PDF document in its own sub-folder of the "Club Manual" folder.
Following the update to the GFWC Community Service Programs and Special Programs, the 2020–2022 GFWC Resolutions Committee has recategorized GFWC's Resolutions. Resolutions may no longer be associated with the same Community Service Program or Special Program that they were in previous years. The Resolutions have also been renumbered within the document, so it is important that members take a brand new look. For your convenience, the Committee has included a page for each Community Service Program or Special Program area with Resolution numbers and titles.
Log in to the GFWC Member Portal today! Before downloading documents, be sure the pop up blocker setting of your web browser is turned off for the best experience.
Cares & Concerns 
GFWC extends its sympathy to GFWC Membership Committee Member Karen Crandall, whose mother has passed away. Cards or messages of concern can be mailed to Karen at 7836 Shadow Lake Dr., Papillion, NE 68046 or emailed at karenjcrandall2010@hotmail.com.
Volunteers in Action
How has your club kept projects going during the pandemic? Let's hear your success stories in the areas of Arts and Culture, Civic Engagement and Outreach, Education and Libraries, Environment, and Health and Wellness! It could be a brand new project, one that has been reimagined, or one that has been successfully tweaked to follow local social distancing guidelines.
Email PR@GFWC.org a summary of your project's success, along with any action-packed photos. 
Apply by September 7: Shot@Life's Virtual Leadership Summit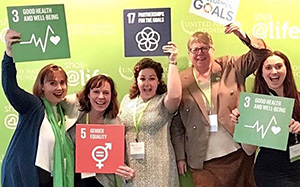 Apply to Shot@Life's 2020 Virtual Fall Leadership Summit taking place Monday, September 28, through Friday, October 2, 2020. Spaces are limited to 50 participants! As an attendee, you will further your training as a Shot@Life Champion and build the skills needed to be a more effective advocate for lifesaving vaccines.
Throughout the year Shot@Life Champions:
Reach out to their congressional offices so they commit to supporting global childhood immunization programs.

Recruit Champions within their local communities, both online and offline, to show policymakers there is local support for global childhood immunization programs.

Raise awareness through social media or traditional news outlets such as newspapers, radio, and TV.

Promote the cause by hosting fundraising or advocacy events.
Help Shot@Life stop the 1.5 million unnecessary deaths that happen every year! The deadline to apply is September 7, at 11:59 pm, EDT. Applicants will be notified of their acceptance starting September 14, 2020.

Summit content will be broken up and take place for a few hours each day over the course of the week. Attendees are not required to attend all sessions, but it is highly recommended. Most content will be live and scheduled in late afternoon/early evening (EDT), but it will be recorded to view later if you cannot attend a session. Apply today! 

Order Your 2021 Convention Patron Pin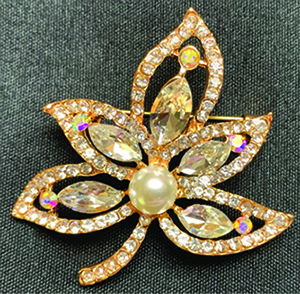 Support The American Women's Club of Toronto and GFWC International President Marian St.Clair by proudly wearing the 2021 GFWC Annual Convention Patron Pin. Stunning white crystal and rhinestone brooches are available for purchase by sending your order form and payment to the GFWC Southern Region (attention: Julie Walters); your name will be listed in the GFWC 2021 Toronto State Night Program.
Facility Dog Babs Brings Joy to Baltimore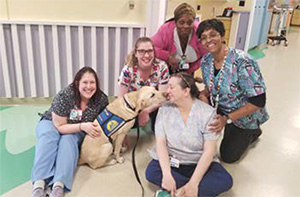 Children's hospitals are facing a difficult situation during the pandemic, with fewer visits and more confusion for young patients. Luckily, Canine Companions for Independence facility dogs are there to provide comfort. Facility dog handler Lindie at Mt. Washington Pediatric Hospital in Baltimore says spending time with Babs, named after 2014–2016 International Past President Babs J. Condon, is the highlight of her patients' days.
"We use Babs a lot in different medical-play scenarios. We talk to children about how she has to wash her paws and how she gets cleaned by having us brush her. We have the kids actually physically wash her paws so we can motivate them to in-turn, wash their hands and promote hygiene," shares Lindie, Mt. Washington's senior therapeutic recreation specialist. "I think just bringing smiles to our patients' faces has been the best thing. Their schedules are kind of turned upside down right now. Many of them can't have visitors and family members here. Babs gives them an opportunity to have something normal."
Marketplace: Administration Pin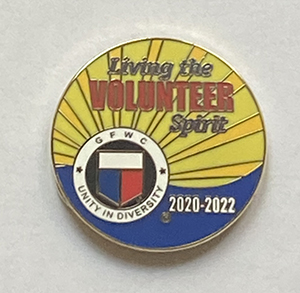 The 2020–2022 Administration Pin is now available! Join this Administration in lighting a path toward the future with this pin featuring a rising sun, a symbol of new beginnings. The front features vibrant colors and the back is magnetic for your convenience. Celebrate the start of the 2020–2022 Administration and order your pin in GFWC Marketplace.
Please note: Headquarters is operating with limited staff daily, and the Postal Service is also experiencing service delays in many communities.