GFWC Board Meeting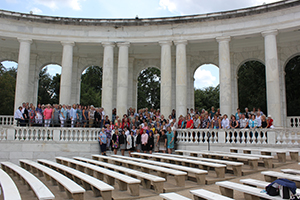 The GFWC Board of Directors traveled from all across the country to attend the 2019 August Board Meeting directed by GFWC International President Mary Ellen Brock in Washington, D.C. Before the meeting, the GFWC Executive Committee and GFWC Staff brought books donated for the Dr. Seuss Grand Initiative to local schools in D.C. Check out photos of their day on Pinterest. Additionally, the centerpieces at Board events were made of school supplies to donate to teachers at the schools where the Dr. Seuss books were donated!
In honor of GFWC's 2018–2020 Women in the Military Seven Grand Initiative, Board Members heard from speaker, Becky Watson, the founder and owner of Music for Wellness. The company provides music therapy programs to veterans and older adults. As a retired Navy Captain, a distinction only a select number of women can claim, the cause is dear to Becky's heart.
In addition to conducting business, Board Members also got the chance to explore the D.C. area. They started with a tour of the Newseum, one of the most interactive museums in the world that explores the importance of free press and its role in history. Then Board Members assembled at the Tomb of the Unknown Soldier to participate in a moving wreath-laying ceremony that paid tribute to fallen members of the military. The day concluded with a visit to the beautiful Hillwood Estate, Museum & Gardens, one of the country's leading art collector's museums. Experience the highlights of the Board of Directors Meeting by checking out Pinterest.
Experience "Irish Splendor" with GFWC
You're invited to join GFWC International President Mary Ellen Brock and your fellow clubwomen for an incredible adventure in Ireland!
The eight day trip will take you back in time with visits to Cabra Castle, Blarney Castle, and ancient towns in Irish whiskey territory. You'll also get a chance to take in the beautiful view from the Cliffs of Moher. With trips to the coastal landscape and an evening of canapes and cocktails in the Christ Church Cathedral crypt, you'll take in the best that the Emerald Island has to offer.
Reservations must be made by September 25, so learn more about the trip and book now!
Fight Childhood Cancer
September is Childhood Cancer Awareness Month. Get together your club members and your running shoes and support St. Jude's mission to end childhood cancer by starting a team with your club for a local walk/run event!
Challenge other groups in your community to a little friendly competition to raise the stakes. The more participants, the greater the impact on the fight to end childhood cancer. Register your team today!
Volunteers in Action
The GFWC High Springs Woman's Club (Florida), Marietta Woman's Club (Georgia), and Women's Club of Farmingdale (New York) are featured onGFWC's Blog.
Have a success story to tell? Emailpr@gfwc.org.
Labor Day Reminder 
For Labor Day, GFWC encourages clubwomen to support members of the country's workforce. Whether taking part in the Dr. Seuss Grand Initiative by donating books to school teachers or sending care packages as part of the Women in the Military Grand Initiative, we hope you take this day to celebrate the people who hold some of our most important jobs. Send your success stories to pr@gfwc.org.
Marketplace Announcement
This week, the GFWC Marketplace will transition to MemberSuite! Log in to GFWC's member portal and see the new look of GFWC Marketplace.
There are new advantages to having GFWC Marketplace in MemberSuite.  For your future orders, you'll have the new ability to review your account history, allowing you to keep track of past purchases and better manage your budget. You can also add a payment method to save yourself a step and make your shopping experience easier and quicker.
If you haven't already logged in, go to the GFWC Member Portal, click on the profile icon in the top right corner, select "Login" and then "Forgot your password?", enter the email you use to receive News & Notes each week, and then check that email for a code that you will enter to create a password. Log in today so you can access GFWC's products.
Welcome an Honor Flight
Celebrate veterans with GFWC as we welcome the next Honor Flight from West Central Florida on Tuesday, September 10 at the World War II Memorial in Washington, D.C. at 10:15 a.m. Let us know if you can make it!
Project Ideas
Is your club in search of project ideas? You can order one National Women's History Alliance newsletter free of charge on their website to learn about notable suffragists, nationwide events, and individual club ideas!
Curator's Corner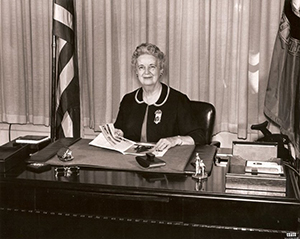 This month's Curator's Corner picks up with the newly digitized scrapbook collection of 26th GFWC International President, Mrs. Carolyn Lawrence Pearce.
Born in Georgia, she eventually moved to Miami, Florida in 1926 with her husband and son. She became a member, and eventually president, of the Miami Woman's Club. Over the next several years, she became director of District 11; vice-president of the Florida Federation of Women's Clubs; and State President of the Florida Federation.
Carolyn began her work at GFWC in 1958, serving as chairman of the Western Hemisphere Division of the International Relations Department, and of the American Home Department and Garden Division. She became GFWC recording secretary in 1960 and moved up in the ranks, becoming GFWC International President in 1966.
During her term, Carolyn's theme was "Build With Youth for a Better World." During her Administration, she didn't ask clubs to focus on a national campaign or fundraising project. Instead, she asked clubs to "walk hand in hand with youth for community betterment through community service." One of the ways Carolyn promoted this was through membership. Under her administration, GFWC formally organized the Juniorettes.
Carolyn's Administration also embraced travel. In 1967, she led an Adventure Tour of the Pacific where she stopped in Sydney, Australia and planned a conference for Australian clubwomen and all of the tour participants. Carolyn also visited Germany to mark the 20th anniversary or the Marshall Plan. She was one of only nine people from the United States invited to make the trip.
Carolyn Pearce's scrapbooks detail her experience throughout her 1966-68 Administration. They are comprised of personal pictures, magazine and newspaper articles, invitations, memos, and correspondence. Search under "SCRAP" on the online catalog to flip through Mrs. Pearce's scrapbooks and view the rest of the presidential scrapbook collection.
State President's Project: Montana, Joyce DeCunzo
The theme for Montana State President Joyce DeCunzo's Administration is: Our Children, Our Future. This theme reflects Joyce's professional experiences working with children in foster care. Of special interest to Joyce are those youth graduating out of the foster care system. They too rarely have anything other than a plastic sack for their few belongings. In addition, many often have no personal care items to help them get set up in a new living situation.
Called YouthEquip, Joyce's special project is to supply these youth with duffle bags filled with personal care items. Included in every duffle bag is a towel and washcloth, toothbrush and paste, hairbrush and comb, water bottle, laundry pods, soap and holder, shampoo and conditioner, deodorant, razors, a luggage tag, pens and pencils, a spiral notebook, a fleece blanket, and tampons and pads for women.
GFWC Montana club members have really gotten behind this project. In-kind donations amount to $12,677. Cash donations of $6,392 were used to buy products not provided by in-kind donations. Members filled duffle bags at the Fall Board meeting and at three District meetings. In addition to filling duffle bags, members heard an outstanding presentation about the needs of children in foster care, and the effects of trauma on their development. Numerous articles from youth who have been in foster care have been featured in The Montana Woman.
The goal for the two-year Administration was to provide 200 duffle bags to the Department of Public Health and Human Services, to be distributed to youth across the state. By the end of the first year, 204 duffle bags were completed! The project goal has been expanded, as donations continue to accrue.
Joyce has been told that the favorite item by far is the fleece blanket. It's a comfort thing.
Parliamentary Pointers: Bylaws or Standing Rules?
by GFWC Parliamentarian Deen J. Meloro
According to Robert's Rules of Order, bylaws are the most important rules that an organization must compose. Standing rules don't relate to parliamentary procedure but refer to such matters as the use of recording devices at meetings. Bylaws state how members are admitted, while standing rules state what time a monthly meeting will be held. Bylaws state how elections are to be held, while standing rules list responsibilities of the hostess committee.
Bylaws can only be changed by an amendment which has been sent out ahead of time so that members may study it before voting. It needs a two-thirds vote in the affirmative to be adopted. Standing rules may be amended at any meeting with no notice.
Another difference is who uses them. Each autonomous body (GFWC, State Federations, and individual clubs) has its own bylaws. The groups usually have both bylaws and standing rules. Divisions in GFWC that are not autonomous (Regions and districts) do not have bylaws. Any major rules and parliamentary authority are in the bylaws of the state for districts, and GFWC for Regions. Districts and Regions should only use standing rules to include rules that only apply to them. A district might list district dues or the location and time for when meetings are held. A Region could list which officers it has and how they are to be elected.
If your club can't decide if something should be in the bylaws or standing rules, ask yourself if it's something that might need to change frequently, such as when the club will host a district meeting. In this case, that would be a standing rule. If there's something that should not be subject to frequent change, such as the duties of each officer, then that belongs in bylaws.
GFWC Marketplace: 2018-2020 Administration Pin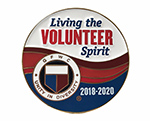 Join us in celebrating the halfway mark of the 2018-2020 Administration by getting this pin in the GFWC Marketplace. For just $5, you'll head off to your region conferences in style and show your support for what this Administration has already accomplished with the Seven Grand Initiatives!