December 16, 2021
View our Important Dates page for upcoming events and milestones.
A Memorable Holiday Open House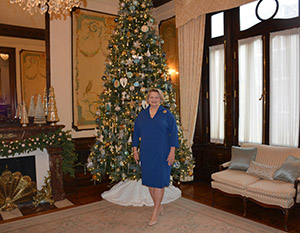 On December 8, GFWC Headquarters was transformed for a festive day of cheer as GFWC International President Marian St.Clair welcomed clubwomen to the 2021 GFWC Holiday Open House. While joyful harp music wafted through the rooms, members shared stories and celebrated the giving season. With the help of the President's Assistants, the two event receptions were filled with holiday magic. To help make this year's event special and celebrate the theme, Good Tidings of Comfort and Joy, State Federations sent decorated ornaments to adorn the two beautiful trees.
View this year's Holiday Open House photo album and download photos of your visit to Headquarters.
Click on the arrow in the lower right corner of each photo to download individual images. To download an entire folder, click the "Download All" arrow in the lower right corner of the photo at the top of the screen. You will be prompted to enter your email address, which you will need to verify by clicking on a link when receiving an email. After doing so, you will receive a second email with an option to download the entire photo album.
Enjoy the photos and we hope to see you all again next year!
Enjoy the Winter Holidays Safely
By Nancy Greenberg, Civic Engagement and Outreach Community Service Program  Chairman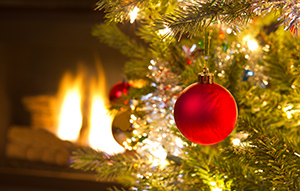 Winter holidays such as Christmas and Hanukkah should be times of joy. Families travel to gather together. Festive meals are happily shared over long conversations. Candles are lit to symbolize the warmth of home and family and the meaning of the holiday. Unfortunately, these lights and decorations can also increase the risk of fire in the home, according to the American Red Cross, National Fire Protection Association, and U.S. Consumer Product Safety Commission.
I clearly recall a tragic event in high school, when a boy who sat near me in homeroom lost his sister to carbon monoxide poisoning. His sister and her boyfriend had stopped during their drive home from a school dance. The car remained idling for heat, but the exhaust pipe was inadvertently backed into the snow. The two high school seniors died from the buildup of carbon monoxide. It was a devastating loss for our small school.
Be extra cautious and safe in the coming weeks. Know the risks, as well as the ways to be prepared for fire and carbon monoxide safety.
Fire Risk Facts
Nearly 47,000 fires occur during the winter holidays, taking more than 500 lives.
One of every 22 home fires started by Christmas trees lights result in death.
More than half of the at-home fires in December are started by candles. Christmas Day, New Year's Day, and New Year's Eve are the top three days for candle fires.
A working smoke alarm reduces the chances of dying in a fire by nearly half.
Prepare for Fire Safety
Place Christmas trees, candles, and holiday decorations at least three feet away from heat sources such as fireplaces, portable heaters, heat vents, radiators, and candles.
If you purchase a real tree, look for fresh, green needles that aren't easily broken. Keep trees moist in the home.
Never use lit candles to decorate a tree.
Read manufacturer's instructions for the number of light strands to connect. Don't overload electrical outlets. Inspect holiday lights annually for frayed wires, bare spots, and broken or cracked sockets.
Every night, designate one person to walk around your home to make sure that all candles are properly extinguished, fireplace embers are cool, and stove burners and Christmas tree and holiday lights are off.
Install a smoke alarm near the kitchen, on each level of your home, near sleeping areas, and inside and outside bedrooms if you sleep with doors closed. Use the test button each month. Replace batteries once a year.
Carbon Monoxide Risk Facts
Carbon monoxide is a colorless toxic gas which is impossible to see, taste, or smell. It is produced with the incomplete burning of common fuels such as wood, coal, charcoal, natural gas, propane, and heating oil.
Each year, more than 480 people die from carbon monoxide poisoning. Fuel-burning appliances in the home such as furnaces, ranges, water heaters, and room heaters are responsible for at least 200 of those deaths. Outdoor appliances used indoors also account for many deaths.
Prepare for Carbon Monoxide Safety
Install a carbon monoxide alarm in the hallway of your house near all sleeping areas. Avoid corners where air does not circulate. Many new homes have a combination smoke alarm/carbon monoxide detector. Both are essential.
Follow the manufacturer's instructions to test a carbon monoxide detector every month. Make sure it is installed according to the manufacturer's directions and building codes.
Avoid using gas appliances to heat your home.
Never use charcoal grills or fuel-burning heaters, stoves, or generators indoors.
Know the symptoms of carbon monoxide poisoning: headache, dizziness, weakness, nausea, vomiting, sleepiness, and confusion.
Cares & Concerns 
Sylvia Adams, mother of GFWC Credentials Committee Member Michelle Munoz, passed away on November 22. Condolences can be sent to Michelle at 39129 N. Aberdeen Ln., Beach Park, IL 60083.
Clementine (Tina) Macrina, Past GFWC Massachusetts State President (1992-1994), passed away on December 3. Tina was a dedicated clubwoman and friend to many.
Beverly Shelton, Past GFWC Missouri State President (1984-1986), passed away on December 11. Known for almost 60 years of service to GFWC, Beverly will be remembered for her giving heart. Condolences can be sent to Trish and Terry Shelton at 3404 Thornbird, Blue Springs, MO 64015 or Danielle Dupree-Crawford and her husband, Jason, at 4424 S. Huntington Way, Independence, MO 64055.
Volunteers in Action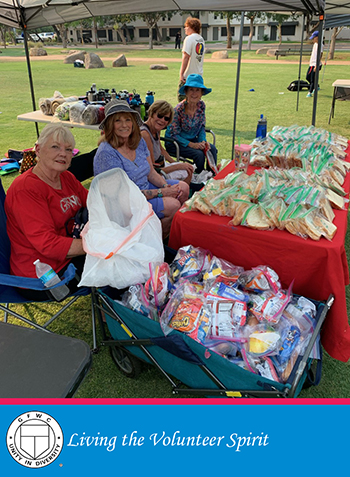 This week's GFWC Blog features the Tempe Woman's Club (Arizona) and GFWC Woman's League of the Lowcountry (South Carolina). Check out these stories of clubwomen making sandwiches to help people experiencing homelessness and creating free lending libraries for children at local grocery stores.
Have a success story to tell? Email PR@GFWC.org to have you club project considered for the GFWC Blog.
Happy Holidays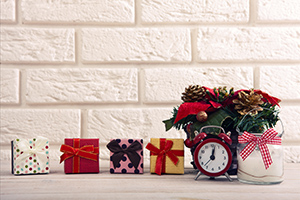 GFWC will be closed from December 24–December 31 in observance of the holidays! Enjoy the holidays and stay tuned for the next News & Notes issue on January 6.
Elevate Club Fundraising Through Branding
By Karyn Charvat, Communications and Public Relations Chairman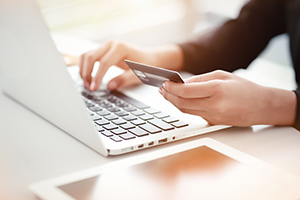 I've talked a lot about branded messaging and communications during this Administration. And while having a strong communications strategy is important for awareness and for driving membership recruitment, it can also support your fundraising efforts as a club.
If your brand messaging is strong, then your potential donors already understand "what you do and who you do it for." But do you make it easy for them to contribute? Here are some quick tips!
Be Clear and Concise
Donors want to know upfront—and quickly—that they've done something good, something tangible. Be very intentional about what action you want the donor to take. Share the benefit of giving rather than the goal.
As an example, avoid messaging like this: "We need just 30 more folks to hop onboard with our Holiday House Walk to meet our 2021 goal! Who needs tickets?" Instead, try this: "With just 30 more tickets sold, we will be able to provide coats and boots for four families this winter!"
Provide Links
Make it easy by accepting online payments! Invest in the technology, software, or an app, whatever you need to do to be able to take payments online. Do this today, or risk missing out on many donations.
Review
Pivot and adjust! Review what has been successful in the past and what hasn't been. As an example, when tracking your fundraising emails, are they being opened? If not, consider sending a direct mail postcard to previous donors. Emails are buried in holiday sale communications this time of year, and this may prove to be a factor in your declining response rates.
Finally, always remember to share the good in what you are trying to accomplish with your fundraising. Prompt, authentic communications humanizes your club, and you will begin to form a bond with your donors as a result.
Celebrate the Holidays with Heifer International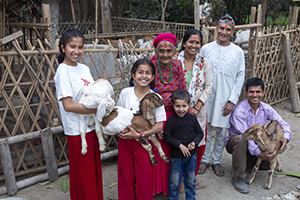 The holidays are the perfect time to honor a friend or family member with a gift from GFWC Affiliate Organization Heifer International. Livestock gifts come in all shapes and sizes—from fuzzy chicks to super-sized water buffalo. The gifts you choose will help families across the world pull themselves out of crushing poverty. Heifer is committed to long-term help and training, so farmers can provide for their families every day, in good times and bad. Visit the special GFWC page and click the Give Now button to select your animal today or call 855-8HUNGER (855.848.6437).
Continue to Support GFWC's Success for Survivors Scholarship Fund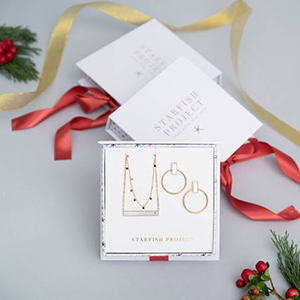 This holiday season is the perfect time to support GFWC's Success for Survivors Scholarship Fund by purchasing one of Starfish Project's 15 new gift box sets. The inspiring women at Starfish Project have paired their best-selling styles together to make gift sets that will make an impact this holiday season. Through a fundraising agreement for the 2020–2022 Administration, purchasing any Starfish Project product at this dedicated link will supply 25% of the sales price to the GFWC Success for Survivors Scholarship Fund! Your support allowed GFWC to award an additional scholarship in 2021. Starfish Project supports women escaping human trafficking and exploitation. The organization is currently working with more than 150 survivors to provide a fresh start in life by arranging safe housing, healthcare, education, and training, and by employing them to make jewelry and garments to support its mission. Order your next piece of jewelry today and help a survivor of human trafficking succeed!
Office Depot Savings Program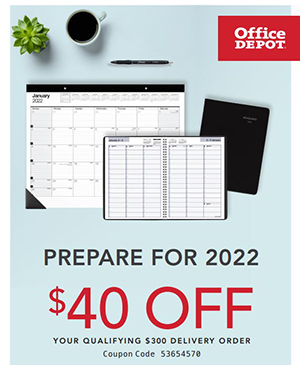 Whether you're looking for a place to easily shop for a wide assortment of holiday gifts or you're ready to start getting organized for 2022, look no further than GFWC member savings through Office Depot. The coupons will be valid through January 10; some exclusions apply. Take advantage of this great deal before it's gone!
Visit Officediscounts.org/GFWC to shop online through their Office Depot Savings Program.
Legislative Corner
Economic Recovery
As Congress wraps up the calendar year, the COVID-19 relief and recovery bill, American Rescue Plan Act (ARP), was approved in March and local and state governments are making key decisions on spending. The bipartisan Infrastructure Investment and Jobs Act was enacted in November providing significant funding for transportation, water and sewer, resiliency, and broadband. The Build Back Better Act, including increased funding for social programs, affordable housing and climate action, is pending in the Senate, having passed the House of Representatives before Thanksgiving. The urgency to pass the Build Back Better Act before adjourning for the holidays is related to the expiration, at year-end, of the expanded child tax credits and the suspension of student loan repayments. Student loans will once again accrue interest and borrowers must resume monthly payments. The looming cutoff of these two sources of significant federal pandemic aid to families threatens to add to the pessimism about the state of the economy.
Appropriations
Congressional leaders have found a way to raise the national debt limit through the end of 2022, and approved a FY 2022 Continuing Resolution until February 18, providing level federal funding until the FY 2023 appropriations bills can be completed. These actions ensure there will not be a federal government shutdown and national economic collapse.
Female Wartime Workers
On December 8, the House of Representatives overwhelmingly passed the Women Who Worked on the Home Front World War II Memorial Act, H.R. 3531, sponsored by Del. Eleanor Holmes Norton, D-DC. The bill would authorize the construction on federal government land in Washington, DC of a memorial to women who worked in war-related industries during World War II. Norton said: "The work done by women on the home front opened the doors for women in the workplace widely and has had a profound and lasting effect on the job market ever since."
Military Sexual Assault
Many thanks to GFWC clubwomen who participated in the Legislative Action Alert supporting efforts to remove prosecution of military sexual assault from the chain of command. It is exciting to announce that House and Senate Armed Services Committee leadership have crafted a compromise package providing that sexual assault and other major crimes such as domestic violence, child abuse, and stalking are prosecuted by attorneys with specialized expertise, independent from the chain of command. The new, independent prosecutors, known as Special Trial Counsels, will be under civilian control and report to the Secretaries of the Army, Navy, and Air Force. The bill also establishes sexual harassment as a specific offense under the Uniform Code of Military Justice, but failed to provide independent prosecution of sexual harassment cases outside the chain of command. This will certainly be a legislative goal for next year's National Defense Authorization Bill.
State Director of Junior Club's Project: Dana Skelton, Georgia
Since the "new normal" involves having limited time to meet in person, clubwomen learned to do things remotely and accomplish tasks that many never dreamed of doing. The ability to have a meeting online was once a futuristic dream, but now it is a daily reality. Members are not only meeting online, but are completing medical visits, work, training, school, and other social activities online. This new world is so different from the "old normal."
GFWC Georgia Junior Director Dana Skelton has participated in several remote meetings with the National Alliance on Mental Illness to help raise awareness about mental health to woman's clubs in Georgia and other civic programs in the state.
GFWC's Signature Program: Domestic and Sexual Violence Awareness and Prevention is also close to Dana's heart. She works part time in Gainesville, Georgia, at Gateway Domestic Violence Center, an organization that provides crisis intervention and comprehensive support services to those in need. Dana has seen first-hand how clubwomen have been able to support this organization. Outdoor children's toys, board games, and school supplies that were donated have been such a blessing to the residents. For the holidays, one club in Georgia also collaborated with a business to donate hams to feed 40 families seeking services from Gateway.
Cards were also created and mailed to military bases in the state for Christmas and a coat drive was initiated by a Georgia junior club that is currently aiding three different domestic violence shelters in the north Georgia area.
The Holiday Open House at the Lipscomb Cottage in Tallulah Falls School was held in early December and it was a great way to enter into the holiday season for GFWC Georgia.
GFWC Marketplace: Gift Bag Set Holiday Sale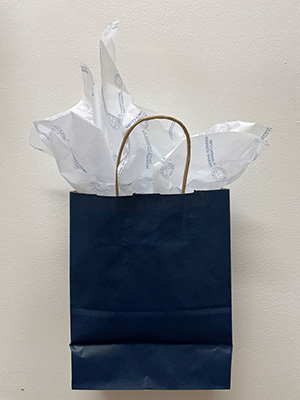 The GFWC Gift Bag Set is the perfect package for any gift! The Federation Blue gift bag comes with two sheets of gorgeous white tissue paper featuring the GFWC logo and emblem for the perfect gift set. Pick up some for your newest members to celebrate a personal milestone or birthday, the installation of a new President, or when gifting items to your community.
The gift bags are 4″ x 8 1/2″ x 10 1/4″ and the GFWC emblem tissue paper is printed with soy-based ink on acid-free paper and are FSC (Forest Stewardship Council) certified. You can gift comfortably knowing that this GFWC purchase is sustainable. This item comes with three gift bags and tissue paper sets. Order yours today.
To help you celebrate the holidays in style, the GFWC Gift Bag Set (three bags and six pieces of monogramed tissue) will be on sale for $8 beginning today throughout the end of December. Don't forget to place your orders early as there could be increased mail delays throughout the holidays.
GFWC Marketplace orders placed after December 22, will not be shipped until the week of January 3. To speed up processing of your order, we request that you pay for your order at time of purchase in the Member Portal. For information on mail service in your area, visit the USPS Service Alerts page. 
GFWC
www.GFWC.org