December 2, 2021
View our Important Dates page for upcoming events and milestones.
A New Chapter for GFWC Clubwoman Magazine
By Marian St.Clair, GFWC International President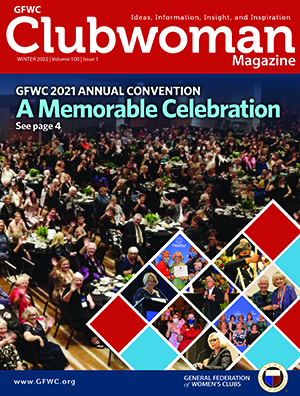 Exciting news! Beginning with the Winter 2022 issue, the GFWC Clubwoman Magazine will now be available to every member, without subscription, as a benefit of belonging to the Federation.
The magazine is distinct from other GFWC publications and belongs in the hands of every clubwoman. Each issue provides a message from the International President and Director of Junior Clubs, news on GFWC activities, in-depth information exploring the many facets of our program and advancement areas, and educational articles from professional, outside contributors on issues of importance to our members.
The current magazine, now available through the GFWC Member Portal, offers a compressive look at the 2021 GFWC Annual Convention in Atlanta, Georgia, and information about the 2022-2024 Candidates for Office. It also showcases the winning recipes from the GFWC Soup Contest and articles from our Advancement Committees on collaboration (Membership), photo tips (Communications and Public Relations), and cultivating leadership talents (Leadership). You certainly don't want to miss the exceptional article "Cancer Prevention," provided by John Hopkins Kimmel Cancer Center.
Download your magazine today from the GFWC Member Portal, under "C" in the "Clubwoman Magazine" folder. If you receive News & Notes, then you have already created a profile for accessing the Portal! If you do not receive News & Notes and have not yet created a profile, visit the FAQs page of the GFWC website to get started. Alternatively, you can visit the GFWC YouTube channel for a tutorial on how to use the Digital Library. Or, if assistance is needed, please contact GFWC@GFWC.org.
Remember, Honor, and Teach on December 18
By Nancy Greenberg, Civic Engagement and Outreach Community Service Program Chairman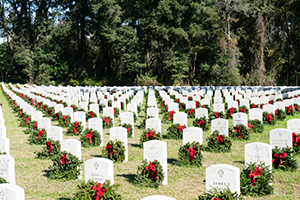 Wreaths Across America Day, December 18, is a special time to honor those who have served and remember those who are no longer with us. Wreaths Across America Day is also an opportunity to demonstrate the value of freedom in the United States to children. As www.wreathsacrossamerica.org promotes: "The story of one man's annual tribute to our veterans inspired a legion of volunteers and gave rise to the Wreaths Across America of today."
Wreaths Across America was formed by the Worcester family and a group of veterans and community members in 2007. Ever since, this organization has played a special role in paying tribute to our veterans at their final resting places.
As Morrill Worcester, Founder of Wreaths Across America, said: "The annual trip to Arlington and the groups of volunteers eager to participate in Worcester's simple wreath-laying event grew each year until it became clear the desire to remember and honor our country's fallen heroes was bigger than Arlington, and bigger than this one company."
That legion of volunteers includes our own members of GFWC. Each year, members have gathered to reflect upon those citizen soldiers who served our country, offered their service and their lives to safeguard our freedom, and were a voice for democracy around the world.
Members and clubs may sponsor a wreath and honor an American hero at one of more than 2,500 locations across all 50 states. A balsam wreath will be tied with a red bow in Columbia Falls, Maine, shipped to a participating location, and a volunteer will place it on the marker of a fallen hero and state the name of that hero. Members may also purchase their own wreaths and place them on the graves of veterans in local cemeteries or state veterans' cemeteries, coordinating with the wreath-laying ceremony at Arlington National Cemetery.
Multiple GFWC clubs, within 10 states, participated in Wreaths Across America Day events, December 2020. Clubs collaborated with town governments, organized patriotic music, participated in the reading of veteran's names, promoted the purchase of wreaths, and placed flags on graves.
There is still time to purchase a wreath and honor a United States veteran. Participate in Wreaths Across America Day 2021, and share your project success stories with PR@GFWC.org!
Cares & Concerns 
It is will great sadness that we announce the passing of Eileen Russell, Past Connecticut State President (1984-1986) and Past New England Region President (1996-1998). Known for her many years as a dedicated member of GFWC, Eileen passed away on November 18.
Condolences can be sent to Eileen's sister, Rita Hartley, at 19 Alban Rd., Enfield, CT 06082.
Volunteers in Action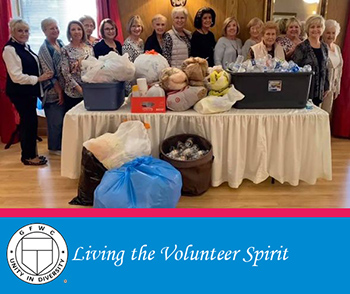 This week's GFWC Blog features GFWC Alabama clubs, GFWC Hastings Women's Club (Michigan), and the Woman's Club of Wheeling (West Virginia). Check out these stories of how clubwomen are taking care of the environment by collecting plastic bags, plastic bottles, and empty pill bottles to be recycled and upcycled in various ways.
Have a success story to tell? Email PR@GFWC.org to have you club project considered for the GFWC Blog.
Registration Now Open for Remote GFWC Holiday Open House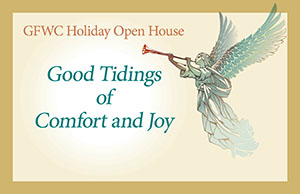 Although registration closed yesterday to attend the in-person 2021 GFWC Holiday Open House on December 8, you still have an opportunity to celebrate the giving season and experience a bit of holiday magic at GFWC Headquarters in Washington, DC. Registration is now open to receive a link to a remote Holiday Open House experience that will launch at 5:00 p.m. ET on December 15. You can register through the GFWC Member Portal to view this remote event until 12:00 noon ET on December 31.
The theme of the 2021 GFWC Holiday Open House is Good Tidings of Comfort and Joy – a wonderful reminder of the happiness we receive from encouraging and supporting our friends, family, and neighbors.
A GFWC Soup-er Cookbook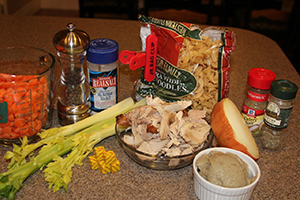 Isn't soup on a cold wintery day super? As GFWC International President Marian St.Clair mentioned, the Winter 2022 GFWC Clubwoman Magazine contains the four winning soup recipes from the GFWC Soup Contest. But only the first, second, and third place winners, as well as the President's Pick, are included in this magazine. The new cookbook just uploaded to the Member Portal's Digital Library contains many more recipes submitted by clubwomen for you to cook and enjoy with family and friends during January, National Soup Month, or any other time of year.  Download A GFWC Soup-er Cookbook by visiting the "S" Resources of the Member Portal's Digital Library now.
Johns Hopkins Webinar December 14
Johns Hopkins Medicine is offering a webinar at 7:00 p.m. ET on Tuesday, December 14, about warning signs for pancreatic cancer. Join gastroenterologist Anne Marie Lennon, Ph.D., as she discusses research found that pancreatic cysts can be precursors to pancreatic cancer, underscores why this is so important, and reveals how pancreatic cysts can evolve into cancer. Visit the Johns Hopkins website to register for this event.
Attend UNICEF's Remote Global Forum for Children and Youth
Join GFWC Affiliate Organization UNICEF USA for their inaugural Global Forum for Children and Youth from December 7-9. Co-hosted by UNICEF and the governments of Botswana and Sweden, this three-day remote event will include more than 40 informational sessions that will:
Focus the world's attention on the rights and urgent needs of children and young people.
Identify and celebrate proven and new solutions.
Inspire commitments, drive action, and mobilize transformational resources to scale up and advance child rights.
Meet Sustainable Development Goals.
The forum will tackle some of the most burning issues affecting children and youth, such as climate change; the education and learning crisis; the impact of COVID-19 on their health; poverty and social inclusion; and the increasing need to protect them from violence, exploitation, and abuse. Participants will join leaders from the United Nations, government, business, philanthropy, and civil society, alongside authors, artists, and children and young people themselves, to mobilize collective action and build a better future for all.
Join the Global Forum for Children and Youth by watching the live stream sessions from December 7-9.
GFWC Marketplace: GFWC Notecards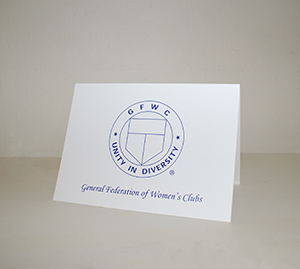 Saying "thank you" makes a difference, and these GFWC notecards featuring the Federation's logo on the front and mission statement on the back are the quintessential stationary to show your appreciation to your dedicated volunteers for all their accomplishments. Each pack includes 10 cards and 10 envelopes. Order yours today.
To help you celebrate the holiday season, the GFWC Notecards pack (10 cards and 10 envelopes) will be on sale for $8 throughout the end of December. Don't forget to place your orders early as there could be increased mail delays throughout the holidays.
There have been reports of mail service delays in many communities throughout the United States. In order to speed up processing of your order, we request that you pay for your order at time of purchase in the Member Portal. For details on mail service in your area, visit the USPS Service Alerts page.
GFWC
www.GFWC.org