December 9, 2021
View our Important Dates page for upcoming events and milestones.
President's Pick
By Marian St.Clair, GFWC International President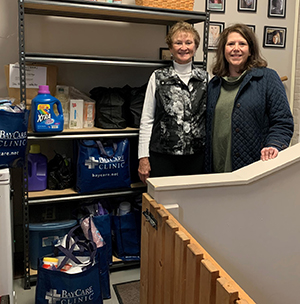 At the 2008 GFWC Annual Convention in Chicago, the issue of domestic violence was named as the "Signature Project" of the Federation. The GFWC Success for Survivors Scholarship was established in 2011 and over the years the project has continued to expand, culminating in the most recent change to broaden the scope of the program into the GFWC Signature Program: Domestic and Sexual Violence Awareness and Prevention (DSVAP). Today, club members work to provide services to survivors and to be game changers in the continuing crisis of violence against women, especially through community education programs such as the DSVAP Challenge Project: Teen Dating Education and Awareness.
This past October, clubwomen across the country engaged in hundreds of projects during Domestic Violence Awareness Month. I'm excited to announce that this month's President Pick is the GFWC Menominee Woman's Club of Michigan for a creative project that not only assists survivors who are establishing a better life for themselves and their children, but also shows how resourceful and dedicated our clubwomen can be.
The GFWC Menominee Woman's Club worked with Rainbow House, a local shelter, to create "Kitchen Kits" that assist survivors who are currently housed in hotels, rather than a shelter due to COVID-19. The purpose of the kits is to make meal preparation and clean up a little easier and more manageable in a confined space.
Each kit includes sturdy paper plates and bowls, beverage cups, Ziploc bags, disposable utensils, mixing spoons, a small cutting board, and a dish cloth and towel.
Club President Judy Reid was thrilled that members collected and donated items for the creation of 13 kits, more than twice the number hoped for.
When you have time, I urge you to take a look at the club's website, especially the "About" page that provides a bit of club history, as well as information on the mission statement, projects, meetings, benefits of belonging, and how to become a member. It is an impressive example of club marketing and branding.
Many congratulations to President Reid and the GFWC Menominee Woman's Club of Michigan!
Fundraising With a Smile
By Sandy Phillips, Fundraising Chairman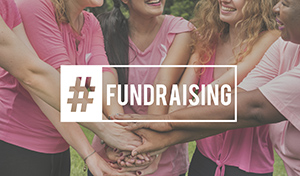 Fundraising helps build your membership into a stronger club. To get the club's support, allow the entire membership to help determine a fundraising project. Members will have ownership of the project by being included in the decision-making process.
With positive project leadership, working together makes members feel that they belong. When I was a worker in a food booth selling brats and sauerkraut, it was the first time that I felt included in the club.
Fundraising can be a great public relations project. Reach out to press and use social media and advertisements to inform the community. Future members want to belong to an active club and can see what you are accomplishing by your fundraising project. Maybe two smaller fundraisers would be better for your club than one large fundraiser. Determine how much money works for your group.
GFWC's Affiliate Organizations also appreciate the fundraising that clubs do on their behalf. Your club's members can be inspired and grow as volunteers by helping these organizations.
Keep smiling, be positive, and productive—and share your project success stories with PR@GFWC.org to be considered for the GFWC Blog.
Cares & Concerns 
It is with great sadness that we announce the passing of Mary Irons, Past GFWC Rhode Island President (1994-1996). A committed member for more than 40 years, Mary passed away on October 30.
Eleanore Janetos, Past GFWC New Hampshire President (1982-1984), passed away on November 25. Known for being a mentor and friend to many, Eleanore offered her dedicated service to GFWC for more than 65 years and will be remembered fondly.
Volunteers in Action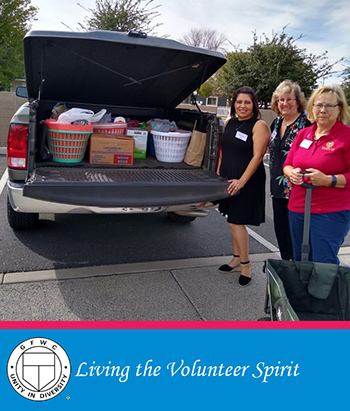 This week's GFWC Blog features GFWC Arizona Central District clubs and GFWC Woman's Club of Parsippany Troy Hills (New Jersey). Read how clubwomen hosted a done-in-a-day project to support a nonprofit that offers short-term assistance to survivors of domestic violence and how members participated in a recycling project to protect the environment.
Have a success story to tell? Email PR@GFWC.org to have you club project considered for the GFWC Blog.
Support the Success for Survivors Scholarship Fund
Give the gift of hope by purchasing one of Starfish Project's 15 new gift box sets. The inspiring women at Starfish Project have paired their best-selling styles together to make gift sets that will make an impact this holiday season. Through a fundraising agreement for the 2020–2022 Administration, purchasing any Starfish Project products at this dedicated link will supply 25% of the sales price to the GFWC Success for Survivors Scholarship Fund! Your support has allowed GFWC to award an additional scholarship in 2021.
Starfish Project supports women escaping human trafficking and exploitation. The organization is currently working with more than 150 survivors to provide a fresh start in life by arranging safe housing, healthcare, education, and training, and by employing them to make jewelry and garments to support its mission. Order your next piece of jewelry today and help a survivor of human trafficking succeed!
A Gift of Friendship
By Karen Crandall, GFWC Membership Committee Member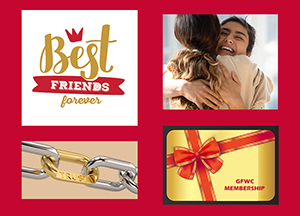 The most priceless gift is not gold, diamonds, or riches, but the gift of GFWC friendship.
What is friendship? It can be defined as a state of enduring affection and trust between people who like each other and enjoy each other's company. But GFWC friendships are long-lasting and often blossom into close friends, maybe even a best friend.
By attending State Federation, Region, and International GFWC Headquarters events, members can connect with an amazing and diverse Federation of women. These friendships will increase the members' sense of belonging and purpose to GFWC. They will also encourage them to Live the Volunteer Spirit through GFWC and to make a difference in people's lives.
Healthy relationships play a pivotal role in general happiness. People are healthier, happier, and less stressed when they have good friends to lean on, especially during the holidays. Friendship is always a special gift generously given, happily received, and greatly appreciated. Share the gifts that GFWC friendship has given you on Facebook.
Techie's Tips: Enabling Pop-Ups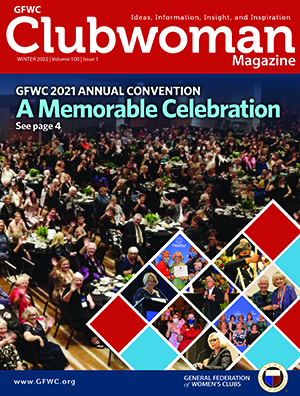 GFWC International President Marian St.Clair announced last week that, beginning with the Winter 2022 issue, the GFWC Clubwoman Magazine will now be available to all members in the GFWC Member Portal Digital Library. Along with this exciting news, there are many other valuable members-only resources in the Digital Library, including the 2020-2022 Administration Club Manual, GFWC logos and emblems, and more. However, your computer's pop-up blocker may be preventing you from downloading this useful information.
A pop-up blocker is a web browser setting on your device that prevents new windows of content from displaying automatically. Not turning off a pop-up blocker may interfere with the functionality of some websites, like the GFWC Member Portal. Double check that you've enabled pop-ups within your favorite browser's settings with the tips below for these common browsers.
Chrome
In Chrome, you can enable pop-ups for specific websites while keeping them blocked for other websites. To enable pop-ups in Chrome:
At the top right, click on the three vertical dots and then choose "Settings."
Under "Privacy and Security," click "Site Settings."
Click "Pop-Ups and Redirects." Under "Allow," add in all lower case "https://gfwc.users.membersuite.com/auth/portal-login" to enable pop-ups.
Firefox
In Firefox, you can enable pop-ups for specific websites while keeping them blocked for other websites. To enable pop-ups in Firefox:
Open Firefox and click the icon with three horizontal bars in the upper right side of the browser toolbar.
Select "Options" (Windows) or "Preferences" (macOS).
In the left sidebar, click on "Privacy and Security" and then scroll down until you reach "Permissions."
Next to "Block Pop-Up Windows," click "Exceptions." In the "Address of Website" field, add in all lowercase "https://gfwc.users.membersuite.com/auth/portal-login," and then click "Allow."
Click "Save Changes" and close any remaining dialog boxes.
Microsoft Edge
For Microsoft Edge, pop-ups are either entirely enabled or they are blocked. To enable pop-ups in Microsoft Edge (Windows 10):
Click the ellipsis icon (…) in the upper right corner of your web browser and then click "Settings."
In the advanced settings section, click "View" advanced settings.
In the Block pop-ups section, click the switch to "Off." Pop-ups are now allowed.
Safari
For Safari, pop-ups are either entirely enabled or they are blocked. To enable pop-ups in Safari:
From the Safari menu, choose "Preferences," then click the "Security" tab.
Ensure the block pop-up windows option is not checked. Unchecking this option will allow pop-ups.
State Director of Junior Club's Project: Candice Postel, Florida
GFWC Florida Junior Director Candice Postel selected Kicks for Kids as her project for the 2020-2022 Administration. In some low-income families, children must worry about going to school in shoes that don't fit or make them feel like they don't fit in. These children may hesitate to raise their hands in the classroom or have trouble concentrating due to feeling uncomfortable. Without proper footwear, children can suffer emotionally, physically, and academically. Teachers report an increase in attendance and in physical activity when low-income students receive new shoes.
Clubs are invited to participate in Kicks for Kids and provide children with new shoes to help increase their self-confidence, concentration, and overall chance of academic success. Education unlocks the door to freedom and allows children to break the cycle of poverty. By promoting their academic success in this manner, we can help open that door.
Members can work with local schools, daycares, Boys & Girls Clubs, children's homes, foster organizations, shelters, or identify other families in need. The GFWC Marianna Woman's Club put together a Christmas tree with shoe ornaments that had a child's first name and shoe size listed. Community members selected an ornament and then purchased shoes for the child. GFWC Plant City Junior Woman's Club members have also provided shoes to children in their community for more than 65 years, donating 700 pairs of shoes to local school children each year.
GFWC Florida clubs were challenged to donate shoes during Advocates for Children Week, and 22 clubs accepted the challenge. Members brought 150 pairs of children's shoes to the Southern Region Conference, which were donated to the Head Start program in Tallahassee. Candice said it will be exciting to read the 2021 reports and count how many kids were impacted.
Club Anniversaries and Gold Pin Recipients
Club Anniversaries
50th
GFWC Dunwoody Woman's Club (Georgia)
85th
GFWC Curwensville Woman's Club (Pennsylvania)
100th
GFWC Fort Walton Beach Woman's Club (Florida)
GFWC Thompson Falls Woman's Club (Montana)
Gold Pin Recipients
Anne Baynham
GFWC Dunwoody Woman's Club (Georgia)
Beverly Cisneros
GFWC American Women's Literary Club (Peru)
Carolyn Dinelli
GFWC Woman's Club of Antioch (California)
Carlene Garner
GFWC Woman's Club of Tacoma (Washington)
Celia Gioffre
GFWC American Women's Literary Club (Peru)
Josephine Gowan
GFWC Anderson Valley Unity Club (California)
Judie Kraemer
GFWC Woman's Club of Lodi (California)
Joan Nuesch
GFWC Woman's Club of Kingsville (Texas)
Joan Pun
GFWC American Women's Literary Club (Peru)
Cristina Quesada
GFWC American Women's Literary Club (Peru)
Virginia Roberts
GFWC Eggleston Woman's Club (Indiana)
Mary Rocha
GFWC Woman's Club of Antioch (California)
Jan Schweser
GFWC Dublin/San Ramon Woman's Club (California)
Charlotte Zika
GFWC Dublin/San Ramon Woman's Club (California)
GFWC Marketplace: WHRC Bundle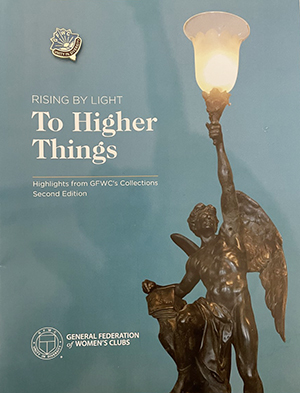 To help you celebrate the holiday season, GFWC is combining the WHRC Heritage Pin and the WHRC Collections Book into a special holiday bundle for just $25. This great deal is the perfect way for clubwomen to prepare for Women's History Month in March and the upcoming 100th anniversary of GFWC ownership of Headquarters on April 1.
The WHRC Heritage Pin offers a faithful facsimile of GFWC's original emblem, which was designed in 1892 by the Committee on the Federation Badge Pin, on an updated lapel pin with a magnetic back. Appointees of the Committee included GFWC's founder, Jane Cunningham Croly, and its first president, Charlotte Emerson Brown. The Committee chose the sun's rays and the color blue as elements to symbolize the Federation. The resulting pin, GFWC's original emblem, featured an image of the rising sun in a blue sky above snow-capped mountains with its rays illuminating "GFWC" in block lettering. An upturned, russet-colored banner displayed the motto, "Unity in Diversity." Proceeds from the Heritage Pin will be used to repair or replace the picture frames that display GFWC's historic collection of International Past President Portraits.
The WHRC Collections Book, Rising to Light by Higher Things, details 128 years of GFWC history and features salient pieces of the Women's History and Resource Center collection. All proceeds from the book sales go to support the WHRC.
Order this WHRC Heritage Pin and the WHRC Collections Book bundle today!
There have been reports of mail service delays in many communities throughout the United States, which may increase during holiday season. In order to speed up processing of your order, we request that you pay for your order at time of purchase in the Member Portal. For details on mail service in your area, visit the USPS Service Alerts page.
GFWC
www.GFWC.org