February 17, 2022
View our Important Dates page for upcoming events and milestones.
Register Now: GFWC Affiliate Organization Webinar Series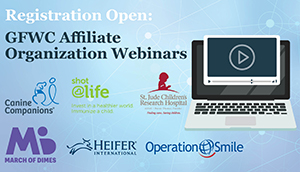 Join GFWC for our interesting and educational Affiliate Organization Webinar Series from March 1–15! The six participating organizations that we work with side-by-side to improve our communities include: Canine Companions, Heifer International, March of Dimes, Operation Smile, Shot@Life, and St. Jude Children's Research Hospital.
Webinars Schedule
The following webinars will be presented live on Zoom, with time for Q&A.
St. Jude Children's Research Hospital: Tuesday, March 1 at 2:00 p.m. to 3:00 p.m. ET
Heifer International: Tuesday March 1 at 4:00 p.m. to 5:00 p.m. ET
Operation Smile: Thursday, March 3 at 2:00 p.m. to 3:00 p.m. ET
Canine Companions: Thursday, March 3 at 4:00 p.m. to 5:00 p.m. ET
March of Dimes: Tuesday, March 15 at 2:00 p.m. to 3:00 p.m. ET
Shot@Life: Tuesday, March 15 at 4:00 p.m. to 5:00 p.m. ET
Visit Events in the GFWC Member Portal for listing of webinars and event descriptions. When you select the webinar event you wish to attend in the Portal, click on the blue Zoom registration link within the body of the event text. You will then be redirected to a page to sign up through Zoom, and after completing your registration you will receive email confirmation that you are registered.
Please note that when you select the webinar you wish to attend in the Member Portal, you will see a blue box on the right side of the page that says "Closed." However, this does not mean you cannot sign up to attend; follow the above steps to register with the provided Zoom link.
For ongoing webinar updates, follow News & Notes and visit the Important Dates Calendar on the GFWC website.
Must-Visit Libraries
By Tina Neese, Education and Libraries Community Service Program Chairman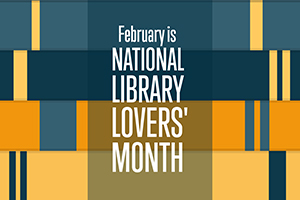 Have you ever wondered which libraries in the United States are the most unique? Libraries range from small to massive, but each one has a certain charm and style.
Here is a list of four unique libraries to add to your bucket list to visit.
Darby Free Library (Darby, PA)
This library is one of the oldest, continuously operating libraries in the U.S. and traces its beginnings back to 1743. Their first female member joined in 1819, although she was not allowed to attend the meetings. Many of their first 43 books shipped from England are still a part of their collection.
The St. Louis Mercantile Library (St. Louis, MO)
Considered the first library west of the Mississippi, there have been notable literary figures who have held lectures at this library, including Mark Twain.
The Folger Shakespeare Library (Washington, DC)
Find all things Shakespearian in this one location from poetry to performances and exhibits!
The Lily Library (Bloomington, IN)
This library is a treasure trove with a remarkable collection of 16,000 miniature books, some hundreds of years old.
As an organization, we love to read and it's time to visit and support all of the libraries that we adore. Share photos and a write up of your club's National Library Lover's Month project with PR@GFWC.org to be considered for the GFWC Blog.
Cares & Concerns 
We are sad to note that Betty Dance, Past GFWC Missouri State President (1996-1998), passed away on February 6. Betty was a proud GFWC member for more than 60 years.
Volunteers in Action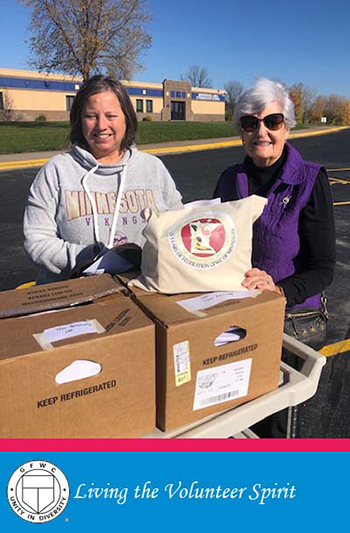 This week's GFWC Blog features the GFWC Potpourri Club of Glenwood (Minnesota) and GFWC Jubilee Woman's Club (Alabama). Read how clubwomen provided positive messages and helpful resources to area teenagers to raise awareness about teen dating violence and participated in a wreath laying ceremony for Wreaths Across America.
Have a success story to tell? Email PR@GFWC.org to have your club project considered for the GFWC Blog.
Women's History Month: Finding a Home in Dupont Circle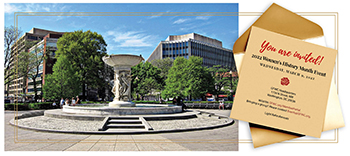 In honor of Women's History Month this March, GFWC is celebrating the history of the Federation. Visitors to GFWC Headquarters at 1734 N Street NW are often intrigued by its location in the Northwest Washington, DC, neighborhood of Dupont Circle. This neighborhood is a traffic circle, urban park, and historic residential area located at the intersection of several streets. Unlike most traffic rounds, Dupont Circle is also a vibrant urban park where "people watching" is at its best.
Early in the 1870's, a group known as the "California Syndicate," led by Nevada Senator William Morris Stewart, bought up tracts of undeveloped land in what was then known as the Pacific Circle. Senator Stewart set the style of the neighborhood when his Victorian Mansion was built in the late 1870's. In 1882, Congress authorized the construction of a memorial statue of Rear Admiral Samuel Francis DuPont in recognition of his Civil War service. A bronze statue of DuPont was erected in the middle of the Circle in 1884 and it became known as Dupont Circle. In 1921, the statue of DuPont was replaced by a double-tiered white marble fountain, paid for by the DuPont family. The fountain, designed by sculptor Daniel Chester French and architect Henry Bacon, features three classical figures, symbolizing the Sea, the Stars, and the Wind.
GFWC found its home in Dupont Circle in 1922 when clubwomen purchased the stone and brick five-story mansion at 1734 N Street NW that was built in 1875 by Rear Admiral William Radford following his retirement from the U.S. Navy. GFWC Headquarters was designated a National Historic Landmark in 1991.
Learn more about the history of GFWC and the Dupont Circle neighborhood by attending the annual Women's History Month event from 2:00 p.m. to 4:00 p.m. ET on Wednesday, March 9, at GFWC's Headquarters. You can register to join us for this event through the GFWC Member Portal until Monday, March 7. To attend the Women's History Month Event and reception, proof of full COVID-19 vaccination is required. A negative COVID-19 test cannot be accepted for admittance to the event, per Washington, DC, guidelines.
Participate in the Big Easy Raffle
By Sandy Phillips, Fundraising and Development Chairman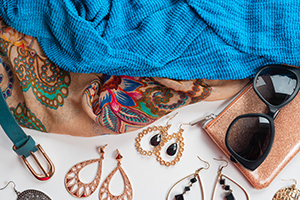 Catch the Volunteer Spirit for the 2022 GFWC Convention in New Orleans, Louisiana, June 25-28. Support the Big Easy Raffle by signing up to make a donation. Fill out the 2022 Raffle Donation Agreement Form and email it to Nishu Raina.
Donations can be from a Region, State Federation, club, several individuals, or a single member. They may be multiple gifts put together to make one donation. Or, they could be individual items such as gift cards, airline tickets, hotel rooms, art projects, sewn or other homemade objects, or new, re-gifted items such as jewelry, purses, scarves, or electronics.
The Big Easy Raffle is a profitable fundraiser for GFWC. In 2021, the raffle raised more than $12,000 and many members wore smiles after winning a prize with a ticket at the raffle. Let's donate more items and increase ticket sales to boost our profit this year.
Let the Good Times Roll by participating in the raffle! Registration for the 2022 GFWC Annual Convention opens March 1, and you can purchase raffle tickets during registration or at the convention.
Continue to Support GFWC's Success for Survivors Scholarship Fund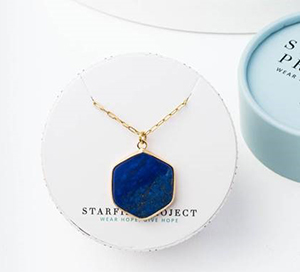 February is the month of love and there's still time to give a token of appreciation to someone special in your life. Consider a piece of beautiful survivor-made jewelry from Starfish Project. The new With Love x Starfish Project collection was inspired by Nora, who is experiencing freedom and developing a career in photography. The collection features nine new adjustable rings, two longer necklaces, and more. Through a fundraising agreement for the 2020–2022 Administration, purchasing any Starfish Project product at this dedicated link will supply 25% of the sales price to the GFWC Success for Survivors Scholarship Fund! Your support allowed GFWC to award an additional scholarship in 2021. Starfish Project supports women escaping human trafficking and exploitation. The organization is currently working with more than 150 survivors to provide a fresh start in life by arranging safe housing, healthcare, education, and training, and by employing them to make jewelry and garments to support its mission. Order your next piece of jewelry today and help a survivor of human trafficking succeed!
April 1: Convention Program Ad Sales Deadline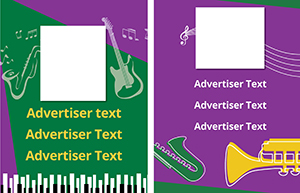 Convention brings clubwomen together from across the country to celebrate all of the hard work they've put into their communities. That makes it the prime place to share your love and appreciation for the clubwomen in your life. Purchasing an ad in the 2022 Convention Program, which every attendee receives, is an opportunity to be loud and proud about your club or Federation sisters. Whether they're doing a great job as leaders in this Administration or they've been there for you through difficult times, shine a spotlight on them!April 1. Check out our Convention Program ad form to see your options. Submit your form to Publications and Project Manager Taylor Fussman.

Orders and payment must be received by

Operation Smile Continues to Make a Difference around the World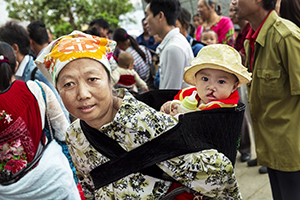 During prenatal ultrasound appointments, feelings of excitement and love often fill the hearts of the parents, but GFWC Affiliate Organization Operation Smile knows this is unfortunately not always the case. For Fei and his wife, Mei, of China, their celebration turned grim when they learned their daughter, Wen Ting, would be born with a cleft lip and palate. Although the family makes a livable income, affording surgery for Wen Ting remained out of reach. A year passed before their future changed in an instant. The solution they'd searched for arrived after learning about Operation Smile China and the free cleft care it provides to children like Wen Ting. "I just wanted my daughter to live a good life," Fei said. "I'm very grateful for what Operation Smile did for my child and my family and for all the other families." You can read more about Wen Ting's journey and others through Operation Smile's Stories You Make Possible blog.
Avis and Budget Car Rental Savings Program
In need of a winter escape? Make the experience safe and comfortable with deals from your GFWC Avis and Budget Car Rental Savings Program. With the Pay Now feature, members can save up to 35% off base rates on every rental, plus receive additional offers like dollars off, a complimentary upgrade, or a free weekend day.
You can also skip the counter and paperwork at many locations. Go straight to your car for faster pick-up and drop off when you sign up by using your complimentary membership in the Avis Preferred® or Budget's Fastbreak Rewards Program.
When making a reservation with Avis, be sure to use your Avis Worldwide Discount number B155149. When booking with Budget, use your Budget Customer Discount number R584749.
Office Depot Savings through February 28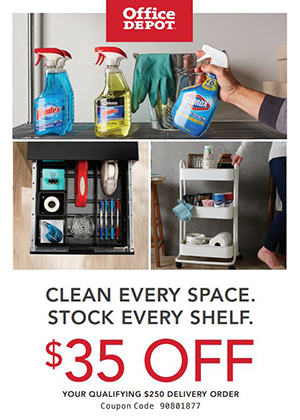 From the most-loved to the must-haves, your GFWC Office Depot Savings Program has all you need to keep your work space clean, organized, and well-stocked. The savings program is offering $15, $20, and $35 off coupons valid through February 28; these coupons are only valid online and some exclusions apply. Take advantage of this great deal before it's gone! Visit Officediscounts.org/GFWC to shop online through their Office Depot Savings Program.
Mississippi Valley Region: Sabra Clarke, President
GFWC Mississippi Valley Region President Sabra Clarke's theme is Working Together in Love. Sabra chose this theme as a way to bring clubs together even when there is physical distance between them. Although it may be difficult for one person to make a significant difference, she said when individuals work as a team it is amazing what people are able to accomplish in their communities and around the world. Since many Mississippi Valley Region states have smaller populations and clubs than other GFWC Regions, Sabra believes it is even more important that members combine their efforts, listen to each other's ideas, and consider new ways to work together.
To accomplish this, each State Federation, club, and individual was encouraged to find ways to cooperate on different parts of projects that could then be combined into one successful overall project. Sabra reached out to members and clubs throughout her Administration to emphasize the value in working together. She left it up to clubwomen to determine what types of community service projects they would combine their efforts on, highlighting the importance of making sure everyone feels they have a role to play. Sabra wanted members to take advantage of the opportunities that GFWC provides to build new connections and friendships as they developed new projects.
One way clubs in the Region combined their efforts was through making and distributing handmade bibs for physically or mentally impaired individuals residing at care facilities. Clubwomen shared the fabric pattern for the extra-large bibs with each other, provided instructions to their fellow members, and ensured that everyone was able to pitch in, showing what Working Together in Love can accomplish.
State Director of Junior Club's Project: Socorro Cooper, Tennessee
GFWC Tennessee Junior Director Socorro Cooper chose to focus on human trafficking awareness and prevention for her Administration project. She chose this special project because human trafficking is a difficult topic to talk about, but it cannot be ignored as it is a reality in the U.S., as well as in other countries. As a mother of five herself, Socorro said she is worried about children of all ages being impacted by this crime. GFWC Tennessee clubwomen were encouraged to participate in this special project by providing funds, in-kind donations, and other support to various organizations that fight against human trafficking.
With many meetings and events shifting to online formats due to the COVID-19 pandemic, it was challenging to get many of these projects up and running. Despite these difficulties, Socorro helped clubs come up with ideas to organize projects to help survivors of human trafficking and to Shine Bright like a Diamond in their communities. Among the organizations clubwomen supported were Restore Innocence and Free the Girls, which both help women and girls who are survivors of sex trafficking recover and reintegrate into their communities.
To help those interested learn more about human trafficking, Socorro has been sharing information on Facebook about awareness and prevention events in the state throughout the Administration. Although it's been an unorthodox two years, clubwomen have found ways to think outside the box and make a difference in the lives of survivors.
GFWC Marketplace: A Private Family Matter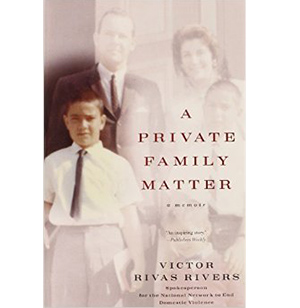 February is a time to visit your favorite local library, but you can also celebrate National Library Lover's Month by expanding your at-home, personal library with one of several inspiring books available in the GFWC Marketplace.
A Private Family Matter: A Memoir chronicles Victor Rivas Rivers' escape from the war zone of domestic violence—too often regarded as a "private family matter"—and his journey toward independence, recovery, and renewal. This heartbreaking, yet uplifting story offers a look at how Rivers' managed to seek help for his family, overcome his demons and learn to love himself, and share his experience with other survivors of domestic abuse. Order yours today.
There could be some mail service delays throughout the pandemic. To speed up processing of your order, we request that you pay for your order at time of purchase in the Member Portal. For information on mail service in your area, visit the USPS Service Alerts page.
GFWC
www.GFWC.org