February 18, 2021
View our Important Dates page for upcoming events and milestones.

A GFWC Resolutions Committee Update
By Sheila E. Shea, GFWC Resolutions Chairman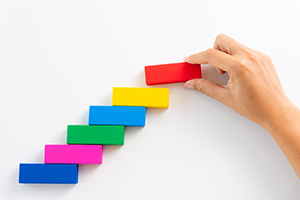 Resolutions adopted by GFWC are the foundation of our organization. They guide our call to action and are the basis of all programming and advocacy. Resolutions are the heart and soul of the projects our clubs and members accomplish each and every day.
The current GFWC Strategic Plan directed the 2020-2022 GFWC Resolutions Committee, to "review the complete list of GFWC Resolutions … and recommend a restructure of the resolutions by broadening and combining the content to reduce the overall number." During this first year of the Administration, the committee reviewed resolutions in the Arts and Culture, Environment, Education and Libraries, and Health and Wellness Community Service Programs with recommendations to be presented at the 2021 GFWC Annual Convention.
Beginning in the summer, the committee met regularly by Zoom. Because the 2020 GFWC Annual Convention in Atlanta was canceled, there was no consideration of the recommendations of the 2018-2020 Resolutions Committee contained in the 2020 Call to the Convention. The committee made every effort to consider these proposals; a lot of time and effort was put into their deliberations last year.
The Resolutions Committee has been charged with a huge undertaking this Administration, reviewing 168 current resolutions in two years. Traditionally, each resolution has been up for review every four years. Resolutions Committee members, Patty Benskin, Esther Gartland, Mary Powell, Gay Warren, and Vicky Ann Trimmer, Legislation/Public Policy Chairman, along with Debby Bryant, Consultant, Unified Solutions, LLC, have embraced this task and have worked diligently to present a more streamlined version of resolutions to the convention body for its consideration.
The Call to Convention in the Spring 2021 Clubwoman Magazine will contain an abbreviated version of proposals to the Resolutions. The content of all new and amended resolutions will be there, but current resolutions that are proposed to be consolidated, amended by substitution, or rescinded will only have the number and title listed in the Call. For the full-text version, please refer to the 2020 Resolutions Booklet within the "R" Resources in the Member Portal's Digital Library (if you don't already have a Member Portal Profile, please allow 12-24 hours to receive access). The complete Resolutions Committee report to be presented to the convention body will be available within the Annual Convention section of the GFWC website as part of the downloadable version of the Call to Convention.
As always, members are encouraged to review this section of the Call and bring a copy with them to Convention. Please let this Chairman know if you have any questions about GFWC Resolutions or the process in general, as that is contained in GFWC Standing Rules and referenced in the 2020 Resolutions Booklet in the Member Portal.
The committee looks forward to presenting its report to the membership.
Celebrate Women's History  Month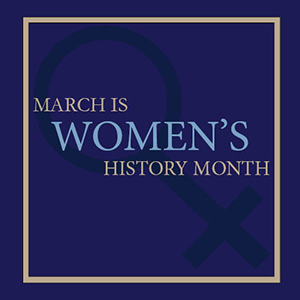 Join GFWC in recognizing women's contributions to history, culture, and society from March 1-31. Women's History Month, observed annually in March since 1987, is dedicated to reflecting on the often-overlooked contributions of women to U.S. history. From Abigail Adams to Rosa Parks, the timeline of women's history milestones stretches back to the founding of the country.
The official recognition of Women's History Month grew out of a weeklong celebration of women's contributions organized by the school district of Sonoma, California, in 1978. As part of this celebration, presentations were given at dozens of schools, hundreds of students participated in a "Real Woman" essay contest, and a parade was held in downtown Santa Rosa, California.
A few years later, the idea caught on within other communities, school districts, and organizations across the country. In 1980, President Jimmy Carter issued the first presidential proclamation declaring the week of March 8, as National Women's History Week. The U.S. Congress followed suit the next year, passing a resolution establishing a national celebration, and six years later, the National Women's History Project successfully petitioned Congress to expand the event to the entire month of March.
One of the many ways Women's History Month has been celebrated since then involved a 50-year progress report issued by the White House in 2011, which detailed the status of women in the U.S. The report found that younger women were more likely than their male counterparts to hold a college degree and that the number of men and women in the labor force had nearly equalized.
Continue to follow News & Notes through March as GFWC celebrates Women's History Month!
It is with sadness that we announce the passing of Phyllis Cossarek, Illinois State President (1996-1998). Phyllis passed away on January 24.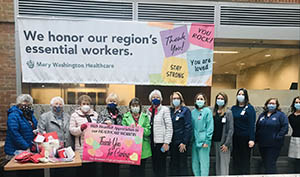 This week's GFWC Blog features GFWC Woman's Club of Fairfax (Virginia), GFWC Woman's League of Lowcounty (South Carolina), GFWC Community Club of Collegeville (Pennsylvania), GFWC Woman's Club of Fredericksburg (Virginia), and GFWC Windsor Woman's Club (Connecticut). Clubwomen have been busy the past several weeks donating personal care items for children in the foster care system, making Valentine's Day cards for healthcare workers during the COVID-19 pandemic, collecting items and funds for local veterans, and raising money and donations for their local food banks.
Have a success story to tell? Email PR@GFWC.org to be considered for GFWC's Blog.
February is National Library Lover's Month
By Tina Daniel, Ed.D., GFWC Education and Libraries Chairman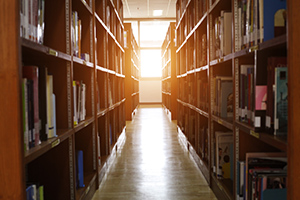 With numerous libraries originating from GFWC clubwomen during our history, it is not surprising for our membership to be library lovers. This month is dedicated to people who love the library building itself, the books it houses, and reading in general.
Libraries have much to offer besides reserving a book to read. Of course, they are quiet places to study and to perfect research papers. But they also offer more to the young mother and preschooler who is introduced to books through hands-on activities and theater, where they make their first friends, and develop the love of the written word. Libraries are often the place many communities will rely on for meeting space, fundraisers, classes, and voting precincts.
How will your club embrace this month of loving your library?
Consider volunteering. Donate time, money, and your expertise to the library.
Continue to enjoy the library and the services it offers.
Get your library card, if you do not already have one.
Discover the library funding source and advocate for more resources.
Become a friend to the library; join its Friends group or start a group.
Get involved in fundraising for the library.
Remember your librarians during the month with a thank you and small treat.
Identify your library as your club's project of the year.
Sponsor a magazine subscription for your library.
Honor a friend's birthday with a book for the library.
Donate a new library quality book or a whole shelf of books.
Donate used books to your library's book sale; volunteer to work at the book sale.
Use your GFWC skills to help with programs and fundraising events.
Become a literacy tutor.
Shelve books or nurture library plants/gardens.
Present programs for adults or read stories to children.
Write to legislators and demand library services be funded as a necessary public service.
Participate in Library Legislative Action days.
Work with your local mayor to have February declared Library Lover's Month.
Provide bookmarks proclaiming the month to the library.
Signature Program Challenge Project Resources Added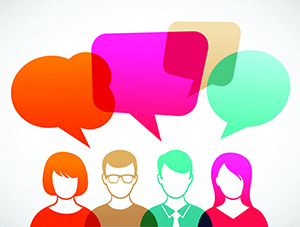 Don't wait to launch your club's Teen Dating and Education Awareness Challenge Project. Adolescents need a forum to seek help when coping with anxiety, bullying, anger, and other issues that today's 12- to 18-year-olds face.
The GFWC Signature Program Committee has added two new resources to the Member Portal's Digital Library:
Press Release Template
Healthy Relationships Rackcard
Visit the "C" Resources folder of the Member Portal's Digital Library today. The two newly-added resources are available within the "Challenge Projects" sub-folder, along with the general information flyer (if you don't already have a Member Portal Profile, please allow 12-24 hours to receive access).
Affiliate Organization  Webinars Continue with Canine Companions for Independence on February 24
Follow News & Notes and monitor the Important Dates Calendar at www.GFWC.org for updates regarding the Webinar Series.
The third Affiliate Organization Webinar will be Canine Companions for Independence at 4:00 p.m. EST on Wednesday, February 24. Founded in 1975, this nonprofit organization's goal is to enhance the lives of people with disabilities by providing highly trained assistance dogs and ongoing support to ensure quality partnerships.
These webinars are presented live and will include time for Q&A. To register, visit Events in the GFWC Member Portal. For ongoing webinar updates, visit the Important Dates Calendar on the GFWC website.
Now Open: Convention Program Ad Sales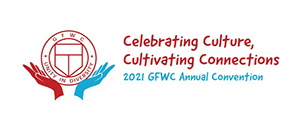 Share your love and appreciation for the clubwomen in your life. Whether they're doing a great job as leaders or they've been there for you through difficult times, a 2021 Convention Program ad is a chance to shine a spotlight on them! Design your own full-page, half-page, or quarter-page ad according to the specs on the order form. Or select from one of two template designs, available in either full-page or quarter-page sizes.
Orders and payment for Convention Program ads must be received by April 2 to guarantee space. If you plan to pay by check, we recommend placing your order early because there have been reports of mail service delays in many communities. For questions, please contact Publications & Project Manager Taylor Fussman.
Office Depot Savings Program
Whether you are running a business from home or trying to keep your personal finances organized, Office Depot is here to help keep your space stocked with everything you need to do your best work all year. Visit Officediscounts.org/GFWC to shop online through their Office Depot Savings Program.
Plus, use the coupons to maximize your savings and enjoy up to $35 off with a qualifying delivery order. Get these deals before they are gone! Coupons are valid through March 1. Exclusions apply, see the coupon for details.
Techie's Tips: Adding Emails to Safe Sender List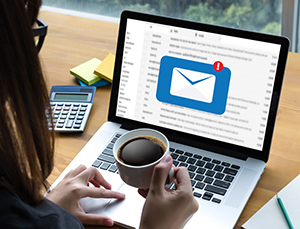 Have you experienced issues receiving GFWC newsletters only to learn they are being sent to your spam folder? Try adding GFWC@GFWC.org to your "safe sender" list, also known as "whitelisting" an email.
Here's how you can add emails to your list of approved contacts:
Gmail:
Open the email sent to you by the contact you wish to label as safe. Be sure to check both the inbox folder and junk or spam folder.
Click on More Options (three vertical dots) in the upper right-hand corner of the email.
Click on Add Sender Name to Contacts List.
A notification saying "The sender has been added to your contacts list" should appear at the bottom of the screen.
Yahoo:
Open the email sent to you by the contact you wish to label as safe. Be sure to check both the inbox folder and junk or spam folder.
Copy the email address.
Click the Contacts icon located in the upper right-hand corner of your Yahoo! Mail Inbox Homepage. When you scroll over the first icon, it should say Contacts.
Click Add a New Contact located below the list of your contacts.
Fill in the contact details and paste the email address you wish to add to your contact list.
Click Save.
Hotmail:
Click on Options in the upper right corner of your Hotmail screen.
Then click the link for Safe and Blocked Senders in the body of the page under Junk email.
Click the Safe Senders link and enter the email address you want to include.
Click Add to put it on your list.
Comcast:
Within your inbox, click on the Address Book tab.
Click New Contact and input the email address you're marking as a safe sender.
Click Save.
Follow these steps to ensure your safe senders contact list is up to date!
Southeastern Region: Peggy Barnes, President
GFWC Southeastern Region (SER) President Peggy Barnes' theme for 2020-2022 is Better Together. What an ironic turn of events considering the recent COVID-19 pandemic! SER officers hit the ground running in July 2020 planning for an in-person meeting that never happened, but planning a remote meeting ended up being a wonderful learning experience.
The Region's social hour included a remote horse race, featuring its State Presidents and Directors of Junior Clubs. With warm hearts, clubwomen approached the betting windows with money in hand and outdid themselves, raising more than $8,000 in one night for the Capital Campaign. Chairman Mary Jo Thomas was thrilled!
The remote meeting the following day was attended by 149 ladies. The day was filled with reports from the GFWC Community Service Programs and Advancement Plans Chairmen, who shared a wealth of knowledge. The wonderfully talented State Presidents and Directors of Junior Clubs also reported on the events within their states, and Lindy Beatty, SER Jennie Award Chairman, explained how to recognize clubwomen with this honor.
In November and January, the Fundraising Committee continued these remote events by hosting Facebook live "Show & Sale" events, during which items were gathered and displayed for purchase. The featured item was a black tote bag with GFWC on the front, and people who purchased this bag earned free shipping on all items they bought. SER officers offer their sincere appreciation to Babs Condon, Rosemary Thomas, Georgianna Tillis, and Joy Matkowsky, with the Fundraising Committee, as well as to Amanda Guidry, Communication and Public Relations Chairman. The Region's Facebook page is always featuring a GFWC event or special day, encouraging members to participate in webinars and celebrate important happenings.
Although clubwomen have seen each other remotely, members can't wait for the day everyone can meet in-person to make their communities "Better Together."
State President's Project: Jan Hanson, New Jersey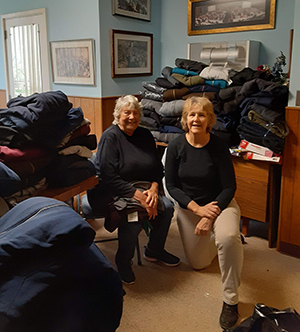 GFWC New Jersey State President Jan Hanson's Special State Project (SSP) is "Operation Chillout." Operation Chillout is New Jersey's oldest all-volunteer mobile outreach for homeless veterans. Their purpose is to promote awareness of the nature of poverty and homelessness, and advocate for sustainable solutions and programs serving the needs of people who live in poverty, have addictions, have been abused, or do not have homes to improve the quality of their lives, leading to permanent change and independent living. Volunteers engage in direct compassionate action, including the collection, dissemination, and delivery of supplies to people without homes and the agencies that provide for their temporary care.
Using Operation Chillout's online registry, clubs spent $4,270 to purchase water, hats, and t-shirts for their summer distribution. For Operation Chillout's winter campaign, New Jersey clubs committed to donating 1,000 zip-front hooded sweatshirts, which reduced the cost of Operation Chillout's backpack kits by $16,000. Members also helped sort and repackage the sweatshirts for distribution. Along with this, 1,000 face masks and an additional $960 was donated.
Clubwomen were also looking for a project they could do while social distancing, so the SSP Chairman devised a greeting card project. For this project, members made business card size "thinking of you cards" that were distributed during a summer and winter campaign.
Additionally, the Operation Chillout Rapid Response Team helps homeless veterans in crisis find temporary housing. Club members will be taking part in Zoom training in the spring to help this team make follow-up phone calls to veterans who have been rescued.
To raise additional money, one member donated a quilt to raffle, each District is holding a Bunco Party, and there will be two state-wide fundraisers. An SSP pin was designed for clubwomen to show their support.
GFWC Marketplace: WHRC Heritage Pin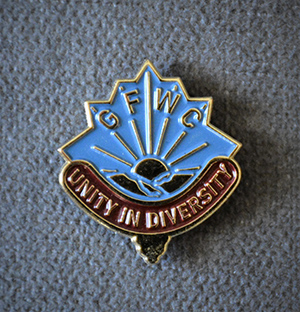 In 1892, the Committee on the Federation Badge Pin was created to design an image that would reflect the aim of GFWC. Appointees included GFWC's founder, Jane Cunningham Croly, and its first president, Charlotte Emmerson Brown. The Committee chose the sun's rays and the color blue as elements to symbolize the Federation. The resulting pin, GFWC's original emblem, featured an image of the rising sun in a blue sky above snow-capped mountains with its rays illuminating "GFWC" in block lettering. An upturned, russet-colored banner displayed the motto, "Unity in Diversity."
The WHRC Heritage Pin offers a faithful facsimile of the original emblem on an updated lapel pin with a magnetic back. Proceeds from the Heritage Pin will be used to repair or replace the picture frames that display GFWC's historic collection of International Past President Portraits. Order yours today.
There have been reports of mail service delays in many communities throughout the United States. GFWC staff is processing Marketplace orders as quickly as possible, but Headquarters is still operating with limited staff onsite daily. In order to speed up processing of your order, we request that you pay for your order at time of purchase in the Member Portal. For details on mail service in your area, visit the USPS Service Alerts page.
GFWC
www.GFWC.org