February 2, 2023
View our Important Dates page for upcoming events and milestones.
The Jennie Award – Honoring Personal Excellence!
By Theresa Rudder, Jennie Award Chairman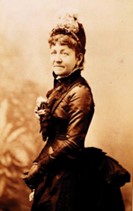 is the The Jennie Awardonly national honor recognizing individual club members for personal excellence. Club members are nominated by their clubs to compete at state, regional, and national levels for the Federation's highest honor.  NOW is the time for our clubs to nominate that extraordinary club woman who exemplifies the spirit of our founding mother, Jane Cunningham Croly, better known as Jennie June.  Every club has a potential Jennie Award winner, and every Jennie Award winner has impacted her club and her community.  We look forward to receiving your nomination for this prestigious award.  All the information and nomination form, including the judging criteria, is found in the "GFWC Club Manual" under Awards, Contests, and Grants. Follow the award rules carefully while completing the nomination form and gather all the supportive information recognizing the excellence of this remarkable club woman.   Once the information is complete, send the packet to your state's Jennie Award Chairman, who will review the nominations and present it to your State President, postmarked by June 1, 2023.  The State President and/or State Chairman appoint a panel of judges who select the state winner.  The State President will submit ONE State Jennie Award winner's information to the Region Jennie Award Chairman/President, postmarked by August 1, 2023.  The Region President and/or Region Chairman will appoint a panel of judges to select two candidates, the final stage of the relay! In the final award process, the Region Chairman passes the material of those two candidates to GFWC Headquarters, postmarked by December 1, 2023.  One winner from each region will be chosen.  The Jennie Award winners will be announced and "sparkle and shine" during the Gala at the 2024 GFWC Annual Convention in Chicago.  
Region President's Projects: Stars for GFWC
By Pat Stevermer, GFWC Mississippi Valley Region PresidentStars for GFWC is the Mississippi Valley Region (MVR) theme for the 2022-2024 Administration. All members and clubs are GFWC Stars who continue to serve their communities in unique ways. Clubs adjust to the changing times and develop exciting projects to do, and many support our GFWC Affiliate Organizations, as well. Along with being Stars, MVR is collecting Coins for a Cause. The first opportunity to do this was at our fall meeting in Bismarck, North Dakota. Several attendees worked at Heaven's Helpers Soup Kitchen as the service project. Tasks included taking and filling orders, washing dishes, shelving donations in the pantry area, and peeling and cutting beets for a soup to be served another day. In addition, cans were placed on the tables to collect coins for Heaven's Helpers. A total of $356.00 was collected! Clubs already donate to many of their local charities, as well as the GFWC Affiliate Organizations.  The Region Conference in 2022 provided another learning experience for attendees. A tour was provided by the Russia Heritage Society. At the North Dakota State Night Banquet, Iris Swedlund from Velva gave a humorous talk on her German-Russian Heritage. Workshop presenters kept us entertained and imparted valuable information. Hats off to the GFWC Stars from North Dakota for a great conference. The 2023 event will be in Branson, Missouri. Looking forward to seeing everyone there!
State President's Project: "Make the Whirl Go 'Round'"
By Janine Eilert, GFWC Kansas President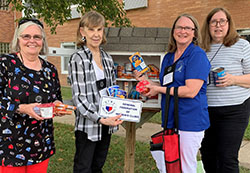 Photo Caption: During a recent meeting, GFWC Manhattan Kansas Board of Directors (l to r), Shirley Ferley, GFWC Past Kansas President; Fran Zerby, GFWC Kansas Education & Libraries Chairman; Kathy Baker, GFWC Past Kansas President; and Linda Loyd, GFWC Kansas Vice President, collected more than 500 items for donation to multiple blessing boxes and the student-led "Cats Cupboard," the campus food pantry at Kansas State University.)At the beginning of the 2022-2024 Administration, GFWC Kansas clubs adopted the theme "Make the Whirl Go 'Round'" in their communities.  Unfortunately, 40 million Americans struggle with hunger and inconsistent access to food. In the 105 counties in Kansas, approximately 9.7 percent of Kansans are food insecure. As a result, the 25 GFWC Kansas clubs were asked to consistently contribute items to their local food banks, pantries, and blessing boxes. To date, our clubs have exceeded the original goal within the first four months. A stretch goal of donating 9,999 items has been set for the remainder of the 2022-2024 Administration.  Another area of focus is managing diabetes. It is critical to avoid other health complications. GFWC Kansas clubwomen are learning about this chronic disease while supporting two individual diabetes camps for students under the age of 17. These camps enable the students to learn how to cope with their disease and meet fellow diabetics in a fun and supportive environment. At the upcoming state convention, a camp director will educate and inform members about the disease in greater detail. Many GFWC Kansas clubs are actively reaching out to their communities and "Living the Volunteer Spirit." Consequently, state membership has increased for the first time in years. 

(

State President's Project: "Embracing Lives 'STAR By STAR'"

By Trish Rodriguez, GFWC Delaware President  

"Embracing Lives 'STAR By STAR.'" The inspiration stems from The Art of Gathering: How We Meet and Why It Matters, by Priya Parker. Delaware club leaders and members are encouraged to ask themselves three questions before accepting or declining invitations to participate in events.   1) What do WE want to attend? 2) Who do WE want to spend time with or build communities with? 3) What occasion or moment are WE hoping to mark and with whom? Priya states in her book, "When you think more deeply about what you want to attend and why, you start building the community." In expanding on that concept, I believe this allows Delaware club members to fully embrace the lives they want to enhance as our STARS."  In closing, it is important to provide members with an opportunity to provide feedback by asking: 1) What do you want and why? 2) When you know, be prepared to provide "Our STARS" with a fellowship that Delaware Clubs is uniquely positioned to extend to "Each STAR."

Our 2023 GFWC Delaware motto is

Volunteers in Action: Southwest Region Woman's Club of Colorado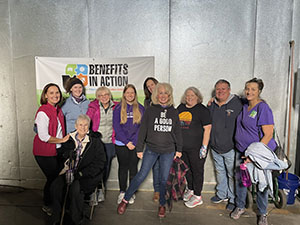 Blog, email PR@GFWC.org.
In January, to commemorate Martin Luther King Jr. Day of Service, GFWC Southwest Region Woman's Club partnered with Benefits in Action, a local nonprofit, to help those in the community experiencing food insecurity. Ten club members volunteered 30 hours to fill 251 boxes, all of which were delivered to Benefits in Action clients who are seniors, medically fragile, and do not have transportation to access local food banks. Thank you, ladies, for gifting your time to be of service to your local community! To submit your club's activities for the
GFWC Advocacy Webinar: "Power Up: Legislation and Leadership" Tonight at 7 PM ET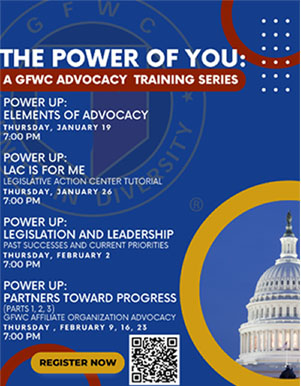 "Power Up: LAC Is For Me," provided more than 200 attendees with a comprehensive tutorial on GFWC's Legislative Action Center (LAC). Led by Darrell Jones, GFWC Programs Manager, members learned how to subscribe to the LAC, contact their members of Congress, and how to find and track state and federal legislation.  To keep the momentum going, please "bring a friend" to tonight's webinar, "Power Up: Legislation and Leadership," at 7 PM ET.  Participants in tonight's webinar will review the legislative successes during the 2020-2022 Administration and discuss GFWC's legislative priorities moving forward. Join us for a rare behind the scenes look at how GFWC chooses legislation to support and to hear panelists speak about current and upcoming action items.
Last week's webinar,
SAVE THE DATE: 2023 GFWC Women's History Month Celebration —Wednesday, March 8, at 2-4 PM ET, in Washington, DC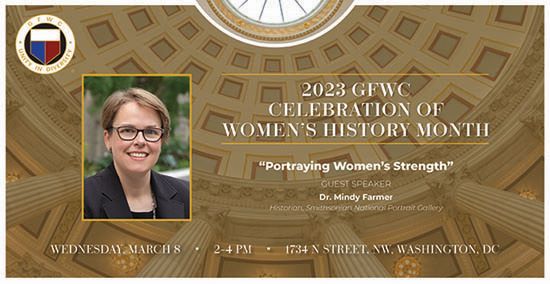 Registration for the event is now open. Please note that the event is in-person at GFWC Headquarters and limited to the first 100 registrants.

This year's celebration of Women's History Month theme is "Portraying Women's Strength." GFWC is delighted to announce Dr. Mindy Farmer, historian, of the Smithsonian National Portrait Gallery as guest speaker. As a member of the history department, Dr. Farmer conducts research, proposes exhibitions, writes biographies of subjects in the museum collection, and develops programming for PORTAL, the gallery's scholarly center.

Registration Open for the 2023 GFWC Annual Convention, June 10-12, in Louisville, Kentucky 

register for the 2023 GFWC Annual Convention! (To help you register, GFWC created a "Registration: How To Guide," which provides step-by-step instructions.)GFWC is currently accepting ads for the "Convention Program." If you would like to place an ad, please complete the form and send it back to Nishu Raina at NRaina@GFWC.org. Also, the GFWC Fundraising Committee is collecting donations for the "Race to the Finish" fundraiser. Please sign up to donate. The deadline for submission is Monday, May 1.

Mark your calendar for Monday, February 6, to

Sparkle and Shine in Louisville with Kentucky's Host State Pin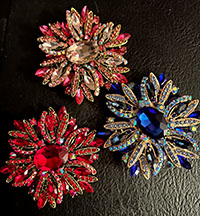 Red and Blue$50 for PinkAll patrons will be listed in the "Convention Program" if purchased before April 21.Please contact Peggy Barnes at 859-619-8475 or peggybarnes00@gmail.com to place your order. Checks or credit cards are accepted as forms of payment.  A shipping fee of $10 will be added to the total cost if mailed. Or, you can pick it up in Louisville at the 2023 GFWC Annual Convention. GFWC Kentucky looks forward to welcoming you to our great state!

This 3 ½-inch pin is a showstopper that will catch the eye of all. Get yours before they are gone!  Two sponsorship levels are available: $100 for

GFWC Marketplace:  Update on Orders

Due to an increase in Marketplace orders, we are currently experiencing a backlog in Marketplace. We apologize for the delay and appreciate your patience while we work to fulfill and ship out orders. If you have questions about the status of your order, please email GFWC@GFWC.org.
GFWC
www.GFWC.org