February 25, 2021
View our Important Dates page for upcoming events and milestones.

The WHRC Committee Celebrates Women's History Month
By Hope Royer, GFWC WHRC Committee Chairman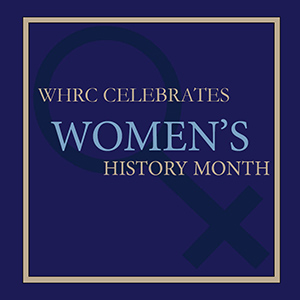 Women's History and Resource Center (WHRC) committee members Mary Baird and Carolyn Forbes join this Chairman in extending greetings in celebration of Women's History Month. In 1987, Congress passed Public Law (100-9) designating March as Women's History Month. U.S. Presidents have issued annual proclamations of the celebration since 1995.
The National Women's History Alliance selects a theme annually. The 2021 theme, "Valiant Women of the Vote: Refusing to Be Silenced," is an extension of the 2020 theme honoring the Women's Suffrage Centennial. This theme is a perfect fit with GFWC's Women's History Month Event on March 3, at 4:00 p.m. In her recently published book "The Strong Ones," guest presenter, Sara Hammel, tells the compelling story of the "valiant" women, and men, responsible for the historic decision in 2016 to allow women in the military to serve in combat roles.
Visit Events in the GFWC Member Portal to register by the March 1, 12 noon, deadline.
2020 WHRC Special Award: Women's Suffrage Centennial
Deadline: March 15, 2021
In recognition of the historic significance of the Women's Suffrage Centennial, GFWC is offering a cash award of $100 to the GFWC club that best promoted the celebration in its community. This award program is in addition to, and separate from, the WHRC Advancement Plan Award Program. Entries are not limited to one project and may include projects entered in other Community Service Programs. For the Award Form, see the "W" Resources of the Member Portal's Digital Library.
Order your WHRC Heritage Pin in celebration of Women's History Month and our GFWC Heritage.
If your club is holding a Women's History Month Event, submit your success to PR@GFWC.org to be considered for the GFWC Blog.
Put on Your Read Across America Day Hat
By Tina Daniel, Ed.D., GFWC Education and Libraries Chairman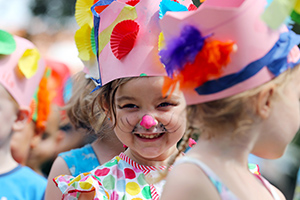 This year, Read Across America on March 2 celebrates more than 30 years of encouraging reading with children. The 2021 focus is on cultural diversity and having compassion for others. The book Tiara's Hat Parade by Kelly Sterling Lyons is a beautifully-written story of how one young girl's storytelling ability helps her mother fulfill her dream of selling hats.
Clubs can embrace this beautiful story with some very creative projects:
Make reading hats! Wear your most luxurious hats while helping children make their own. Hats can tell a lot about a person's personality, career, and heritage. Clubs can use recycled materials, and children can attach a drawing of their favorite book or character to the hats. Students can then have their own hat parade.
Host a club tea party with members wearing hats – either remotely or in person.
Share the story with members and ask them to read it to children.
Learn about milliners, specifically about these three: Vanilla Beane, Mae Reeves, and Mildred Blount.
Provide a copy of the book to a school or library, along with background information and coloring pages.
Host a pre-school or home school reading program at your local library. Members can wear their hats and help children make hats. Snacks can be hat-related cookies.
Sponsor a walking hat parade in your neighborhood or school parking lot.
Host an art class for children or adults to learn about hat making.
Any of these projects could be part of a celebration for Women's History Month, Easter, Mother's Day, or Black Business Month in August (to celebrate Tiara's mom's business).
Whatever fun activity your club does, hats off to you! Submit your success story to PR@GFWC.org to be considered for GFWC's Blog and use #TiarasHatParade in any social media posts.
Cares & Concerns
It is with sadness that we announce the passing of Barbara Maysilles, Vermont State President (1986-1988). Barbara passed away on February 7.
Volunteers in Action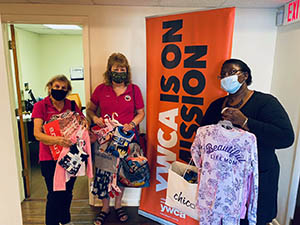 This week's GFWC Blog features success stories from Maquoketa Woman's Club (Iowa), GFWC Greater West Palm Beach Women's Club (Florida), and GFWC Woman's Club of Madison (Connecticut). As part of GFWC's Signature Program, clubwomen having been donating resources and offering support to women and children living at local domestic violence shelters.
If you have a success story to tell about how your club is making a difference in the lives of domestic violence survivors, or their communities in general, email PR@GFWC.org to be considered for GFWC's Blog.
Women's History Month: Famous Firsts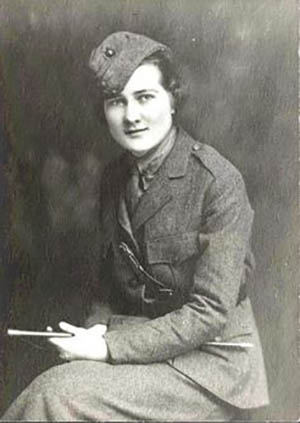 In recognition of Women's History Month, March is a time for celebrating the contributions women have made throughout history in science, politics, sports, the arts, and many other fields. While figures such as Elizabeth Cady Stanton, Harriet Tubman, Amelia Earhart, and Eleanor Roosevelt are often associated with Women's History Month, there are countless other extraordinary women who have earned their place at the table. Consider scientist Dian Fossey, mathematician Katherine Johnson, astronauts Sally Ride and Mae C. Jemison, and authors Maya Angelou and Amy Tan, to name a few. While the list of women who have made history and impacted the future could be seemingly endless, one woman stands out as a figure that helped pave the road to equality in the military.
In 1918, Opha May (Mae) Johnson became the first woman to be sworn into the U.S. Marine Corps during World War I – two years before women were even allowed to vote. Also, while it may be surprising to people today, the women serving in the U.S. Marine Corps during World War I earned the same pay as their male counterparts, as they were considered valued members of the Corps.
Years later, during World War II, the first statue honoring women in the military was commissioned by local New Orleans sculptor Enrique Alferez in hopes of increasing the number of women who chose to enlist. The statue, "Molly Marine," depicted a young woman in a military reservist's uniform with a book in her left hand and binoculars held in her right hand. The book she carries is said to contain the history of female Marines, and the binoculars are used to look toward the future of the U.S. Marine Corps.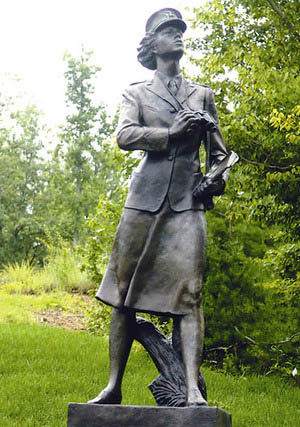 Now, the Molly Marine Award serves as a symbol of pride for women who have earned the U.S. Marine Corps emblem of an Eagle, Globe, and Anchor, and is used to promote and continue the legacy of women in the U.S. Marine Corps.
Celebrate a GFWC First on March 3
Time is running out to register for the talk with first Croly Award winner Sara Hammel at 4:00 p.m. EST on March 3. Join GFWC to listen to Sara discuss her book, "The Strong Ones," and her journey since 1996 when she won the award.
Register by the March 1 deadline, visiting Events in the GFWC Member Portal.
2021 GFWC Annual Convention
By Marian St.Clair, International President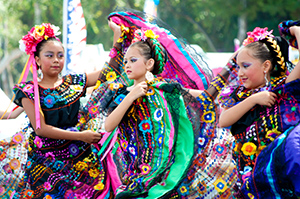 I'm extremely happy to announce plans for the 2021 GFWC Annual Convention! Although it is unfortunate we cannot gather in Toronto in June as initially planned, I hope you will be excited to travel to Atlanta in August to engage in business sessions that will enhance our work, and to enjoy celebrations and awards, plus many opportunities to learn, share, socialize, and connect. Please mark your calendar with the preliminary details below and watch for a future announcement in News & Notes that the Call to Convention has been posted on the GFWC website.
The 2021 GFWC Annual Convention will be held at the Atlanta Marriott Marquis in Atlanta, Georgia. A Board of Directors Meeting, the 2020 and 2021 LEADS training, a 2020-2022 Installation, and a Celebration Banquet, Gateway to the World will be held on Friday, August 27. The Convention will begin at 9:00 a.m. Saturday, August 28, and will adjourn at 1:00 p.m. on Monday, August 30. There will be no tours offered in conjunction with the event, but individuals are free to make private arrangements. The room block extends from August 25 to August 31.
The contract between GFWC and the Atlanta Marriott Marquis includes provisions to make the event as safe as possible. GFWC will continue to monitor the national situation and make prudent decisions for the well-being of members.
Now Open: Convention Program Ad Sales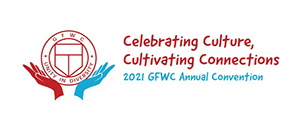 Share your love and appreciation for the clubwomen in your life. Whether they're doing a great job as leaders or they've been there for you through difficult times, a 2021 Convention Program ad is a chance to shine a spotlight on them! Design your own full-page, half-page, or quarter-page ad according to the specs on the order form. Or select from one of two template designs, available in either full-page or quarter-page sizes. 
Orders and payment for Convention Program ads must be received by April 2 to guarantee space. If you plan to pay by check, we recommend placing your order early because there have been reports of mail service delays in many communities. For questions, please contact Publications & Project Manager Taylor Fussman.
Office Depot Savings Program
Whether you are running a business from home or trying to keep your personal finances organized, Office Depot is here to help keep your space stocked with everything you need to do your best work all year. Visit Officediscounts.org/GFWC to shop online through their Office Depot Savings Program.
Plus, use the coupons to maximize your savings and enjoy up to $35 off with a qualifying delivery order. Get these deals before they are gone! Coupons are valid through March 1. Exclusions apply, see the coupon for details.
Legislative Corner
Biden-Harris Administration
The COVID-19 response continues to dominate the focus of the new Administration. New vaccines have been purchased for distribution to the states, territories, and tribal nations; Treasury Secretary Janet Yellen and the Federal Reserve Chairman Jerome Powell are putting forth monetary policies to reset the economy; and the CDC has finally issued guidance on reopening schools for in-person learning. The gap in broadband access and online instruction has demonstrated extreme deficiencies nationwide, so the Federal Communications Commission is devoting considerable resources to K-12, higher education, and communities in need. The Department of Agriculture (USDA) and Department of Health and Human Services (HHS) are delivering food and services, while the Department of Housing and Urban Development (HUD) is expanding rental assistance programs. The Administration just announced an extension of the federal eviction and foreclosures moratoriums for homeowners through June 30, an effort coordinated by HUD, USDA, and Veteran Affairs. The Affordable Care Act insurance marketplace is now open for new enrollments until May 15, as many have lost their health insurance with their job loss.
COVID-19 Congressional Response
With unemployment benefits and other provisions from the last COVID-19 package expiring mid-March, the House of Representatives is scheduled to vote on the new package on February 26. The package will certainly contain another round of stimulus payments, unemployment benefits, and funding for schools and vaccines. Final passage will be a close vote.
The House $1.9 trillion package is likely to include funding for programs supported by GFWC:
Assistance to Domestic Violence and Sexual Assault Survivors – provides $450 million for the Family Violence Prevention and Services Act (FVPSA) programs, including funds for domestic violence shelters; $18 million for grants for Indian tribes; $2 million for the national domestic violence hotline, of which $1 million is directed to support tribal communities; $49.5 million for grants to support culturally-specific populations;  and $198 million for grants to support survivors of sexual assault;
K-12 Education – provides $128.6 billion for grants to state and local educational agencies provided by the Elementary and Secondary School Emergency Relief Fund;
Child Abuse Prevention and Treatment – provides $250 million for child abuse and neglect prevention programs under the Child Abuse Prevention and Treatment Act (CAPTA), and provides $100 million for the child abuse and neglect treatment and response State grant program; and
National Endowment for the Arts – provides $135 million for the National Endowment for the Arts, with 40 percent of funds reserved for grants to state art agencies and regional art organizations, and 60 percent of funds reserved for direct grants that support organizations' programming and general operating expenses.
Equal Rights Amendment
The Legislative Action Center has been activated to request cosponsors for H. Joint Resolution 17 and Senate Joint Resolution 1, which eliminate the deadline for ratification and remove any barriers to full adoption. To date, the House bill introduced by Rep. Jackie Speier (D-CA) has 202 bipartisan cosponsors.
Pregnant Worker Protections Push Renewed
Pregnant workers would get new protections from retaliation and other accommodations in a bill reintroduced by a bipartisan group led by House Judiciary Chairman Jerrold Nadler (D-NY). H.R. 1065 also has the support of the U.S. Chamber of Commerce, now led by a woman!
Pay Equity
Proponents of legislative efforts to close the persistent pay gap in the U.S. believe the COVID-19 pandemic and the racial justice movement will provide the leverage needed to pass new federal proposals this year. Early data from the pandemic reveals women have been disproportionately impacted by pay cuts, job losses, and child care and home-schooling demands. The Paycheck Protection Act, H.R. 7, would require government collection of employer pay data and ban employers from asking questions about salary history. The National Women's Law Center believes this will be essential for women trying to rebound after the public health and economic crisis. The Legislative Action Center will soon launch support for the Paycheck Fairness Act, which already has 224 cosponsors.
Southern Region: Cynthia Geis, President
Poet Robert Burns wrote, "The best-laid plans of mice and men often go awry." That has been true for the beginning of the 2020-2022 GFWC Southern Region (SR) Administration. However, in an amazing example of resilience, SR clubwomen continue "Living the Volunteer Spirit" as they find innovative ways to serve their communities during the COVID-19 pandemic.
GFWC SR President Cynthia Geis' motto is Putting Vision into Action. Unfortunately, her vision for an in-person 2020 Conference in Huntsville, Alabama, did not come to fruition due to safety restrictions.
On October 31, approximately 200 clubwomen gathered remotely to conduct Region business, be inspired by GFWC officers, and hear presentations given by chairmen and committee members, State Federation and International Affiliate Presidents, and Junior Directors.
GFWC SR welcomed two new International Affiliates to the Region – GFWC Women's Club of Belize and GFWC Belmopan Women's Club. To celebrate the 100th anniversary of the 19th Amendment, attendees also "Remembered the Ladies" with a remote walking tour recognizing the Huntsville women whose fight for suffrage shaped the future of the nation.
Cynthia selected Purina's Purple Leash Project because of her commitment to supporting GFWC's Signature Program. For survivors of domestic violence, pets are family members who provide vital love and support, but nearly half of all survivors delay leaving because of their pets. The Purple Leash Project was born out of the Purina and RedRover® mission to help pets and people escape abuse together. The purple leash is a symbol of the struggle survivors and their pets endure, and the unbreakable bond between them.
The weekend began with a Zoom Halloween House Party on Friday with games and mingling. It was a fun way to connect before the Conference.
SR clubwomen are looking forward to connecting during the "Let's Flamingle!" themed 2021 Region Conference at the Rosen Plaza in Orlando, Florida.
State President's Project: Linda Kreussling, New York
GFWC New York State President Linda Kreussling's special project is focused on education and research for pancreatic cancer. Linda chose this project to honor her dad, who passed away in December 2016, from the disease.
From the time doctors provided a diagnosis for Linda's father, he was gone in five weeks. For those five weeks, he was in extreme pain and could not keep anything down but her homemade tomato soup.
Three weeks before he passed, he was given medical marijuana, but it was too late and he suffered greatly. Linda said that was not nearly enough time to prepare to say goodbye. She misses him every day and said this is her way of honoring him.
In New York, GFWC club members are collaborating with the Lustgarten Foundation, an organization dedicated to funding pancreatic cancer research. The foundation was formed to honor the memory of a man who worked for Cablevision and died from this disease. Very little research was being done on pancreatic cancer, and this is his family's way of honoring him. As there are very few symptoms of this disease, by the time a person is diagnosed, it may be too late.
Clubs are encouraged to participate in remote walk-a-thons, educate their members about this disease, and to get involved with the Lustgarten Foundation.
GFWC Marketplace: WHRC Heritage Pin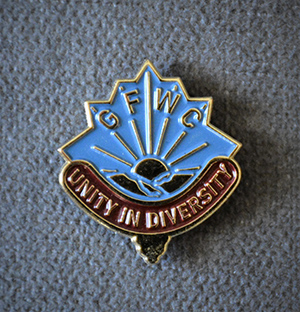 In 1892, the Committee on the Federation Badge Pin was created to design an image that would reflect the aim of GFWC. Appointees included GFWC's founder, Jane Cunningham Croly, and its first president, Charlotte Emmerson Brown. The Committee chose the sun's rays and the color blue as elements to symbolize the Federation. The resulting pin, GFWC's original emblem, featured an image of the rising sun in a blue sky above snow-capped mountains with its rays illuminating "GFWC" in block lettering. An upturned, russet-colored banner displayed the motto, "Unity in Diversity."
The WHRC Heritage Pin offers a faithful facsimile of the original emblem on an updated lapel pin with a magnetic back. Proceeds from the Heritage Pin will be used to repair or replace the picture frames that display GFWC's historic collection of International Past President Portraits. Order yours today.
There have been reports of mail service delays in many communities throughout the United States. GFWC staff is processing Marketplace orders as quickly as possible, but Headquarters is still operating with limited staff onsite daily. In order to speed up processing of your order, we request that you pay for your order at time of purchase in the Member Portal. For details on mail service in your area, visit the USPS Service Alerts page. 
GFWC
www.GFWC.org