January 12, 2023
View our Important Dates page for upcoming events and milestones.
---
Zoom: Bridging International Communities Worldwide
By Dianne Foerster, International Liaisons Committee Member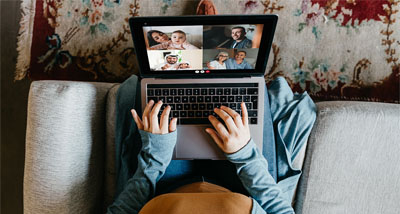 One of the wonderful opportunities members of GFWC enjoy, in addition to our shared commitment to volunteer service, is making friends. Let me introduce you to some new friends I have met as a member of the GFWC International Liaisons Committee. Under Chairman Kathryn Sowers, the committee meets regularly with the International Clubs via Zoom.  At the 2022 GFWC Convention, Shanice Joseph, the young, vibrant president of the Belmopan Women's Club (Belize) was with us. Shanice possesses strong leadership skills evidenced by the efforts of her club after a hurricane that devastated Belize.  She has introduced us to several of her members on our Zoom calls. Since the disaster, they have continued to come together as a GFWC club to donate food, clothing, blankets, books, and other assistance. During the summer, Lora Pavlenko, president of the GFWC Woman's Club of Ukraine, and her daughter RenaTa visited the United States. She and all the other members were refugees at the time.  I was excited and privileged to meet them. This club continues to have meetings where they work on projects and give each other the emotional support needed.  Since our committee started having Zoom calls in the fall, it has been a joy to hear from members from Toronto, Philippines, and the delightful Sue Babcock from Taiwan. Several members of that club joined us on the last Zoom call, and we had a chance to chat with them about their upcoming projects for the holidays.  I have made new friends all around the world. We have so much in common, including our shared commitment to the goals of GFWC. I urge you to really get to know your international sisters.

Cares & Concerns

GFWC sadly announces the passing of Ruth Eleanor (Nelssen) Mayhew, former President of GFWC New Mexico (2002-2004) on December 26, 2022. Ruth was a long-time member of GFWC, where she honed her leadership skills as she rose through the ranks to become president of the state chapter, making many lifelong friends along the way. GFWC extends its deepest condolences to Ruth's family and friends. To leave words of comfort and support, visit her guestbook.Barrie Coleman, former GFWC Massachusetts Director of Junior Clubs (1996-1998), also recently passed. Barrie held various federation positions, with her most recent post as assistant to the GFWC International Past President Sheila Shea (2016-2018). GFWC extends its heartfelt condolences to Barrie's family and friends. Cards of sympathy can be sent to Mr. Artie Coleman, 2925 Main Street, PO Box 265, Beallsville, PA 15313.

State President's Project: "There's No Place Like GFWC Illinois"

By LeeAnn Conlon, GFWC Illinois President

There's No Place Like GFWC Illinois – our slogan for the 2022-2024 administration with a special emphasis on reducing or easing food insecurity! For such an agricultural rich country, the number of U.S. citizens who face food insecurity is staggering.   At the beginning of this administration, the Illinois chairmen and clubs were challenged to think outside of the box to implement projects/programs and educate themselves on how to actively contribute to easing food insecurity.   All Community Service Projects (CSP) are tied to easing food insecurity. Some ways to combat food shortages include planting or supporting community gardens that provide produce to local food pantries; donating meals with instructions that a 10-year-old can prepare; and getting involved with Senior Centers to ensure our older population eats healthy meals.   At our November Board of Directors Meeting, Chef Chris Franzoni, a former executive chef in Chicago from the Southside Mission in Peoria, Illinois, had a heartfelt conversation with us about how his organization is working to address food insecurity. In addition to providing a weekly free lunch program and delivering meals for the holidays, they are now focused on education – starting with preschoolers. Chef Franzoni said, "it's just as important to teach people how to use and prepare the foods they receive, as it is to give food."  The organization conducts a free six-month program to educate individuals with careers in food service – focused on skills required to be a chef.  He also educated us about what a "food desert" is and how the lack of grocery stores affects healthy eating habits.   Illinois members donated $1,000 that day through personal contributions and the sale of ornaments, handmade and donated by this President's sister!
Volunteers in Action: Millville Woman's Club (New Jersey)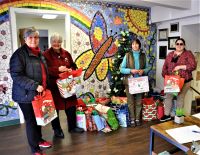 Photo Caption (l-to-r): Debbi Permito, Donna Pio, and Diane Alcantara of MWC, and Raquel Matis of Holly City Family Success CenterIn 2020, Millville Woman's Club (New Jersey) member Diane Alcantara suggested that the Club spread the joy of the holiday season in the form of gift bags for children. The Holly City Family Success Center, a community-based, family-centered organization offering a multitude of services to children and families, was selected as the beneficiary, as a way to thank them for the services they provide. The project went so well that the Club kept the tradition going in 2021 and 2022. MWC members donated bags with toys, books, games, coloring books and crayons, puzzles, gloves, and more for the children's Christmas party. On December 13th, 2022, Donna Pio and Debbi Permito joined Diane to deliver over fifty gift bags to Raquel Matis at the Success Center.
By Beth Smith, GFWC Community Impact Program Chairman
Time out. We're not in the end zone yet for Community Impact Program (CIP) project. As GFWC's only two-year program, it's halftime, and your club may need to huddle up in the locker room, a.k.a. your club meeting, to review project progress and update the game plan.How are you doing financially? Do you need more resources or donations from the community instead of relying on your club members? Tell your community what you're doing and what you need by sharing on social media and news. Use your club cheerleaders to spread the word.Are you running into obstacles? Make a list and brainstorm ways to get around it, change it, or come up with an alternative method. Don't get stuck running the same unsuccessful play down after down.Are you working with community partners? If not, seek out organizations, businesses, community leaders, etc., who can contribute facilities, manpower, or other resources. Bring in fresh players to create new excitement. Keep a notebook or digital file of your progress and use the CIP award entry as your guide. Every good coach has a playbook.  If your club hasn't started a CIP project, there's still time. Clubs have until December 31, 2023, to complete their CIP project and compete for the $2,500 national award. Get off the sidelines and onto the field of play!Find all the information your club needs to select a project and document progress in the Community Impact Program award section of the GFWC Club Manual, located in the "C" Resources folder of the Member Portal Digital Library.  You could score the game-winning TOUCHDOWN for your community and your club!
Reviewing your plays can help you get down the field and score.
Resources for Planning Your State LEADS Program
By Susan Gettys, Leadership Committee Chairman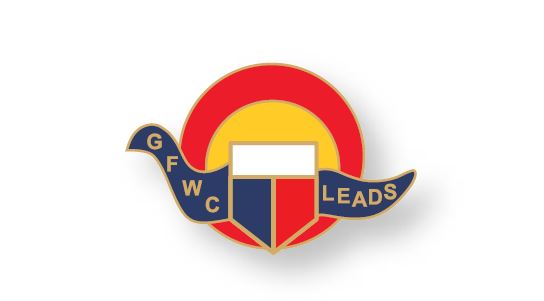 The GFWC Leadership Committee has been busy adding files to the Leadership Toolkit. There are now four presentations with PowerPoints and scripts that you can use for your State LEADS Programs or other leadership training. These presentations were originally submitted by North Carolina and then adapted for use by all GFWC clubs. "LEADS – All Things GFWC": Contains information about GFWC's History and an Introduction to Leadership. 2) "LEADS – How to Run a Successful Meeting": Shows how to use proper Parliamentary Procedures when running a meeting. A Sample Script is included with this presentation. 3) "LEADS – Public Speaking – How to Give a Great Presentation": Provides tips and tricks for giving effective presentations. 4) "LEADS – Finding the Leader in You": Instructs on how to use various personality inventories to develop the leadership skills of your members. Four different personality inventories are included in the Leadership Toolkit under "Leadership Is Personal Development."  We hope you find these tools helpful in leadership training within your state. If you need assistance in planning your State LEADS program, please contact Susan Gettys, GFWC Leadership Committee Chairman, at susan.getts@att.net.
The presentations are: 1) 
The Power of You: A GFWC Training Series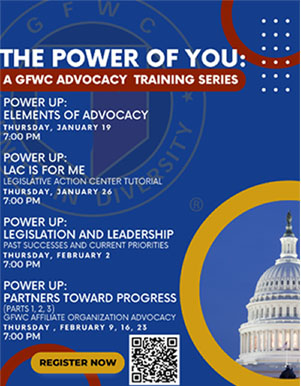 The Power of You: A GFWC Advocacy Training Series, is open! GFWC members will learn civic engagement strategies to influence local, state, and federal government officials. The webinar series starts in January 2023, each Thursday evening at 7 pm ET, with the first on January 19. Each episode will be 45 minutes to one hour in length with Q & A, as time allows. You can register for the entire series or single episodes of your choice. To learn more, contact Darrell Jones, GFWC Programs Manager, at DNJones@GFWC.org.

Registration for the GFWC webinar series, 

Seeking 2023 Croly Award Applications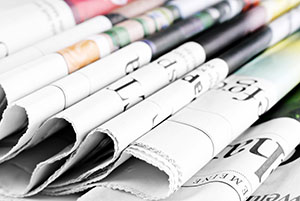 It's time to spread the word that the application for the 
2023 Croly Award
 is now open! Encourage all journalists you know who have helped advance the rights of women to apply by April 30, 2023. Visit the 
GFWC Member Portal 
to download the application form and consider sharing on Facebook. All journalists who contribute to newspapers, broadcast news programs (radio, television, and digital), magazines, or online publications, either on staff or in a freelance capacity, are welcome to apply. A deserving journalist could be working right next door!
GFWC
www.GFWC.org