January 27, 2022
View our Important Dates page for upcoming events and milestones.
February 4: Success for Survivors Scholarship Application Deadline 
There is still a week left before the 2022 Success for Survivors Scholarship submission deadline on Friday, February 4. Ten scholarships of $2,500 will be awarded in 2022! Spread the word about the opportunity that this scholarship provides survivors of intimate partner violence—the financial support to seek higher education and achieve both financial and personal independence.
Funding for this scholarship would not be possible without generous donations from clubwomen, clubs, State Federations, and others. Consider dedicating all or part of your next club fundraiser to the GFWC Signature Program Fund, which directly funds the GFWC Success for Survivors Scholarship. It is through your support that GFWC can make the recipients' dreams a reality. As Karen C. said: "This scholarship will help me finish my degree in Vocational Rehabilitation Counseling and help me 'pay it forward' by working with disabled clients to support their journey for independence. As a Deaf survivor of DV, this is my dream career. Thank you for helping my dream come true!"
Thank you for your donations that give survivors a better tomorrow! And remember, you can donate to the Fund at any time through the Member Portal.
Back by Popular Demand: Remote GFWC Holiday Open House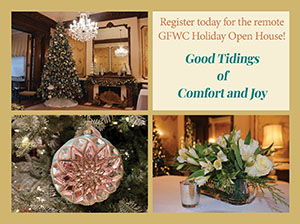 Don't miss your chance to register for the Remote GFWC Holiday Open House! If you did not have time in December to experience the holiday magic at GFWC Headquarters in Washington, DC, you can now register through the GFWC Member Portal until 12:00 noon ET on February 15.
Once you register, the remote Holiday Open House will be available for viewing until Friday, February 18. The theme of the 2021 GFWC Holiday Open House was Good Tidings of Comfort and Joy – a wonderful reminder of the happiness we give and receive from encouraging and supporting our friends, family, and neighbors.
Register for the Remote GFWC Holiday Open House today.
Cares & Concerns 
Lori Chevalier, 2020-2022 Legislation and Public Policy Committee member and 2010-2012 GFWC Virginia Director of Junior Clubs, lost her mother this past weekend. Condolences may be sent to Lori at 4211 Takach Road, Prince George, VA  23875.
Volunteers in Action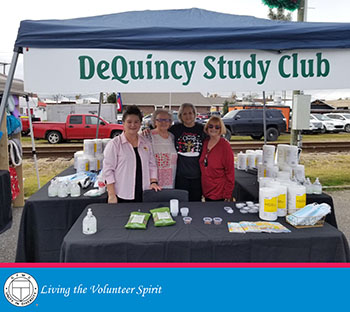 This week's GFWC Blog features the GFWC DeQuincy Study Club (Louisiana) and GFWC Decora Study Club (Texas). Read how clubwomen distributed children's books and disinfectant wipes to community members during a local Farmer's Market and donated 45 pounds of peanut butter to help people experiencing food insecurity.
Have a success story to tell? Email PR@GFWC.org to have your club project considered for the GFWC Blog. It's also a new year with 12 more chances for your club's project to be selected as a President's Pick.
Congratulations to the GFWC Woman's Club of Denville/Rockaway for receiving the most member votes and being named the overall 2021 President's Pick! This club project will be featured in the Spring 2022 Clubwoman Magazine, available in the Member Portal's Digital Library in early March.
Downloaded the 2022 Winter Magazine Yet?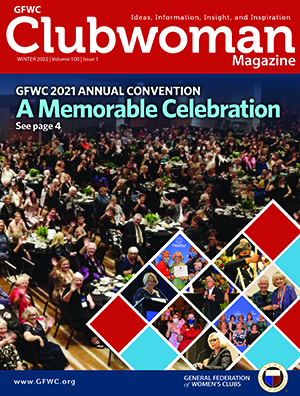 As announced on December 2, the 2022 Winter Magazine began a new chapter of GFWC Clubwoman Magazine. All issues of the magazine will now be available to every member, without a subscription, in the Member Portal's Digital Library, under "C" in the "Clubwoman Magazine" folder. Log in to the Portal and download your copy now, which includes an updated GFWC Gifts to Headquarters listing.
We would like to take this opportunity to thank all of our 2021 fiscal year (July 2020-June 2021) GFWC Gifts to Headquarters donors! Their generous contributions have already made it possible to begin the home projects necessary to keep Headquarters in good condition.
Members
Mary Baird, Patricia Benskin, Martha Casassa, Kay Chadwick, Janice Curtiss, Kathleen Flock (in memory), Della Gowan, Linda Kreussling, Kimberly Plater, Patricia Pisarski, Trisha Schafer, Paula Schlice, Sheila Shea, Cindy A. Simmons, Gail Ann Thompson, Betty Wellborn, Dorothy Wilkinson, Cherie Lee Williams, Becky Wright
Clubs 
GFWC Becky's Brigade, GFWC Bettie Carter Morgan Woman's Club, GFWC Covina Woman's Club, GFWC Dickson County Woman's Club, GFWC Ditto's Roses, GFWC Kathy's Junior Mints, GFWC Massachusetts Junior Membership, GFWC Miami Woman's Club, GFWC Past Region President's Club, GFWC Past State Junior Directors Club, GFWC Sheila's Leading Ladies, GFWC Sokico Woman's Club, GFWC Tracy Woman's Club, GFWC Yankton Women's Club
State Federations 
GFWC Alabama, GFWC Arkansas, GFWC California, GFWC Colorado, GFWC Delaware, GFWC Florida, GFWC Georgia, GFWC Kansas, GFWC Illinois, GFWC Iowa, GFWC Maine, GFWC Massachusetts, GFWC Michigan, GFWC Mississippi, GFWC New Mexico, GFWC New Hampshire, GFWC North Carolina, GFWC Ohio, GFWC South Carolina, GFWC South Dakota, GFWC Texas, GFWC Utah, GFWC Virginia, GFWC Washington, GFWC Wisconsin, GFWC Wyoming
Regions 
GFWC Great Lakes Region, GFWC Mississippi Valley Region, GFWC New England Region, GFWC South Central Region, GFWC Southeastern Region, GFWC Western States Region
Other Supporters 
The 2020-2022 GFWC Executive Committee, Benevity Community Impact Fund, GFWC Boosters, Network for Good
Enjoy Photos from the 2022-2024 Board Orientation
The 2022-2024 Board Orientation brought incoming leaders to Washington, DC, for a weekend of learning and excitement. View the Orientation photo album and download photos of this great Administration planning event.
Start Preparing for the 2022 Convention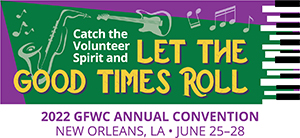 Planning for the 2022 GFWC Annual Convention in New Orleans is in full swing and June 25-28 will be here before you know it. Event registration and the Call to Convention will launch on www.gfwc.org on March 1, but meanwhile there are two ways you can start preparing to roll with the good times in The Big Easy.
Book Your Hotel Room
GFWC's room block is now open! The Group rate is $199 for a room with either one king bed or two double beds. Learn more about the Convention Hotel, the Hilton New Orleans Riverside.
Donate a Raffle Prize
Support the Big Easy Raffle by signing up to make a donation. Fill out the Raffle Donation Agreement Form.
Calling All Creative Member and Student Writers
By Shirley Holly, GFWC Writing Contest Chairman
It's time to submit those creative stories and poems that have been written during 2021. The judges are anxiously awaiting the entries; last year's entries were wonderful, personal expressions of what's been going on in the world during the pandemic. They are expecting the same caliber of submissions this year!
By April 1, all entries need to be submitted to the Writing Contest Chairman in your state who will then send the winning entries to the GFWC Writing Contest Chairman. There are two categories—one for dues-paying members and one for youth.
Categories 
Member Contest: Short Story and Poetry
Each state may submit one member short story and one member poetry entry.
Youth Contest: Short Story and Poetry 
Each state may submit two entries in each category listed below, one short story and one poetry per category.
Category 1 – Grades K, 1, 2
Category 2 – Grades 3, 4, 5
Category 3 – Grades 6, 7, 8
Category 5 – Grades 9, 10, 11, 12
Judges will evaluate six traits of youth writing submissions: ideas, voice, organization, word choice, sentence fluency, and mechanics.
Download the Writing Contest section of the Club Manual, available in the Digital Library's Club Manual folder within the Awards and Contests subfolder.
All entries should be postmarked by April 1, 2022. Please do not put entries into special folders as they will be discarded for the judges.
Office Depot Savings through February 7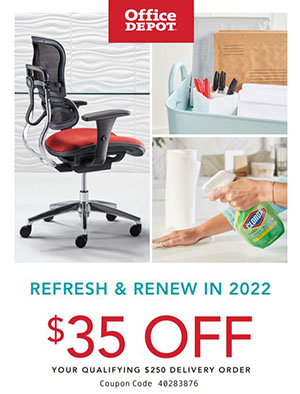 Office Depot is kicking off 2022 with exclusive deals for you. The GFWC Office Depot Savings Program is offering $15 and $35 off coupons valid through February 7; these coupons are only valid online and some exclusions apply. Take advantage of this great deal before it's gone! Visit Officediscounts.org/GFWC to shop online through their Office Depot Savings Program.

Legislative Corner 

To encourage participation in the democratic process, this monthly column aims to inform members about current legislation and programs that are germane to the GFWC Resolutions. It also highlights important actions of the House, Senate, and White House, and provides follow-up information about GFWC Legislative Action Alerts.

The new year has presented increasing COVID-19 omicron variant transmissions, supply chain challenges, and increased stress about returning to school and work. The second session of this Congress began with unfinished business. State and local governments are preparing to spend American Rescue Plan Act funds based on final Department of Treasury regulations recently released. The bipartisan Infrastructure Investment and Jobs Act enacted in November provides significant funding for transportation, water, resiliency, and broadband. Federal departments are expected to have funding notices available by late February.

Appropriations: Congressional leaders are working to finalize FY 2023 spending bills. A Continuing Resolution is in place until February 18, providing level federal funding until the FY 2023 appropriations bills can be completed. These actions ensure there will not be a federal government shutdown. www.facebook.com/NTFSDV to see the recorded event. Go to the GFWC Legislative Action Center to contact your senators through our grassroots action alert process.

  Violence Against Women Act (VAWA) Reauthorization: Many thanks to GFWC clubwomen who participated in the Legislative Action Alert to urge their Senators to cosponsor and vote for the bipartisan VAWA bill negotiated by Senators Dianne Feinstein (D-CA), Joni Ernst (R-IA), Dick Durbin (D-IL), and Lisa Murkowski (R-AK). On January 19, GFWC members also participated in a rally sponsored by the National Task Force to End Sexual and Domestic Violence, which featured actress and international human rights and children's rights activist Angelina Jolie, and Senators Durbin, Feinstein, and Murkowski. Attendees were urged to call their Senators during the event and a script was provided. It's not too late if you want to participate, go to

State Director of Junior Club's Project: Andrea Lilly, Maryland

GFWC Maryland Junior Director Andrea Lilly selected environmental awareness for her 2020-2022 Administration focus and chose O.W.L.S – Outdoors Where Leadership Soars as her theme. Taking care of the environment is near and dear to Andrea's heart because her dad was a state park ranger for 30 years. She grew up visiting state parks – even lived on one for 10 years. This experience, along with her overall love of the outdoors, is what inspired her Administration theme.

Andrea has strived to promote projects that will improve conservation and reward clubs for their leadership roles in helping the environment. The goals she emphasized to Maryland Junior Clubs included energy conservation, following the principles of reduce, reuse, recycle, and supporting state parks, with a special emphasis on planting trees and protecting animal habitats. She also encouraged clubs to support the Chesapeake Bay Foundation's Save the Bay program and Tree-mendous Maryland. The Chesapeake Bay Foundation is an independent conservation organization dedicated to finding effective solutions to the pollution degrading the Bay and its rivers and streams and Tree-mendous Maryland is a program that helps citizens restore tree cover on public land and community spaces. Andrea received newsletters from the Save the Bay program, the National Park Service, The Nature Conservancy, and the Arbor Day Foundation, which she provided to clubs to give them guidance and ideas for projects to help the environment in their communities.

By encouraging Junior Clubs across the state to organize various environment-based projects, Andrea hopes clubwomen will play a role in keeping Maryland safe and beautiful.

GFWC Marketplace: Hanger Pin with Grosgrain Ribbon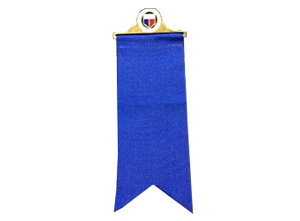 Display all your GFWC pins with the perfect matching hanger pin with the GFWC emblem on gold plating. The hanger pin includes a safety pin back and grosgrain ribbon for you to add pins to your collection. It measures 2.25 inches wide by 6.5 inches long. Order yours today.
This featured item may wrap up GFWC's recognition of Human Trafficking Awareness Month in News & Notes, but there are still four days left in January. Please continue to help raise awareness about this important global issue for the remainder of this month and throughout the year.
There could be some mail service delays throughout the pandemic. To speed up processing of your order, we request that you pay for your order at time of purchase in the Member Portal. For information on mail service in your area, visit the USPS Service Alerts page.
GFWC
www.GFWC.org