January 28, 2021
View our Important Dates page for upcoming events and milestones.

Put Pen to Paper for This Year's Writing Contest  
By Shirley Holly, GFWC Creative Writing Chairman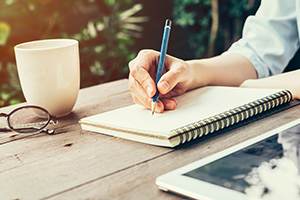 This chairman is looking forward to reading the short stories and poetry created during the 2020 calendar year. With all of the downtime we have had, what a wonderful time to put pen to paper and create a short story or poem. Creative writing is always an outlet for passion and anxiety.
As outlined in the 2020–2022 Club Manual, the genres of poetry and short story are the creative options. The rules are few and easy to follow. Each State Writing Contest Chairman is encouraged to submit entries as listed below. Individual club members must submit their entries to their State Federation's chairman, who will send their winning short stories and poetry on to the GFWC level.
The GFWC Writing Contest consists of two primary participant groups: one for dues-paying members of a GFWC club and one for young students ranging from kindergarten to 12th grade. The four youth categories are:
Category 1
Kindergarten, First, and Second Grade
Category 2
Third, Fourth, and Fifth Grade
Category 3
Sixth, Seventh, and Eighth Grade
Category 4
Ninth, Tenth, Eleventh, and Twelfth Grade
This gives each state the opportunity to submit a total of ten entries. There are two entries in the Member Category: one short story and one poem created by a dues-paying member of your club. In the youth category, one short story and one poem can be entered for each of the four categories, bringing the total entries to 10. Short stories are limited to 2,000 words. Any style of poetry is welcome and is limited to 50 lines with a minimum of eight lines. GFWC's Creative Arts Waiver form must be attached to every single entry.
Any questions concerning criteria are welcome! Entries must be postmarked by April 1, 2021. Please do not put entries into special folders; they will only be taken out for the judges.
In the Club Manual, there is an entire section devoted to the Writing Contest. Visit the "C" Resources folder within the Member Portal's Digital Library. In the "Forms" sub-folder of the Club Manual root folder, you will find GFWC's Creative Arts Waiver.
Explore the Best of Britain with President St.Clair and GFWC Friends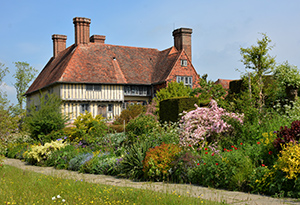 Make your big trip in 2021 "The Best of Britain" tour with President Marian St.Clair, President-elect Deb Strahanoski, and GFWC friends. The tour will explore some of President St.Clair's favorite places in England, including Windsor Castle, the site of many Royal Weddings and some of the finest works of art from the Royal Collection; the spectacular Blenheim Palace and Highclere Castle, two of the country's great treasure houses; the homes of Jane Austen and Winston Churchill, which display many touching personal effects; and three world-renowned gardens—Sissinghurst, Great Dixter (seen in the photo above), and Prince Charles's garden at Highgrove.
Along the way the tour will visit the rolling hills of the Cotswolds, the Weald and Downs of Hampshire, Kent, and Sussex, and the great city of London. There will be time for antiquing, shopping, perusing museums, and perhaps even enjoying an evening of theater.
View the "The Best of Britain" brochure for full details and plan to join President St.Clair and President-elect Strahanoski for a Zoom chat about the tour on Thursday, February 4, at 7 p.m. ET. (To register for the Zoom link, send your name and email address to MStClair@GFWC.org). News about Discover Europe's COVID precautions and Payment Protection Plan can be found on the Discover Europe website. If the tour is unable to go forward as planned, the tour deposit is transferable to another date.
Family and non-GFWC friends are welcome to join the tour! The Best of Britain is limited to 30 travelers, so reserve your space today.
Cares & Concerns
It is with sadness that we announce the passing of Sharlene Glock, New Mexico State President (1992-1994) and President of the Progress Club of Las Cruces three times. Sharlene passed away on January 24.
Volunteers in Action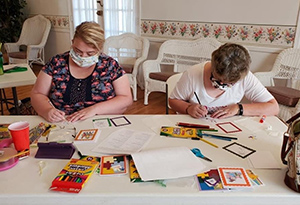 This week's GFWC Blog features stories from the Village Improvement Association of Rehoboth Beach (Delaware), GFWC Millville Woman's Club (New Jersey), GFWC Stella Research Club (Nebraska), and the GFWC Woman's Club of Dunbar (West Virginia). Read about how these clubs donated food to those in need, collected hundreds of pounds of non-biodegradable plastic bags, and made personalized cards to bring a little joy to nursing home residents.
Have a success story to tell? Email PR@GFWC.org to be considered for GFWC's Blog.
Affiliate Organization Webinars Begin with St. Jude Children's Research Hospital on February 10
GFWC Affiliate Organization Shot@Life's webinar has been postponed to Wednesday, March 10, at 4:00 pm EST. Follow News & Notes each week for updates regarding the Webinar Series.
The first Affiliate Organization Webinar will be St. Jude Children's Research Hospital on Wednesday, February 10, at 4:00 pm EST.
These webinars are presented live and will include time for Q&A. The Webinars will be recorded so that you can watch the webinar at a later date if you've already registered.  The registration for  St. Jude's Webinar begins today and closes at noon on Monday, February 8. To register, visit Events in the GFWC Member Portal.
Seeking 2021 Croly Award Applications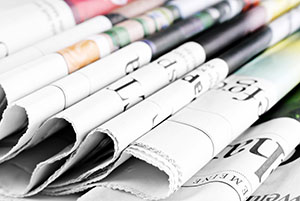 It's time to spread the word that the application for the 2021 Croly Award is now open! Encourage all journalists you know who have helped advance the rights of women to apply by April 30, 2021, using this application form, and consider sharing the award information on Facebook. All journalists who contribute to newspapers, broadcast news programs (radio, television, and digital), magazines, or online publications, either on staff or in a freelance capacity, are welcome to apply. A deserving journalist could be working right next door!
Legislative Corner 
New Administration Takes Office
The first 100 days sets the tone for any new administration, and the Biden-Harris White House is off to a quick start. The United States rejoined the Paris Agreement on climate change; multiple actions and legislation are expected as energy efficiency and climate change are top priorities. The U.S. is also staying in the World Health Organization (WHO); in April 2020, GFWC joined other organizations in support of continued funding for WHO. GFWC Affiliate Organizations Shot@Life and UNICEF benefit greatly from WHO's leadership efforts to test, treat, and vaccinate global citizens to stop the spread of COVID-19 and other deadly diseases.
New 117th Congress (2021-2022)
Congressional leaders are selecting committee chairmen and members, and the Senate is conducting confirmation hearings for the administration's cabinet nominees. The GFWC Legislation/Public Policy Committee is identifying and prioritizing legislation to match resolutions in each of the GFWC Community Service Program areas. Now is the time to join the GFWC Legislative Action Center.
COVID-19 Response
The FY 2021 spending and COVID-19 relief bill enacted at the end of December extended several response programs into March 2021, including unemployment benefits, the Paycheck Protection Program, paid leave tax credits, and the Medicare sequestration suspension, which would have cut 2021 physician payments. The White House also just announced it would extend the freeze on federal student loan payments through September 30, and extend the federal eviction and foreclosures moratoriums through March 31. Food security continues to be a priority for our nation as more families go hungry. Significant federal funding was included in the bill, so now is a good time to reach out to your local food banks and offer volunteer assistance to distribute food to families.
Equal Rights Amendment 
GFWC is a lead organization of the national ERA Coalition and has joined more than 150 others to urge President Biden and Vice President Harris to prioritize adding the Equal Rights Amendment (ERA) to the United States Constitution during their first 100 days. Options include urging the U.S. Archivist to publish and certify the ERA as the 28th Amendment or urge Congress to remove the 1972 ratification deadline, thus eliminating any barriers to full adoption. Tomorrow, visit the LAC to read the co-signed letter.
Tax Season Solutions From Office Depot
Tax season is here and Office Depot has you covered with a complete line of tax solutions. Choose from forms and envelopes to software, all designed for your specific needs and to help boost your bottom line. Visit OfficeDiscounts.org/GFWC to shop online.
Plus, use the coupons to maximize your savings and enjoy up to $35 off with a qualifying delivery order. Hurry, these deals won't last! Coupons valid through February 9. Exclusions apply, see the coupon for details.
New England Region: JoAnn Calnen, President
The GFWC New England Region celebrated its 111th Conference this past October. In 1909, the first conference met in Massachusetts with committees from six New England states gathering. They had no specific theme, just the determination to make a difference. In 2020, New England members met remotely but with the same determination to make a difference.
"Change the Script" is the theme of the GFWC New England Region Administration. Since change is difficult whether in management, bylaws, or programs, members were encouraged to propose new ideas that may require a change to the "script" of their club or State Federation. Going forward, the focus for this Administration will be on another epidemic. Although the opioid epidemic has been relegated to a secondary concern due to the onset of COVID-19, opioid epidemic numbers remain higher in New England than in many other parts of the United States. As the coronavirus continues to contribute to those higher numbers, education of this problem will be a goal for the future.
The remote conference in October included unique reports from GFWC Chairmen that demonstrated new and fun ways to share information. State Presidents and the Director of Junior Clubs were able to reach any of their members who chose to join the conference, and there was no limit on who could attend. Vermont would have been the host state, but instead members were able to remotely visit the historic Clemmons Family Farm, a model farm for protecting African American agricultural land in Vermont. This farm preserves art and culture, and offers classes on a variety of topics.
Despite being unable to meet in person, the GFWC New England Region's 111th Conference created the opportunity for members to share ideas and make a difference in their communities from their homes – quite a "Change in the Script."
State President's Project: Shelby Holland, Georgia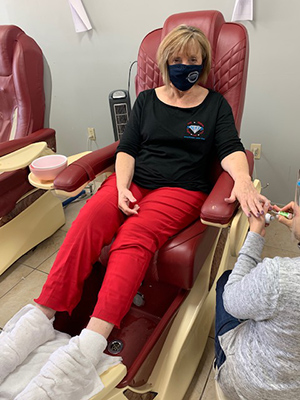 Shelby wearing her SMILE t-shirt one action-packed Saturday.
During the 2020-2022 Administration, GFWC Georgia State President Shelby Holland's special project focuses on a partnership with FARE, or Food Allergy Research & Education, a nonprofit organization dedicated to allergy awareness, education, research, and advocacy. GFWC Georgia collaborates with FARE to bring help and hope to people who live with food allergies. The project's goal will not only be to foster positive change for individuals who live with allergies, but to empower them to lead safe and productive lives with respect to others through education.
Clubs have formed "Team FARE" in their communities, as well as assisted schools in preparing to manage students with food allergies effectively. Clubs were reminded that "teal is the new orange" as they offered non-food treats to trick-or-treaters during Halloween to support the Teal Pumpkin Project. Newsletters also were published with FARE Facts, which included information such as introducing new food items to babies; the promotion of the Allerbling ID bracelet to keep children safe at school, summer camp, or on play dates; and options for food substitutes.
During December 2019, Congress passed the Food Allergy Safety, Treatment, Education, and Research Act (FASTER), which added sesame as the ninth top allergen. President Holland, plus an increasing number of Georgia clubwomen, has food allergies. If everyone with food allergies lived in the same state, it would be the fifth largest state in the country, according to Food Revolution Summit speaker Robyn O'Brien.
GFWC Georgia supports President Holland's theme S.M.I.L.E., which stands for Smile, Motivate, Inspire, Lead, and Excel. Promotional events take place on "S.M.I.L.E. Saturdays" on the first Saturday of each month. During these events, club members wear GFWC shirts to visit local businesses in hopes of being asked about GFWC, allowing club members to share their "elevator speech."
GFWC Marketplace: Vest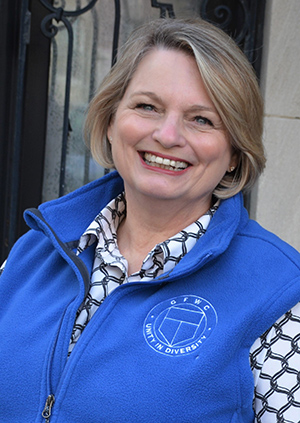 Looking for an everyday blue wardrobe staple? Although National Slavery and Human Trafficking Prevention Month is almost over, you can still show your support by ordering this comfy Federation blue GFWC vest by January 31. Perfect over any outfit to stay warm, this unisex vest can be worn indoors or outdoors as an additional layer under your coat for these blustery winter days! The vest is available in small, medium, large, XL, and XXL. Order yours today.
There have been reports of mail service delays in many communities throughout the United States. GFWC staff is processing Marketplace orders as quickly as possible, but Headquarters is still operating with limited staff onsite daily. In order to speed up processing of your order, we request that you pay for your order at time of purchase in the Member Portal. For details on mail service in your area, visit the USPS Service Alerts page.

GFWC
www.GFWC.org