July 1, 2021
View our Important Dates page for upcoming events and milestones.

U.S. Flag Etiquette for Your July 4 Celebration
By Nancy Greenberg, Civic Engagement and Outreach Community Service Chairman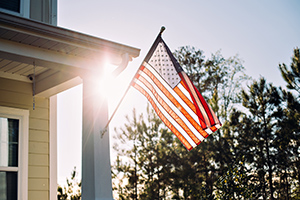 You're A Grand Old Flag, You're A High-Flying Flag…"  George M. Cohan
July 4, 1776, was the day the U.S. Declaration of Independence was formally adopted by the Continental Congress. John Adams called for people to celebrate the day with, "Pomp and Parade, Shews and Games, Sports, Guns, Bells, Bonfires, and Illuminations from one end of this continent to the other from this day forward forever more." On June 14, 1777, to establish an official flag for the new nation, the Continental Congress passed the first Flag Act.
While preparing for this year's July 4 celebration, keep a copy of the United States Flag Code handy. It is law, since June 22, 1942, which formalizes and unifies U.S. flag etiquette:
United States flags should only be displayed on parade floats if they are on a staff.
When a flag is displayed from a staff projecting from a window, balcony, or a building, the union should be at the peak of the staff unless at half-staff.
When it is displayed from the same flagpole with another flag–of a state, community, society or Scout unit–the U.S. flag must always be at the top.
If the flag is suspended over a sidewalk, the flag's union should be furthest from the building.
The U.S. flag should be at the center and at the highest point of a group.
When displaying the flag against a wall, vertically or horizontally, the flag's union should be at the top, to the flag's own right, and to the observer's left.
When displayed in a window, it should be displayed in the same way—with the union to the left of the observer in the street.
When a flag is displayed on a car, the staff shall be fixed firmly to the chassis or clamped to the right fender.
There is still time to prepare a flag display in your community and on your own property for July 4, and to make plans to attend your town's parade with family and friends. I also urge you to plan beyond this weekend. Veterans Day and President's Day are both important days to show respect to the U.S. flag, as is September 11 to remember all of the lives lost. But honoring the U.S. flag does not have to be confined to these days; it can be a year-round practice.
Be sure to share any club-organized celebrations that honor the U.S. flag with PR@GFWC.org to be considered for the GFWC Blog.
Learn More About Teen Dating Violence From Child and Teen Counseling Expert
At the GFWC Board of Directors Meeting this past weekend, Teen Dating Violence Advisor Trisha Schafer interviewed Kayla Major, Child and Teen Counselor with Freedom House Illinois, about teen dating violence and how to help prevent it. This interview offered valuable information to inspire clubs to participate in the Signature Program Challenge Project: Teen Dating Education and Awareness by organizing a Teen Healthy Relationship Forum led by a certified teen counselor. Other suggested projects include offering a club program to educate members or donating resources to school and public libraries and other places teens gather. The full interview is available to watch on GFWC's YouTube channel.
The script for the interview is available in the "Challenge Projects" subfolder within the "C" Resources folder of the Member Portal's Digital Library. This document contains relevant definitions, identifies possible "red flag" behaviors, explains various types of abuse, offers resources and hotline numbers for teens, and lists ways you can help increase awareness and education about teen dating violence.
It's never too early to start planning different ways to educate teens and adults about healthy teen relationships in your community this February. Access the script and other Signature Program Challenge Project resources available in the Digital Library to begin planning your club's Signature Program Challenge Project today!
Volunteers in Action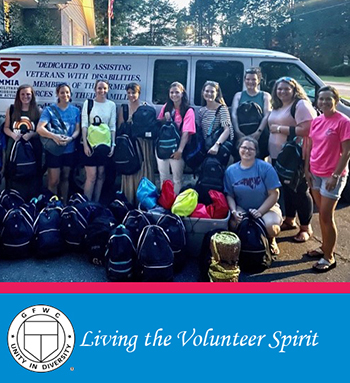 This week's GFWC Blog features the GFWC Walnut Valley Women's Club (California) and Fuquay Varina Junior Woman's Club (North Carolina). Read about how clubwomen have donated more than 500 books to a local Little Free Library and put together backpacks filled with personal care supplies for homeless veterans in their community.
Have a success story to tell? Email PR@GFWC.org to have your club project considered for the blog.
Drives Save Lives – Give Blood!
By Beth Smith, Health and Wellness Community Service Chairman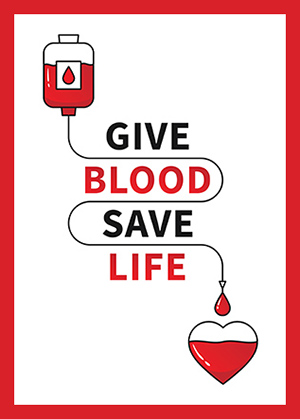 Every two seconds, someone in the U.S. needs blood. Blood is perishable and cannot be stockpiled.
Since college, I have been a regular blood donor. It started with a local radio station blood drive that gave you a ticket to a "donors only" concert. Recently, I got approved for platelet donation and that's what I'm doing in July.
This is personal because I know how necessary blood transfusions were for my father during his treatment for pancreatic cancer. The strength a stranger's blood gave my dad was incredible, and I am forever grateful.
Hospital demand for blood has increased as patients deferred care during the COVID-19 pandemic. The need for platelets, the clotting portion of blood, is always great because platelets must be transfused within five days of donation. Most platelet donations are given to cancer patients.
Blood centers are also collecting convalescent plasma to be used for COVID-19 patients and always need plasma donations for trauma, burn, and shock patients.
GFWC club members can be blood donors. GFWC clubs can host blood drives.
Blood centers make hosting a blood drive easy to do. Contact your local blood center to get a drive scheduled. If you are not sure who to call, contact your local hospital to get the blood center information. Your blood center will provide guidance in hosting a drive.
Successful blood drives depend on your ability to get people to sign up. Make it exciting by challenging another organization to see who can get the most donors or create a themed event. Use your connections to publicize your drive on social media, websites, and news outlets.
More information about hosting a blood drive can be found within the "B" Resources of the Digital Library's Member Portal.
Your Impact at Convention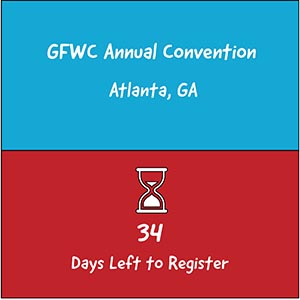 Your input is needed at the 2021 GFWC Annual Convention, our first opportunity in a long time to connect in-person. It has been a challenging year on many levels, and there are many conversations to revisit and many to begin August 27–30. The more Convention attendees we have, the more we can share and learn to have an impact in our communities around the world.
One way we can work together in Atlanta, GA, is to consider the proposed Bylaws and Resolutions (new, amended, and those to be rescinded) at the Business Sessions and come prepared with a printed copy of the Resolutions to review. If you've attended Convention before, you may already know how to prepare for the Business Sessions and what to expect during them.
What if you haven't attended a GFWC Annual Convention before? Read Resolutions Chairman Sheila Shea's June 17 News & Notes article and the Resolution FAQs for information about how to participate in Business Sessions. The FAQs also cover other topics that will help you make the most of attending the GFWC Annual Convention, from how to meet other attendees to personal development opportunities.
Register for Convention through the Member Portal by August 4. We want you to be part of conversations in Atlanta.
Techie's Tips: Spoofing Reminder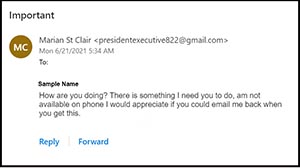 You just received an email from a GFWC Officer, GFWC staff, a GFWC sister, or another trusted source asking you to do something strange or unexpected. It might be an urgent request to talk, share private information, or purchase something for them. You're most likely being baited for a response from someone (a spoofer) trying to take advantage.
Without closer inspection, it might be easy to mistake spoofing emails as legitimate:
A name you recognize appears as the sender, but when you hover over the sender's email address it is generic and doesn't match the person's real email address.
It addresses you by name. It may even appear to have the person's signature. Watch out for computer fonts that resemble handwriting!
The content (giving to those in need) is relevant to GFWC.
If your email needs to be posted on your club's website for customer service reasons, you will need to closely monitor for email spoofs. While GFWC cannot prevent your email account from receiving these emails, rest assured that your privacy is a priority. GFWC does not broadcast contact information to stay vigilant in the age of the Internet and technology!
State President's Project: Cherie Lee Williams-DeWitt, Nevada 
GFWC Nevada State President Cherie Lee Williams-DeWitt's motto is, "We are united: You are not alone!" Little did she know how appropriate that statement would be during a pandemic. Nevada has four small but mighty clubs that were able to continue their good work and thrive despite COVID-19. These clubs are committed to improving their communities and supporting women, children, and families that are disenfranchised.
We all have times that we feel alone, even if we are not lonely. This is especially true of young women who are survivors of sexual assault or trafficking. Aligning with GFWC's Signature Program: Domestic and Sexual Violence Awareness and Prevention, President Williams-DeWitt supports The Embracing Project (TEP). This nonprofit promotes peace and healing for youth survivors of violence, sexual exploitation, and sex trafficking through the development of specialized programs, trauma-informed care, and unconditional support.
GFWC Nevada members developed projects to support TEP as well as safe houses within their communities. It is important to President Williams-DeWitt that women support each other, and that no woman feels that she has no recourse or path to success. When we help others succeed, we succeed as well.
GFWC Green Valley supports SAFE House in Henderson, Nevada. They supported a father and his family with household goods and necessities for the children.
GFWC Lamoille Women's Club works to support Harbor House, the local women's shelter for survivors of domestic violence and their children. They adopt a family for the year.
GFWC Mesquite Club supported Freedom House. The mission for Freedom House Sober Living is to allow people to begin the process of re-engaging with society, while still being monitored and receiving support through a 12-step program.
The ladies of GFWC Nevada continue to shine brightly, improving their communities and always polishing their "Silver State."
GFWC Marketplace: GFWC License Plate Frame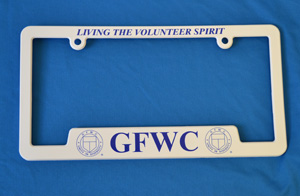 Show off your volunteer pride while driving around town with a GFWC License Plate Frame! This white frame with the blue GFWC logo and Living the Volunteer Spirit tagline fits easily around your car's license plate and is the perfect way to spread awareness of GFWC. Order yours today.
There have been reports of mail service delays in many communities throughout the United States. In order to speed up processing of your order, we request that you pay for your order at time of purchase in the Member Portal. For details on mail service in your area, visit the USPS Service Alerts page.
GFWC
www.GFWC.org