Grand Initiatives Update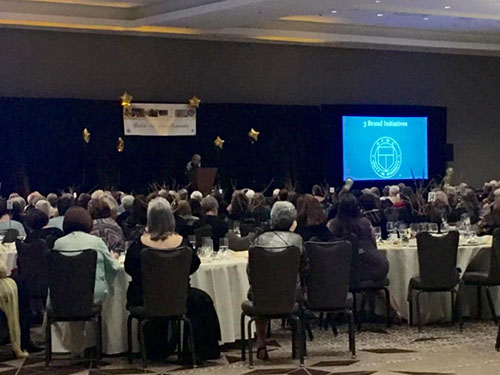 When the Seven Grand Initiatives were announced for the 2018–2020 Administration, it was a challenge to each GFWC member to strive for new goals within their clubs. Four of the seven goals were not only met within a year, but surpassed beyond imagination! Check out the astounding totals and the new goals that have been set to match the fervor and commitment of GFWC clubwomen:

Martin Luther King, Jr. Day of Service: 789/1,000
Women in the Military: 799/1,000
Million Dollar Club: 99/1,000
Legislative Action Center: 1,594/1,000
NEW GOAL: 2,500 members will join the LAC.
Arbor Day: 17,811/1,000
NEW GOAL: 20,000 trees will be planted on Federation and/or Arbor Day.
Donating Used Shoes: 36,763/1,000
NEW GOAL: 40,000 pairs of shoes will be donated to Souls4Soles and Nike Reuse-a-Shoe program.
Dr. Seuss: 50,716/1,000
NEW GOAL: 55,000 books will be donated to local city schools and day care centers.
GFWC International President Mary Ellen Brock has also announced the "Three Brand Initiatives," designed to increase GFWC's visibility through legislative action.

Brand Initiative #1: Make 1,000 calls or emails to United States Representatives on September 23, 2019 urging passage of Miranda's Law HR 2793.
Brand Initiative #2: Make 1,000 calls or emails to United States Senators and Representatives on October 23, 2019, urging passage of the 3D Printed Gun Safety ACT of 2019.
Brand Initiative #3: Put in place 1,000 club/state projects to celebrate the 100th Anniversary of Women winning the right to vote on August 26, 2020.
Clubwomen have already proven what they can accomplish when a goal is set before them. More than a number on a page, these totals reflect the real people who benefit from GFWC's volunteer spirit. Keep that spirit high and start planning your projects to make these new goals a reality.
---
Log In to MemberSuite 
Follow these steps to visit the GFWC Member Portal:
Click on the profile icon in the top right corner.
Select "Login."
Select "Forgot your password?"
Enter the email you receive News & Notes with each week.
You'll receive an email with a code. Enter that code to create a password.
Log in with your new password and check out the new features.
---
I'm a Clubwoman: Debbie Hall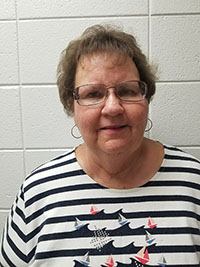 A clubwoman from Arkansas, Debbie Hall has been a member of GFWC for 35 years, a fact that she finds hard to believe. Currently serving as the Credentials Committee Chairman on the 2018–2020 Board of Directors, she reflects fondly on the rewarding journey of becoming increasingly involved with GFWC. Read about her experiences as a clubwoman on the GFWC Blog.
---
Cares & Concerns
We send our condolences to President-elect of Maryland, Karen Marie Wasik, whose husband passed away last week.
We send our sympathy to Pat Mumm, Past Minnesota State President (2016-2018), on the death of her husband, Stan Mumm.
---
Volunteers in Action
The Woman's Club of Farmingdale (New York) is featured on GFWC's blog.
Have a success story to tell? Email pr@gfwc.org.
---
2019 Top Projects Announced!
Decisions are in on the Top 10 Projects in each programmatic and advancement area. Visit the GFWC website to see the winners. To print a particular page, click on the grey printer icon below the Facebook icon on the right side of your screen.
---
Attention Board of Directors
The Call to the August 2019 Board of Directors Meeting went out on July 3. If you're on the 2018–2020 Board of Directors and you haven't received it, contact Jenn Simpson.
---
Order Convention Photos
Commemorate your best moments of the 2019 GFWC Annual Convention by purchasing photos from Lolo B Designs. From shots of tour adventures to the beautiful gowns at banquets, you can re-experience Convention highlights anytime!
---
Learn About an Historic Clubwoman
Joe Starita was a speaker at the 2019 GFWC Annual Convention in Austin. His talk about Susan La Flesche, a clubwoman and the first Native American doctor in the U.S., moved the crowd. If you want to read her incredible story, his book on her journey is available on Amazon.
---
Lost and Found at Convention
If you found a Yellow Gold Diamond Tennis Bracelet at the 2019 GFWC Annual Convention, contact GFWC Headquarters so we can return it to its owner.
GFWC Staff also found a white cardigan in the GFWC Staff Office at the JW Marriott Austin, so contact us if that's yours.
---
Parliamentary Pointers: Electronic Meetings
by GFWC Parliamentarian Deen J. Meloro
In this age of technology, many clubwomen ask about electronic meetings and voting. Robert's Rules of Order is updated by a learned committee every ten years, with a new version releasing next year. The rules might be updated soon, but for now, the rules read as follows:
If there's no provision in the bylaws of your group, you cannot hold electronic meetings.
A group whose bylaws have a provision for electronic meetings must have the electronic ability for simultaneous aural communication among all members; that eliminates email.
If the bylaws provide for a meeting by video conference, the meeting must be conducted by a technology that allows all participating members to see and hear each other.
Questions to consider include:

Do members who are not attending in person at a regular meeting have the right to participate by electronic means?
Will there be a location for members who wish to attend the meeting in the traditional manner?
What type of equipment is required and will your organization be required to provide this equipment if a member doesn't have it?
What happens if the meeting has a "technical difficulty?"
How will the presence of a quorum be determined? How will the loss of a quorum be noticed? How will a member be able to make a point of order doubting the presence of a quorum?
How will a member obtain the floor, or seek recognition to obtain the floor? How will a motion be submitted in writing during a meeting?
What methods will be used for taking votes and verifying votes?
How will you ensure that non-members will not be able to watch and/or listen to the meeting?
How will an Executive Session be held?
Once your group has answered these questions, you can add electronic meetings to your bylaws.
---
GFWC Marketplace: Notebook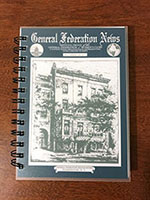 Our new spiral-bound notebook features a 1929 cover of General Federation News that has a beautiful illustration of GFWC Headquarters. Whether you're planning future projects or writing down notes at meetings, this notebook is an excellent addition to any clubwoman's toolkit. Get yours for $12 in the GFWC Marketplace.
---
Subscribe to News & Notes
Simply provide your name, mailing address, email, and club name to gfwc@gfwc.org