July 22, 2021
View our Important Dates page for upcoming events and milestones.

Join Us in Atlanta to Reconnect and Make a Difference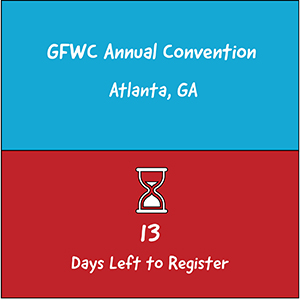 After a year of uncertainty and isolation for many, the 2021 GFWC Annual Convention is an opportunity for us all to reconnect. Join us in Atlanta, Georgia, from August 27-30, to share your stories and learn about how you can continue to make a difference in your community and around the world.
One way we can work together during Convention is to consider the proposed Bylaws and Resolutions (new, amended, and those to be rescinded) at the Business Sessions and come prepared with a printed copy of the Resolutions to review. What was published in the Spring 2021 GFWC Clubwoman Magazine was an abbreviated copy.
If you have attended Convention, you may already know how to prepare for the Business Sessions and what to expect during them. If you haven't attended a GFWC Annual Convention before, read Resolutions Chairman Sheila Shea's June 17 News & Notes article and the Resolution FAQs for information about how to participate. The FAQs also cover other topics that will help you make the most of attending the GFWC Annual Convention, from how to meet other attendees to personal development opportunities.
Register for the Convention by August 4 through the GFWC Member Portal.
Canine Companions Continues to Support People with Disabilities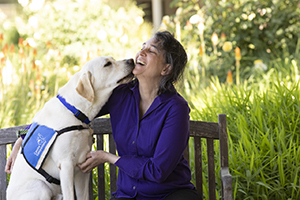 GFWC Affiliate Organization Canine Companions®, the first and largest provider of service dogs for people with disabilities, has launched a new brand. The organization's five-year strategic plan includes an ambitious goal to serve more people with disabilities."
Canine Companions' brand identity has evolved over the past 45 years since our founding, becoming increasingly more recognizable and relevant within the service dog industry," said CEO Paige Mazzoni. "We're looking forward to Canine Companions' continued evolution and development as a leader now and in the future. Our new brand is a strategic component of that roadmap as well as a step in ensuring we reach our goal of providing service dogs to all qualified candidates."
Canine Companions provides expertly trained service dogs for adults, children, and veterans with a variety of disabilities, free of charge to clients. These highly-skilled service dogs can retrieve dropped items, alert to important sounds in the environment, interrupt flashbacks, participate in therapies, and more.
The new brand strategy connects the joy and freedom service dogs bring to their partners and community through:
A new logo that captures the belief that the human-dog bond makes us all stronger. The dog and human connect to form a unified, heart-like shape, underscoring the strength of the relationship and illustrating how service dog teams help each other feel empowered and valued. Additionally, the human is based on the letter "i" to connect back to the life-changing independence Canine Companions service dogs provide.
A powerful new tagline, "Lead With Independence™," that refers to both leading a life of enhanced independence through a task-trained Canine Companions service dog and showcases the organization's leadership role within the industry.
The new identity, coupled with cutting-edge research and training programs, ensures the nonprofit's ability to achieve the industry-wide goal of reducing wait times for individuals who would benefit from a service dog."
Based on extensive brand research and input from stakeholders, 2021 was the year to make Canine Companions more inclusive, vibrant, and welcoming," Mazzoni explained.
Canine Companions representatives said they are so appreciative of GFWC's long-standing support. Learn more about Canine Companions and how they empower people with disabilities to lead more independent lives through an expertly trained service dog today.
Volunteers in Action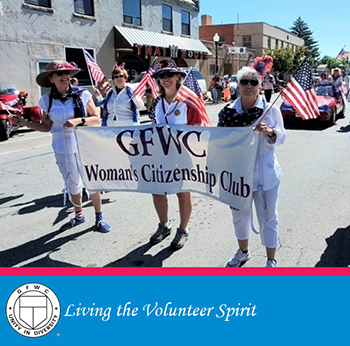 This week's GFWC Blog features GFWC Woman's Citizenship Club (Colorado) and Cosmopolitan Club of Petal (Mississippi). Read these stories about how clubwomen came together after a year of being apart to walk in an Independence Day parade and are working to line the streets of their community with American flags.
Have a success story to tell? Email PR@GFWC.org to have your club project considered for the blog.
Order Your 2021 Convention Patron Pin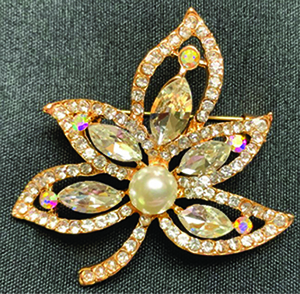 Support the 2021 GFWC Annual Convention and gain entry to a special reception held in the International President's Suite on Friday, August 27, by proudly wearing the Patron Pin. The stunning maple-leaf design with a pearl and white crystals pays homage to Toronto, the intended host city, and the Woman's Club of Toronto. This unique pin is sure to be a collector's item for members! The brooch is available for purchase by sending your order form and payment to the GFWC Southern Region (attention: Julie Walters).
Online Fundraising with Heifer International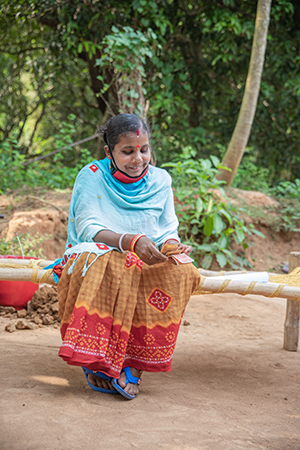 GFWC Affiliate Organization Heifer International has long partnered with clubwomen across the country to raise money for the fight against hunger and poverty while caring for the Earth. This fall, your club may consider raising money with an online fundraising event. Online fundraising will make tracking your club's donations to Heifer a cinch!
Heifer makes it easy to collect donations from your community through an online giving page. They can even create a customized web page for your club! Getting started is simple. Send an email to info@heifer.org detailing the name of your club and your fundraising goal. In return, you will be connected to a page that you can share with your fellow clubwomen, who can then donate any amount on the page, or share the page again within their personal networks. Think of it as a local "passing on the gift!"
Some GFWC clubs have already seen great success with online fundraising for Heifer. GFWC Atlanta hosted an online fundraising event in the fall of 2020, when most in-person fall and winter holiday events were cancelled. Their event raised $1,360! The GFWC Northern Virginia District has also done an impressive job using an online fundraising platform to raise money specifically for the bees. Thus far, the District has raised $1,258 (or nearly 41 beehives) under Mary Driver-Downs' leadership!
Friendly in a pandemic and simple to account for, online fundraising with your fellow clubwomen is a wonderful way to make a world of difference.
Who Makes Decisions for You in Congress?
Knowing who represents you and where they stand on important issues is key to becoming an effective advocate. You can now learn about the women who are part of the 117th U.S. Congress by checking out an updated resource available from the GFWC Legislative Action Center under Resources in the "L" folder in the Member Portal Digital Library. The "Who Represents Us" document includes a breakdown of the women representing citizens throughout the country.
The new Congress seated on January 3, 2021, includes more than 120 women. This year marked the most women taking the oath of office at one time in history. With features on Vice President Kamala Harris and Speaker of the House Nancy Pelosi, profiles of the women members of the Senate and House of Representatives, and information on using GFWC's Legislative Action Center, this is a great resource for members interested in learning more about the women in Congress who are working to make a difference.
State President's Project: Mary Jo Jarecke, Nebraska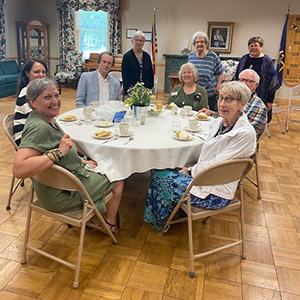 One of GFWC Nebraska State President Mary Jo Jarecke's objectives for her Administration is the restoration of the Dr. Susan LaFlesche Picotte Memorial Hospital. "Dr. Susan" was a physician, social reformer, artist, and educator, and served as the GFWC Nebraska State Public Health Committee Chairman from 1900 to 1910. She was also a longtime member and leader of GFWC Bancroft Woman's Club and GFWC Walthill Woman's Club.
Besides being a dedicated volunteer, Dr. Susan was a member of the Omaha Tribe of Nebraska and is widely acknowledged as the first Native American to earn a medical degree. She also campaigned for public health and for the formal, legal allotment of land to the members of the Omaha Tribe. In 1913, she built the Dr. Susan LaFlesche Picotte Memorial Hospital in Walthill, Nebraska, for Native Americans, which was designated as a National Historic Landmark in 1995. Clubwomen are now being encouraged to help support the hospital restoration efforts.
A special raffle to raise funds for the hospital was held in Walthill, Nebraska, in May at the Seward Civic Center and was sponsored by GFWC Nebraska. The raffle was for a chance to win lunch with Joe Starita, author of the book A Warrior of the People, which details how Dr. Susan overcame racial and gender inequality to become the first Native American doctor. The lunch with Joe Starita was later prepared by the GFWC Seward Woman's Club in July. A signed copy of his book was provided.
Along with the hospital restoration project, clubwomen collected more than 300 pairs of eyeglasses, cases, and hearing aids for the Nebraska Lions Foundation. This organization works internationally to help with various health concerns and offers a youth leadership camp, backpack program, and mobile health screenings.
GFWC Marketplace: Embroidered Emblem Patch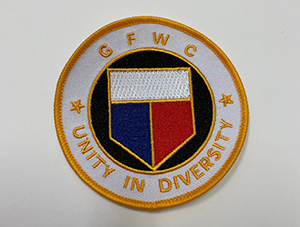 The four-color GFWC Embroidered Emblem Patch is great for sewing onto bags, jackets, or banners and is an excellent way to promote the Federation. The patch has a three- inch diameter and a twill background. Order yours today.
There have been reports of mail service delays in many communities throughout the United States. In order to speed up processing of your order, we request that you pay for your order at time of purchase in the Member Portal. For details on mail service in your area, visit the USPS Service Alerts page.
GFWC
www.GFWC.org