July 28, 2022
View our Important Dates page for upcoming events and milestones.
President's Gem 
By Deb Strahanoski, GFWC International President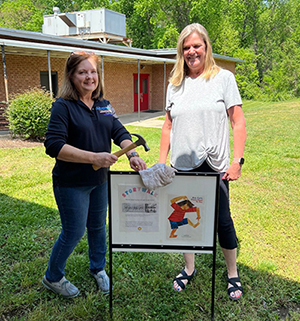 Clubwomen throughout the world sparkle and shine every day as they work to make their communities a better place through inspiring club projects! As the opening month of the 2022-2024 Administration comes to a close, I am excited to announce the first club project selected as a President's Gem for its impact and potential influence for other clubs. This month's President's Gem is the GFWC Greensboro Woman's Club (North Carolina) for their portable StoryWalk project to give area kids an opportunity to get active and begin to foster a love of reading.
Project Chair Janet Veltri explained the StoryWalk was created by deconstructing a children's book, laminating the pages, and posting them on signs that could be moved as necessary. As of the early summer, the StoryWalk had been set up at three libraries, four elementary schools, and six local parks or gardens, and it was scheduled to be used in a city playground for a summer recreation and nutrition program in the coming weeks. The project committee has been helping with the relocation and upkeep of the StoryWalk signs throughout the spring and summer.
Janet said the clubwomen were all excited to organize this project and to give children and their families and friends a chance to enjoy books together.  She also stated, "I am a strong believer that the earlier you introduce children to reading, the more they will do it throughout their lives."
Congratulations to the clubwomen of the GFWC Greensboro Woman's Club on this outstanding project and their commitment to lighting up the lives of children and families.
The StoryWalk® Project was created by Anne Ferguson of Montpelier, Vermont, in collaboration with the Kellogg-Hubbard Library.
Annual Giving Program Offers Multiple Opportunities to Support
By Cathi Poer, GFWC Annual Giving Program Committee Member
The GFWC Annual Giving Program is an exciting new concept for individuals and groups to personally select GFWC areas they want to support. This means donors can give a specific amount weekly, monthly, or annually to the various GFWC fund areas all on one form by marking the GFWC areas they are supporting with contribution amounts.
In the past, GFWC had different forms to make donations to specific GFWC funds, such as 1734 Society and Friends of WHRC. Giving to various funds is now easier than ever because donors can designate the funds that they wish to support using the Annual Giving Program Donation Form.
To accurately record contributions, donors must complete this form and send it to GFWC Headquarters either via email or printed and mailed to Headquarters when a donation is made. GFWC will track donor giving each year and add each contribution to their annual and cumulative total. Each donor will then be able to log into the Member Portal and confirm donations went into the appropriate funds. Donations are tracked yearly from July 1, 2022, through June 30, 2032, with recognitions taking place at the GFWC Annual Conventions.
GFWC's Annual Giving Program is an ongoing plan for the future and creates more flexibility for donations. Find all the details about the Annual Giving Program in the Digital Library under the "Annual Giving Program" subfolder within the "A" Resources folder or the "Club Manual" subfolder of the "C" Resources folder.
Honor the Legacy and Inspire the Future of GFWC by making your annual giving a habit!
Cares & Concerns 
It is with great sadness that we announce the passing of Barbara Popp, GFWC State Director of Junior Clubs (1976-1978), GFWC Director of Junior Clubs (1978-1980), and GFWC Missouri Past State President (1988-1990), on July 18. Barbara loved volunteering and held numerous local, state, and national offices throughout her time with the Federation.
Expressions of sympathy may be sent to Steve Popp at 5421 94th St. Lubbock, Texas 79424, or Betsy Schultz at 2330 Winthrop Ridge Road, Charlotte, North Carolina 28270.
Volunteers in Action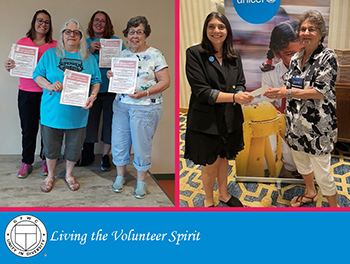 This week's GFWC Blog features GFWC Illinois Morris Woman's Club (Illinois) and GFWC Minnesota. Read how GFWC Illinois clubwomen provided posters to local restaurants and bars for them to participate in the Angel Shot program to prevent domestic and sexual violence and how GFWC Minnesota clubwomen organized a Kentucky Derby fundraiser to collect money for UNICEF USA's humanitarian relief efforts in Ukraine.
Have a success story to tell? Email PR@GFWC.org to have your club project considered for the GFWC Blog.
Congratulations, 2022 Jennie Award Winners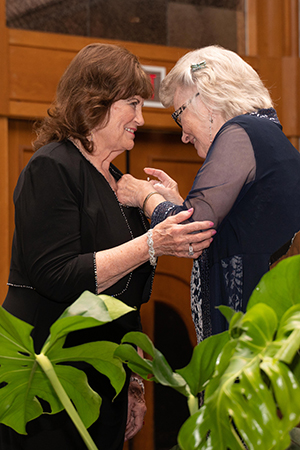 Like Jane Cunningham Croly (who used the pen name, "Jennie June"), the eight women selected as the 2022 GFWC Jennie Award honorees have dedicated countless volunteer hours in their communities, schools, and other organizations, in addition to their Federation work. These women were nominated by their peers, and through the selection process were chosen as representatives of the eight GFWC Regions.
These honorees include Great Lakes Region, Patricia Mueller; Middle Atlantic Region, Jill McDonald; Mississippi Valley Region, Donna Calvin; New England Region, Phyllis Appler; South Central Region, Marsha Wellman; Southern Region, Anne Redlus; Southeastern Region, Mary Jo Thomas; and Western States Region, Pamela Crochet. Together, these eight hardworking women have amassed more than 325 years of service.
With the induction of the newest awardees during the 2022 GFWC Annual Convention in New Orleans, Louisiana, the number of Jennie Award honorees reach 72 since the award began in 2006.
To shine a light on these honorees, GFWC will feature two clubwomen in each edition of News & Notes throughout August. Although it is a challenge to summarize their amazing accomplishments, stay tuned to read more about their impact throughout the years.
Techie's Tips: Enabling Pop-Ups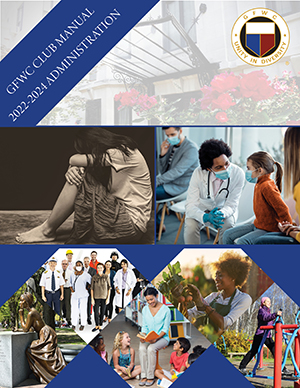 From project ideas for the new Community Connection Initiatives to the Annual Giving Donation Form, the Member Portal Digital Library is filled with many valuable members-only resources, including the entire 2022-2024 Administration Club Manual, GFWC logos and emblems, and more. However, your computer's pop-up blocker may be preventing you from downloading this useful information.
A pop-up blocker is a web browser setting on your device that prevents new windows of content from displaying automatically. Not turning off a pop-up blocker may interfere with the functionality of some websites, like the GFWC Member Portal. Double check that you've enabled pop-ups within your favorite browser's settings with the tips below for these common browsers.
Chrome
In Chrome, you can enable pop-ups for specific websites while keeping them blocked for other websites. To enable pop-ups in Chrome:
At the top right, click on the three vertical dots and then choose "Settings."
Under "Privacy and Security," click "Site Settings."
Click "Pop-Ups and Redirects." Under "Allow," add in all lower case "https://gfwc.users.membersuite.com/auth/portal-login" to enable pop-ups.
Firefox
In Firefox, you can enable pop-ups for specific websites while keeping them blocked for other websites. To enable pop-ups in Firefox:
Open Firefox and click the icon with three horizontal bars in the upper right side of the browser toolbar.
Select "Options" (Windows) or "Preferences" (macOS).
In the left sidebar, click on "Privacy and Security" and then scroll down until you reach "Permissions."
Next to "Block Pop-Up Windows," click "Exceptions." In the "Address of Website" field, add in all lowercase "https://gfwc.users.membersuite.com/auth/portal-login," and then click "Allow."
Click "Save Changes" and close any remaining dialog boxes.
Microsoft Edge
For Microsoft Edge, pop-ups are either entirely enabled or they are blocked. To enable pop-ups in Microsoft Edge (Windows 10):
Click the ellipsis icon (…) in the upper right corner of your web browser and then click "Settings."
In the advanced settings section, click "View" advanced settings.
In the Block pop-ups section, click the switch to "Off." Pop-ups are now allowed.
Safari
For Safari, pop-ups are either entirely enabled or they are blocked. To enable pop-ups in Safari:
From the Safari menu, choose "Preferences," then click the "Security" tab.
Ensure the block pop-up windows option is not checked. Unchecking this option will allow pop-ups.
Download 2022 GFWC Annual Convention Photos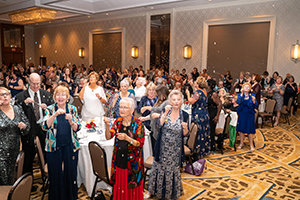 The 2022 GFWC Annual Convention in New Orleans, Louisiana, was a wonderful celebration of the volunteer spirit that we won't forget any time soon! You can keep the good times rolling by downloading photos from this exciting occasion to keep as your very own to look back on fondly for years to come. Thanks to our Official Convention Photographer Laura Bergman with LoloB Designs, GFWC can offer you many professional-quality photos of the Convention at no cost. To view these photos, visit our 2022 GFWC Annual Convention photo album. Click on the arrow in the lower right corner of each photo to download individual images. To download an entire folder, click the arrow in the upper right corner of the screen. You will be prompted to enter your email address, which you will need to verify by clicking on a link when receiving an email. After doing so, you will receive a second email with an option to download the entire photo album. In addition to this free album, visit LoloB Designs to purchase other photos from the event.
Stay Tuned for 2020-2022 Administration Reports  
The 2020-2022 Administration Reports will soon be available! The reports will be available for download on August 1 from the "A" Resources folder of the Member Portal Digital Library. Follow News & Notes for more information about this valuable resource.
Legislative Corner 
To encourage participation in the democratic process, this monthly column aims to inform members about current legislation and programs that are germane to the GFWC Resolutions. It also highlights important actions of the House, Senate, and White House, and provides follow-up information about GFWC Legislative Action Alerts.
Congress Enacts Gun Safety Legislation
On June 25, President Biden signed the Bipartisan Safer Communities Act (S. 2938, P.L. 117-159), the most significant gun safety bill enacted by Congress in decades. On July 11, GFWC International President Deb Strahanoski joined elected officials, law enforcement, and advocates for the White House celebration of passage hosted by President Joe Biden and Vice President Kamala Harris.
The measure increases resources for mental health and suicide prevention programs, improves school resources, and expands mental health and support services for students including early identification, intervention programs, and wrap-around services. Important to domestic violence prevention advocates, the bill partially closes the so-called "dating partner loophole" by ensuring that dating partners convicted of a misdemeanor crime of domestic violence are prohibited from possessing or receiving firearms or ammunition. Unfortunately, the Act does not extend this same prohibition to dating partners who are subject to domestic violence protective orders. Fully closing the dating partner loophole is an action GFWC supports. As highlighted by the National Coalition Against Domestic Violence, most women murdered annually in the U.S. are killed by domestic abusers, most of these are killed using firearms, and most are murdered by dating partners rather than spouses.
GFWC Advocates for Financial Options for Domestic Violence Survivors
On June 22, the Senate Finance Committee unanimously approved the Enhancing America Retirement Now (EARN) Act, which included language from the Savings Access for Escaping and Rebuilding (SAFER) Act supported by GFWC. In early June, GFWC joined YWCA USA, Futures Without Violence, Esperanza United, Jewish Women International, the National Coalition Against Domestic Violence, the National Domestic Violence Hotline, and the National Network to End Domestic Violence to support the bill. The SAFER Act offers an important change to retirement policy allowing survivors to withdraw up to $10,000 penalty-free from their retirement plans for a year following domestic violence and would permit them to replace the funds withdrawn over a period of three years.
Senators Catherine Cortez Masto (D-NV) and John Cornyn (R-TX) are championing the bipartisan effort in the Senate and entered the GFWC co-signed letter into the official committee record. Domestic violence survivors who leave dangerous situations most often face financial instability, especially when their abuser has used money to control them. The connection between domestic violence and an increased risk of unemployment and homelessness is clear. Survivors need every possible resource, and this will enable access to retirement funds without penalty.
Campus Sexual Assault 
As we commemorate the 50th Anniversary of Title IX of the Education Amendments of 1972, the U.S. Department of Education released for public comment in the July 12, 2022, Federal Register its proposed amendments to the Department's regulations of Title IX. The proposed rule aims to ensure full protection under Title IX for students, teachers, and employees from all forms of sex discrimination, including sexual harassment and sexual violence, in federally funded elementary schools, secondary schools, and postsecondary schools. It also is important that school procedures for investigating and resolving complaints of sex discrimination are fair to all involved.
Military Sexual Assault
On July 14, the House of Representatives passed its annual National Defense Authorization Act (NDAA) for FY 2023, H.R. 7900, with bipartisan support by a vote of 329-101. Thanks to the leadership of Rep. Jackie Speier (CA), Chair of the House Armed Services Subcommittee on Military Personnel, the bill includes provisions to improve military justice by making sexual harassment a new standalone military offense and places prosecutorial decisions, including referrals to court-martial, with the Special Trial Counsel, who is an independent military attorney outside of the chain of command of the victim and the accused.
The House-passed FY 2023 NDAA further strengthens the historic and transformational military justice reform enacted in the FY 2022 NDAA taking sexual assault, domestic violence, and child abuse cases out of the chain of command and offers additional support to survivors of these interpersonal violent crimes. Next, the Senate must pass its annual NDAA, and then the bills will go to a conference committee.
GFWC Marketplace: Living the Volunteer Spirit Sticky Notes 
The Living the Volunteer Spirit Sticky Notes are a must-have for every busy GFWC clubwoman. These sticky notes are available in light blue with the white GFWC emblem watermark and feature the GFWC Living the Volunteer Spirit tagline. Each pack contains 50 sheets of 3×4 inch wide sticky notes. Order yours today.
For information on mail service in your area, visit the USPS Service Alerts page. To speed up processing of your order, we request that you pay for your order at the time of purchase in the Member Portal.
GFWC
www.GFWC.org