July 8, 2021
View our Important Dates page for upcoming events and milestones.

President's Pick  
By Marian St.Clair, GFWC International President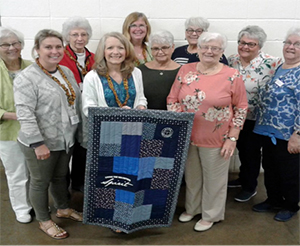 Clubs undertake many types of projects in their community to benefit those near and far. Many are scheduled months in advance and some, such as fundraisers and those tied to monthly observances and holiday celebrations, become well-loved annual events. Providence can also play an important part in a club's activities, especially when an urgent need crops up.
This month's "President's Pick" goes to the GFWC Woman's Club of Ste. Genevieve (Missouri) for volunteering to assist healthcare workers and serve local citizens at COVID-19 vaccine sites. Club members have worked at various locations throughout their community, assisting with registration and navigation through the clinics, and providing other support. Members note that this experience has been one of the most meaningful and rewarding endeavors to date and that they plan to continue their efforts while the clinics remain open.
Organized in 1949, the GFWC Woman's Club of Ste. Genevieve has supported many GFWC and GFWC Missouri initiatives throughout the years. A page of their website, GFWC in Action, showcases a variety of recent projects and programs. The club is also featured on the website of the Ste. Genevieve Chamber of Commerce.
Congratulations to Club President Diane Miller and the Ste. Genevieve members for a job well done!
Safety Remains Top Priority at GFWC Annual Convention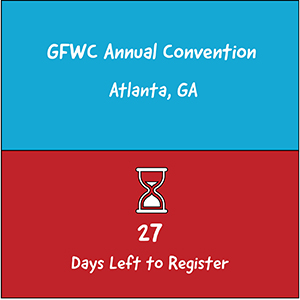 We are all excited to be together again during the 2021 GFWC Annual Convention in August, and your safety remains GFWC's top priority. To ensure the health and well-being of all in light of COVID-19, attendees and staff will be asked to comply with health and safety guidelines and precautions recommended by the CDC and federal agencies. This includes wearing a face mask in public areas, in GFWC meetings, and at other times during the Convention when not eating or drinking. Participants are also encouraged to maintain a safe and reasonable distance between others in attendance, minimize touching, and frequently wash or sanitize their hands. There will be hand sanitizer stations throughout the hotel.
In addition to requesting Convention attendees follow recommended safety protocols, GFWC has a long history of supporting vaccines and currently engages with several Affiliate Organizations, including Shot@Life, March of Dimes, and UNICEF, to promote, provide, and advocate for vaccines in the United States and around the globe. We recognize that COVID-19 represents a public health crisis impacting the physical, emotional, and financial well-being of GFWC members and local, national, and global communities. GFWC further recognizes that the COVID-19 vaccines currently approved for use in the U.S. represent a safe and effective method of addressing this crisis. Accordingly, GFWC encourages its members to get a COVID-19 vaccine and to work with our Affiliate Organizations and with entities in their local communities to promote and advocate for the vaccine. Read the GFWC Position Statement: COVID-19 Vaccine posted on www.GFWC.org.
We hope to see you in Atlanta to participate in the consideration of the proposed Bylaws and Resolutions, catch up after being apart for more than a year, and share stories about how you have continued to make a difference in your communities throughout the COVID-19 pandemic.
Register for the Convention by August 4 through the GFWC Member Portal and don't forget to reserve your room. After the initial room blocks reserved by GFWC fill up, the price of each room will increase by $10, so act fast to lock in a lower price today!
Volunteers in Action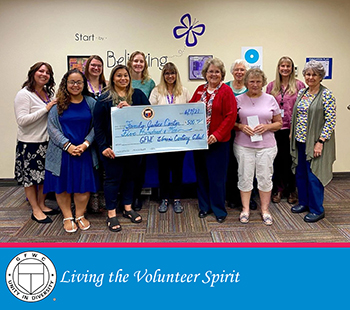 This week's GFWC Blog features GFWC Ossoli Circle (Tennessee) and GFWC Woman's Century Club (Idaho). Check out these stories about how clubwomen commissioned a local artist to help design a wrap for a traffic control cabinet to beautify the city and promote the club's history and how they raised money for two local organizations that offer support services to women and children.
Have a success story to tell? Email PR@GFWC.org to have your club project considered for the blog.
GFWC Mediator Applications Due July 15
GFWC is still accepting applications for the Mediator Class of 2021. Six GFWC Mediators will be selected to serve a three-year term and receive training during the course of their term. The Mediator job description and application form are now available within the "M" folder of the Member Portal's Digital Library. Applications are due by July 15.
GFWC Mediators support individual clubwomen, clubs, and State Federations by serving as an unbiased listener who helps identify strategies to resolve membership-related disputes. Mediators are active and committed GFWC members with the experience and the ability to assist in resolving conflicts through active listening, knowledge of parliamentary procedure, and commitment to problem-solving. Mediators are available "on call" to work with members as needed until the situation is concluded.
Questions about serving as a GFWC Mediator should be directed to Director of Membership Services and Programs Melanie Gisler at Mgisler@GFWC.org or 202-347-3168.
Women's History and Resource Center Staffing Update
As GFWC continues to evaluate its internal operations, the Women's History and Resource Center will remain closed through 2021. The WHRC Committee, led by Chairman Hope Royer, will continue to serve as the lead contact on WHRC publications and for the Heritage Pin fundraiser to restore or replace the International Past President Portraits. Informational requests from clubwomen will be addressed as time allows, and the WHRC will remain closed to the public.
The pandemic has created an opportunity to review how Headquarters is best able to connect with and serve the membership. The transition of the staff position overseeing the WHRC has drawn renewed interest in the purpose and goals of this vital resource and how to best maximize its impact for both the membership and historians. We appreciate your patience as the Executive Committee sets the pathway to reopening the WHRC.
Keeping the Bases Loaded!
By Karen Crandall GFWC Membership Committee Member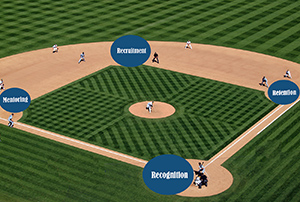 In the game of baseball there are four bases; each important in winning the game. We could say there are also four bases in GFWC Membership.
The first base is Retention. It takes teamwork to keep members active and involved in your club. Remember, we are one team with one mission.
The second base is Recruitment. We must explore our communities to recruit new members by sharing the great benefits of belonging to GFWC with them. Recruitment takes enthusiasm and creativity.
The third base is Mentoring. We need to work hard to build a connection between members and GFWC. This results in a stronger club.
Home plate is Recognition. Clubs must celebrate and cherish all accomplishments, whether big or small. Use your imagination and have fun.
It is vital for the survival of our clubs and the Federation that these bases are loaded at all times. Share how your club is working to keep GFWC a winning team on GFWC's Facebook page.
GFWC Headquarters Update
Please join us in welcoming Anna Barcus to GFWC HQ as our new Executive Coordinator. She will be working in the Executive Office, providing support to the Executive Committee, the Board of Directors, and the Executive Office staff. Anna's email is ABarcus@GFWC.org.
Welcome Anna!
State President's Project: Jennell Jorgenson-Johnson, Minnesota
GFWC Minnesota State President Jennell Jorgenson-Johnson decided to focus on projects that include components of art and culture this year after talking with her daughter and fellow club member, Sam. They both believe a world without these elements would be a very dull place to live.
During this past year of the COVID-19 pandemic, clubwomen learned that art and culture inspires them daily and helps keep their mental health in a good place during difficult times. To keep members active and focused, Jennell gave them various tasks to complete all based on a count of 101. These tasks included asking members to try 101 new recipes or a never-before-tried cuisine – which turned out to be a favorite mission for many by far. Along with this, 101 members were encouraged to try a new art form, such as painting, coloring, pottery, or quilting; or write a poem, short story, or a fun fact about the history of their hometown. Since the majority of members were staying close to home, Jennell challenged them to take 101 remote tours of museums, cathedrals, cultural events, concerts, and more. Her club members even used the number 101 in their regular projects, including making masks.
As part of these projects, one club made and decorated Christmas stockings, which they stuffed full of art supplies and cultural books, to give to the local elementary children. Other clubs made sure to send art supplies in their boxes of quilts, gowns, and toys they send annually to GFWC Affiliate Organization Operation Smile.
This coming year, Jennell will be asking members to donate art supplies to their local schools, daycares, and older adult care facilities. Everyone needs a bit of art and an opportunity to be creative in their daily lives.
Club Anniversaries and Gold Pin Recipients
Club Anniversaries
100th
GFWC Fig Garden Woman's Club (California)
Gold Pin Recipients
Jeannie  Chaney
GFWC Hillcrest Women's Club (Ohio)
Marge Datz
GFWC Palatine Literary Society (New York)
Pat Ketzell
GFWC Wintersville Woman's Club (Ohio)
Carol Kovacs
GFWC Woman's League of Mount Holly (New Jersey)
Penny Speyer
GFWC Hillcrest Women's Club (Ohio)
GFWC Marketplace: GFWC Emblem Plates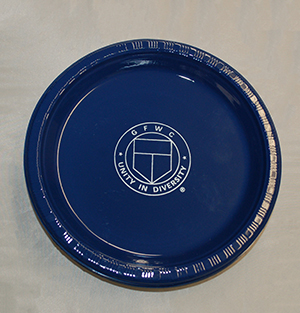 Set your tables with the GFWC emblem plates, perfect for fundraising events, or for recruitment celebrations! Each plate is made out of plastic with the white GFWC logo imprinted onto a navy background. Plates are sold in sets of 20 and measure seven inches in diameter. Order yours today.
There have been reports of mail service delays in many communities throughout the United States. In order to speed up processing of your order, we request that you pay for your order at time of purchase in the Member Portal. For details on mail service in your area, visit the USPS Service Alerts page.
GFWC
www.GFWC.org