June 10, 2021
View our Important Dates page for upcoming events and milestones.

Register for Convention by June 15 and Sign Up for GFWC Workshops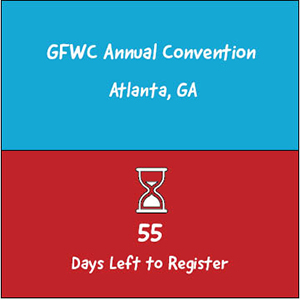 Don't miss your chance to register for the 2021 GFWC Annual Convention by the June 15 Early Bird deadline! This year's Convention will not only be jam-packed with business sessions that enhance the work of GFWC, celebrations, and other opportunities to connect, but also exciting and informative workshops from GFWC leaders and Affiliate Organizations.
Even if you have attended Convention before, this year's line-up of workshops offers many unique and interesting learning opportunities. The Communications and PR workshops will help you define how to create and execute a public relations strategy for your club, and an interactive Leadership workshop will add valuable tips and techniques to your leadership toolbox. There are also new workshops to look forward to this year.
Among these new workshops is an Education and Libraries presentation where you will take a deep dive into the world of STEM and leave with project ideas to implement in your community. We are excited to present a Member Portal Training workshop to help you access GFWC's member resources located in the Member Portal Digital Library. Along with these workshops, you can choose to learn about fundraising and development, how to advocate for legislation in a nonpartisan way, ways to build membership and start new clubs, and much more.
From uncovering ways clubs can impact GFWC Affiliate Organizations during a Health and Wellness workshop to learning more about hosting a Teen Healthy Relationship Forum during the Signature Program workshop, there will be a little something for everyone to enjoy this year.
Register now through the Member Portal to secure the Early Bird Rate.
President's Pick
By Marian St.Clair, GFWC International President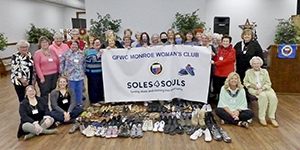 Choosing a winning blog entry is becoming more and more difficult! There were many awe-inspiring stories in May. I was excited to read about the scope of your outreach and your dedication to improving lives. Thanks to each club that sent a contribution—you are truly a "shining light" to many and an example to other clubs.
The project success of the winning club, the GFWC Monroe Woman's Club (Wisconsin), was a surprise even to them. After collecting more than 2,800 pairs of new and gently-used shoes in a donation drive, a club photo was posted on their Facebook page along with the message, "We never dreamed our drive would be this successful."
The collection of shoes for Soles4Souls was held from February 15 until April 20. In addition to marketing on social media, success was assured through collaboration with other big-hearted individuals and groups. Three community businesses, as well as two club members, accepted the donations. A local graphic designer customized a promotional flier that was posted around town, featured in community newsletters, and posted on the website of the Chamber of Commerce. The project was also featured on the website of Big Radio in Monroe and Zappos for Good funded the shipping of 58 boxes.
As a final flourish, the club's genuine excitement and appreciation for the help of others was shared on social media. This attitude of gratitude made the project a win-win for the community and the club. Congratulations to President Shelly Isley and the many industrious members of the GFWC Monroe Woman's Club for a job well done!
Volunteers in Action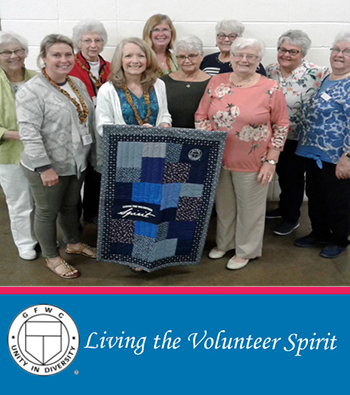 This week's GFWC Blog features GFWC Cranston Community Women's Club, GFWC Women's Club of South County, GFWC Bristol Community Women's Club, GFWC Warwick Women's Club, GFWC Wampanoag Women's Club, and GFWC Rhode Island Alumni Club, all of Rhode Island; GFWC Woman's Club of Ste. Genevieve (Missouri), and Women's Club of Farmingdale (New York). Read about how clubwomen donated to GFWC Affiliate Organization March of Dimes, volunteered at COVID-19 vaccination clinics, and donated healthy snack packs to those in need.
Have a success story to share? Email PR@GFWC.org to have your club projects considered for the weekly blog.
Staying in the Game: Opportunities to Keep Members Engaged
By Shelli Fehr, Membership Committee Member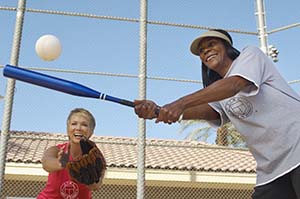 After the close of the club year, keeping club members engaged during the summer months can be the difference between a growing membership and a stagnate one. Try one of the following opportunities to retain member interest.
Survey members for suggestions about activities and programs for the upcoming year. Asking for their input makes members feel like a valued part of the club. If a member is passionate, perhaps they would like to be a part of the team who plans the event.
Brainstorm a list of activities club members can do this summer. Then, put together teams that include seasoned and new members and have each team volunteer to implement one suggestion. This could be sending cards, texting, or calling members to wish them a Happy 4th of July, planning a family picnic, attending a summer festival, or picking up trash in a park.
Engaged members are active contributors, not simply attendees. They participate in the planning, implementation, and evaluation of an activity, project, or event. Engaged members "Stay in the Game" if they feel their ideas are beneficial and valued by the club. Share on GFWC's Facebook page how your club creates opportunities for members to keep them coming back for more.
View the Annual Program Statistics Report
Have you viewed the most recent data available in the 2020 Annual Program Statistics Report within the News & Publications section of www.GFWC.org yet? Each year, GFWC calculates the total amount of projects, volunteer hours, and both in-kind and dollars donated for the work of its clubs. In addition to the total calculations, the data is broken down between each of the GFWC Special and Community Service Programs and the Advancement Plans that were active in the 2020 calendar year. Join us in celebrating the hard work of clubwomen throughout the past year.
For questions about this data, email Programs@GFWC.org.
State President's Project: Shannon Jones, Alaska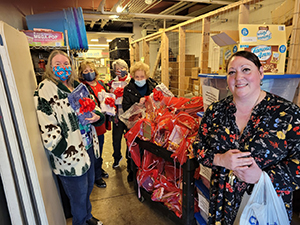 Summer has come to the "Land of the Midnight Sun." GFWC Alaska clubwomen, like everyone, have had a challenging year. However, they are encouraged about meeting in person next fall. Alaskan clubs have been quiet without getting together, but many have inspiring projects to share.
GFWC Anchorage Woman's Club has done several projects. First, they provided Christmas pajamas and stockings to 50 women in the Hope Center, many who escaped human trafficking. This women's shelter receives no government funds and exists on donations and sales from baked goods. They offer job training, and 80 percent of the women graduate from their training to a job. The center director was over the moon with gratitude. She said, "It was the best Christmas ever for the ladies!" Second, the club gave a generous donation that was matched by a local business that provided 6,000 meals to a food bank. Finally, members provided an Easter activity for children at Abused Women's Aid In Crisis (AWAIC), a domestic violence shelter for women.
GFWC Haine's Woman's Club had a difficult year due to a mudslide that occurred in the town last fall. Nonetheless, they donated $3,000 in scholarships and raised funds to help other local nonprofits with disaster recovery. GFWC Greater Fairbanks Woman's Club had a quiet year, but is looking forward to resuming activities in the fall. Lastly, GFWC Gold Nuggets Club continues to be a wonderful support group that helps with funds for members of local clubs to travel to the GFWC Annual Convention. GFWC Alaska will be counting on their help in 2022.
GFWC Alaska, along with GFWC Nome Woman's Club, GFWC Past President's Club, and GFWC Anchorage Woman's Club, has been busy working on the GFWC Western States Region Conference to be held in Alaska in 2022. We are looking forward to seeing everyone there!
Club Anniversaries and Gold Pin Recipients 
Club Anniversaries 
50th
GFWC du Midi Woman's Club (Alabama)
100th
GFWC Wicomico Woman's Club, Inc. (Maryland)
GFWC Tracy Woman's Club (California)
121st
GFWC Fowler Improvement Association (California)
125th
GFWC The Woman's Club of Oxford (Ohio)
130th
GFWC Woman's Club of Kenosha (Wisconsin)
Gold Pin Recipients
Patricia Green
GFWC Harwinton Woman's Club (Connecticut)
Kay Ables 
GFWC Ridgefield Woman's Club (Connecticut)
Carol Bellucci
GFWC Northford-North Branford Woman's Club (Connecticut)
Sheila Juniver
GFWC Northford-North Branford Woman's Club (Connecticut)
Prudence Fager
GFWC Flint Jills Woman's Club (Kansas)
Jane Long
GFWC Women's Club of Duquesne (Pennsylvania)
Sue Basham
GFWC Woman's Club of Vinton (Virginia)
Mary Bish
GFWC Grove City Woman's Club (Pennsylvania)
Jane Hoyt
GFWC Grove City Woman's Club (Pennsylvania)
Joyce W. Wolf
GFWC Woman's Club of Media (Pennsylvania)
Lois Allum
GFWC Rogers City Area Woman's Club (Michigan)
Renae Clements
GFWC Gainesville Woman's Club (Florida)
Judy Scoles
GFWC Woman's Club North of the River (California)
Devearl Forest
GFWC Lamont Women's Club (California)
Jo Nash
GFWC Lamont Women's Club (California)
Mary Ellen Rexius
GFWC Wasco Woman's Club (California)
Priscilla Neufeld
GFWC Wasco Woman's Club (California)
Easter Smothers
GFWC Wasco Woman's Club (California)
Janet Grundt
GFWC Wasco Junior Woman's Club (California)
Mary Starkel
GFWC Fig Garden Woman's Club (California)
Joan McCord
GFWC Amity Study Club of Atlanta (Texas)
Margaret Shiels
GFWC Clover Club of Kaufman (Texas)
Ann McFarland
GFWC Acord Club of Seaford (Delaware)
Clara McNutt
GFWC Chilhowee Club (Tennessee)
Dixie Jarrott
GFWC Woman's Study Club (Texas)
Barbara Baronak
GFWC Curwensville Woman's Club (Pennsylvania)
Connie Wetzel
GFWC Curwensville Woman's Club (Pennsylvania)
Barbara Black
GFWC Barbourville Women's Study Club (Kentucky)
Carolyn Congelton
GFWC Barbourville Women's Study Club (Kentucky)
Jane Huddleston
GFWC Fidelis Inter Se of Celina (Texas)
Lola Bower
GFWC Women's Improvement Club of Roseville (California)
Priscilla Bolinder
GFWC Alliance of Federated Women (California)
Helen Luth
GFWC Newman Woman's Club (Illinois)
Pat Young
GFWC Newman Woman's Club (Illinois)
June Campbell
GFWC Palos Heights Woman's Club (Illinois)
Kathleen Jurgens
GFWC Palos Heights Woman's Club (Illinois)
Betty Radtke
GFWC Palos Hieghts Woman's Club (Illinois)
Shirley Hann
GFWC Franklin Grove Woman's Club (Illinois)
Sue Brinkley
GFWC Friday Women's Club of Whitewright (Texas)
Mable Vestal 
GFWC Friday Women's Club of Whitewright (Texas)
GFWC Marketplace: GFWC Credit Card Wallet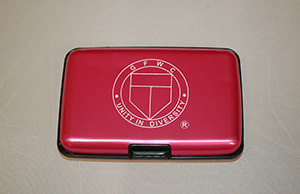 Keep all your cards clean, undamaged, and secure with the GFWC Credit Card Wallet. This wallet is designed for money, business cards, credit cards, ID cards, and any other cards you need on a daily basis. The elegant design comes in pink, green, and silver and will make your business life convenient and effective! Look sleek and cool walking around with a newly designed wallet with form and function. Order yours today.
There have been reports of mail service delays in many communities throughout the United States. In order to speed up processing of your order, we request that you pay for your order at time of purchase in the Member Portal. For details on mail service in your area, visit the USPS Service Alerts page.  
GFWC
www.GFWC.org