June 11, 2020
View our Important Dates page for upcoming events and milestones.

Support Refugees Around the Globe This Month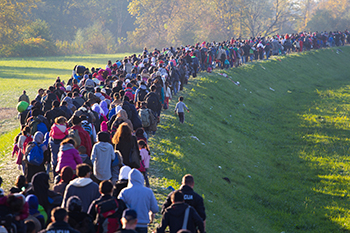 At a time when many of us are choosing to stay home and quarantine, it's important to remember that many do not have that luxury. June is World Refugee Awareness Month, a time to think of and help the thousands around the world escaping their home country due to a fear of being persecuted for reasons of race, religion, nationality, or social group.


The 1951 Geneva Convention Relating to the State of Refugees first brought awareness to the importance of assisting refuges. In the last three decades, over three million refugees have settled in the United States seeking shelter from prosecution, war, poverty, and countless other hardships.


On December 4, 2000, the United Nations General Assembly passed Resolution 55/76 that officially designated each June 20 as World Refugee Day. The following year, June was declared World Refugee Awareness Month. Since 2001, June has provided a time to recognize the courage and perseverance of millions of refugees around the world.
Refugees being forced to flee their homes under extreme circumstances is often just the beginning of a long and difficult journey. Refugees are often placed in camps, which are not always equipped for long-term living, until they can be permanently resettled. Often, they do not have a choice in which country they are moved to, and the relocations process can take years. Once refugees are placed, they are forced to learn and adapt to an entirely new culture, far from home and from family. This can be a harrowing and lonely process.
While this year's recognition of refugees may look a little different within our communities, there are still safe ways that you can support and honor World Refugee Awareness Month. View the following resources for ideas.
Have a story related to helping refugees that would be good for the GFWC Blog? Submit it to pr@gfwc.org.
Be Crafty and Enjoy the Arts at Home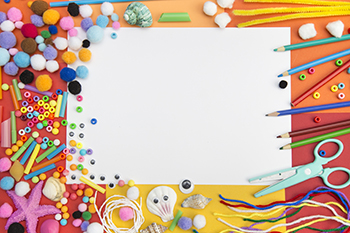 Maximize the extra time you have at home by being extra crafty and enjoying the arts virtually! Arts Community Service Program Chairman Phyllis Skubic has some ideas on how you can appreciate and take care of our planet while staying safe during this pandemic.
Make crafts at home! For stain glass supplies needed, gather sidewalk chalk or washable paints and masking tape. These crafts can be done on a wooden fence or driveway using sidewalk chalk. For use on a window, prepare 3 Tbsp. of washable paint, 1 Tbsp water, and a large dollop of dish soap. Use masking tape to make your design. Fill it in with color. Remove the tape and enjoy!

Host a "Lunch Doodle." For example, bestselling author and illustrator Mo Willems hosts a daily livestream at 1:00 p.m. EDT.

Participate in virtual tours of museums, zoos, aquariums, or historical landmarks. 

Watch online Broadway plays and musicals—some are free and others may have a free trial, then a monthly membership fee.

Be sure to share your artsy success stories with pr@gfwc.org to be considered for posting on GFWC's Blog! Snap a photo of your club working on a project virtually together and include a summary of your project accomplishments.
Volunteers in Action
It's the last few weeks of the 2018–2020 Administration. Send your Grand Initiative success stories to pr@gfwc.org be considered for the GFWC Blog! Include a project or event summary, along with action-packed photos.
Let's see you and your Federation sisters sporting those Seven Grand Initiative T-shirts!

Join GFWC Partner UNICEF in Helping Refugees
Today, the world is in the midst of the largest refugee crisis since World War II. In 2018, 69 million people were on the move globally, among them, nearly 25.4 million refugees, over half of whom were children. Where conflict and other forms of violence have given rise to population movements, children have faced protection risks, separation from their families, and denial of access to basic services.
UNICEF works to meet the immediate needs of children, while addressing the long-term, root causes of displacement and migration. UNICEF provides refugees and migrants, especially women and girls, basic services in resettlement and reception centers, including health services, immunizations, treatment of severe acute malnutrition, access to safe drinking water and sanitation, and protection, especially against child trafficking and early marriage. Together, GFWC and UNICEF can bring an end to exploitation, abuse, and neglect and build a future for all children free from violence. 
State Director's Project, Kendra Walkjer Patty, GFWC Tennessees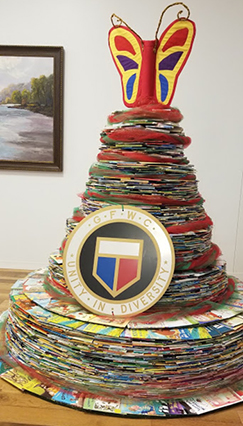 The 2018–2020 GFWC Tennessee theme was "Follow your Dreams." Kendra's dream as Director of Junior Clubs was for there to be a unity between the Juniors and clubwomen. Literacy has been a huge focus, and a project was created that all clubwomen could participate in. All Tennessee clubwomen helped collect over 27,000 Dolly Parton Imagination Library books. The books were used to build three book trees across Tennessee, including one at the Governor's Mansion. There was a three-foot metal GFWC sign on the tree, and the trees with completed with butterflies—a Dolly Parton symbol. All 27,000 of the books were donated after the trees were taken down to hospitals, clinics, Governor's Wife reading program, schools, and places where English is a second language and to help with Little Lending Libraries. It was fantastic seeing the ladies all work together to Follow a Dream.
Parliamentary Pointers
by GFWC Parliamentarian Deen J. Meloro
According to Robert's Rules of Order, Newly Revised, a member can speak on a motion for ten minutes at a time and may speak to that motion twice in the same day. Most organizations have special rules of order, especially at Convention or other large gatherings, that set limits on speeches that are far shorter. Usual limits are two or three minutes per speech.
Whether your organization uses the limits found in Robert's Rules of Order or sets its own, a member may move to Limit or Extend Limits of Debate.This motion can limit debate by setting shorter time periods for a person to speak and/or limiting the number of times that person can speak to the same motion on the same day. Extending limits would add to the number of times a person can speak and/or how long each of those speeches can be.

This motion can be applied to the motion that is currently pending or to a series of pending motions.  An example of a series of pending motions might be a group of proposed amendments to the Bylaws. It can only be made when no one else has the floor, it must be seconded, and it is not debatable. It may be amended, but the amendment is not debatable. This motion requires a two-thirds vote in the affirmative because it suspends the rules governing the meeting and it may, in the case of limiting debate, take away the right of a member to speak longer.
The presiding officer will stand when the speaker's time is over, or the timekeepers will indicate that time is up. If the presiding officer recognizes that the speaker needs only a few more seconds to finish, this may be allowed.
Club Anniversaries
Anniversaries

50th
GFWC Coral Springs Woman's Club (Florida) 
85th
GFWC of Romney (West Virginia)
90th
Collinsville Study Club (Alabama)
100th
R.A.R.E. Club of Walker (Iowa)
Tuesday Study Club (Iowa)
Civic Club of Galva (Iowa)
GFWC Antioch Woman's Club (Illinois)
110th
Granger Woman's Club (Iowa)
125th
Friday Club of LeMars (Iowa)
GFWC Alabama State Federation of Women's Clubs
Lake City Monday Club (Iowa)
Maquoketa Women's Club (Iowa)
Toledo Women's Club (Iowa)

Gold Pin Recipients

Carole Thompson
Woman's Club of Hopewell (New Jersey)
Brenda Taylor, Brenda Rickenbaker
St. George Woman's Guild (South Carolina)
Marilyn Berdahl
West Suburban Women's Club (Minnesota)
Lila McLain
Twentieth Century Club of Cainsville (Missouri)

Nancy Hutchinson
GFWC Greater Ocala Woman's Club (Florida)
Marketplace: Seven Grand Initiatives T-Shirt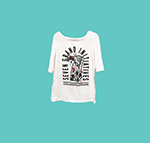 Our GFWC clubs have been doing an awesome job helping to reach our Seven Grand Initiatives goals! Celebrate the projects that you have already completed in style with the GFWC Seven Grand Initiative T-Shirt. With its extra soft cotton and beautiful colors, this might just become your new favorite shirt! Order one at the GFWC Marketplace; your shipment will be sent as soon as Headquarters is able to reopen.
Unsubscribe from
News & Notes
Don't want to receive News & Notes any longer? Log in to your person profile on the GFWC Member Portal and uncheck "News & Notes" in the list of message types that you are currently receiving. 
GFWC
www.gfwc.org