June 17, 2021
View our Important Dates page for upcoming events and milestones.

Fully Participate in Convention Business Sessions  
By Sheila E. Shea, Resolutions Chairman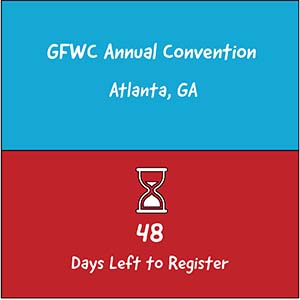 Excitement is mounting for our in-person 2021 GFWC Annual Convention from August 27-30 in Atlanta, Georgia! For those of you planning to attend, the GFWC Resolutions Committee wants you to be thoroughly prepared to fully participate in the consideration of the proposed consolidations, amendments, and rescissions of resolutions in the Arts and Culture, Environment, Education and Libraries, and Health and Wellness Community Service Programs.
First, download a copy of the complete Resolutions section of the Call to Convention and review the 58-page document. The Resolutions section in the Spring 2021 issue of GFWC Clubwoman Magazine was an abbreviated copy of the Resolutions Committee's report.
Resolutions will be considered during all scheduled business sessions as noted in the Convention Agenda, until the process is complete. As you can imagine, we have a considerable amount of work ahead of us, and your preparations ahead of time will certainly expedite the process. In her introductory remarks at Convention, GFWC International President Marian St.Clair will outline the procedures that will be used in the consideration of the resolutions; please listen carefully. Motion forms will be available at all business sessions for your use. If you are proposing changes to the recommendation(s), please make every effort to have a motion form completed ahead of time.
The 2020-2022 GFWC Resolutions Committee was charged in the most recently adopted Strategic Plan to "review the complete list of GFWC Resolutions…and recommend a restructure of the resolutions by broadening and combining the content to reduce the overall number." The ultimate goal is to update, strengthen, and broaden the focus of the resolutions to provide the opportunity for greater participation in the advocacy work of our organization, based upon current and updated language and direction. Some of our resolutions have been on the books for a very long time, and some are very narrow in focus.
The WHEREAS section of a resolution describes the "WHY" and the RESOLVED section describes the "HOW" of the resolution. Some of the "WHYs" of resolutions were very specific and constantly changed, which dictated constant review and proposed amendments to a resolution. The committee tried to broaden the focus of the "WHYs" of resolutions, and also to consistently update and broaden the proposed "HOWs" or actions of the resolutions. The intent is to provide more up-to-date and streamlined resolutions that will serve our needs, providing our clubs with the ability to advocate for change in broad-based issue areas and allow GFWC as a whole to support specific actions and legislation.
The GFWC Resolutions Committee looks forward to seeing you in Atlanta, and hopes you will register for Convention if you haven't already done so through the GFWC Member Portal. Come prepared for great dialogue on the 2021 Proposed New, Consolidated, Amended, No Change, and Rescinded Resolutions. If you need further information or assistance, please do not hesitate to reach out to this Chairman. August's Convention is a well-deserved and long-awaited opportunity to connect face to face, interact, and participate in the business and other benefits of belonging to GFWC.
Make a Difference – Be a GFWC Mediator
GFWC is now accepting applications for the Mediator Class of 2021. Six GFWC Mediators will be selected to serve a three-year term and receive training during the course of their term. The Mediator job description and application form are now available within the "M" folder of the Member Portal's Digital Library. Applications are due by July 15.
GFWC Mediators support individual clubwomen, clubs, and State Federations by serving as an unbiased listener who helps identify strategies to resolve membership-related disputes. Mediators are active and committed GFWC members with the experience and the ability to assist in resolving conflicts through active listening, knowledge of parliamentary procedure, and commitment to problem-solving. Mediators are available "on call" to work with members as needed until the situation is concluded.
Criteria for Applicants
Serious consideration will be given to GFWC Mediator applicants who meet most or all of the following criteria:
Previous service as a GFWC club president or comparable experience in other organizations;
Active participation in GFWC membership- or leadership-related activities;
Professional experience in the field of counseling, education, social services, human resources, and/or parliamentary procedure;
Proficient skill in technology (email, word processing) and stable, regular access to internet and necessary devices;
Commitment to participate in additional training as needed;
Willingness to serve a three-year term as a GFWC Mediator;
Strong written and verbal communication skills;
Excellent listener, patient, and persistent in securing all essential information while remaining impartial;
Proven organizational and project management skills;
Knowledgeable, positive, and passionate about GFWC!
Questions about serving as a GFWC Mediator should be directed to Director of Membership Services and Programs Melanie Gisler at Mgisler@GFWC.org or  202-347-3168.
Volunteers in Action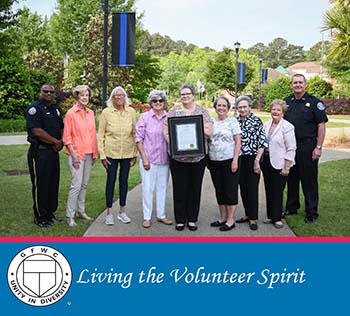 This week's GFWC blog features the Lexington Woman's Club (South Carolina), Rotonda West Woman's Club (Florida), and GFWC Mira Mesa Women's Club (California). Read about how clubwomen are showing their support to law enforcement officers, fostering empathy and understanding through reading, and trying to provide comfort to survivors of sexual assault.
Have a success story to tell? Email PR@GFWC.org.
Join UNICEF in Recognizing World Refugee Day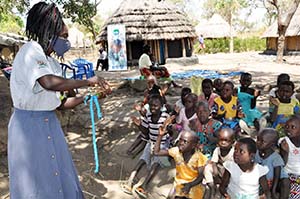 GFWC Affiliate Organization UNICEF USA is encouraging GFWC members to recognize World Refugee Day on June 20. World Refugee Day is a day that celebrates the strength and courage of people who have been forced to flee their homes to escape conflict or persecution. According to UNICEF, the modern child refugee crisis is the worst since World War II, making it a humanitarian emergency that requires immediate action. Since the beginning of the COVID-19 pandemic, the virus hasn't stopped migration flows, only heightened the risks for those on the move.
UNICEF's ongoing response to the global child refugee crisis spans four continents. From the Middle East to Southeast Asia to northern Africa, UNICEF delivers lifesaving supplies to help children and families who are on the move stay safe and healthy. UNICEF provides safe water, medicine, and nutrition. UNICEF also creates safe spaces for children to learn and play and to receive psychosocial support and other services while staying in tented camps and settlements. In Central America, children fleeing violence and abuse have UNICEF on their side, working to improve their lives.
Join UNICEF in calling for legislation to help children and families who are fleeing violence and poverty at home by taking action today. UNICEF also has a World Refugee Day Toolkit that you can download.
Help Support March of Dimes National Service Partner Challenge 
GFWC members have the opportunity to support Affiliate Organization March of Dimes' National Service Partner Challenge until June 21 to help fight for the health of all moms and babies. The nonprofit's goal for their National Service Partner challenge is to raise $2.4 million to go toward the programs and services they offer. As of the beginning of June, they were already at the $2 million mark! With the finish line within reach, now is your chance to help support families everywhere.
For every $100 you raise until the end of the National Service Partner Challenge, you will be entered in a drawing for a March of Dimes swag bag, with three winners to be chosen. Anyone who raises $1,000 will be entered into the drawing 10 times. Items in the swag bag will include a camp mug, game day stool, baseball cap, t-shirt, zippered tote bag, and a picnic blanket tote.
Share GFWC's Facebook post from last week, and support March of Dimes' National Service Partner Challenge today.
Member Profiles to Feature Inspiring Club Presidents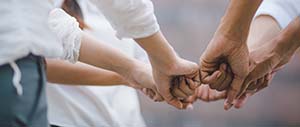 Does your club president encourage and inspire you to make your community a better place through volunteerism and community service every day? Help us recognize the great work she does by nominating her to be featured on www.GFWC.org. Our new member profile features will begin by telling the stories of club presidents. The club president profiles will then be posted as a "Featured Member" for everyone to read and enjoy.
To participate in this new project, club presidents will be interviewed over the phone or Zoom for approximately 30 minutes about their background with GFWC, why they enjoy volunteering, and what volunteerism means to them. We want these interviews to be a fun experience and an opportunity for members to tell us what they enjoy about being part of this group of incredible women.
To discuss a member profile feature, contact Publications & Project Manager Taylor Fussman.
GFWC Member Portal FAQs and How-To Videos Now Available
Clubwomen have access to a wealth of information, resources, GFWC merchandise, and fun and informative events through the GFWC Member Portal. Whether you are wondering how to sign up for an account of your own, register for a webinar, purchase items from Marketplace, or want to learn more about GFWC Community Service Programs in the Club Manual, you can find answers to these questions and more by checking out the new Member Portal FAQ page.
This useful tool, which is published within the GFWC Resources section of www.GFWC.org, includes sections on general GFWC Member Portal inquiries, navigating the Digital Library, registering for GFWC events, placing orders with Marketplace, and making donations. The step-by-step answers will help guide you through many common questions and concerns regarding the GFWC Member Portal, from resetting your account password to accessing GFWC logos, emblems, and icons. Along with these instructions, GFWC has created helpful how-to videos you can watch on YouTube for additional assistance.
However, if you can't find the answer you are looking for in the Member Portal FAQs, please don't hesitate to email GFWC@GFWC.org and someone will assist you with your inquiry as soon as possible.
GFWC Marketplace: GFWC Shoe Bag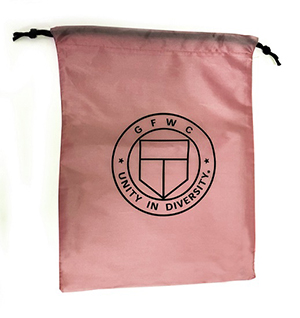 Whether you are heading to the gym or taking a weekend vacation, there's no better travel accessory than the GFWC shoe bag. This stylish and secure bag is a convenient way to safely carry your shoes or other belongings, and the soft pink color and GFWC emblem will make a statement wherever you go. Order yours today.
There have been reports of mail service delays in many communities throughout the United States. In order to speed up processing of your order, we request that you pay for your order at time of purchase in the Member Portal. For details on mail service in your area, visit the USPS Service Alerts page.
GFWC
www.GFWC.org