June 18, 2020
View our Important Dates page for upcoming events and milestones.

From GFWC's International President
Dear Members,
You are about to be part of history. I am excited to announce that GFWC is holding its First Virtual Annual Convention, "Remember The Rose," and you can be there. By 5pm EDT on June 22, you will be able to visit GFWC's website and GFWC's Facebook page for the First Virtual  GFWC  Annual Convention.
You will be able to cheer as the CSP, Advancement Area, and Contest Chairmen announce their awards. The Junior Banquet session will feature the Junior Membership Increase Awards, the Juniorette Participation Awards, the Juniors' Special Program Awards, the March of Dimes Awards, and the Millie Crom Awards.
The Gala Banquet will highlight the Community Improvement Program winners, the Jennie Award winners, and the Charlotte Emerson Brown Excellence in Leadership winners. As with a change of administration Convention, there will be 2018–2020 Director of Junior Clubs Trisha Schafer's Farewell Address, 2018–2020 International President Mary Ellen Brock's Farewell Address, and 2020–2022 International President Marian St.Clair's Inaugural Address. The fantastic totals for the Seven Grand Initiatives and Three Brand Initiatives will be revealed during my Farewell Address, and they are astounding.
As we are all from different parts of the country in different stages of restrictions, we suggest that you gather for a watch party, or have a Zoom watch party, or a conference call watch party, or call a member of your club and listen together on the phone. I advise you to adhere to all government restrictions, but I urge you, if telephoning is your only option, to call that friend and listen together. Many of you have shared the work that was reported, so share the excitement as well.
Hours and hours of work have gone into the production of this First Virtual GFWC Annual Convention, "Remember The Rose." A round of applause for Second Vice President Suellen Brazil and all of the chairmen for the time they so generously gave to judge the entries, compile the winners, and tape the sessions. A special thank you to First Vice President Deb Strahanoski and Director of Junior Clubs Trisha Schafer for ensuring that the Charlotte Emerson Brown and Millie Crom Awards for state leadership would be announced.
At the end of the session, I would like you all to give a round of applause for our Director of Communications Carrie deGuzman who sat in on almost every session for technical support and together with Communications and Design Coordinator Shaukeria Reese spent many days assembling all of the parts to make this First Virtual GFWC Annual Convention video. A special thank you to Membership Services and Programs Director Melanie Gisler and Programs Manager Darrell Jones for their assistance with the special area judging and Partner Awards.
All of the proceedings of the First Virtual GFWC Annual Convention, "Remember The Rose," will be available in an Awards and Accolades Book on June 25, at the GFWC website for you to download and print. So you will have the special remembrances for your scrapbooks.
All award certificates and checks will be mailed to the 2018–2020 State Presidents by July 8, so that they can be distributed at summer/fall state events.
You can imagine all of the time spent on the Virtual Convention Zooms, the Awards and Accolades Book, and the printing of the certificates. No one minded. Every member of the Executive Committee, Board of Directors, and staff involved had one goal, to capture the celebration of a year of outstanding achievements and the excitement of a GFWC Annual Convention for you, our members.
We might all have masks hiding our smiles, but we can all see the twinkle in our eyes. Enjoy the First Virtual Annual Convention, "Remember The Rose!"
With Federation Love,
Mary Ellen Brock
GFWC International President
Suffrage at 100
After the Vote: The Fight for the ERA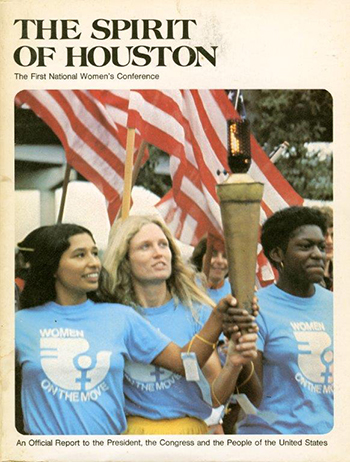 Section 1: Equality of rights under the law shall not be denied or abridged by the United States or by any state on account of sex.
Section 2: The Congress shall have the power to enforce, by appropriate legislation, the provisions of this article.
Section 3: This amendment shall take effect two years after the date of ratification.
When the 19th Amendment was ratified on August 26, 1920, millions of women won their right to vote. Although enfranchisement was a major step toward equality, Alice Paul believed that equal opportunity at the ballot box did not necessarily translate to social, political, or financial equality. In 1921, Paul wrote the Equal Rights Amendment (ERA) as a method of affirming the equal application of the Constitution to all citizens. The Amendment was first introduced to Congress in 1921.
The ERA maintained broad support among upper middle-class women. However, many male reformers, who had worked throughout the twentieth century to earn labor rights for workers, were concerned it might nullify their progress and disturb the power structures from which they had benefited.

By 1940, the ERA enjoyed broad bipartisan support and was included in both parties' Presidential platforms. In 1944, GFWC also expressed enthusiastic support of the ERA through a resolution passed at that year's convention. Despite the lip service that Congress had paid the Amendment, it was almost always blocked by committee when introduced at every congressional session between 1921–1972. Renewed interest in the Women's Liberation Movement helped the Amendment gain traction and popularity again in the 1960s and 1970s.

After countless rallies, marches, and protests which echoed those of the early twentieth century suffragists, the ERA passed both houses of Congress in 1972. The Amendment was given until 1979 to earn the 38 state ratifications it needs to become law, and in 1977 received 35 of the necessary ratifications. The year 1977 also marked the culmination of celebrations for 1975's International Women's Year, closing in Houston with the National Women's Conference and was attended by GFWC President Jeri Wagner. President Wagner reflected that support for the ERA was passed "overwhelmingly" and that the vote "precipitated the most impassioned demonstration of the convention, with women bursting into celebration… the vote on the ERA was the favorite issue and what most delegates had come to support."

Although the ERA had wide bipartisan support until 1977, a new conservative movement, led by Phyllis Schlafly and her Eagle Forum, arose in opposition to the Amendment and four states rescinded their ratifications. The necessary 38 states were not reached by 1979.

In 2013, the ERA gained traction once again, and advocates began implementing the "3 State Strategy." In 2020, Virginia became the 38th state to ratify the Amendment. However, as the Amendment's original expiration date is 40 years past, its addition to the U.S. Constitution is now tied up in a legal battle. GFWC has continued to be an avid proponent of the ERA, particularly through the Legislative Action Center and as a member organization of the ERA Coalition, which is a group of organizations that have joined together to press for constitutional equality. This week GFWC signed on to an Amicus Brief to the United States District Court for the District of Columbia asking the Court to hold that a time limit in a congressional joint resolution cannot stand in the way of an amendment that meets the constitutional requirements in Article V. There can be no time limit on equality.
World Health Organization
GFWC has also joined other organizations to protest the United States dissolving a partnership with the World Health Organization(WHO). GFWC has just signed onto a letter to the United States Congressional Leadership calling on them to reject the Administration's attempts to terminate our relationship with WHO and to please fully fund the WHO in Fiscal Year 2021 and future COVID-19 supplemental bills

Cares & Concerns 
It is with great sadness that GFWC announces the passing of GFWC Georgia Past State President Joanne Dixon (1996–1998). Please keep Joanne's family in your thoughts. 
It is with great sadness that GFWC also announces the passing of 2020–2022 Honorary Assitant and GFWC South Carolina Past President (2012–2014), Jo  Ann Bolchoz. Jo Ann passed away Tuesday due to comlications with pneumonia.
Condolences may be sent to Joe Bolchoz at 2435 Pristine View, Charleston, SC 39414. Please keep Jo Ann's family in your thoughts.
Volunteers in Action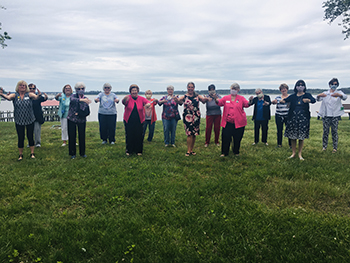 This week's GFWC Blog features the GFWC Women's Club of Indian River (Delaware) and GFWC High Springs Woman's Club (Florida). Read and comment on their activities hosting an awards ceremony and honoring veterans in their community. 
Have a success story to tell? Share it with us by emailing pr@gfwc.org.
Curator's Corner: Curating Headquarters' History 
The mansion at 1734 N Street was built in 1875 for Rear Admiral William Radford. The Rear Admiral had a decorated military career, and upon his retirement from the Navy, Radford and his family resettled in Washington, D.C. Although N Street was desolate when the home was first built, less than a decade later, Dupont became one of the most sought-after neighborhoods in D.C.
When the Rear Admiral built 1734, he established a tradition of diplomacy and public service, which continued through each of the home's owners and remains rooted in GFWC today. This tradition can notably be found in 1734's third owner, General Nelson A. Miles. General Miles' most lasting addition to the home was the Spanish-style stables, which he constructed in the old carriageway. Today, the stables house the Iron Gate Restaurant.
In 1908, General Miles sold the home to John and Grace Hoffman White. Soon after the purchase, the couple transformed the traditional façade into a more fashionable Victorian design. The Hoffman Whites also modernized the home's interior.
Continuing the diplomatic tradition, the Whites leased their home to both Uruguay and Czechoslovakia before selling it to GFWC in 1922. Under the encouragement of GFWC President Alice Ames Winter, GFWC members who attended the 1922 GFWC Convention pledged $105,000 and paid $21,000 into the treasury, which fully covered the $70,000 purchase price of the house, as well as some furnishings.
Currently the property houses staff offices, archives, rooms for meetings and receptions, and living quarters for GFWC's International President. GFWC Headquarters is maintained and furnished by generous contributions to the 1734 Society and Gifts to Headquarters. Induction as a National Historic Landmark in 1991 ensured that GFWC maintains the historic integrity of the house.
Parliamentary Pointers: Vacancies
by GFWC Parliamentarian Deen J. Meloro
Vacancies in Federation positions may be created by resignations or illness. Your bylaws should state how vacancies are filled, but the general rule is the group of people who appoint a member to a position is the same group empowered to accept a resignation and appoint a new person to the position.


If the President makes appointments, then these always have to be approved either by the Executive Committee or the Board of Directors. This is so that a president cannot appoint only people who agree with her or are her best friends. However, the group that must approve (or disapprove) her appointments should give the president some leeway so that she feels comfortable with those who will be serving with her.
If an elected member of the club/State Federation, the Executive Committee or Board of Directors may be asked to fill that vacancy. Again, the President may nominate someone, but if allowed by your bylaws, a member of the appointing body may also nominate someone.
Specific rules for how to fill the office of President, President-elect, and the Vice President(s) should be in the bylaws. These positions have specific duties, and these particular vacancies should be filled as soon as possible.     
All the possibilities for filling vacancies should be in your bylaws. Also included should be if the person vacating an elected office would be allowed to run for that office again and how long the term of office is. According to Robert's Rules of Order, Newly Revised, a person who has been in office for more than half of the term is considered to have served a full term. 
Marketplace: Seven Grand Initiatives T-Shirt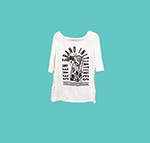 Our GFWC clubs have been doing an awesome job helping to reach our Seven Grand Initiatives goals! Celebrate the projects that you have already completed in style with the GFWC Seven Grand Initiative T-Shirt. With its extra soft cotton and beautiful colors, this might just become your new favorite shirt! Order one at the GFWC Marketplace; your shipment will be sent as soon as Headquarters is able to reopen.
Unsubscribe from
News & Notes
Don't want to receive News & Notes any longer? Log in to your person profile on the GFWC Member Portal and uncheck "News & Notes" in the list of message types that you are currently receiving. 
GFWC
www.gfwc.org

Featured Member
Hope Royer
Hope Royer joined GFWC looking for an avenue to conduct community service. In her 40+ years with the Federation, she has found that, and then some.
Success For Survivors Scholarship
Each year, GFWC awards scholarships to help intimate partner abuse survivors obtain a post-secondary education that offers a chance to reshape their future by securing employment and gaining personal independence.
Featured Club
GFWC Polk County Service Club
GFWC Polk County Service Club (Oregon) served as the coordinators for the Polk County Fair Talent Contest. There were two divisions (Youth from age 3-12 and Young Adult from 13-19) with 17 contestants. Laurel Jones, Vice President of GFWC Polk County Service Club, served as the Mistress of Ceremonies. Parents, grandparents, and friends all came out to fill the audience and it was very well attended. One of the Judges was GFWC Oregon State President, Pam Briggs.