June 24, 2021
View our Important Dates page for upcoming events and milestones.

Reach Teens Before They Become Survivors or Abusers 
By Trisha Schafer, Teen Dating Violence Advisor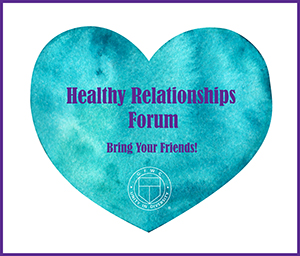 As a grassroots volunteer organization, we are well-positioned to silence teen dating violence. We know where teens hangout in our communities, whether it be the school parking lot, local pizza parlor, or another popular gathering spot. And we're passionate about reversing the trajectory of some troubling statistics. According to The National Coalition Against Domestic Violence, 10 million people a year are physically abused by an intimate partner; 20,000 calls are placed per day to domestic violence hotlines; 300 gun fatalities involved domestic violence this year, as of today; and 20% of women in the United States have been raped.
Let's work together by participating in GFWC's Teen Dating Education and Awareness Challenge Project. If every GFWC club held a Healthy Teen Relationship Forum in its town or city, we could stop many domestic violence cases before they occur. For Teen Dating Violence Awareness Month in February 2022, there is plenty of time for your club to find an expert and advertise a forum at places you know teens frequent. You just need to start planning now.
A great first step would be to speak to a counselor at your local public school district. School counselors are plugged in to specific habits and needs of the student bodies that they serve. Inquiring about issues related to self-esteem, anti-bullying, boundaries, anxiety and anger management, communications skills, consent, and gender roles would be a great way to start a conversation about organizing a Healthy Teen Relationship Forum. School counselors may also know of subject matter experts who your club could invite to speak at a forum. If a certified domestic violence, rape crisis, sexual assault, or other specialist shares the danger signs of an abusive relationship in an open forum, local teens may be less likely to grow up and become a survivor or an abuser themselves.
Start planning your club's Healthy Teen Relationship Forum today so you have an excellent turn out in February. To help with advertising your club's forum online, there is a full-sized social media graphic available (pictured above) in the "Challenge Projects" folder within the "C" Member Portal's Digital Library.
Meet Lilly Ledbetter and Jane Jenkins Herlong at Their Book Signings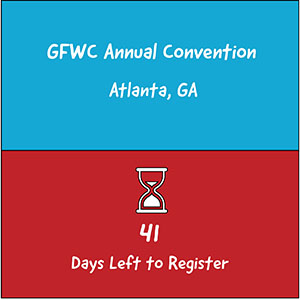 Lilly Ledbetter, well-known for her work to achieve pay equity for women, will be available for pictures and to sign copies of her memoir Grace and Grit: My Fight for Equal Pay and Fairness at Goodyear and Beyond before the "Gateway to the World" Celebration Banquet on Friday, August 27, at the Social Hour. Jane Jenkins Herlong, a Sirius XM Humorist, international best-selling/award-winning author, recording artist, and award winning professional speaker, will also be available to sign copies of her books Rhinestones on My Flip-Flops: Choosing Extravagant Joy in the Midst of Everyday Mess-ups, and Bury Me with My Pearls before the "Wonders of the World" Gala Banquet on Sunday, August 29, and after the ESO Breakfast on Monday, August 30.
Along with meeting these two inspirational women at their book signings, you will have a chance to listen to them share their stories during the Celebration and Gala banquets. John T. Broderick, Jr., Senior Director of External Affairs at Dartmouth-Hitchcock and advocate for the R.E.A.C.T. Mental Health Awareness Campaign, will also speak during the opening Business Session on Saturday. These three speakers have a wealth of knowledge to share, from fighting for equality and promoting awareness and understanding of mental illness to how to make your dreams a reality.
Register for the 2021 GFWC Annual Convention by August 4 for a chance to meet GFWC's guest speakers through the GFWC Member Portal.
Volunteers in Action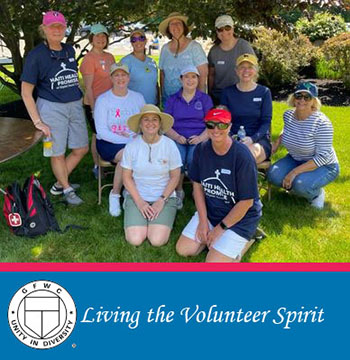 This week's GFWC Blog features the GFWC Wilbraham Junior Women's Club (Massachusetts) and Pontotoc Juniorettes Club (Mississippi). Read about how clubwomen joined other local volunteer groups to pack almost 60,000 meals for those in need and raised more than $10,000 for organizations dedicated to helping children.
Along with helping to make a difference in their own communities, members' volunteer efforts can have an impact around the world. Share your club's stories of international outreach and support by emailing PR@GFWC.org to have your club projects considered for the weekly blog.
Submit Your Raffle Prize Form by July 1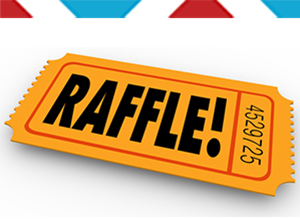 Participating in the raffle at the 2021 GFWC Annual Convention is an excellent way to raise funds to help support GFWC programs and projects. You can purchase the opportunity to own popular items of value by buying tickets when you register for Convention online for only $20 per sheet. Additional tickets will be available onsite for $25 per sheet.
If you wish to donate items for the raffle, small and lightweight items are recommended, including jewelry and scarves, handmade gifts, and gift cards. If you send a gift to be raffled to GFWC Headquarters, it should arrive by July 1. Otherwise please send a picture of your donated item to GFWC's Event Manager by July 1 and then drop it off onsite as soon as you check in at the Registration Booth.
Plan to donate items or purchase tickets for this year's raffle to take advantage of the "World of Opportunities."
Techie's Tips: Spoofing Reminder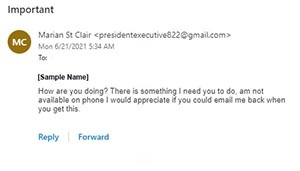 You just received an email from a GFWC Officer, GFWC staff, a GFWC sister, or another trusted source asking you to do something strange or unexpected. It might be an urgent request to talk, share private information, or purchase something for them. You're most likely being baited for a response from someone (a spoofer) trying to take advantage.
Without closer inspection, it might be easy to mistake spoofing emails as legitimate:
A name you recognize appears as the sender, but when you hover over the sender's email address it is generic and doesn't match the person's real email address.
It addresses you by name. It may even appear to have the person's signature. Watch out for computer fonts that resemble handwriting!
The content (giving to those in need) is relevant to GFWC.
If your email needs to be posted on your club's website for customer service reasons, you will need to closely monitor for email spoofs. While GFWC cannot prevent your email account from receiving these emails, rest assured that your privacy is a priority. GFWC does not broadcast contact information to stay vigilant in the age of the Internet and technology!
Legislative Corner: Tax Credits for Working Families
This article is not meant to offer tax advice but to inform members of action taken by Congress to provide funds for child care expenses, enabling parents to return to the workforce. If this information applies to your family, a tax professional should be consulted regarding any income tax planning or return preparation.
A survey by the Federal Reserve found that more than one in five parents were out of work or worked less in 2020 due to lack of child care or school disruptions, and these barriers have impacted parents wanting to return to the workforce. Women were hit particularly hard by COVID-19. More than half of the lost jobs were held by women, and more women remain out of the workforce to care for their families.
Monday, June 21, was Child Tax Credit Awareness Day to launch efforts to educate parents about the historic expansion of Child Tax Credits and Child and Dependent Care Tax Credits as part of the American Rescue Plan. This is good news for women, children, and families.
Child Tax Credits
Credit amounts go up from $2,000 per qualifying child in 2020 to $3,000 per qualifying child age 6 to 17 and $3,600 for those under the age of 6.
Credits in 2021 are fully refundable, whereas they were only partially refundable in 2020, meaning they will be paid in full even if no income taxes are owed.
Aimed at working families, the new credit begins to phase out at an adjusted gross income level of $150,000 for married, filing jointly and ends at an income level of $170,000. Those making more than $170,000 can qualify for the regular child tax credit (using 2020 rules) when filing taxes.
Another change from 2020 is that half a person's estimated credit will be paid in equal monthly installments beginning July 15, 2021. This happens automatically if they filed a 2019 or 2020 tax return and claimed the Child Tax Credit or provided the IRS with information in 2020 to receive the Economic Impact Payment using the "Non-Filers: Enter Information Here" tool, so long as they meet the U.S. residency and income requirements and have qualifying children. Monthly payments will be $300 per qualifying child under 6 and $250 per qualifying child 6 to 17.
Those not filing 2019 or 2020 tax returns or providing the 2020 non-filer information can still receive advanced monthly payments by visiting the IRS website and using the "Child Tax Credit Non-Filer Sign-Up Tool."
Child and Dependent Care Tax Credits
The credits are now fully refundable, whereas it was non-refundable in the past.
The potential credit for 2021 has been raised from 35% to 50% for qualified expenses.
The expense limit has been raised from $3,000 to $8,000 for one child and from $6,000 to $16,000 for two or more children.
Reduction of the credit now begins at $125,000 adjusted gross income compared to only $15,000 previously.
Economists project that the new rules will reduce by 45% the number of American children living in poverty.
Rules relating to both of these programs will only be in effect for the 2021 tax year unless Congress votes to extend them. Otherwise, calculations will revert to the 2020 methodology in 2022.
State President's Project: Jan Moore, Kansas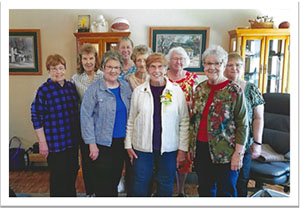 GFWC Kansas State President Jan Moore's theme is "Save the planet one community at a time." People did not know the planet would be in near total shutdown for 14 to 16 months due to COVID-19, but that did not stop clubwomen from finding ways to continue their community work. GFWC Kansas focus groups this Administration include GFWC Affiliate Organizations Operation Smile and Heifer International, Ronald McDonald House Charities, and Southwest Indian Foundation. Clubwomen have met remotely and in small groups to continue their volunteer work in art and music, supplying and distributing goods for food pantries, sewing face masks for front line workers, collecting items for military members, and many other ways to fill in the gaps during the pandemic. Members have participated in several volunteer projects to show what they do best.
For one project, seven members of the GFWC Athena Club of Gardner toured the Veteran's Community Project in November, a nonprofit corporation founded by five combat veterans who were frustrated by homelessness in the veteran community. These veterans have built 49 "tiny homes" located on Troost Avenue in Kansas City, Missouri, which provide homes for men, women, families, and pets. Walk-in support services are also available.
For another project, "Susan B. Anthony" visited in October and addressed a small audience of six women of the GFWC Flint Hills Club. Member Carol Hanson did a presentation on women's suffrage to the group in recognition of the 100-year anniversary of the 19th Amendment.
Lastly, in May, friends gathered to celebrate with a luncheon honoring Prudence Fager for more than 50 years of volunteering as a member of GFWC Wamego Junior Federated Club and GFWC Flint Hills Club of Manhattan. She helped organize many projects and held leadership roles in her local clubs, District, and at the state level.
GFWC Marketplace: Infinity Scarf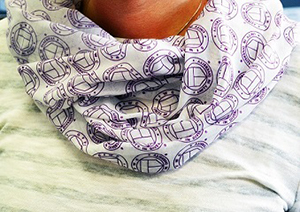 This soft and silky Viscose Scarf is made of lightweight and slightly sheer fabric, measures 21 X 70 inches, and is seamed together to create a loop. Whether you are dressing up or down, this will be the perfect GFWC edition to any outfit all year long! Order yours today.
There have been reports of mail service delays in many communities throughout the United States. In order to speed up processing of your order, we request that you pay for your order at time of purchase in the Member Portal. For details on mail service in your area, visit the USPS Service Alerts page.
GFWC
www.GFWC.org