June 3, 2021
View our Important Dates page for upcoming events and milestones.

Electronic Summer Magazine Now Available for Download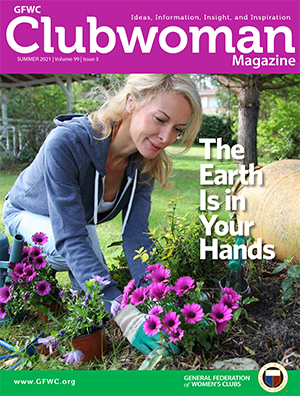 GFWC's first ever electronic magazine is now available for download in the Member Portal's Digital Library within the "C" Resources folder for Clubwoman.
All of the articles in this environment-themed issue are filled with tools for you to plan projects that encourage outdoor learning, reduce plastic waste, have some fun in nature, and more. For fall, Clubwoman will revert to a printed issue, as the Executive Committee and GFWC Staff continue to evaluate the future design and content of the magazine.
Enjoy the 2021 summer issue, and join our efforts to protect and preserve our earth. Download the 2021 summer magazine from the Member Portal's Digital Library now.
A World of Opportunities Raffle
By Sandy Phillips, Fundraising Chairman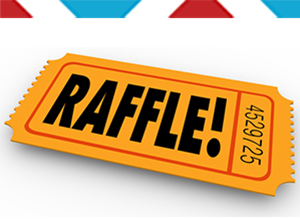 The raffle to be held at the 2021 GFWC Annual Convention provides a "World of Opportunities:"
An opportunity to raise funds to support GFWC programs and projects.
An opportunity to donate a piece of jewelry, a handmade gift, or another item to be raffled.
An opportunity to donate a gift card that the winner can use to purchase a gift of choice.
If you send a gift to be raffled to GFWC Headquarters, it should arrive by July 1. Otherwise please send a picture of your donated item to GFWC's Event Manager by July 1 and then drop it off onsite as soon as you check in at the Registration Booth.
During the online Convention registration process, buy tickets for just $20 per sheet. Onsite, you can buy tickets at the GFWC Marketplace for $25.
Help make the raffle successful. Donate items to raffle and purchase tickets to win raffled items to take advantage of the "World of Opportunities."
Volunteers in Action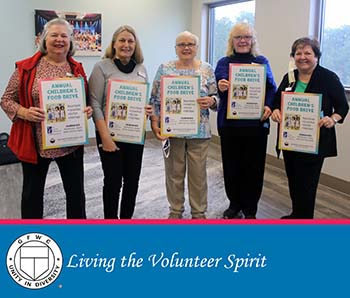 This week's GFWC Blog features GFWC Shorewood Woman's Club (Wisconsin), GFWC Santa Rosa Woman's Club (Florida), and GFWC Woman's Club of Dunbar (West Virginia). Read about how clubwomen helped make capes for children escaping domestic violence, sex trafficking, and homelessness, raised thousands of dollars in donations for a neighborhood-style foster care, made gift bags for local police and firefighters, and organized two COVID-19 vaccination clinics.
Have a success story to tell? Email PR@GFWC.org.
New WHRC Resource in the Digital Library
By Hope Royer, WHRC Committee Chairman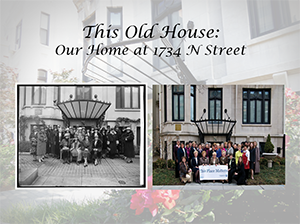 The WHRC Committee is pleased to announce the addition of a scripted, PowerPoint presentation to the list of members-only WHRC Resources. "This Old House" was originally prepared in celebration of the 30th Anniversary of the opening of the Women's History and Resource Center. It has been updated to provide an "armchair tour" of our magnificent, historic home at 1734 N Street, NW.
Both the PowerPoint slides and historical narrative document are available in the Member Portal's Digital Library, filed within the "W" folder with all other WHRC Resources.
Johns Hopkins Webinar June 8
Johns Hopkins Medicine is offering a webinar at 7:00 p.m. EDT on Tuesday, June 8, about the risks, signs, and symptoms of melanoma, a serious form of skin cancer. Join host and oncologist William Sharfman, M.D., as he discusses ways to prevent melanoma as well as research, treatment protocols, and novel therapies for high risk patients with advanced melanoma. Visit the Johns Hopkins website to register for this event.
Legislative Corner
In recognition of Memorial Day and May as Military Appreciation Month, the House of Representatives passed several bills with strong bipartisan support. A few of these bills, which now move to the Senate, are summarized below.
Puppies Assisting Wounded Service Members (PAWS) for Veterans Therapy Act: A pilot program would be established to give veterans with post-traumatic stress disorder (PTSD) the opportunity to train and adopt service dogs under H.R. 1448/S. 613. A recent study by the Department of Veterans Affairs supports the program; participating in this program will not prevent veterans from receiving other forms of VA medical care to treat PTSD. For years, GFWC has worked with Canine Companions and knows the value of trained service dogs. The GFWC Legislative Action Center was activated to support this bipartisan House-passed legislation to urge the Senate to act. Visit the Legislative Action Center to join this effort.
Homeless Veterans with Children: Homeless veterans with children or other dependents would receive priority for reintegration services offered by the Labor Department under H.R. 240. The bill would prioritize important wrap-around services such as healthcare, housing solutions, job training, and education. This bill enjoys strong bipartisan support.
Veterans' Education Programs: The Veterans Affairs Department would launch a pilot initiative to expand its VetSuccess on Campus program to tribal colleges and universities under H.R. 2878. The program began in 2009 and provides a coordinated delivery of on-campus benefits assistance and counseling, leading to completion of their education and re-entry in the workforce. The bill also would set aside additional funds for a separate VA high-tech educational initiative, including training and monthly housing stipends, and make other changes to VA educational benefits, home-loan fees, and a homelessness assistance program.
Economic Assistance for Veterans: The Veterans Economic Opportunity and Transition Administration would be established to provide assistance to veterans, their dependents, and survivors under H.R. 2494. The new administration would consolidate and streamline programs that address vocational rehabilitation and employment programs, educational assistance, housing loans and related programs, verification of veteran-owned small businesses, and the Transition Assistance Program.
VA Rural Mental Health Services: The Veterans Affairs Department would expand its Rural Access Network for Growth Enhancement (RANGE) program under H.R. 2441. The program provides intensive case management services to veterans who are experiencing severe mental health conditions and live in rural areas.
State President's Project: Judy Gustafson, Missouri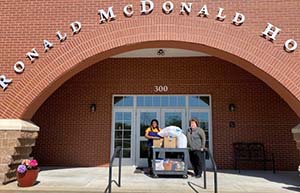 For more than 20 years, GFWC Missouri State President Judy Gustafson and her husband, Bob, have been volunteering for Ronald McDonald House Charities of St. Louis, a home away from home for parents of children being treated at hospitals. Until 2020, the Gustafsons helped make home cooked meals at two locations with Ronald McDonald House Charities (RMHC), serving as many as 40 people at a time. Since the COVID-19 pandemic, volunteers were not allowed to fix meals.
That's why Judy is so passionate about continuing to help RMHC and the many families they serve. Since RMHC was selected as the GFWC Missouri State President's Project, clubs across Missouri have stepped up to provide individually wrapped snacks, funds from raffles, aluminum tabs, and many wish list items for the 10 RMHC's and Family Rooms located in Missouri. As members dropped off donated items, one of the RMHC guest families expressed how much the grab-and-go snacks meant to them while they were spending long days at the hospital with their child. Judy said everyone can make a difference by supporting RMHC.
GFWC Marketplace: GFWC Notecards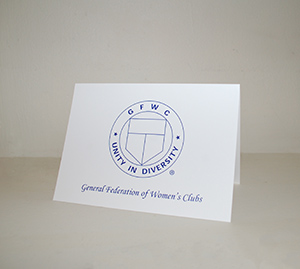 Saying "thank you" makes a difference, and the GFWC Notecards are the perfect way to show your appreciation to your dedicated volunteers for all of their accomplishments. Featuring the GFWC logo on the front and mission statement on the back, these notecards will be an excellent addition to your stationary collection. Each pack includes 10 cards and 10 envelopes. Order yours today.
There have been reports of mail service delays in many communities throughout the United States. GFWC staff is processing Marketplace orders as quickly as possible, but Headquarters is still operating with limited staff onsite daily until June 7. In order to speed up processing of your order, we request that you pay for your order at time of purchase in the Member Portal. For details on mail service in your area, visit the USPS Service Alerts page.
GFWC
www.GFWC.org