June 4, 2020
View our Important Dates page for upcoming events and milestones.

From GFWC's International President
The votes have been tallied and I am happy to announce the results of the elections:
The Budget for fiscal year 2021 was adopted.

The Bylaw pertaining to multiple Regions hosting a GFWC Annual Convention was adopted.

The Standing Rule pertaining to Standing Rules (page 5) 5. Finances i. "in the event that a check is not cashed within 90 days of issuance, funds are considered donated to GFWC"  be amended by adding "This Standing Rule put in effect June 28, 2019, shall be retroactive for all previously issued checks." was adopted.

Marian St.Clair by virtue of her present office will become the GFWC International President 2020–2022 and Kristina Higbee by virtue of her present office will become the GFWC Director of Junior Clubs 2020–2022. They will be joined by the following GFWC Officers who were elected for the 2020–2022 Administration:
                      President-elect Debra Strahanoski
                      First Vice President Suellen Brazil
                      Second Vice President Wendy Carriker
                      Secretary Jolie Frankfurth
                      Treasurer Mary Beth Williams
                      Director-elect of Junior Clubs Katie Moydell
Congratulations to the 2020–2022 GFWC Officers. May you enjoy your term of office and lead GFWC to new heights in recognition and accomplishments. 
May you, the members of GFWC, give these officers your enthusiastic support of their plans and programs!

With Much Love,

Mary Ellen Brock

GFWC International President
Club Presidents: Update Your Clubs Profile in MemberSuite
Life is still on hold while the nation waits for COVID-19 to subside, but new club presidents will still step into their new roles—if not already.
As a new club president, or current club president taking on another term, one of the first responsibilities club presidents should address is making sure that their club profile in MemberSuite is accurate. Club presidents should make sure that the club contact information and number of club members is correct; as an option, you can list your club members. The first step is accessing the Member Portal and creating your profile in MemberSuite.
There are two ways to access the GFWC Member Portal.
From the GFWC website at www.gfwc.org. Click on the pink "Member Login" box on the top right of the website.
As a club president, you already have a MemberSuite account associated with your email address.
Once you reach this page,

Click on the profile icon in the top right corner and select "Login" from the drop down. Enter your email address and password.
If you haven't logged in before:
Select "Login" from the drop down, then select "Forgot your password?"

Enter the same email that you use to receive GFWC's weekly newsletter, News & Notes.
Once you are logged in to your MemberSuite account, you will be asked to choose either your personal profile or your club's profile.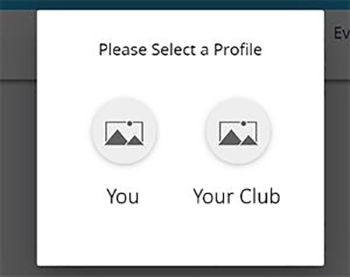 Select your club's profile, then go back to the profile icon on the right and click on it. You will get a drop down box.

Choose "My Profile" to edit your club's contact information.

Choose "Manage Organization Contacts" to edit the number of club members in your club and to add club members to your list.

If you have any issues updating your club information, please email gfwc@gfwc.org or call 202-347-3168.
Volunteers in Action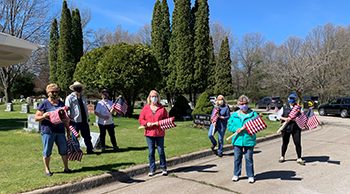 This week's GFWC Blog features GFWC Menominee Woman's Club (Michigan) and GFWC Lilburn Woman's Club (Georgia). Read and comment on their activities providing supplies and relief to families in need during the COVID-19 pandemic. 
Have a success story to tell? Share it with us by emailing pr@gfwc.org.
Give GFWC a Warm Welcome on Instagram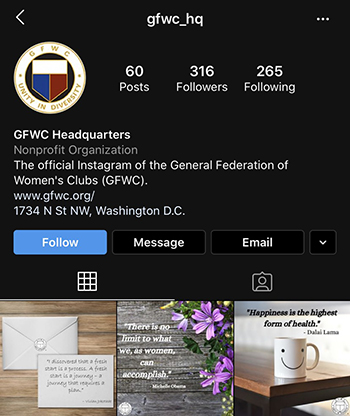 GFWC now has Instagram! Spread the word with your friends, daughters, granddaughters, and their friends to follow GFWC. Each month, we'll focus on a general theme that embodies living the GFWC volunteer spirit and welcomes more people into our online community. This month, we're focused on goal setting as a shout out to all of you for doing such a fantastic job with the 2018–2020 Grand and Brand Initiatives. When goals are set, amazing things happen—like surpassing the collective goals for these Initiatives by such a wide margin.
Pass GFWC_HQ on Instagram along!
League of Women Voters & Carrie Chapman Catt
GFWC clubwoman and suffragist Carrie Chapman Catt proposed the need for a new organization to form and "finish the fight" at the 1919 National American Woman Suffrage Association's Convention.
Just ten years earlier in 1909 Emma Smith DeVoe, founder of the National Council of Women Voters (NCWV), had expressed a similar sentiment. She believed that a separate organization needed to be created to educate women on the election process and teach them how to lobby for their own interests.
In 1919, Chapman Catt and Devoe entered into talks about what their new group might look like. Although the two ultimately decided to merge their groups, Catt had concerns that the NCWV's alignment with more radical suffragists might push some conservative supporters away. However, less than a year later, on February 14, 1920 the League of Women Voters was founded as "a mighty experiment." The league was founded just six months before the 19th Amendment was passed and was still three states away from ratification.

Since 1920, the League has helped women to take a larger role in public affairs. Like GFWC, it is a nonpartisan organization that does not support particular candidates but helps women to make educated civic choices. The League of Women Voters has sponsored presidential debates, as well as debates for local governments. They also created National Voter Registration Day and run a plethora of programs designed to register voters and ensure a fair and democratic voting process.
Subscribe to the Legislative Action Center
Are you new to GFWC's Legislative Action Center or just overwhelmed by all of its possibilities? No worries, GFWC has got your back! The first step is to become an official subscriber. You can do this on the home page of the Legislative Action Center by clicking the "Join Now" button. After completing the requested information (name, address, and email) remember to check the "Email Opt-in" box to receive our alerts. Click the "register" button and you're an official subscriber but the excitement doesn't stop there! GFWC will send alerts to the email provided during registration. The most important thing you can do as a subscriber to the LAC is to respond to GFWC's legislative alerts. At the end of all of GFWC's emails will be a link to "Take Action." Click this link and you will be taken directly to our alert on the Legislative Action Center. Complete the requested information, read the letter to your member of Congress, then click submit. It couldn't get any easier! With your participation, GFWC has a national voice and recognition in the halls of Capitol Hill!
Stay tuned for more information on how you and your club can effectively use the Legislative Action Center.
Parliamentary Pointers
by GFWC Parliamentarian Deen J. Meloro
Clubs and states have done an outstanding job finding ways to hold elections and other votes while still following state and local orders to stay home. People who have never heard of Zoom, or any of the other meeting programs available electronically, have become experts.

Our International President, Mary Ellen Brock, gave her permission for clubs to use methods not specified in their bylaws to achieve the year-ending activities. Robert's Rules of Order, Newly Revised, states that "actions of any deliberative body are also subject to applicable procedural rules prescribed by local, state, or national law and would be null and void if in violation of such law." Since we were prohibited from meeting, and the International President had given her permission, clubs could use electronic means to vote and meet.
As prohibitions against gatherings become looser, and a new GFWC Administration begins on July 1, clubs and state will once again only be able to meet as dictated by their bylaws. Since the future is unknown to use, it is strongly suggested that if possible, immediate steps are taken to put electronic meetings into club and state bylaws. A possible paragraph might be:
Emergencies
Section 1. In the case of a national emergency, state emergency, or any type of event (man-made or natural) that could potentially put members in danger, the President, with the consent of the majority of the Executive Committee or if your State/club does not have an Executive Committee, the majority of the Board of Directors, may order that elections be held by mail or electronically.

Section 2. In the case of a national emergency, state emergency, or any type of event (man-made or natural) that could potentially put members in danger, the President, with the consent of the of the Executive Committee or if your State/club does not have an Executive Committee, the majority of the Board of Directors, may order that an electronic meeting be held as a substitute for a regular, executive committee, board of directors or special meeting.
Marketplace: Seven Grand Initiatives T-Shirt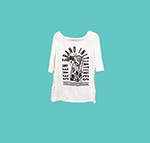 Our GFWC clubs have been doing an awesome job helping to reach our Seven Grand Initiatives goals! Celebrate the projects that you have already completed in style with the GFWC Seven Grand Initiative T-Shirt. With its extra soft cotton and beautiful colors, this might just become your new favorite shirt! Order one at the GFWC Marketplace; your shipment will be sent as soon as Headquarters is able to reopen.
Unsubscribe from
News & Notes
Don't want to receive News & Notes any longer? Log in to your person profile on the GFWC Member Portal and uncheck "News & Notes" in the list of message types that you are currently receiving. 
GFWC
www.gfwc.org