75th Anniversary of D-Day
Today marks 75 years since the Battle of Normandy and the D-Day Landings, the most significant victory for the Western Allies in World War II. In honor of the anniversary, learn about the efforts GFWC made during the war!
The second floor of GFWC Headquarters was turned into war services offices after America entered World War II. This included an up-to-date "wartime library" with speeches, books, and newspapers.
GFWC International President Sara Whitehurst invited women's organization leaders to meet in New York City and coordinate national defense activities. Eighty-five organizations attended and put together an 18 point program.
GFWC recruited nurses and raised $234,834 to provide nursing scholarships.
GFWC's "Buy a Bomber" campaign raised $101,617,759 to purchase planes for the U.S. Airforce, many of which had the names of GFWC clubs or Federations.
Clubwoman published wartime articles from national leaders, including President Roosevelt; First Lady Eleanor Roosevelt; Frances Perkins, Secretary of Labor; and Mary Anderson, Director of the Woman's Bureau.
GFWC hosted multiple National Defense Forums during the 1942 Board of Directors Meeting at The Mayflower Hotel in Washington, D.C. Attendees included clubwomen, cabinet members, Army and Navy officers, and other leaders.
GFWC collected 100 used wedding dresses to send to British servicewomen. One of the dresses belonged to "America's Sweetheart," actress Mary Pickford.
In light of women's war efforts, GFWC officially endorsed the passage of the Equal Rights Amendment in 1944.
As you commemorate the 75th Anniversary of D-Day, honor the fallen and remember all the incredible people, including GFWC clubwomen, who played a significant role during World War II.
---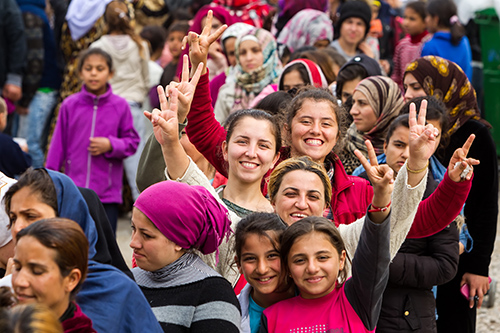 Give Refugees Much-Needed Shoes 
Thousands and thousands of people around the world are forced to flee their home countries to escape persecution and desperate poverty. They cross borders very quickly, often with nothing more than the clothes on their backs. Frequently, their feet are bare and exposed to highly contaminated soil, putting them at risk of infection, disease, amputation, and even death.
Observe World Refugee Awareness Month this June by participating in GFWC's cooperative giving project with Soles4Souls. Even better: once you've registered on the Soles4Souls website, coordinate with your assigned Soles4Souls representative to ship or deliver your club's donation on June 20 (World Refugee Day).
After Registering
Keep open the "Thank You" webpage that displays immediately after the registration is processed and download the marketing toolkit. If you close it accidentally, your assigned representative can resend it.
Determine if there is a drop-off location within driving distance. If not, a Soles4Souls representative will be in touch to plan logistics.
Contact Stephanie Hathaway at stephanieh@soles4souls.org if you have not heard from your assigned representative within three business days.
Share your success stories with pr@gfwc.org to be considered for the Volunteers in Action blog.
---
Book Your Convention Hotel Room
Convention registration may have passed, but you still have time to book your hotel room! The deadline for the GFWC room block at the JW Marriott Austin is June 12. Book your room now!
---
WHRC Summer Newsletter Request for Articles
This summer marks the start of a year full of celebrating the ratification of the 19th amendment! Passed by Congress on June 4, 1919, and ratified on August 18th, 1920, the 19th Amendment ensured the right of women to vote and participate in democracy.
Over the next year, we will share stories of the efforts of suffragists, celebrating their slow and deliberate march towards equality. But first, we want to hear from you! Share your club's story about suffrage––or what it has done to get out the vote. Submit articles that are no more than 500 words to WHRC Manager Alyssa Constad by July 8. Pictures are encouraged but not required.
---
State President's Project: Missouri, Susan Gettys
Missouri's 2018–2020 State Projects encompass two areas: Canine Companions for Independence (CCI), GFWC's Partner that provides service dogs free to their clients, and Missouri State Scholarships. Susan Gettys has raised two CCI puppies. Arden, the first one, is by the side of a Dallas area young man with multiple handicaps to help in any way that she can. Kuzco, the second, is in professional training in Irving, TX to become the best service dog possible.
GFWC Missouri has raised almost $3,000 to date; it hopes to raise $5,000 by May 2020 from several fundraisers. Clubs have been challenged to raise funds as well, such as passing around a cup at each meeting for donations (one club raised $115 that way). Plush dogs and "GFWC Supports CCI" pins are sold at all functions. Members picked numbers off of a Pick a Number Board and then made a donation in that amount (example: #10 +#15 = $25 donation). GFWC Missouri held a 50/50 raffle, selling $500 in tickets. The raffle winner then donated half of the money back to CCI, yielding an additional $375. Money that GFWC Missouri collects will go to the North Central Region Center in Ohio where CCI is building a new 16+acre state-of-the-art campus. This campus will provide guest rooms for CCI clients meeting their new four-legged partners, community and training spaces, and an enhanced dog kennel.
The second project awards $1,000 scholarships in seven areas at Missouri universities from club donations. GFWC Missouri is selling a cookbook with 300+ recipes from members to raise scholarship funds and make clubs aware of the importance of scholarship donations, hopefully continuing to increase donations for years to come. Some years only 1–2 scholarships could be awarded, but GFWC Missouri is awarding more scholarships than usual this year!
Check out GFWC's Pinterest for other photos.
---
Cares & Concerns
We send our condolences to GFWC New Jersey State President Mary Wolfe. Her brother, retired Colonel Ralph Squillace, passed away this week. He will be buried at the Arlington National Cemetery with a full military funeral.
---
Volunteers in Action
The GFWC Meadowlarks (Wyoming), GFWC Pennsylvania South Central District, Woman's Club of Vista (California), and the Grundy Woman's Club (Virginia) are featured on GFWC's Blog.
Have a success story to tell? Email pr@gfwc.org.
---
Thank You Tuesday
June's #ThankYouTuesday theme is "Graduation in Federation." Graduation season and the start of summer invoke a sense of new beginnings. We want to hear about yours! Throughout the month, tell us what new beginnings your club has launched this Administration. Share your experiences on GFWC's Facebook Page, @GFWCMembers.
---
GFWC Announces New Staff Member!
GFWC is pleased to announce that Anita Chow has joined our staff as Finance Coordinator. She received her Bachelor of Science in Finance from George Mason University and is currently pursuing a master's degree from Liberty University. Join us in welcoming Anita to GFWC!
---
Parliamentary Pointers: Reporting Votes
by GFWC Parliamentarian Deen J. Meloro
The vote on a motion is usually taken viva voce, or voice vote. It can also be taken by a show of hands. If the president is uncertain of the choice during these kind of votes, she may call for a rising vote since it's easier to see the will of the majority if people stand up. If there's still uncertainty, the president will ask for a counted rising vote and have tellers count votes. No matter what voting procedure is used, the negative vote must always be called for, even if a question overwhelmingly receives an affirmative vote.
As soon as the president is sure of the will of the group, she announces either that the motion was adopted or defeated. The effect of the motion must be given after the result of the voting.
A ballot is usually used for important issues like the election of officers or amending bylaws. It must be certain that each member only receives one ballot and that all ballots are the same size and weight.
At a Convention or large meeting, the Elections Chairman reports the number of votes each candidate received. They hand that paperwork to the president who declares the election winner(s). The Elections Chairman may start her report by announcing how many members voted, but she does not report how many were eligible to vote; the Credentials Chairman reports that earlier in the meeting.
If the Elections Chairman is reporting the result of a ballot vote on a question, she will first say how many votes were cast and then say how many votes are necessary for adoption. Once again, she reveals the numbers and then hands the paperwork to the president, who declares the result of the election.
---
Club Anniversaries
Anniversaries
125th
GFWC Woman's Club of Media (Pennsylvania)
Gold Pin Recipients (50 Year Members)
Ellen Alderman & Barbara McCord
GFWC Moultrie Federated Guild (Georgia)
Nonie Needham
GFWC Service Guild of Covington (Georgia)
Sally Butzow
Marengo Woman's Club (Illinois)
Eleanor Berry
GFWC Panorama Study Club (Alabama)
Barbara Ann Crume & Janice Geise
GFWC Florence Woman's Club (Kentucky)
Mary Firmstone
GFWC Woman's Club of Runnemede (New Jersey)
Mary Simpson & Marion Steiner
Book and Needle Woman's Club of Oradell (New Jersey)
Cheryl Wilkins
GFWC Virgilina Women's Club (Virginia)
Lillian Griffin & Gerry Werner
GFWC Woman's Club of Media (Pennsylvania)
---
GFWC Marketplace: Tote Bag
Whether you're enjoying a beach trip, shopping around town, or traveling to the 2019 GFWC Annual Convention, this zippered tote bag will make it easy for you to be on the go without leaving things behind. Get yours for $30 in the GFWC Marketplace.
---
Subscribe to News & Notes
Simply provide your name, mailing address, email, and club name to gfwc@gfwc.org!