June 9, 2022
View our Important Dates page for upcoming events and milestones.
Download the Summer 2022 Magazine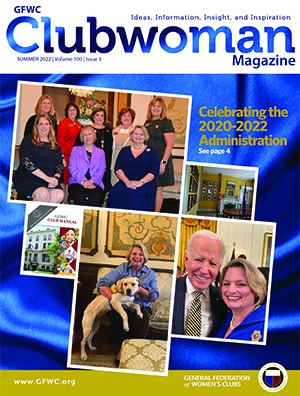 Join us in celebrating the success and accomplishments of the 2020–2022 Administration! The latest issue of GFWC Clubwoman Magazine (Summer 2022) is now available on the website at www.gfwc.org/news-publications/clubwoman-magazine and is posted in the GFWC Member Portal's Digital Library, under "C" in the "Clubwoman Magazine" folder. If you receive News & Notes, then you already have a Member Portal profile.
When you download the Summer 2022 Magazine, you can read International President Marian St.Clair's article about some highlights of the 2020–2022 Administration. This issue also features an eye-opening article about the signs of human trafficking from Polaris, a leader in the data-driven social justice movement to fight sex and labor trafficking. Women's Empowerment Expert Stephenie Foster tackles equity in education and how to advocate for women and girls in a changing world. Among other good reads, this issue also includes the results of GFWC's U.S. National Parks survey with the top five outdoor destinations you can't miss.
Take a Stand Against Elder Abuse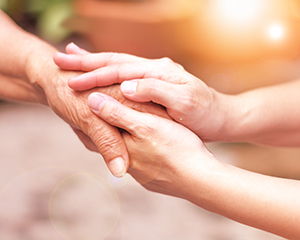 According to the National Council on Aging, up to five million older Americans are abused every year, and the monetary loss by victims of financial abuse is estimated to be at least $36.5 billion annually. This June 15, join GFWC in taking a stand against elder abuse by wearing purple and participating in World Elder Abuse Awareness Day. This observance was launched in 2006 by the International Network for the Prevention of Elder Abuse and the World Health Organization to promote understanding of elder abuse in communities around the world. Now, it is an opportunity for everyone to learn about and raise awareness of the abuse and neglect older individuals face, often at the hands of their caretakers.
Elder abuse includes physical abuse, emotional abuse, sexual abuse, exploitation, neglect, and abandonment. To learn more about recognizing the signs of elder abuse and for additional information, visit the National Council on Aging's website.
Through the GFWC Signature Program: Domestic and Sexual Violence Awareness and Prevention, members are committed to ending elder abuse. The GFWC Club Manual, available in the Member Portal Digital Library, offers some great ideas for promoting elder abuse awareness, including organizing a candlelight vigil in recognition of World Elder Abuse Awareness Day, distributing awareness materials at a local event, and organizing clothing drives for senior centers or nursing homes.
Cares & Concerns 
We are sad to announce Valerie Barnes, 2020-2022 Capital Campaign Committee Member and GFWC California Past State President (2012-2014), passed away on June 1. Cards may be sent to the Barnes Family at Valerie's address, 7366 Ione Court, Dublin CA 94568.
Volunteers in Action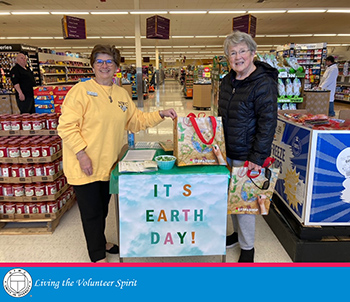 This week's GFWC Blog features the GFWC Northboro Junior Woman's Club (Massachusetts) and GFWC West Side Women's Club (Pennsylvania). Read how clubwomen gave out reusable shopping bags to customers of a local Stop & Shop in recognition of Earth Day and donated funds and volunteers hours to help support blind and visually impaired individuals in their community.
Have a success story to tell? Email PR@GFWC.org to have your club project considered for the GFWC Blog.
Checking In at Convention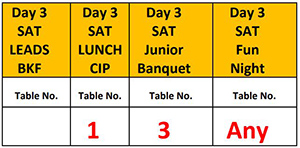 In only a couple short weeks we will be together again in New Orleans, Louisiana, for the 2022 GFWC Annual Convention, and we can't wait to celebrate with you! To help make your check-in process on site as smooth as possible so that you can Let the Good Times Roll, we have put together a quick checklist of what you need to do when you arrive at the beautiful Hilton New Orleans Riverside.
When you arrive, head to the GFWC Registration Desk, where you will be asked to show proof of your up-to-date COVID-19 vaccination card or a negative COVID-19 test. You can provide either a physical copy or a photo of your vaccination card. Please be aware that fully vaccinated requires that the final dose of the vaccine was administered at least 14 days prior to the event, but full vaccination does not require booster shots.
Check in with a member of the GFWC Credentials Committee at the GFWC Registration Desk, where you will be issued your credential card. This card indicates your voting status during GFWC Business Sessions.
Collect your registration envelope and ensure everything you registered for is included in the envelope before signing the Registration Book. This includes your Registration Badge and Meal Ticket sheet; any raffle tickets you purchased; dietary cards, if requested; a reserved seating letter, if required, a donor sheet, if required; and any guest badges and meal tickets. View a sample of the new meal ticket registration sheet. As pictured in the sample ticket above, your complete meal ticket will include a breakdown of every meal each day of Convention. If you have a red number under "Table No." on your ticket, that indicates which table you have been assigned to. If your ticket has a red "Any" under a meal, there is no assigned seating for the event. Lastly, if your ticket is blank underneath the "Table No.," you have not registered for that meal. Please be sure to bring your name badge and meal ticket with you to every meal you are attending.
Collect your Convention Welcome Bag, Neck Wallet, and T-Shirt (if you purchased one).
Enjoy the 2022 GFWC Annual Convention and Catch the Volunteer Spirit!
Following these steps will ensure a quick and accurate registration process, but rest assured, GFWC staff members will be on site to assist you however they can.
For more information, read GFWC's Convention FAQs.
Staying in the Game
By Nancy Jones, GFWC Membership Committee Member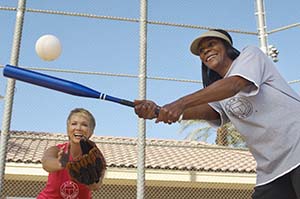 It's the ninth inning, down by two runs, bases loaded, two outs, and the batter has only one swing left to make that home run. We all have been there at one time or another. The established members are getting tired of the old projects. Some have even left. The efforts to add new members hasn't gone as expected.  It is time to give up. No, it is time to stay in the game and make that swing count.
Look at your club programs. Are they still relevant to your members, your community, and your club's mission? Listen to your member's ideas and try something new. Eliminate the programs/projects that aren't working, or that members don't want to keep, and revamp the ones that have been successful. If members enjoy the work, they will be there when you need them. It is important to keep programs and projects current so that members want to stay engaged and participate in their success.
Re-energizing your programs and projects will also be attractive to new members.  Remember, the volunteer of today is looking to give their time, but their time is limited. Be cognizant of the time you plan membership events. Plan your membership events on a Saturday afternoon, maybe an evening gathering, even a Sunday afternoon tea. Maybe your club could look at forming a computer club that uses Zoom to communicate but gather for in-person events. If you are a daytime club, consider an evening group. Look at changing your meeting times to accommodate new members.
Make belonging to your club fun while still working hard to make a better community for your neighbors, as well as yourselves. Stay in the game! Take the swing and enjoy a home run for the win.
UNICEF's New Funding Strategy, J.I.M.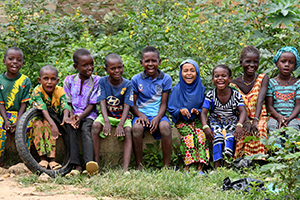 The challenges facing children have never been more complex. An estimated 365 million children live in extreme poverty. To continue to meet the growing needs of children around the world, GFWC Affiliate Organization UNICEF USA launched the Joint Investment Mechanism (JIM), a new funding strategy. By offering its support to the JIM, GFWC is pioneering a path for others to join as well. The JIM was established by UNICEF and the Bill & Melinda Gates Foundation to work hand in hand with governments to make significantly accelerated progress toward achieving the organization's goals, with the first phase set up to run through 2025 in Burkina Faso, the Democratic Republic of the Congo, and Kenya.  The JIM aims to achieve the following goals:
End preventable maternal and child deaths;
Accelerate gains on maternal and childhood nutrition;
Increase cognitive development outcomes; and
Improve adolescent health and well-being.
Through GFWC's support, UNICEF will be able to build more resilient systems across these goal areas, helping countries be better prepared for future shocks and emergencies.Affiliate Workshop!

Join UNICEF USA at GFWC's upcoming Annual Convention in New Orleans, Louisiana, to hear more about how you can get involved and make a difference at their

Johns Hopkins Webinar June 14 

Johns Hopkins Medicine is offering a webinar at 7:00 p.m. ET on Tuesday, June 14. Join Dr. Cornelia Liu Trimble to learn about the basics of Human papillomavirus infections (HPV), as well as new, emerging strategies to treat early signs that may signal HPV cancers. Visit the Johns Hopkins website to register for this event.

GFWC Marketplace: Official GFWC Flag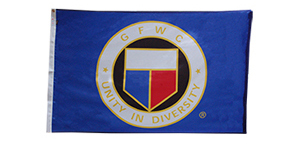 The vivid 3-foot x 5-foot Official GFWC flag proudly displays the GFWC emblem. The nylon material is a strong fabric made to resist weathering and retain structural integrity. Display your flag during club meetings, town and city parades, and other events to spread the word about GFWC volunteers in your area. Order yours today.
For information on mail service in your area, visit the USPS Service Alerts page. To speed up processing of your order, we request that you pay for your order at time of purchase in the Member Portal.
GFWC
www.GFWC.org