March 10, 2022
View our Important Dates page for upcoming events and milestones.
GFWC Pays Tribute to Fallen Service Members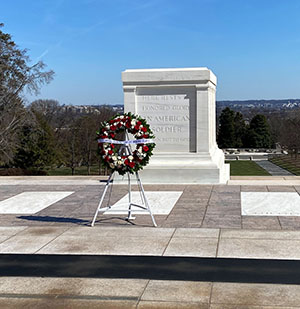 On March 4, the GFWC Executive Committee and Staff assembled at the Tomb of the Unknown Soldier in Arlington National Cemetery to honor and pay tribute to fallen members of the military. The wreath-laying ceremony offered an opportunity to show respect for the sacrifices of United States' service members and veterans by placing a wreath adorned with the General Federation of Women's Clubs name at the tomb.
In addition to the ceremony, Executive Committee members toured Arlington National Cemetery and visited the mausoleum of GFWC Headquarters' third owner, General Nelson A. Miles (1839-1925). Steeped in history, the cemetery is a tribute to all those who have served our nation.
Visit the photo album or enjoy the video of the moving wreath-laying ceremony.
If you would like to download the individual images, click on the arrow in the lower right corner of each photo. To download the entire folder, click the "Download All" arrow in the lower right corner of the photo at the top of the screen. You will be prompted to enter your email address, which you will need to verify by clicking on a link when receiving an email. After doing so, you will receive a second email with an option to download the entire photo album.
Donate to GFWC's Service Project With USO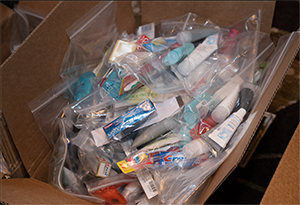 Help GFWC ensure that U.S. troops don't feel forgotten while they're away from home by donating to the service project on June 24 in New Orleans. At the 2022 GFWC Annual Convention, GFWC is teaming up with USO for an amazing, hands-on service project that supports the USO Care Package Program.
Onsite in New Orleans, GFWC will need volunteers to assemble 1,000 toiletry care packages. But right now, funding is needed for GFWC to purchase specific, travel-sized hygiene packages:
$15.00 (One Package)
$45.00 (Three Package)
$75.00 (Five Package)
Donate when you register for Convention by the April 30 Early Bird deadline, or outside of the registration process through the Member Portal's donation page. You can also indicate alternative dollar amounts above $25 and donate on behalf of yourself or your club.
View the Call to Convention for more information about Convention and other events.
Cares & Concerns 
It is with great sadness that we announce the passing of Wendy Bowler, GFWC Maine President Elect, on March 4. Wendy was a dedicated clubwoman for many years.
Volunteers in Action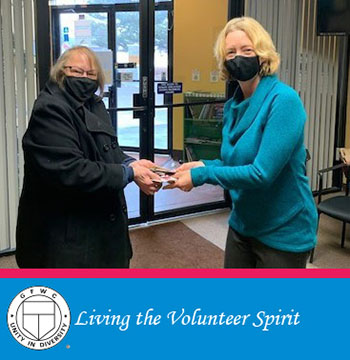 This week's GFWC Blog features GFWC Colorado and GFWC Woman's Club of Crestview (Florida). Read how clubwomen raised more than $3,500 to help families who lost their home to a large grass fire and provided school supplies, hygiene products, and hot meals to people experiencing homelessness in their community.
In recognition of Federation Day on April 24, GFWC is celebrating the long history of clubwomen working tirelessly within their communities to make the world a better place. Through these efforts, GFWC clubs often form long-term partnerships with various local organizations. If your club has been working with a local charity or nonprofit for years, send your success stories to PR@GFWC.org to be considered for a special GFWC Blog series.
Organize a Low-Cost Youth Art Contest
By Angela Cutrera, GFWC Arts and Culture Chairman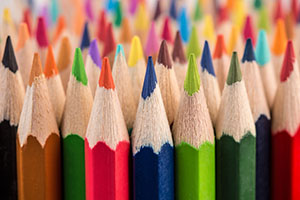 Color pencils are a popular media of art, thanks to companies such as Crayola and Prismacolor. Crayola is commonly used by school children and has potential to be used in more advanced capacities. Prismacolor is a high-quality, wax-based color pencil that is most commonly used in the professional art community.
Both brands have worked extensively to build awareness among children about all of the possibilities that a colored pencil can offer, which your club could build upon when organizing its Youth Art Contest.
Consider promoting how colored pencils are used to add layers onto paper. This allows the artist to create highlights, shades, and hues of many different kinds. Using a variety of pressure can greatly affect how much pigment and wax is being put onto the paper. Since colored pencils are generally inexpensive, they offer a practical and simple contest option.
Another low-cost option for a Youth Arts Contest is to judge watercolor painting. Watercolors are easy to use and are readily available. Mixing paints with a different amount of water can produce different results in pigment and thickness. Watercolor paintings should be judged by age group so that every child has the opportunity to do their best in the contest.
I look forward to reading about your Youth Art Contest projects on the GFWC Blog. Submit your success story write ups, action-packed photos, and if applicable, written consent from a parent or legal guardian of any children pictured to PR@GFWC.org.
Women's History Month: A Quest for Knowledge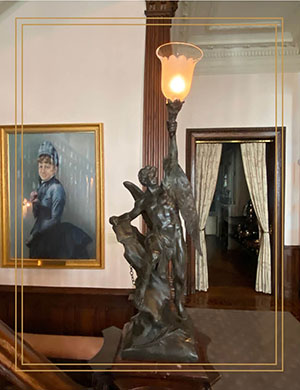 Much of the art featured throughout GFWC Headquarters is representative of the clubwomen who have resided in the home for almost 100 years in one way or another. This holds true for Emile-Louis Picault's bronzed statue Le Génie Humain, ca. 1900, which is positioned mid-way up the grand staircase on the second floor landing of the formal rooms of 1734 N Street NW.  The Art Nouveau statue allegorizes the human quest for knowledge. Le Génie Humain shows a winged man with one arm outstretched. His hand rests on a manuscript. The Latin words "Ad Ignotum," or "Toward the Unknown," are inscribed on the manuscript. It seems fitting that the angel perched in the majestic hallway would be laden with knowledge, looking up toward the light, symbolic of the clubwomen whom it guides.
Don't miss next week's News & Notes on March 17 for a recap of the 2022 GFWC Women's History Month Event on March 9 with guest speaker Stephen Hansen, historian and author of A History of Dupont Circle: Center of High Society in the Capital, which chronicles the neighborhood of GFWC Headquarters.
Don't Miss: GFWC Affiliate Organization Webinar Series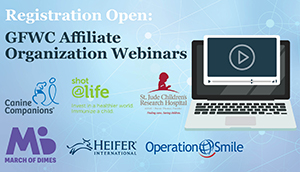 There's still time to register to attend the GFWC Affiliate Organization webinar series, featuring six organizations: Canine Companions, Heifer International, March of Dimes, Operation Smile, Shot@Life, and St. Jude Children's Research Hospital.
Webinars Schedule
The following webinars will be presented live on Zoom by organizations that we work with side-by-side to improve our communities, with time for Q&A.
March of Dimes: Tuesday, March 15 at 2:00 p.m. to 3:00 p.m. ET
Shot@Life: Tuesday, March 15 at 4:00 p.m. to 5:00 p.m. ET
For a listing of webinars and event descriptions, visit Events in the GFWC Member Portal. After selecting the webinar that you wish to attend, click on the blue Zoom registration link within the body text. After completing your registration, you will receive email confirmation that you are registered.
Please note that when you select the webinar in the Member Portal, a blue box on the right side of the page will say "Closed." However, this does not mean you cannot register; follow the above steps with the provided Zoom link.
For ongoing webinar updates, follow News & Notes and visit the Important Dates Calendar on the GFWC website.
Spring Forward with STEM Projects
By Tina Neese, Education and Libraries Chairman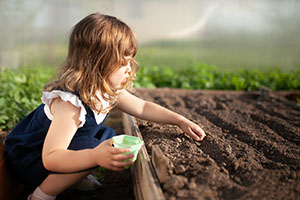 Spring is an excellent time of year to explore various STEM activities with students, particularly for those with disabilities. Explore plant activities, weather experiments, light, and bugs. It is the perfect time to take STEM outside with nature activities!
Plant activities can include planting and watching flowers and vegetables grow. Make a greenhouse or a mini ecosystem, or do a color-changing flower experiment. For students with disabilities, these hands-on activities are perfect to demonstrate agriculture and horticulture. Invite a farmer, master gardener, or florist to be a part of a Spring STEM day event.
Weather-related activities could be making a cloud or tornado form in a jar. Ask your local meteorologist to be a part of your special spring event and partner with local FEMA agencies.
Try working with local scout troops on outdoor activities—constructing a solar oven, making a kite, or building an insect hotel. Many of these activities would fit with their merit badge or journey award requirements as well.
Share photos with PR@GFWC.org of your club taking STEM outside, along with a brief write up. The GFWC Blog is an excellent place to share your success story.
Reach Out for New Members
By Jen Nowak, Membership Committee Member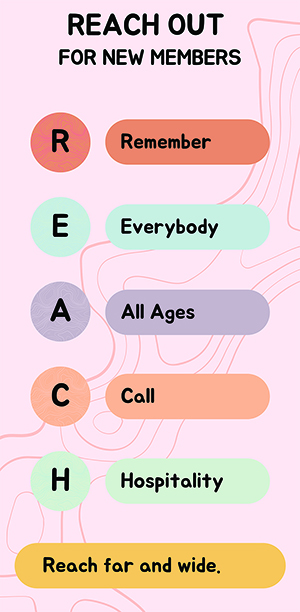 Now is the time to aggressively reach out to find new members. Is your club's membership brochure updated? Are your members prepared with an elevator speech?
Try these ideas:
R. Remember to reconnect with previous contacts—school parent groups, sports teams, and scout troop parents.
E. Everybody in your community is a possible club member. Drop off brochures to churches, boutiques, libraries, and municipal buildings.
A. All ages should be asked. Recruit young moms, empty nesters, and retirees at yoga class and walking groups.
C. Call on all your club members to assist; this group effort can be successful.
H. Hospitality is the key. Make prospective members feel welcome and give them a reason to want to join by promoting your club's awesome projects.
Reach far and wide. The possibilities are endless!
South Central Region: Cathie Ryan, President
There are many conditions with fewer than 200,000 sufferers, sometimes referred to as "orphan diseases." As a result of their rarity, these diseases and disorders don't always have the large base for fundraising and lobbying as conditions such as breast cancer and heart disease. While research and funding is important for all diseases, GFWC South Central Region President Cathie Ryan chose to focus her Administration on raising awareness for these rare conditions that do not receive as much widespread attention. Cathie was inspired to choose this as her focus mainly by her great-grandson, who was born with PKU (Phenylketonuria), a rare disorder that causes an amino acid to build up in the body. Children with this condition are unable to process protein and require a very strict diet and an expensive formula throughout their lives to facilitate healthy brain development.
In 2020, Cathie introduced clubwomen throughout the Region to the National Organization for Rare Disorders (NORD) through a video presentation. This nonprofit patient advocacy organization works to identify, treat, and cure rare diseases and disorders through education, advocacy, research, and patient services. Lobbying for insurance companies to pay for the special formula needed by PKU patients is one example of the type of activity NORD is able to perform. Cathie encouraged clubwomen to learn about NORD and various rare diseases and to share this information with others to raise awareness and financial support.
Although the COVID-19 pandemic presented challenges in developing club projects and the South Central Region was unable to host an in-person conference in 2021 due to Hurricane Ida, Cathie hopes clubwomen will continue to spread information about NORD and other similar organization and offer their help to those who may not receive the support they need.
State Director of Junior Club's Project: Shelli Pue, South Carolina 
Junior Club members of South Carolina have always taken great pride in advocating on behalf of youth and doing their best to provide the resources they need for healthy and successful development. Throughout this Administration, clubwomen have continued to fulfill that mission by supporting GFWC South Carolina Junior Director Shelli Pue's special project, Be-YOU-tiful.
After experiencing a near-death car accident that resulted in the diagnosis of scoliosis and the amputation of her pinky finger, among other issues, teenage life as Shelli knew it was never the same. Due to this experience and the resulting challenges, Shelli had to develop the ability to overcome severe insecurities and low self-esteem while learning to love herself. This idea of embracing personal value and self-confidence was the driving force and inspiration for Shelli's special project.
The Be-YOU-tiful initiative was designed to provide youth with the tools they need to understand that their value and beauty lie within them. In a time with so much cyberbullying, it has been Shelli's goal to help educate young people about the importance of recognizing the unique value and beauty of every individual, and empower them to live by these principles. She encouraged clubwomen to address these issues in their communities through projects that would help children and teens develop a greater sense of respect for themselves. By helping young people feel better about themselves, the aim of this initiative was in part to lower the risk for domestic violence and suicide in early life.
Clubwomen developed projects and activities centered on inner beauty, including learning to incorporate self-care habits into their routines, focusing on healthy skin instead of makeup, authenticity, growth, development, being active and healthy, and more.
GFWC Marketplace: Living the Volunteer Spirit Sticky Notes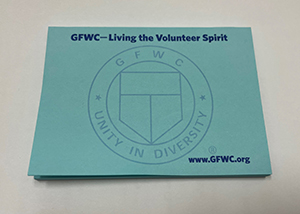 The Living the Volunteer Spirit Sticky Notes are a must-have for every busy GFWC clubwoman. These sticky notes are available in light blue with the white GFWC emblem watermark and feature the GFWC Living the Volunteer Spirit tagline. Each pack contains 50 sheets of 3×4 inch wide sticky notes. Order yours today.
There could be some mail service delays throughout the pandemic. To speed up processing of your order, we request that you pay for your order at time of purchase in the Member Portal. For information on mail service in your area, visit the USPS Service Alerts page.
GFWC
www.GFWC.org