March 11, 2021
View our Important Dates page for upcoming events and milestones.

President's Pick 
By Marian St.Clair, International President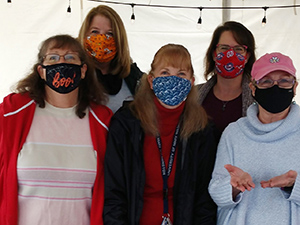 The GFWC Blog is an amazing resource for club ideas that are custom-made for success. The many meaningful and creative projects highlighted never fail to amaze me. When I was reviewing the February posts, however, I was searching for a little something more…a program or event that tugged on my heartstrings and epitomized the sensitivity and tenderness we show others on Valentine's Day.
To be honest, there were many projects that fit the bill. GFWC overflows with kind-hearted and compassionate members. The project that ultimately won me over was the Drive-up, Drop-off, and Drop-in Social hosted by the GFWC Woman's Club of Fairfax (Virginia), to benefit their Foster Care Program. This club event deserves a triple crown for a successful three-in-one project.
During the Social, members donated comfort and personal care items to create 24 "Comfort Cases" for youth entering foster care, supplies for making 15 birthday kits—including a birthday gift—to help foster children feel valued on their special day, and provided 135 Valentine's Day cards for those in foster care or child protective services, as well as college students who recently aged out of the foster care system through Foster Care to Success.
Nurturing children into healthy, happy, and productive adults is a long-standing and key component of GFWC's work, which threads throughout our Special and Community Service Programs, and even into our Advancement Plans. Certainly, there are few needs that merit our attention more than children who are navigating life without the care and support they deserve. Congratulations to President Kim Luckabaugh and the club's many dedicated members for their commitment to stay connected and, most importantly, to continue to serve their community. Well done!
Women's History Month: Women in Naval History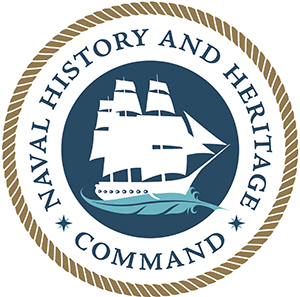 Women serving in the military may seem commonplace today, but it was only decades ago that women were first able to join alongside men. However, in this comparatively short amount of time, many strong women have ascended the ranks and left an incredible legacy for young girls to look up to now and in the future. As GFWC continues to celebrate Women's History Month, we are thrilled to recognize several impactful women in naval history.
In 1942, Lieutenant Harriet Ida Pickens and Ensign Frances Wills were commissioned as the first African American WAVES (Women Accepted for Volunteer Emergency Service) officers. They were members of the final graduating class of the Naval Reserve Midshipmen's School at Northampton, Massachusetts.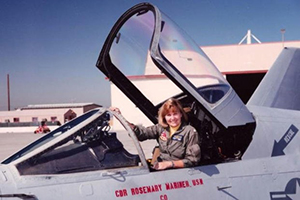 Captain Rosemary B. Mariner was the first woman to command an operational naval aviation squadron in 1973. She led VAQ-34 during Operation Desert Storm and retired as a captain in 1997 after 24 years of service. Captain Mariner logged 17 landings on aircraft carriers and more than 3,500 flight hours in 15 different aircraft.
Lieutenant Barbara Allen Rainey became the first woman to be an aviator in the U.S. Navy, earning her wings on February 22, 1974. She attained the rank of lieutenant commander. She was killed in an aircraft crash in 1982.
Rear Admiral Louise C. Wilmot became the first woman to command a naval base in 1993. As the naval base commander, Rear Admiral Wilmot was responsible for all naval stations and facilities in the Philadelphia area.
In 1998, Lillian Elaine Fishburne was the first African American woman to hold the rank of rear admiral in the U.S. Navy. She was appointed to the rank of rear admiral by President Bill Clinton and was officially promoted on February 1, 1998.
Captain Vernice Armour earned her wings in 2001. The Department of Defense acknowledged her as the first African American woman to serve as a combat pilot in the military during Operation Iraqi Freedom.
In 2006, Angela Salina became the first Hispanic woman brigadier general in the U.S. Marine Corps.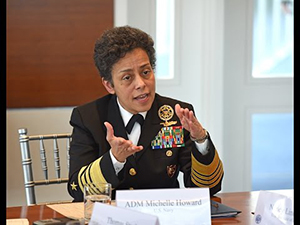 Upon being sworn in as vice chief of naval operations in 2014, Michelle Howard became the highest ranking woman in U.S. military history and the highest ranking African American woman in navy history. She also became the first female four-star admiral to command operational forces, when she assumed command of U.S. Naval Forces Europe and Naval Forces Africa.
Volunteers in Action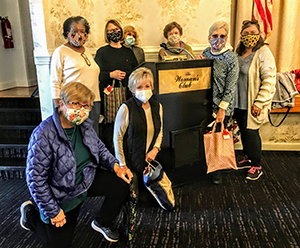 This week's GFWC Blog features GFWC Woman's Club of Raleigh (North Carolina), GFWC Battle Ground (Washington), GFWC Brunswick Woman's Club (Georgia), and GFWC Lexington Woman's Club (South Carolina). Read about how clubwomen made more than 100 hand sewn bags filled with art supplies for children and families experiencing homelessness, donated clothing to a community nonprofit dedicated to helping families in need, helped spruce up a shelter for survivors of domestic violence, and made more than 300 Valentine's Day cards for first responders.
Do you have a success story to tell? Email PR@GFWC.org to be considered for GFWC's Blog.
Get the COVID-19 Vaccine for the Safety of Yourself and Others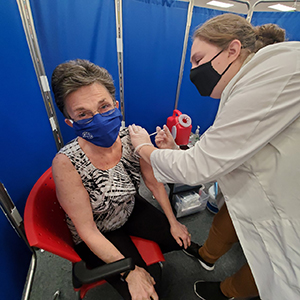 2016-2018 International Past President and 2020-2022 Resolutions Chairman Sheila E. Shea gets vaccinated.
As public places and businesses open in different capacities, GFWC is excited to start getting back to some normal, while continuing to be as safe as possible. Although the COVID-19 vaccine is not currently available to all demographics, we encourage everyone who is able to get vaccinated to do so for the safety of themselves and others. Especially when you make travel arrangements for the 2021 GFWC Annual Convention in Atlanta, Georgia, your health and safety is important to everyone at GFWC.
If you are making plans to receive the vaccine, it is important to note that doctors suggest waiting at least four to six weeks after the final dose to schedule a mammogram appointment, as the vaccine has been seen to cause some swelling in lymph nodes.
To learn more about the COVID-19 vaccinations available, visit the Centers for Disease Control and Prevention's website.
Affiliate Organization Webinars Continue with Heifer International
Follow News & Notes and monitor the Important Dates Calendar at www.GFWC.org for updates regarding the Webinar Series.
The fifth Affiliate Organization Webinar will be Heifer International: Ending Hunger and Poverty While Caring at 4:00 p.m. EDT on Wednesday, March 17. Heifer International is a global nonprofit working to eradicate poverty and hunger through sustainable, value-based holistic community development.
These webinars are presented live and will include time for Q&A. To register by the March 15 noon EDT deadline, visit Events in the GFWC Member Portal. For ongoing webinar updates, visit the Important Dates Calendar on the GFWC website.
March of Dimes to Host Volunteer Engagement Events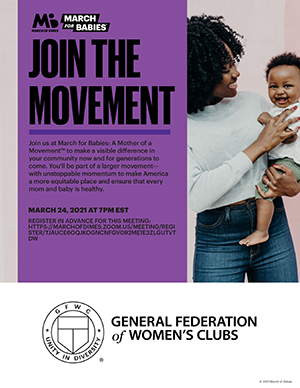 With a shared commitment to volunteerism and serving our communities, GFWC members have long supported GFWC Affiliate Organization March of Dimes, and as parents, grandparents, aunts, and cousins, the mission of healthy babies resonates with all members. We encourage you to take advantage of these upcoming opportunities to learn more about this iconic organization and how to get involved or further engaged.
The first event, March of Dimes/GFWC Affiliates Meeting, will take place at 4:00 p.m. EST on Wednesday, March 24. During this event, members will learn about the many ways to engage with the March of Dimes mission to fight for the health of all moms and babies. Whether you are interested in the 2021 Blanket Challenge, Blanket Change (our advocacy initiative) fundraising through March for Babies, or our DIY events, join March of Dimes representatives for a fun and engaging hour! Everyone can support this mission. Members can register for this meeting by the March 22 noon EST deadline  on the GFWC Member Portal.
The second event, March for Babies: A Mother of a Movement Kick Off Event, is scheduled shortly after the first event at 7:00 p.m. EST on Wednesday March 24. Participants will learn more about the March of Dimes mission and how to participate with friends and family in this annual fundraising campaign, even in a virtual environment! Members can register early for this event with March of Dimes. After registering, you will receive a confirmation email containing information about joining the meeting.
If you have questions, please reach out to March of Dimes interim liaison Meredith Repik or call 843-614-3355.
Mississippi Valley Region: Sabra Clarke, President
GFWC Mississippi Valley Region (MVR) President Sabra Clarke always wondered how she would put together a "plan B" until she desperately needed one for the MVR Conference when she learned that the annual convention would not be happening in person. Instead, everyone jumped on the bandwagon, and it became a remote conference on September 19, 2020. Sabra offered many thanks to all who helped with this endeavor.
Sabra chose Working Together in Love as her theme for the 2020-2022 Administration. If everyone works together, so much can be accomplished by each club and member in the MVR. The Starfish Project was Sabra's focus, which helps exploited women and girls who escape human trafficking experience freedom, establish independence, and develop careers. Human trafficking is a focus of the current Administration's Signature Program: Domestic and Sexual Violence Awareness and Prevention.
In order to raise money, a program was designed to purchase virtual roses. A red rose costs $5.00, a yellow rose costs $3.00, and white roses cost $1.00. Members can purchase a rose by contacting their club president. Club presidents can then collect the money and forward it to their State President, who can send any funds to Karen Martinek, MVR Secretary/Treasurer, at 2267 Sugar Bottom Road, Solon, IA  52333. Please put the name of the person ordering the rose or roses on the list going to Karen Martinek, and Sabra will send a personal note to the buyer.
Although it was a challenge holding the conference remotely, everyone was terrific and seemed to enjoy the experience. MVR officers are looking forward to the day everyone can meet together in person and "Work Together in Love."
State President's Project: Rita Hollada, Delaware

GFWC Delaware State President Rita Hollada chose two special projects for the Delaware State Federation: Gardens and Greenery and Financial Literacy.
Gardens can serve many purposes. They are a thing of beauty and relaxation. They can be a source of food for humans, animals, and birds. They can be a teaching tool for young people, and they can become a community asset and a place of gathering and fellowship.
Due to COIVD-19 restrictions and the curtailment of group activities, individual projects are encouraged. Recently, a long-time member of a Delaware club passed away and her family suggested planting a perennial in her honor rather than sending memorial flowers. This has grown to a statewide suggestion that club members plant flowers or trees as memorials to those who pass away.
The goal of Gardens and Greenery is to provide recreation and beauty while improving the environment. A garden can be a window box, a pocket garden on a city corner, or a large town playground and park. Regardless of the size, all who pass by will be impacted.
The second project, Financial Literacy, is aimed at all ages. Elementary students will be introduced to financial concepts such as earning money, saving, budgeting, and smart spending.  Middle and high school students will explore the effects of compound interest, credit, and borrowing. The major target group is GFWC members, though, as we explore what every woman should know about her finances.
Several publications have been acquired for distribution in this education effort and virtual financial literacy seminars are being conducted and posted to YouTube for viewing on demand. The goal is that all who participate will have a better understanding of financial matters, be able to identify assets and debts, and create a sound financial plan for their future.
Club Anniversaries & Gold Pin Recipients
Anniversaries
60th
GFWC Branchburg Woman's Club (New Jersey)
GFWC Paradise Valley Woman's Club (Arizona)
75th
GFWC Woman's Club of Brick Township (New Jersey)
95th
GFWC Woman's Club of Abescon (New Jersey)
GFWC Greater Brunswick Woman's Club (New Jersey)
GFWC Washington Woman's Club (New Jersey)
100th
GFWC Woman's Club of Haworth (New Jersey)
105th
GFWC Woman's Club of Matawan (New Jersey)
GFWC Woman's Club of Medford (New Jersey)
Gold Pin Recipients
Diane Ash
GFWC Woman's Club of Lacey (New Jersey)
Jamesia Beecroft
GFWC Woman's Club of Wheeling (West Virginia)
Harriet Bieri
GFWC Evart Woman's Club (Michigan)
Glenna Brashear
GFWC Gainesville Woman's Club (Florida)
Betty Briggs
GFWC Manistique Women's Club (Michigan)
Ann Brown
Iron Mountain/Kingsford Women's Club (Michigan)
Bette Brust
GFWC Frederick Woman's Civic Club, Inc. (Maryland)
Jean Curran
GFWC Manistique Women's Club (Michigan)
Margaret Elsbeck
GFWC Floral Park Women's Club (New York)
Clara Fiveash
GFWC Brunswick Woman's Club (Georgia)
Jeanne Gunderson
GFWC Manistique Women's Club (Michigan)
Delores Hansen
GFWC Edmore Woman's Club (Michigan)
Irene Hinkson
GFWC Manistique Women's Club (Michigan)
Arline Kiselewski
GFWC Palm Beach Gardens Woman's Club (Florida)
Linda Koontz
GFWC La Verne-San Dimas Woman's Club (California)
Carol Kovaks
GFWC Woman's League of Mount Holly (New Jersey)
June Lunde
GFWC Mohawk Valley Woman's Club (New York)
Joyce McKane
GFWC Frederick Woman's Civic Club, Inc. (Maryland)
Margaret Miller
GFWC Edmore Woman's Club (Michigan)
Carole Nevills
GFWC Edmore Woman's Club (Michigan)
Doris Ribblet
GFWC Manistique Women's Club (Michigan)
Loda Romanelli
GFWC Women's Club of Farmingdale (New York)
Lee Rosetti
GFWC Santa Clara Women's Club (California)
Fran Schuetz
GFWC Upper Allen Woman's Club (Pennsylvania)
Karen Schwartz
GFWC Peninsula Hills Woman's Club (California)
Sally Strasler
GFWC Manistique Women's Club (Michigan)
Muriel Whitman
GFWC Manistique Women's Club (Michigan)
Rosalie Wilson
GFWC Santa Clara Women's Club (California)
Jo Ellen Wright
GFWC Weirton Woman's Club (West Virginia)
Kathleen Fayas
Iron Mountain/Kingsford Women's Club (Michigan)
GFWC Marketplace: WHRC Heritage Pin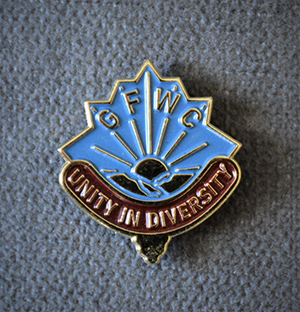 In 1892, the Committee on the Federation Badge Pin was created to design an image that would reflect the aim of GFWC. Appointees included GFWC's founder, Jane Cunningham Croly, and its first president, Charlotte Emerson Brown. The Committee chose the sun's rays and the color blue as elements to symbolize the Federation. The resulting pin, GFWC's original emblem, featured an image of the rising sun in a blue sky above snow-capped mountains with its rays illuminating "GFWC" in block lettering. An upturned, russet-colored banner displayed the motto, "Unity in Diversity."
The WHRC Heritage Pin offers a faithful facsimile of the original emblem on an updated lapel pin with a magnetic back. Proceeds from the Heritage Pin will be used to repair or replace the picture frames that display GFWC's historic collection of International Past President Portraits. Order yours today.
There have been reports of mail service delays in many communities throughout the United States. GFWC staff is processing Marketplace orders as quickly as possible, but Headquarters is still operating with limited staff onsite daily. In order to speed up processing of your order, we request that you pay for your order at time of purchase in the Member Portal. For details on mail service in your area, visit the USPS Service Alerts page. 
www.GFWC.org