March 12, 2020
View our Important Dates page for upcoming events and milestones.

A Fantastic Women's History Month Event 
On Thursday, March 5, GFWC celebrated Women's History Month with our annual Women's History Month Celebration.This year was an extra special occasion, as 2020 marks the 100th anniversary of the ratification of the 19th Amendment.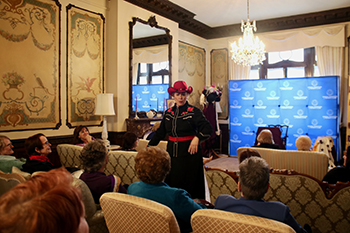 Kate Campbell Stevenson, a classically trained actress and musician, brought Headquarters to life with her one-women show, Amending America: How Women Won the Right to Vote through a rousing musical performance. Amending America introduced the stories of Abigail Adams, Rose Crabtree, and Alice Paul, and how they influenced the fight for women's suffrage. Kate's closing number celebrated "standing on the shoulder of giants," and paid homage to those who carved a path for the women of today.
Following Kate's routine, the Executive Committee, clubwomen, and members of the public mingled at a celebratory reception.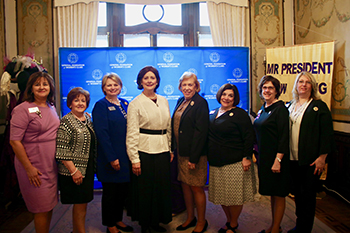 Looking for more information? There will a be a feature article in the Summer 2020 GFWC Clubwoman Magazine. If you're not a magazine subscriber, select "Education Add-Ons" under the Marketplace tab of the GFWC Member Portal to subscribe.
Tour Atlanta with Us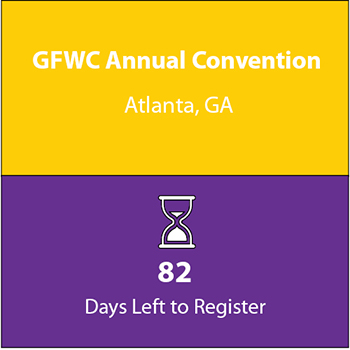 In Atlanta, GA an array of wonderful events and meetings will happen during the 2020 GFWC Annual Convention from June 27–July 1. Explore the "Hollywood of the South"  with your Federation sisters! Register for our Indoor Skydiving, Atlanta Close Up, or Southern Hospitality tours, and let us take care of everything while you experience all Atlanta has to offer.

While You're Making Travel Plans
Book your room at the Sheraton Atlanta Hotel. To secure a reservation, the hotel requires a one night's room and tax deposit. The deposit will be applied to your bill when you check out.
Join us in Atlanta and book your tours now when you register for Convention before spaces fill up! If you register for Convention by April 15, you'll secure the early bird discounted rate.
Cares & Concerns 
Please keep Dara Bergdoll, Special Assistant to the Director of Junior Clubs (2018-2020), in your thoughts as she starts her treatments to cure cancer.  
Volunteers in Action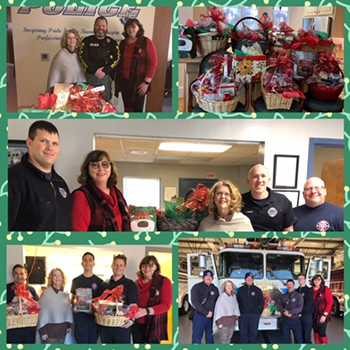 GFWC Hemet Woman's Club (California), GFWC Chapin Woman's Club (South Carolina), GFWC Women's Club of Ridgefield Park (NJ), and GFWC High Springs New Century Women's Club (Florida) are all featured on the GFWC Blog. Read and comment on their activities honoring the Women's Suffrage Movement, donating gift baskets to their community first responders, baking cookies for a local school dance, and conducting a fundraiser for a local school band.
Annual Shot@Life Champion Summit Recap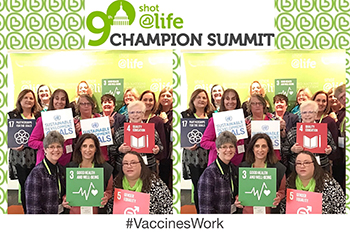 In case you missed it, last week Shot@Life held its 9th Annual Shot@Life Champion Summit in Washington, D.C. It was another record-breaking year, with more than 120 grassroots advocates and supporters from across the country joining Shot@Life for its annual three-day Summit. Champions heard from global health experts, Washington policy insiders, Shot@Life team members, and fellow champions!
Included in the amazing attendees were 14 GFWC clubwomen, covering numerous states and ranging from champions who are leaders in their states to five champions who were experiencing their very first Summit. Throughout the day on Capitol Hill, Shot@Life reached more than 155 offices, with GFWC members attending a total of 68 of those meetings with their respective groups! GFWC International President, Mary Ellen Brock, joined the team Tuesday night for dinner and conversation.
Please help continue their momentum by participating in Advocate2Vaccinate throughout April! This annual fundraising and advocacy push is open to champions and general supporters alike, and more information can be found at shotatlife.org/gfwc.
Time Running Out: Convention Program Ad Sales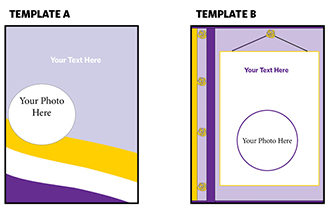 The March 27 deadline for placing an ad in the 2020 Convention Program is two weeks away! Don't miss this opportunity to share your love and appreciation for the clubwomen in your life. Whether they're doing a great job as leaders or they've been there for you through difficult times, a 2020 Convention Program ad is a chance to shine a spotlight on them! Design your own or select from one of two designs in three different sizes (full-page,half-page,or quarter-page).
Congratulations: Dr. Seuss Book Donations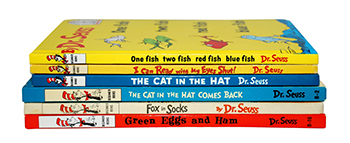 The 2020 observance of Dr. Seuss' birthday on March 2 was just as successful as in 2019—bringing this Administration close to the finish line for the 2018–2020 Dr. Seuss Grand Initiative. If your club would still like to work toward the goal of donating 55,000 books by June 30, consider what school or other place in your immediate community is most in need. Collecting and distributing books locally is how your club will make the most difference.Congratulations on surpassing the goal set for donations to schools and programs in DC!
Tree Tidbits to Inspire Your Arbor Day Observance 
Has your club started planning a tree-planting service project to celebrate Arbor Day (and Federation Day) on April 24? Here are two tree tidbits to help your club's participation in the Arbor Day Grand Initiative to take root:
1. United States forests absorb about 10 percent of the country's yearly CO2 emissions. A tree can absorb up to 48 pounds of carbon dioxide each year, sequestering one ton of carbon dioxide by the time it reaches 40 years old.
2. Did you know pine cones have gender? Male pine cones shed pollen and female pine cones make seeds. The wind blows the pollen from the male cones into the female cones and the seeds become pollenated.
Participate in the Arbor Day Grand Initiative on April 24 and leave your mark this Federation Day!
Championing an International Organization
by Mary Kaye Ernest, GFWC International Liaisons Chairman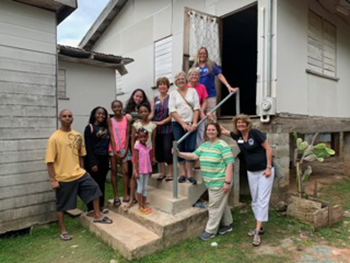 Why is it important that GFWC is an international organization and how do International Affiliates fit within the structure?
Being an international organization strengthens GFWC's voice and advocacy for women worldwide. No matter where in the world we live, an international viewpoint benefits all club members.Our International Affiliates connect the organization to areas of need in our world and show us a way that we can play a part in helping. Having international connections allows us to reach out to the International Affiliates in providing them with aid, manpower, and resources.
 
International Affiliates include: Aruba, Belize, Brazil, Canada, Cyprus, The Bahamas, Netherlands Antilles, Peru, The Philippines, Taiwan, Uganda, Ukraine, and Korea, which just rejoined the Federation.
The last week of February, a group of six GFWC members from the United States traveled to Belize for a service project. PathLight International, along with the four GFWC Belize Clubs, arranged for a service project within Belize City. The projects included providing clothing and dental health products for school children, as well as visiting the homes and schools of the Juniorette members.
These are just some of the reasons why it is important for International Affiliates to be a part of the GFWC organization.
Come join your GFWC Affiliates and learn about the countries they represent at the 2020 GFWC Annual Convention June 27–July 1!
Parliamentary Pointers: Nominating Committee
by GFWC Parliamentarian Deen J. Meloro
The usual (and best) way to create a nominating committee is to have it elected by the membership. There should be an odd number of members of the committee and the chairman is either chosen by the members of the committee once they have been elected or by the members voting. Your bylaws should have the procedure stated. A President can never be a member of the nominating committee.

Unless spelled out in the bylaws, there is no rule that says a nominating committee can only nominate one person per office. Although the usual procedure is to recommend one person per office, it is not always possible for the committee to come to that conclusion. No one should be nominated unless the member has agreed to be nominated.

Service on the committee does not preclude holding office. The Committee is free to nominate one, or more, of its members to any office. According to Robert's Rules of Order, Newly Revised, "Members of a nominating committee are not barred from becoming nominees for office themselves.To make such a requirement would mean, first, that service on the nominating committee carried a penalty by depriving its members one of their privileges, and second, that appointment or election to the nominating committee could be used to prevent a member from becoming a nominee."

The nominating committee should have an understanding of the bylaws and of the requirements for each office.

At the meeting designated by your bylaws, the President will ask for the report of the Nominating Committee. The Chairman will read each office and the nominee chosen by the committee. After that, the President will thank the committee for its work and then dismiss the committee. The purpose for which the committee was appointed has been fulfilled.
Marketplace: WHRC Collections Book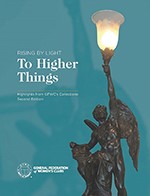 The WHRC Collections Book is the perfect way to brush up on your GFWC history this March before Women's History Month ends. Detailing over a century's worth of the organization's history, it's a recruitment tool that will have your guests wanting to be a part of that history. Get your copy for $15 in the GFWC Marketplace. 
Club Anniversaries and Gold Pin Recipients  
Anniversaries
50th
GFWC Renaissance Woman's Club (Tennessee)
65th
GFWC Town and Country Club (Colorado)

70th
Boyertown Junior Woman's Club (Pennsylvania)
GFWC WV Peterstown Woman's Club (West Virginia)

90th
GFWC Woman's Club of Grafton (West Virginia)
GFWC Sparta Woman's Club (Tennessee)
95th
GFWC Harrisville Woman's Club (West Virginia)
GFWC Woman's Club of Point Pleasant (West Virginia)
GFWC Weirton Woman's Club (West Virginia)
GFWC Williamstown Woman's Club (West Virginia)
100th
GFWC Tuesday Club of Moundsville (West Virginia)
105th
GFWC Progress Club of Las Cruces (New Mexico)
GFWC Woman's Club of Beckley (West Virginia)
110th
GFWC WV Woman's Club of Clarksburg (West Virginia)
115th
GFWC WV Alderson Woman's Club (West Virginia)
GFWC The Woman's Club of Huntington (West Virginia)
GFWC Parkersburg Woman's Club (West Virginia)
125th
The New Century Club of Westchester (Pennsylvania)
GFWC Colorado State Federation
Gold Pin Recipients
Betty Arnold
GFWC Woman's Club of Ste. Genevieve (Missouri)
Doris Stanley
GFWC- MFWC Present Day Club of Waynesboro (Mississippi)
Rosalyn Butcher
GFWC Worthington Woman's Club (Virginia)
Sandy Grahame
GFWC Woman's Club of Elkins (West Virginia)

Della Nazzaro
GFWC Woman's Club of Wheeling (West Virginia)

Pat Smith
GFWC The Woman's Club of Huntington (West Virginia)

Ruth Sturgill
GFWC WV Ronceverte Woman's Club (West Virginia)

Eugenia Thomas
GFWC WV Peterstown Woman's Club (West Virginia)

Beverly Wellman
GFWC Bluewell Woman's Club (West Virginia)

Elizabeth Schirmer
Woman's Club of Perkasie (Pennsylvania)

Lillian Kusaka, Gerry St. Marie
Sweetwater Woman's Club (California)

Sharlene Glock
GFWC Progress Club of Las Cruces (New Mexico)

Celia Gioffre
American Women's Literary Club (Tennessee) 
Looking to Print?

Visit the version on www.gfwc.org and then click the magenta printer icon in the utility panel on the right side.
Unsubscribe from
News & Notes
Don't want to receive News & Notes any longer? Log in to your person profile on the GFWC Member Portal and uncheck "News & Notes" in the list of message types that you are currently receiving. 
GFWC
www.gfwc.org