March 16, 2023
View our Important Dates page for upcoming events and milestones.
2023 GFWC Annual Convention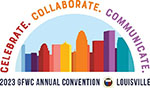 Register for the 2023 GFWC Annual Convention here.
Visit the official Convention website for information on workshops, accommodations, and convention documents.
The official event hotel is the Louisville Marriott Downtown. You can book your room here. To make your reservations via phone, call 800-266-9432 or 502-627-5045 (local).
Register Now! Custom Candle Making Workshop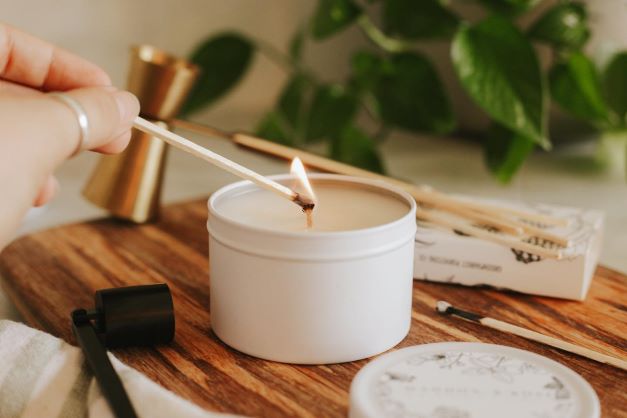 Relive the memories of convention every time you light this customized bourbon scented candle.  You can select a vessel, choose a custom scent, and pour your own candle to take home. Sign up for this workshop and others when you register for Convention. 
Convention Program Ads due March 30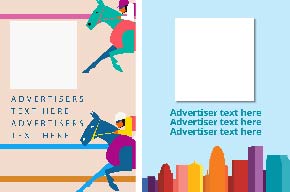 If you would like to place an ad in the 2023 Annual Convention Program please complete the form and send it back to Nishu Raina by March 30.
Register for the Gateway Webinar Series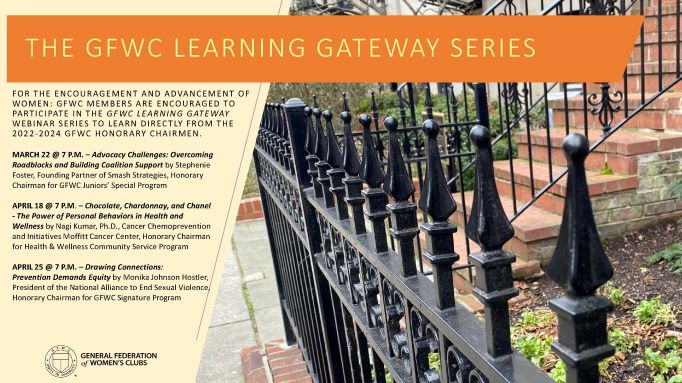 March 22 at 7:00 p.m.  –  Advocacy Challenges: Overcoming Roadblocks and Building Coalition SupportApril 18 at 7:00 p.m.  –   Chocolate, Chardonnay, and Chanel – The Power of Personal Behaviors in Health and WellnessApril 25 at 7:00 p.m.  –  Drawing Connections: Prevention Demands Equity

 

Cares & Concerns

GFWC extends its deepest condolences to Second Vice President Jolie Frankfurth on the passing of her father-in-law, John T Frankfurth (1928-2023). Notes of sympathy can be sent to 17529 Edinburgh Drive, Tampa, FL 33647, or emailed to JFrankfurth@GFWC.org.

Western States Region President's Project: "Volunteers Rain Love"

by: Sandi Conrady, GFWC Western States Region President

Western States Region (WSR) is the home of the Midnight Sun, Hollywood, gold mines, shipping ports and the U.S. border with the Pacific Ocean. It is amazing that WSR, the largest of GFWC's regions, reflects the diversity in the volunteer efforts of GFWC.

The theme for this administration is "Volunteers Rain Love."  We spread our love with gentle touches and even cloudbursts of care. These two years will feature two causes – ESO and Veterans.

A new chairmanship was added to WSR's board of directors, an ESO Chairman. The intent is to support self-development of our members at every level, from, from grassroots to our international executive committee. The program focuses on expanding the individual's reading habits to different genres. This grows the individual's knowledge through reading "out of the box" materials.

Veterans are very much present in our membership which was recognized at the last WSR Conference in Alaska. We are indebted  to all veterans for their service to us and our country.

Following the superb region conference in Alaska, the upcoming conference at a resort in Oregon promises to be another one not to miss!  

GFWC Massachusetts President's Project

by: T Jablanski, GFWC Massachusetts President

I have chosen mental health as my focus. My theme is "Know Your Worth."

If I am, in the words of the great song, "The Impossible Dream," by Frank Sinatra

To dream the impossible dream,

to fight the unbeatable foe,

to bear with unbearable sorrow,

to run where the brave dare not go.

Then that is my goal, not just for an administration but for a lifetime. To dream of a place where no one is denied mental health care.
I dream that no child would ever contemplate suicide.

I dream that every veteran who is struggling to understand their trauma and grief receives prompt and continuous support.

I dream that no student in any school would ever again be bullied, shunned, or ridiculed because they are "different." 

I dream that mental health support is the norm, not a privilege.

I dream that every senior citizen knows that they matter.

I dream that insurance companies could never deny someone  mental health care.
Without question or pause,
Into hell for a heavenly cause.
Is there a cause greater than one's mental health?  I have teamed up with our state National Alliance on Mental Health (NAMI) and have our clubs working with NAMI professionals to provide mental health training and support to our schools' faculty, students, and parents. 
And the world will be better for this,
That one (man) woman scorned and
covered with scars still strove with
(his) her last ounce of courage.
To fight the unbeatable foe.
To reach the unreachable star.
I dream that you know your worth
as an individual – one person, one clubwoman, does make a difference

as a club – our communities are blessed to have our volunteer talent

as a state and national member – our voices have and do make our world a better place to live

 
Zealous Giving: Soon You Can Zelle Us!
by: Ida Dorvee, GFWC Annual Giving Committee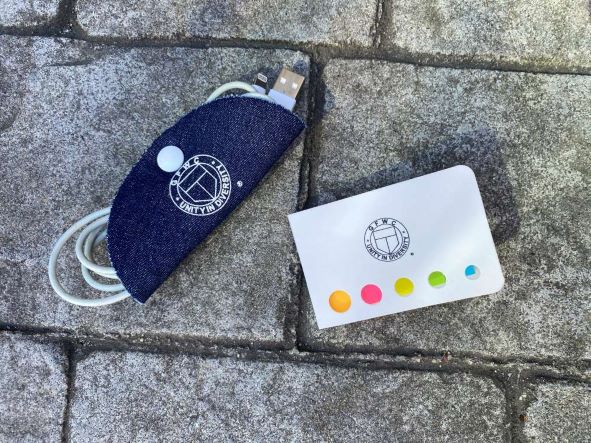 From the time GFWC launched its Annual Giving Program, our members have asked for an option that would allow them to make their donations electronically. After much research and consideration, GFWC has decided that Zelle is the best option for electronic donations. Zelle has several advantages over other electronic payment options. First, most members will not need to download a separate app or set up a separate account, as most banks allow their account holders to send money using Zelle through their banking website and app. For members whose banks are not using Zelle, you can download the Zelle app onto your mobile phone.  Neither the sender nor the recipient will incur fees when they use Zelle, as the payments come directly from your checking account. Finally, Zelle's memo field allows the sender to denote their reason for sending the money. This feature means that members will be able to designate where they want their annual giving donation directed — e.g., they can denote 1734 Society, WHRC, the GFWC Endowment, etc. More detailed instructions on  your Annual Giving donations through Zelle will be published in an upcoming  News and Notes. As a reminder, the third quarter ends on March 31, and members who give during this quarter will receive multi-colored post-it notes featuring the GFWC emblem. Our fourth quarter begins April 1, and members giving during this final quarter will receive a "taco" cord organizer for their electronic devices (see picture above). Those members that donate during all four quarters will receive recognition at Convention. So, get ready to give zealously and Zelle us! 

Standing Committees – The Heart of the Organization

by: GFWC Bylaws CommitteeThe article of the bylaws addressing committees should provide for establishing each required standing committee. Without such a section, committees are established by the society.  Each committee should have a separate section and include its name, composition, manner of selection, term of service, and duties.  No other standing committee can be established without amending the bylaws unless such a provision is included, usually in a separate section.  If a standing committee is to have authority to act for the society without specific instructions, or particular business is to be automatically referred to it, or if some other rule of parliamentary procedure is affected by its assigned function, such provision must be prescribed in the bylaws or a special rule of order.  When included, a section on the nominating committee is usually located in the article on officers, where nomination and election procedures are prescribed.    Those with a purpose that is "one and done" (i.e., hosting a district meeting or a celebration for a club anniversary) are called special committees and receive their own section or are in the section that also provides for any new standing committees.  When the president is empowered to appoint these special committees, she does so by the direction of the society or board.  If the president is allowed to appoint non-members to a committee without first submitting the name for approval, this section should contain that provision.  This section may provide for certain officers to be ex-officio members of specific committees, which gives the right, but not the duty, to participate in the work and votes of the committee.  No president should be an ex-officio member of the nominating committee or any disciplinary committees nor be allowed to appoint such committees. 

World Poetry Day is March 21

by: Donna Shibley, GFWC Writing Contest Chairman

Gearing up to celebrate poetry month in April, you can embrace poetry and poets around the globe for World Poetry Day.

UNESCO (United Nations Educational, Scientific and Cultural Organization) proclaimed March 21 as World Poetry Day in 1999, with the aim to "support linguistic diversity through poetic expression and to offer endangered languages the opportunity to be heard within their communities."

Learning to understand different people and cultures can give one a better understanding and provoke empathy to others.

Consider reading or re-reading these powerful iconic poems: 

• "Still I Rise" by Maya Angelou  • "If" by Rudyard Kipling • "Sonnet 18: Shall I compare thee to a summer's day?" by William Shakespeare • "Beauty XXV" by Khalil Gibran • "Life" by Charlotte Brontë

Poetry reveals that everywhere in the world individuals share the same issues and emotions. The power of poetry can spark the creative spirit of the human mind. 

Consider jotting down some ideas on a particular theme or topic and see where your own poetry writing takes you.  By experimenting, exploring, and examining your thoughts, you can discover your own writing excursion and enter next year's Writing Contest.

Volunteers In Action: Women's Club of Farmingdale (NY)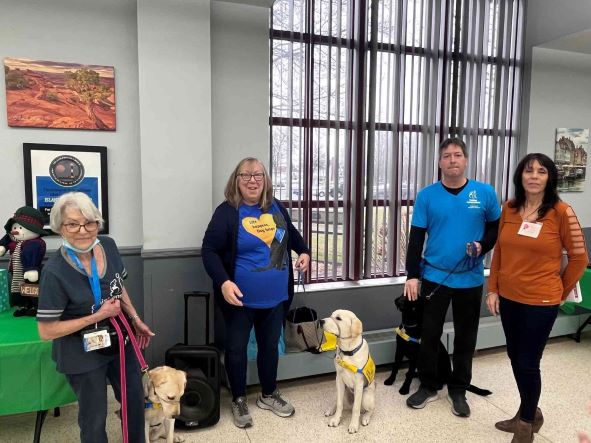 At the Women's Club of Farmingdale (NY) February Meeting, 2nd VP Lynda Leone scheduled a wonderful program by Canine Companions. Thank you to Linda Herskowitz, Craig Barbieri, and Ann Johnson and their beautiful "canine companions" that brought so much joy to the meeting. They shared so much valuable information including the fact that besides helping adults with physical disabilities or deafness, children with disabilities, veterans with physical disabilities, hearing loss, and PTSD, they also work in health care, criminal justice, and educational settings. They foster a nationwide community of dedicated volunteers, donors, advocates, and clients who believe in their mission. For more information, please visit www.canine.org.  Canine Companions is the featured Service Project at the 2023 Annual Convention. Sunday, June 11, from 4:30-5:30 p.m., attendees will be crafting no sew fleece blankets for service dogs in training.
Coming Next Week: NEWS & NOTES Update
Starting next week, Thursday, March 23, GFWC will be using a new email marketing system. This will allow us to provide engaging content each week with a design update. If you do not see News & Notes in your email inbox next week, make sure to check your spam folder. You can email PR@gfwc.org if you have problems. Thank you for your patience and understanding as we transition to this new format. 
GFWC
www.GFWC.org