March 18, 2021
View our Important Dates page for upcoming events and milestones.

Women's History Month: Recognizing Women in the Armed Forces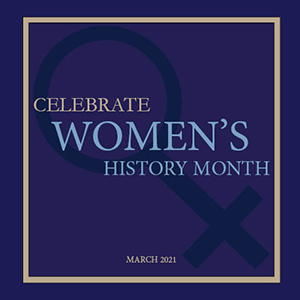 In honor of Women's History Month, we compiled a list of milestones that changed the course of history — milestones set by servicewomen who refused to accept the status quo and paved the way for the next generation of strong and independent women who dreamed of serving in the military. Although not a complete timeline of accomplishments, the following list highlights some of these incredible moments in history.
Pvt. Cathay Williams the first Black woman to enlist when she joined the U.S. Army under a male pseudonym, William Cathay, in 1866. Williams also was the only known female Buffalo Soldier, a cavalry regiment of the U.S. Army.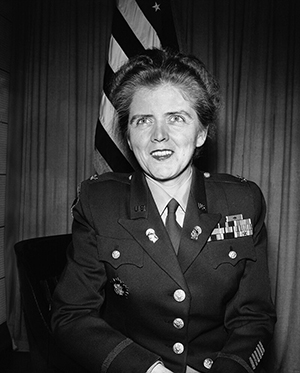 Col. Mary Hallaren became a member of the first training class of the Women's Auxiliary Army Corps (later, Women's Army Corps, or WAC) in 1942 before commanding the largest all-female unit to serve overseas.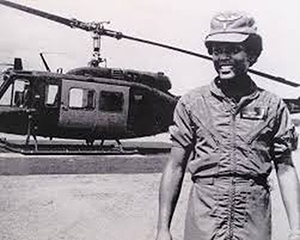 Marcella Hayes, who began her military career as an ROTC (Reserve Officers' Training Corps) cadet at the University of Wisconsin, also became the first Black woman pilot in the U.S. military in 1979.
Capt. Linda Bray was one of more than 700 women to participate in Operation Just Cause in Panama in 1989, as she led the 988th Military Police Company. There, she became the first woman to command U.S. soldiers in battle.
Retired U.S. Army Gen. Ann E. Dunwoody became the first woman to reach a four-star officer rank in the history of the U.S. military in 2008. Years before, in 1992, she became the first woman to command a battalion in the 82nd Airborne Division during the First Gulf War.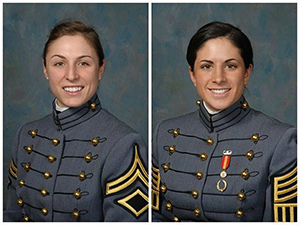 Capt. Kristen M. Griest and 1st Lt. Shaye L. Haver became the first two women to complete Army Ranger School and earn their Ranger tabs in 2015.
Air Force Gen. Lori Robinson took over as leader of U.S. Northern Command in 2016, becoming the first woman service member to lead a unified combatant command and thus the highest ranking woman in U.S. military history.
In every case, these were historic firsts for the armed services and a reminder that the military still has a long way to go before it is a truly integrated institution.
Join Us in Atlanta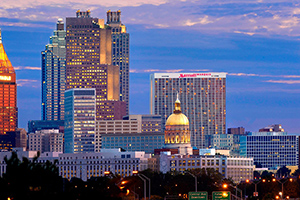 We are thrilled to invite you to join us in beautiful downtown Atlanta, Georgia, this August for the 2021 GFWC Annual Convention! The Convention will be held at the iconic 52-story Atlanta Marriott Marquis, where many exciting places to explore will be right at your fingertips. A few attractions near the hotel are Americas Mart and Children's Museum of Atlanta, Centennial Olympic Park, and the World of Coca Cola. Book now to reserve your chance to enjoy the all the hotel has to offer, including a luxury spa, indoor/outdoor pool, expansive gym, sports bar, and much more in the surrounding city.
GFWC's Group Rate is $129 (King or 2 Double) at the Atlanta Marriot Marquis. The room block closes at midnight EDT on Wednesday, August 4, and room reservations can be cancelled up to 24 hours before scheduled arrival. Please help GFWC deliver the best hotel experience by not holding multiple rooms under one name.
If you wish to make your reservation over the phone, call 1-888-236-2427. If problems arise, please contact Nishu Raina Kaul.
Registration for the 2021 GFWC Annual Convention opens on April 1. The online Call to Convention also will be posted on GFWC's website at this time for your review.
Volunteers in Action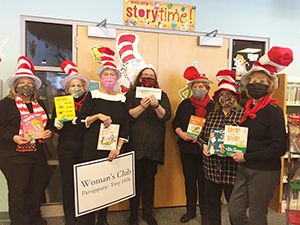 This week's GFWC Blog features GFWC Big Rapids, Inc. (Michigan), GFWC Lilburn Woman's Club (Georgia), GFWC Woman's Club of Parsippany-Troy (New Jersey), GFWC Madison Heights Women's Club (Michigan), GFWC Women's Club of South County (Rhode Island), GFWC Manchester Women's Club (Connecticut), and GFWC Wilbraham Junior Women's Club (Massachusetts). In recognition of March is Reading Month, clubwomen found various ways to help their communities foster a love of reading and learning.
Do you have a success story to tell? Email PR@GFWC.org to be considered for the blog.
Teach Children About Culture Through Reading
By Tina Daniel, GFWC Education and Libraries Chairman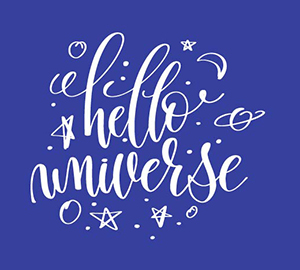 Reading and the love of reading to children are two things many of us may have in common. Literature and books can help children understand how to appreciate both similarities and differences in culture.
Below is a list of award-winning books about diversity that serve as an example of how love, loyalty, and a common spirit help bring people together. Choose one or two to donate to a local library, school library, free-lending library, or to read to a class:
Drawn Together by Minh Le
This picture book won an Asian/Pacific American Award for Literature. It is the tale of a young boy and his grandfather who do not speak the same language but learn how to communicate despite their differences.
The Faithful Friend by Robert D. San Souci
Winning the Caldecott Medal, this picture book is a tale of friendship. Two racially different characters do not let race impact their loyalty to each other.
Grandfather's Journey by Allen Say
This Caldecott Medal picture book explores one man's love of both his new country and his country of origin.
Hello, Universe by Erin Entrada Kelly
This Newberry Award book provides two different viewpoints of children from different neighborhoods and addresses bullying and diversity.
Last Stop on Market Street by Matt de la Peňa  
Winning both the Caldecott Medal and the Newberry Award, this book's art tells the tale of a bus ride and life's differences as seen through the eyes of a child.
Lovely by Jess Hong
This book illustrates how our differences make us special and won the Bank Street College of Education's Best Children's Book of the Year.
The Name Jar by Yangsook Choi
This is a wonderful addition to your bookshelf and one of my favorites! This book discusses how names make us different and won the Arkansas Diamond Book Master List Winner.
People by Peter Spier
This encyclopedia picture book highlights differences and similarities and won the Christopher Award for Books for Young People.
The Way to Start a Day by Byrd Baylor
This book encourages readers to practice greeting the sun and how others celebrate the dawning of a new day. It won the Caldecott Medal.
Time Is Running Out: Convention Program Ad Sales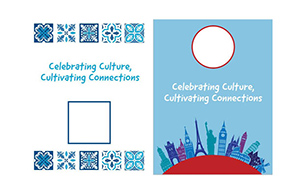 The April 2 deadline for placing an ad in the 2021 Convention Program is quickly approaching! Don't miss your chance to share your love and appreciation for the clubwomen in your life. Whether they're doing a great job as leaders or they've been there for you through difficult times, an ad is a chance to shine a spotlight on them! Design your own full-page, half-page, or quarter-page ad according to the specs on the order form. Or select from one of two template designs, available in either full-page or quarter-page sizes.
Orders and payment for Convention Program ads must be received by April 2 to guarantee space. If you plan to pay by check, we recommend placing your order early because there have been reports of mail service delays in many communities. For questions, please contact Publications & Project Manager Taylor Fussman.
Seeking 2021 Croly Award Applications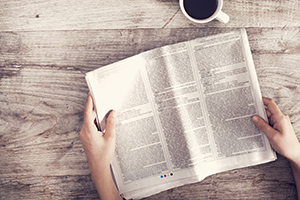 There's still time for journalists in your community to apply for the 2021 Croly Award! Encourage all journalists you know who have helped advance the rights of women to apply by April 30, 2021, and consider sharing the award information on Facebook. All journalists who contribute to newspapers, broadcast news programs (radio, television, and digital), magazines, or online publications, either on staff or in a freelance capacity, are welcome to apply. A deserving journalist could be working right next door!
Affiliate Organization Webinars Continue with Hugh O'Brian Youth Leadership and March of Dimes
Follow News & Notes and monitor the Important Dates Calendar at www.GFWC.org for updates regarding the Webinar Series.
Affiliate Organization Webinars will continue with Hugh O'Brian Youth Leadership (HOBY) at 3:00 p.m. EDT on Wednesday, March 24. HOBY is an organization dedicated to "training and nurturing the young leaders of tomorrow." Its mission is to provide lifelong leadership development opportunities that empower youth to achieve their highest potential and gain knowledge of leadership skills.
Following this, GFWC Affiliate Organization March of Dimes will host a webinar at 4:00 p.m. EDT on Wednesday, March 24. March of Dimes is a nonprofit organization that works to improve the health of mothers and babies.
These webinars are presented live and will include time for Q&A. To register by the March 22 noon EDT deadline for both events, visit Events in the GFWC Member Portal. For ongoing webinar updates, visit the Important Dates Calendar on the GFWC website.

Avis and Budget Spring Savings Program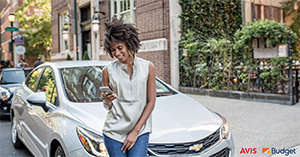 Are you planning to travel this spring? Make sure the experience is as safe and comfortable as possible with the help of a rental car from Avis or Budget. The Avis Safety Pledge and Budget Worry-Free Promise programs both follow the Centers for Disease Control and Prevention's guidelines related to COVID-19 and incorporate the latest products and processes to ensure your safety. GFWC members can enjoy up to 25 percent off base rates, while skipping the counter and paperwork at many locations and go straight to their car for faster pick-up and drop-off when using their complimentary membership in the Avis Preferred®  or Budget's Fastbreak Rewards Program.
You can also choose a "Pay Later" option when making a reservation, and you may cancel or modify your reservation any time without cost or worry.
When making a reservation with Avis, be sure to use your Avis Worldwide Discount number B155149. When booking with Budget, use your Budget Customer Discount number R584749.
GFWC Marketplace: WHRC Heritage Pin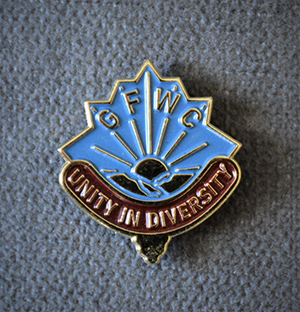 In 1892, the Committee on the Federation Badge Pin was created to design an image that would reflect the aim of GFWC. Appointees included GFWC's founder, Jane Cunningham Croly, and its first president, Charlotte Emerson Brown. The Committee chose the sun's rays and the color blue as elements to symbolize the Federation. The resulting pin, GFWC's original emblem, featured an image of the rising sun in a blue sky above snow-capped mountains with its rays illuminating "GFWC" in block lettering. An upturned, russet-colored banner displayed the motto, "Unity in Diversity."
The WHRC Heritage Pin offers a faithful facsimile of the original emblem on an updated lapel pin with a magnetic back. Proceeds from the Heritage Pin will be used to repair or replace the picture frames that display GFWC's historic collection of International Past President Portraits. Order yours today.
There have been reports of mail service delays in many communities throughout the United States. GFWC staff is processing Marketplace orders as quickly as possible, but Headquarters is still operating with limited staff onsite daily. In order to speed up processing of your order, we request that you pay for your order at time of purchase in the Member Portal. For details on mail service in your area, visit the USPS Service Alerts page.     
GFWC
www.GFWC.org