March 24, 2022
View our Important Dates page for upcoming events and milestones.
GFWC Announces Hope for Justice as New Affiliate Organization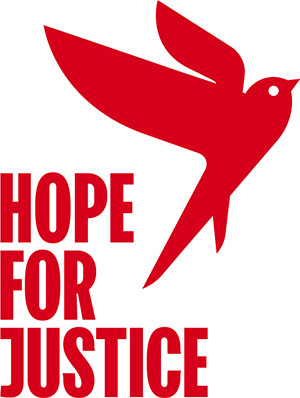 GFWC is excited to announce a new Affiliate Organization Hope for Justice, a global anti-trafficking charity. Founded in 2008 in the United Kingdom and headquartered in Nashville, Tennessee, Hope for Justice is now working in more than 30 locations across five continents to bring an end to modern day slavery and human trafficking by preventing exploitation, rescuing victims, restoring lives, and reforming society.
Hope for Justice is made up of world-class specialists with the skills and experience to help end human trafficking and provide trauma-informed care to survivors.
The activities involved in achieving each of Hope for Justice's goals include:
Preventing Exploitation – Empowering people to protect themselves and their families from predatory traffickers and their recruiters.
Rescuing Victims – Working closely with the police to identify victims of human trafficking, build bridges of trust with them, and remove them from exploitation and place them into safety.
Restoring Lives – Working with survivors to overcome trauma and rebuild their lives by providing support to meet vital needs, including survivor-centered aftercare.
Reforming Society – Training professionals to spot the signs of trafficking and to respond and advocate for policy change.
Human trafficking is a crime that involves exploiting a person for labor, services, or commercial sex. Survivors are unable to leave their situation of exploitation and are controlled by threats, punishment, violence, coercion, and deception. It is happening all around the world, with an estimated 24.9 million victims globally and 403,000 people affected right here in the United States.
Participate in Resolutions Discussions at Convention
By Sheila E. Shea, Resolutions Chairman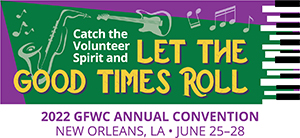 Planning and preparations are well underway for the 2022 GFWC Annual Convention to be held in New Orleans, Louisiana, June 25-28, and we hope you take advantage of the April 30 Early Bird Registration deadline to save on registration costs.
For those of you planning to attend, the GFWC Resolutions Committee would like you to be thoroughly prepared to fully participate in the review of new, consolidated, amended, and rescinded resolutions in the Civic Engagement and Outreach Community Service Program, the Juniors' Special Program: Advocates for Children, and Signature Program: Domestic and Sexual Violence Awareness and Prevention. Resolutions adopted by GFWC are the foundation of our organization. They guide our call to action and are the basis of all programming and advocacy. Resolutions are the heart and soul of the projects our clubs and members accomplish each and every day.
The 2020-2022 GFWC Resolutions Committee was charged in the 2020 Strategic Plan to "review the complete list of GFWC Resolutions…and recommend a restructure of the resolutions by broadening and combining the content to reduce the overall number." This year's report was the second half of the Resolutions Committee's task; the first half of the complete review of the resolutions was presented and acted upon at the 2021 GFWC Annual Convention in Atlanta.
The ultimate goal is to update, strengthen, and broaden the focus of the resolutions to provide the opportunity for greater participation in the advocacy work of our organization based upon current and updated language and direction. Some of our resolutions have been on the books for a very long time and some are very narrow in focus. The WHEREAS section of a resolution describes the "WHY" and the RESOLVED section describes the "HOW."
Some of the former resolutions were very specific and constantly changed, which dictated constant review and proposed amendments. The committee tried to broaden the focus of the "WHYs" of resolutions, and also consistently update and broaden the proposed "HOWs" or actions. The intent is to provide more up-to-date and streamlined resolutions that will provide our clubs with the ability to advocate for change in broad issue areas that our members support, allowing GFWC to support specific actions and legislation.
The first thing all attendees need to do is download a copy of the complete Resolutions section of the Call to Convention. These resolutions will be presented and considered during all scheduled Business Sessions as noted in the Convention Agenda, until the process is complete. We have a considerable amount of work ahead of us and your preparations ahead of time will certainly expedite the process.
The 2021 report and consideration went very well, and we have every reason to believe it will go just as well this year. Motion forms will be available from the Tellers at all Business Sessions for your use. If you are proposing changes to the recommendation(s), please make every effort to have a motion form completed ahead of time. Please pay particular attention to introductory information about the process for consideration of the resolutions during the report.
The GFWC Resolutions Committee looks forward to seeing you in New Orleans in June and hopes you come prepared for great dialogue. If you need further information or assistance, please do not hesitate to reach out to this Chairman.
Register now for a fun-filled and inspiring 2022 Annual Convention as we celebrate the great work and many successes of our members and clubs during the past year and the 2020-2022 Administration. Laissez le bon temps rouler!!!
Volunteers in Action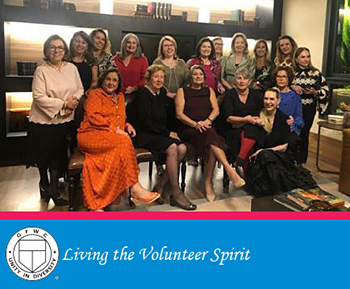 This week's GFWC Blog features the International Woman's Club of Porto Alegre, in Brazil, and the work they are doing to support their community. Read how clubwomen have spent more than a year participating in a project to provide substantial meals to people in need every day.
In recognition of Federation Day on April 24, GFWC is celebrating the long history of clubwomen working tirelessly within their communities to make the world a better place. Through these efforts, GFWC clubs often form long-term partnerships with various local organizations. If your club has been working with a local charity or nonprofit for years, send your success stories to PR@GFWC.org to be considered for a special GFWC Blog series.
GFWC Celebrates VAWA Reauthorization at the White House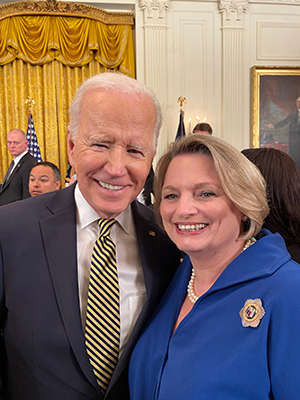 GFWC International President Marian St.Clair attended the White House event with President Joe Biden to commemorate the reauthorization of the Violence Against Women Act (VAWA). View our photo album.
GFWC and GFWC State Federations joined the National Task Force to End Sexual and Domestic Violence by signing a VAWA National Sign On Letter, signed by 740 local, state, tribal, national, and international organizations dedicated to ending domestic and  sexual violence, dating violence, and stalking. The GFWC Legislative Action Center, under the direction of the GFWC Legislation/Public Policy Committee, enabled GFWC members to contact their Members of Congress multiple times throughout the legislative process.
Participate in Our National Parks Survey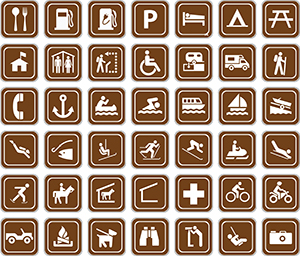 Seize every opportunity to enjoy nature…starting with preparing for National Parks Week (April 16-24) and helping GFWC decide on a top five, must-visit list.  will be there when you are ready to focus on them.  With more than 60 U.S. National Parks, each so unique, it has been difficult for GFWC to decide which five of the uniquely beautiful parks deserve a slot on our list. We've researched the geography, accessibility, remoteness, recreation, and amenities and have compiled a list of 12 finalists. Please select the park you feel is most deserving of winning in this survey by April 6. The five parks with the most votes will be featured in the 2022 Summer Clubwoman Magazine.

There are countless benefits to enjoying the great outdoors. Getting fresh air while staying fit gives you a healthy dose of Vitamin D that going to the gym cannot. The peacefulness of nature not only lowers your blood pressure but allows some distance from the daily grind. The ability to totally unplug, shutting off all devices, is a great way to prevent or mitigate anxiety and depression, and to let go of all stress and worries. Your emails, to-do lists, deadlines, and other obligations

April 1: Convention Program Ad Sales Deadline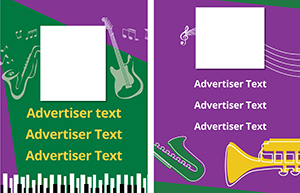 There's only a week left until the April 1 deadline for placing an ad in the 2022 Convention Program! Convention brings clubwomen together from across the country to celebrate all of the hard work they've put into their communities. That makes it the prime place to share your love and appreciation for the clubwomen in your life. Purchasing an ad in the 2022 Convention Program, which every attendee receives, is an opportunity to be loud and proud about your club or Federation sisters. Whether they're doing a great job as leaders in this Administration or they've been there for you through difficult times, shine a spotlight on them!April 1. Check out our Convention Program ad form to see your options. Submit your form to Publications and Project Manager Taylor Fussman.

Orders and payment must be received by

Explore Charcoals and Pastel Options in High Schools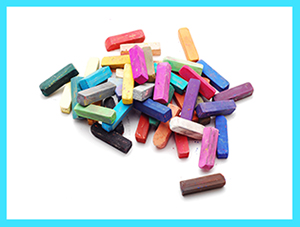 Charcoal and pastels are excellent mediums for high school students. These mediums can produce gorgeous art and challenge older students to acquire new or more advanced artistic skills. smile.amazon.com so that a portion of your purchase is donated to GFWC.

Charcoals come in various levels of hardness, usually labeled as "soft," "medium," and "hard." By applying different amounts of pressure, more experienced artists can produce different shades and varying levels of contrast. Rice paper roll blenders can be used for charcoal to blend between values as well. When buying charcoal sticks in a pack, some manufacturers make "white charcoal" for highlights, since charcoal is a very dark medium to use.  Pastels are an excellent choice for exploring new artistic styles, interpreting new subject matter, or drawing on new surfaces. Colored powder pastels may come from various brands, but finding the correct texture is extremely important. If a pastel has too hard of a texture, it will not be able to perform to its full potential. If it is too loose, however, it will be too fragile to use neatly for any drawing.   Put the finishing touches on your club's Youth Art Contest today. If you need to purchase any supplies, consider shopping on

UNICEF Continues Efforts to Help Children in Ukraine  

After several weeks, GFWC Affiliate Organization UNICEF USA remains at the forefront of the humanitarian response for Ukraine and is providing essential services to vulnerable children and families affected by the conflict. To learn more about how UNICEF is working to help Ukraine, view a briefing on the situation provided by the organization last week. Donate today to support UNICEF's efforts and help ensure children have access to clean water, nutrition, health care, education, and safe conditions.

GFWC continues to hold the Women's Club of Ukraine in its thoughts. For continuous coverage on this war crisis, visit apnews.com.

Seize the Moment to Run for the Roses

By Mary Jo Thomas, Capital Campaign Chairman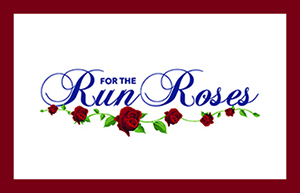 Debbie Bach, Valerie Barnes, Candace Edwards, Yvonne Ford, Caroline Mahaffey, Mary Ann Pierce, and Cathi Poer join me in wishing you a Fabulous Spring!
Valentine's Day, Mardi Gras and St. Patrick's Day are all memories now. Hopefully, you and your clubs used these days to have fun and raise lots of funds for our Capital Campaign, our Campaign for the Future.
Thanks for your donations. As the song says, "we have a long way to go and a short time to get there," as we complete this final phase of this most essential campaign.
To help facilitate our success here are some tips from our team:
YOU can make a difference!
Donate NOW! Your donation can put us over our Million Dollar Goal!
We're betting on YOU! Let's finish the race together and cross the finish line to One Million Dollars.
Do a challenge and give a little thank you gift for all donors. Say we need your help and it's appreciated.
It is not too late for challenges or matching gifts.
Pass a pretty hat at a meeting with all donors being eligible for a prize.
We can do it! We are and must continue to be united in supporting the future of GFWC Headquarters! Let's do it together!
This is it! The time is now. We need YOU!
Donations are accepted until June 28, 2022. However, to be counted and considered for awards at Convention, donations must be received by June 1, 2022.
Let's celebrate our beautiful headquarters' first 100 years as we ensure its future for the next 100 and beyond. Seize the moment; the time is now as our Run for the Roses approaches the finish line. Dig a little deeper, we're almost there!
Women's History Month: Celebrating GFWC Milestones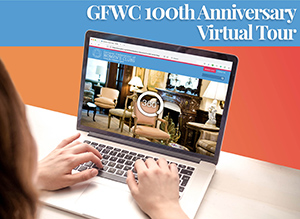 Throughout Women's History Month this March, GFWC has honored the milestones of women and the Federation throughout history and in contemporary society. Although the month is nearing its end, the good times will continue as we celebrate the 100th anniversary of GFWC Headquarters at 1734 N St. NW in Washington, DC. To help us commemorate this exciting occasion, mark your calendar for the GFWC 100th Anniversary Virtual Tour.April 1 through the Member Portal. After you have registered, starting on April 24, you will receive a link to view the virtual tour. The tour link will be active until the end of June. Be part of this fun and informational celebration of the Federation!

Hosted by International President Marian St.Clair, the virtual tour will celebrate the purchase of GFWC Headquarters on April 1, 1922. It will offer an insightful look at the art, culture, and history that makes up this gorgeous home. Registration will launch on

Office Depot Savings Program through March 28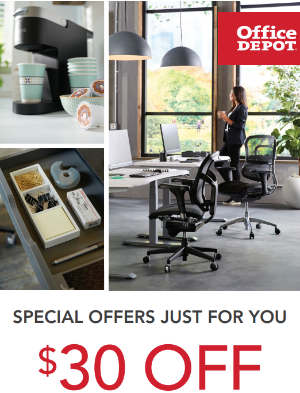 Spring is a wonderful opportunity to break out the cleaning products, get organized, and declutter for a healthier work environment. Your GFWC Office Depot Savings Program can help you rejuvenate your workspace while keeping the essentials needed to stay productive in stock.business.officedepot.com account and save up to 75% off on Office Depot's Best Value List of preferred products, compared to the regular retail price offered on officedepot.com. Plus, you'll enjoy free next-business-day delivery on qualifying orders of $50 or more within local delivery areas. The GFWC Office Depot Savings Program is also offering up to $30 in coupons valid through March 28; these coupons are only valid online and some exclusions apply. Take advantage of this great deal before it's gone! Visit Officediscounts.org/GFWC to shop online through their Office Depot Savings Program.

Open or use your

State Director of Junior Club's Project: Jennifer Hinegardner, Virginia

When GFWC Virginia Junior Director Jennifer Hinegardner was in her early 20s and raising her daughter as a single mother, she was grateful to have the support of her community. From a YMCA day camp to a local childcare center, Jenny was able to receive the help she needed most. During this time of her life, she vowed that when she was able, she would give the help she received back to others. Since then, Jenny has worked hard to improve her situation and is now able to return the favors allotted to her by "paying it forward" through volunteerism and serving women and children. This journey is what inspired Jenny to choose GFWC Virginia Juniors Pay it Forward as her Administration theme.

Although clubwomen are always dedicated to helping others, Jenny's theme encouraged members throughout Virginia to be intentional about their donations of money, supplies, and time to charities in their communities that make an impact and to show enthusiasm for the service they do. Although the COVID-19 pandemic hindered some club activity, members were still able to pay it forward and make a positive difference. Jenny said she heard from many clubwomen in their reports about how they supported those in need during the past two years.

Jenny's theme is symbolized by a circle of colorful hands with her slogan in the center to represent diversity in the Federation. She explained in addition to emphasizing the work clubwomen do to give back to others, she wanted to raise awareness and start the conversation about equality and inclusion in all spaces.

GFWC Marketplace: Emblem Cardigan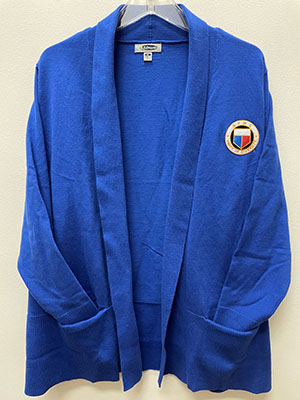 Show off your Federation spirit with the new Emblem Cardigan! This royal blue cardigan adorned with a full-color embroidered GFWC emblem is the perfect accessory for any clubwoman. The open-front cardigan is made of 52/31/17 cotton/acrylic/nylon, and the soft fabric is lightweight and features a fine-gauge knit. The cardigan also includes a turn-back shawl collar, pockets, and rib-knit cuffs. Order yours today.
There could be some mail service delays throughout the pandemic. To speed up processing of your order, we request that you pay for your order at time of purchase in the Member Portal. For information on mail service in your area, visit the USPS Service Alerts page.
GFWC
www.GFWC.org