March 25, 2021
View our Important Dates page for upcoming events and milestones.

Women's History Month: Supporting Our Women Veterans  
By Nancy Greenberg, GFWC Civic Engagement and Outreach Program Chairman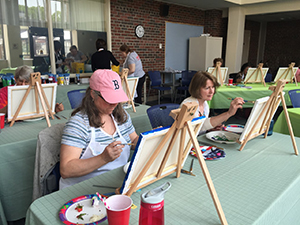 As we near the end of Women's History Month, I am excited to share several stories of how clubwomen have been supporting veterans, honoring the important role they play in our history. Clubwomen have hosted paint socials to create a sense of community while having fun, donated gift cards to assist women in feeding their families, and provided funds to the VA to disburse to women in financial need. There are several other examples of successful club projects that I would like to highlight.
Throughout the year, GFWC Ohio Junior Cyberlinks Club donated in various ways to Veteran's Haven, a house for veterans without homes. They donated food in January, Valentine's Day treats in February, and Easter candy in the spring, as well as bath towels, wash cloths, body wash, clothes, jewelry, and scarves. Also in Ohio, East Springfield Junior Women's Club honored and recognized women veterans in their local area, gifting three individuals with a $100 gift certificate each for a day at the spa.
The GFWC Boise Columbian Club (Idaho) hosted a special project this year for Veterans Day by honoring women veterans at an older adult retirement facility with a British "high tea." This turned out to be a splendid affair and the women were surprised with the attention. Each was given a corsage and seated with a group of club members who visited with them about their lives and their service. Members of the club made all of the refreshments, and the food and drinks served were selected for their authenticity by the club president, who is a member of the Daughters of the British Empire. An additional $300 was also donated during this event.
Lastly, clubwomen hosted a Diaper Drive-Thru Shower for women veterans in New Hampshire, with the event altered to fit COVID-19 safety restrictions. During the event, members drove to an assigned Veterans Affairs medical center to donate boxes of diapers, baby board books, wipes, and baby lotions. In total, $556 worth of diapers, wipes, and books were donated. In a thank you note, the VA Women Veterans Program Manager commented that, "The diapers and books were amazing. We had more than enough thanks to your generous donations. We had over 25 families assisted this year, which was our largest event yet!"
Has your club participated in the Civic Engagement and Outreach Community Service Program Challenge Project: Support and Aid Our Women Veterans? Share your success stories with PR@GFWC.org to be considered for the GFWC Blog.
Spring into Action for the Environment! 
By Karen Martinek, GFWC Environment Community Service Program Chairman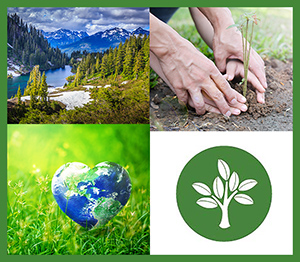 We have survived the winter and now look forward to more sunlight with longer, warmer days. Join these April 2021 celebrations that provide opportunities to recharge through nature and to give back to the environment.
National Parks Week: April 17-25
Visit and volunteer at National Parks. Why are National Parks so important?
They offer recreational value and exceptional beauty.
They serve as natural laboratories that provide many valuable natural resources and scientific investigative opportunities.
They provide a sanctuary for a wide range of species of wildlife and plants. They are the source of rivers, streams, and lakes that hold and clean our water and forests that help absorb carbon emissions that clean our air.
They afford historical and cultural resources available for research by anthropologists and archeologists.
Earth Day: April 22
Earth Day is a global movement to encourage environmental education and volunteerism. This year's theme is "Restore Our Planet." What are the most urgent environmental concerns?
Climate Change – Volatile Weather Patterns
Loss of Biodiversity
Deforestation
Sustainable Foods
Clean Air
Clean Water
Ocean Plastics Pollution
Plastic Usage and Waste
Arbor Day: April 30
Why do we need a day dedicated to planting trees?
Trees purifies the air we breathe.
Trees filter the pollutants from water entering sewer systems, streams, and rivers.
Trees provide shade and cool homes. They are also great wind blocks.
Trees are habitats for birds and wildlife.
Trees increase economic benefits such as home value and retail success.
Trees foster more social and safer environments.
Follow News and Notes throughout April for more information on these celebrations. Mark your calendars and schedule club projects. After completing your successful project, be sure to submit your story with photos to PR@GFWC.org to be considered for the GFWC Blog.
Volunteers in Action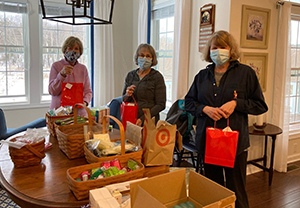 This week's GFWC blog features GFWC Junto Woman's Club (Virginia), GFWC du Midi Woman's Club (Alabama), GFWC Anchorage Woman's Club (Alaska), GFWC Illinois Morris Woman's Club (Illinois), and GFWC Hopkinton Women's Club (Massachusetts). Read about how clubwomen are helping take care of the environment by constructing oyster reef baskets, supporting the efforts of GFWC Affiliate Organization St. Jude Children's Research Hospital, donating funds to local food banks, and helping provide for survivors of domestic violence.
With spring officially underway and the earth starting to blossom and come to life, how are your clubwomen helping to preserve our world's resources and enjoy the nature around them? If you have a success story to share, email PR@GFWC.org.
Fundraising During the Coronavirus Pandemic
By Sandy Phillips, GFWC Fundraising Chairman
During the pandemic, we've learned how to use new technology and to be more creative—both by ourselves and with other members. We've learned processes that we can use after the pandemic.
The following is a list of remote fundraising activities to try, along with the source the idea was obtained from, in case you would like more information.
Rock-a-thon—Spend hours rocking in a chair, moving at all times. The length of time does not have to be in one sitting. Collected pledges will contribute money to your cause. Source: 30+Awesome (& Profitable) PTO Fundraising Ideas for Schools.
Envelopes—Number 1-100 envelopes inside. Have members draw an envelope and pay the amount of money that is written inside the envelope. Source: 145+ Amazing and Free Fundraising Ideas.
Balloon Pop Party—Sell balloons for $10 each. Place slips of paper in each balloon. Place slips for $1, $10, $20, $30, and $100 in select balloons. Most of the balloons would have $1 or smaller amounts on the slips in them. Determine the number of balloons you are going to sell as you would like at least 50% profit. Source: 30+Awesome (& Profitable) PTO Fundraising Ideas for Schools.
Isolation Imagination—Climb the equivalent of Mt. Everest (29,035 feet) using your staircase. Take pledges and receive payment for the cause. Source: www.sueryder.org.
Online Wine Pull—Collect bottles of wine at various costs, $5-$100. Nicely decorate the bottles so purchasers cannot see the name of the wine. Label bottles by number and state if it is red or white wine. Set prices at $25 to $50, offering a payment plan option. Source: 20+ Engaging Virtual Fundraisers for Nonprofits.
Birthday Fundraiser—Have friends organize a party on Zoom. Set it up for attendees to donate money to a cause that the birthday friend chooses. Source: 20 Simple but Effective Virtual Fundraising Ideas for Nonprofits.
Affiliate Organization Webinars Continue with UNICEF USA
Affiliate Organization Webinars will continue with UNICEF USA at 4:00 p.m. EDT on Wednesday, March 31. During this webinar, GFWC members will learn more about UNICEF's history, our historical partnership, UNICEF's efforts to protect children, and how they can get involved, raise awareness, and fundraise.
These webinars are presented live and will include time for Q&A. To register by the March 29 noon EDT deadline, visit Events in the GFWC Member Portal. For ongoing webinar updates, visit the Important Dates Calendar on the GFWC website.
Time Is Running Out: Convention Program Ad Sales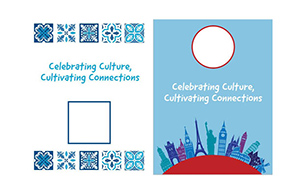 There is only a week left until the April 2 deadline for placing an ad in the 2021 Convention Program! Don't miss your chance to share your love and appreciation for the clubwomen in your life. Whether they're doing a great job as leaders or they've been there for you through difficult times, an ad is a chance to shine a spotlight on them! Design your own full-page, half-page, or quarter-page ad according to the specs on the order form. Or select from one of two template designs, available in either full-page or quarter-page sizes.
Orders and payment for Convention Program ads must be received by April 2 to guarantee space. If you plan to pay by check, we recommend placing your order early because there have been reports of mail service delays in many communities. For questions, please contact Publications & Project Manager Taylor Fussman.
Legislative Corner
The Senate has confirmed most of President Biden's women cabinet nominees: Janet Yellen at Treasury; Gina Raimondo at Commerce; Jennifer Granholm at Energy; Marcia Fudge at Housing and Urban Development; Deb Haaland at Interior; Isabel Guzman at Small Business Administration; Linda Thomas-Greenfield, Ambassador to the United Nations; Avril Haines, Director of National Intelligence; and Cecilia Rouse, Chair of the Council of Economic Advisors. Secretary of the Interior Deb Haaland is the first Native American Cabinet Secretary in U.S. history.
In recognition of Women's History Month, the House of Representatives scheduled votes on key legislation important to women and families.
Child Abuse Prevention and Treatment (CAPTA) programs, if approved by the Senate, would be reauthorized through 2027 under H.R. 485 approved by the House of Representatives on March 16 with strong bipartisan support in a vote of 345-73. State programs will be expanded to include a focus on family-centered services, integrated community services, and a better system to respond rapidly to high-risk cases. A national child abuse hotline will be established. These programs received the equivalent of an extra full year of funding in the COVID-19 American Rescue Plan Act of 2021 enacted March 11. GFWC has long supported these programs through collaboration with Prevent Child Abuse America.
Victims of Crime Act (VOCA) Formula Fix to better sustain the Crime Victims Fund was approved in H.R. 1652 by the House of Representatives on March 17 in a 384-38 vote. Money collected under deferred prosecution or non-prosecution agreements would be deposited into the Crime Victims Fund, which supports survivors of domestic violence, sexual assault, child abuse, human trafficking, and mass tragedies, among other crimes. GFWC utilized the Legislative Action Center in December to support similar legislation.
Equal Rights Amendment (ERA) to the U.S. Constitution, if approved by the Senate, would be ratified by removing a time limit previously set by Congress for the States to ratify the proposed amendment. On March 17, the House of Representatives voted 222-204 to pass H.J. Resolution 17. In 2020, the Commonwealth of Virginia became the 38th state to ratify the amendment. In 1972, the initial deadline was established in the preface that stated the amendment must be "ratified by the legislatures of three-fourths of the several States within seven years from the date of its submission by the Congress." This set the date to March 22, 1979, and Congress has acted once to extend the deadline to June 30, 1982. However, this deadline presents a barrier for ratifying the amendment. Opponents argue that this Congress cannot change the previously set date and the amendment process should start over. GFWC activated the Legislative Action Center in support of the House bill.
Violence Against Women Reauthorization Act of 2021 (VAWA), H.R. 1620, was passed by the House of Representatives on March 17 by a vote of 244-172, devoting resources to local communities by enhancing and expanding prevention programs and services to survivors of domestic violence, dating violence, sexual assault, and stalking. GFWC activated the Legislative Action Center in support of the House bill. Fortunately, domestic violence and sexual assault programs finally received significant new funding in the COVID-19 American Rescue Plan Act of 2021.
Office Depot Savings Program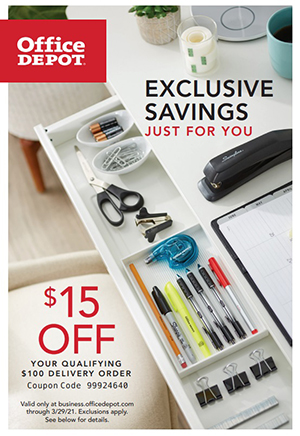 Make spring cleaning a breeze this year by taking advantage of GFWC member savings with Office Depot on all of the sanitizing products you will need to create a safe and healthy environment. Visit Officediscounts.org/GFWC to shop online through their Office Depot Savings Program.
Plus, use the coupons to maximize your savings and enjoy up to $50 off with a qualifying delivery order. Get these deals before they are gone! Coupons are valid through March 29. Exclusions apply, see the coupon for details.
GFWC Marketplace: WHRC Heritage Pin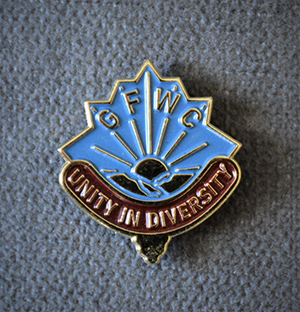 In 1892, the Committee on the Federation Badge Pin was created to design an image that would reflect the aim of GFWC. Appointees included GFWC's founder, Jane Cunningham Croly, and its first president, Charlotte Emerson Brown. The Committee chose the sun's rays and the color blue as elements to symbolize the Federation. The resulting pin, GFWC's original emblem, featured an image of the rising sun in a blue sky above snow-capped mountains with its rays illuminating "GFWC" in block lettering. An upturned, russet-colored banner displayed the motto, "Unity in Diversity."
The WHRC Heritage Pin offers a faithful facsimile of the original emblem on an updated lapel pin with a magnetic back. Proceeds from the Heritage Pin will be used to repair or replace the picture frames that display GFWC's historic collection of International Past President Portraits. Order yours today.
There have been reports of mail service delays in many communities throughout the United States. GFWC staff is processing Marketplace orders as quickly as possible, but Headquarters is still operating with limited staff onsite daily. In order to speed up processing of your order, we request that you pay for your order at time of purchase in the Member Portal. For details on mail service in your area, visit the USPS Service Alerts page.
GFWC
www.GFWC.org