March 3, 2022
View our Important Dates page for upcoming events and milestones.
Now Open: 2022 Convention Registration
By Laurie O'Kelly, Convention and Meetings Chairman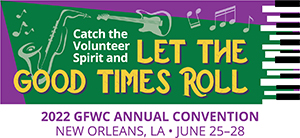 Let the Good Times Roll! Registration for the 2022 GFWC Annual Convention is open in the Member Portal! I am so excited we are going to New Orleans for Convention and I'm looking forward to seeing friends from across the country.
Convention will be at the Hilton New Orleans Riverside, within walking distance of the French Quarter and Jackson Square and about 15 miles from the Louis Armstrong New Orleans International Airport (MSY). Reserve your room through GFWC's room block.
Tour options include Oak Alley Plantation, National World War II Museum, and a Creole Cajun Cooking Demo.
The Official Call to Convention is online only at www.gfwc.org/what-we-do/annual-convention; it is not in the newly-released Spring GFWC Clubwoman Magazine. This allows for regular additions and updates as Convention Agenda details are confirmed, and you will not have to wait until June to see the Convention Program onsite.
Additional Items to Note
Proof of vaccination is required as part of the registration process due to requirements of the City of New Orleans. You'll be asked to upload your COVID-19 vaccination card as part of the registration process.
To print content in the Call to Convention, the desktop version of www.GFWC.org has a toolbar along the right side of the screen (see screenshot below). The top magenta icon of a printer will open Call web pages into a more print-friendly format. PDF documents, such as the proposed Bylaws and Resolutions, will open in a separate window where there is a grey printer icon.
Register for Convention now, and plan to join us in New Orleans June 25-28, where we will enjoy good food, a little jazz, and lots of laughter and conversations. For assistance with registering in the Member Portal, download the Registration Process Guide and watch the how-to registration video on GFWC's YouTube Channel.
I can't wait to see you!
Spring Magazine Available for Download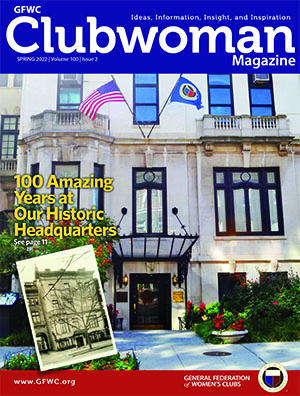 As announced on December 2, the GFWC Clubwoman Magazine is available to all members digitally in an easy-to-print, single-page format. The most current issue is now available on www.gfwc.org under the News & Publications drop-down menu and will be archived with all other digital issues in the GFWC Member Portal's Digital Library, under "C" in the "Clubwoman Magazine" folder. If you receive News & Notes, then you already have a Member Portal profile.
Download the 2022 Spring Magazine and join us in celebrating the 100th Anniversary of GFWC Headquarters residing at 1734 N Street NW in Washington, DC. This issue features articles from International President Marian St.Clair about GFWC's historic home, memorable experiences of International Past Presidents, and a snapshot of the GFWC Headquarters neighborhood during the Gilded Age. The 2021 President's Pick, the GFWC Woman's Club of Denville Rockaway's "Tricky Tray" fundraiser, is highlighted as well.
Cares & Concerns 
We are sad to share the news that Nancy F. Lee, Past Illinois State President (2006-2008), passed away on February 27. Nancy was a dedicated member for many years.
GFWC Fundraising Committee Member T Jablanski's father, Albert Pisani, passed away on February 26. Please keep T and her family in your thoughts.
Volunteers in Action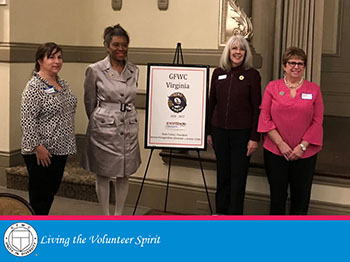 This week's GFWC Blog features GFWC Fowler Progress Club (Colorado) and GFWC Virginia clubs. Read how clubwomen helped organize a healthy relationships program for local high school seniors and attended a Legislation Day to learn more about advocacy efforts and working with legislators.
Have a success story to tell? Email PR@GFWC.org to have your club project considered for the GFWC Blog.
Reserve Your Seat: The Best of Britain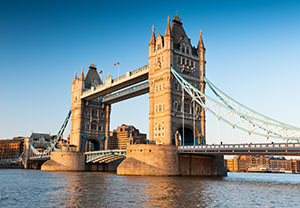 Join International President Marian St.Clair for the "Best of Britain" tour on July 20-29, 2022, a trip that has been rescheduled. "The Best of Britain" tour visits some of President St.Clair's favorite places in England:
Prince Charles' garden at his private estate, Highgrove.
Winston Churchill's artist studio at his country home.
Jane Austen's writing nook in a humble abode in a tiny Hampshire village.
Windsor, a magnificent town on the River Thames.
The rolling hills and honey-colored stone houses of the Cotswolds.
The Weald and ancient forests of Kent and Sussex.
The hustle and bustle of London.
View the "The Best of Britain" brochure for details. There are limited seats left, so reserve your space today. Family and friends are also welcome!
Engage the Child Artists in Your Community 
By Angela Cutrera, GFWC Arts and Culture Chairman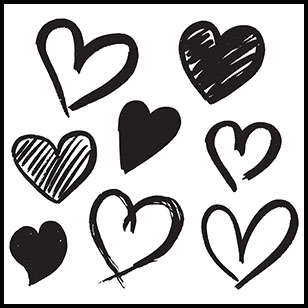 Throughout Youth Art Month, News & Notes will highlight different ways that your club could engage your community in a Youth Art Contest for this Administration's Arts and Culture Challenge Project. Using art is a wonderful opportunity to let children's talents flourish and hobbies come to fruition. All media types should have their own category in a contest, since each one takes a different skill set to master.
Sketches could be one of the most popular media for a youth art contest. There are many options: pencil and graphite, color pencils, pen and ink, watercolor paint, oil paint, acrylic paint, charcoal and pastels, and mixed media. Pencil and graphite are commonly used as bases to start art pieces for pen or paint but can be used alone to create a mesmerizing piece, or just for drawing and doodling. Graphite strengths go from lightest to darkest, or hardest to the softest with 16 levels:
HB (most commonly used and known)
6H, 5H, 4H, 3H, 2H, H, F
B, 2B, 3B, 4B, 5B, 6B, 7B, 8B
For children, HB, 2B, and 6B are the best pencils to use because they are ideal for simple drawings. These pencils allow for variety within a sketch while keeping supplies to a minimum.
Teaching kids to express themselves using art in our communities is one of the best things we can do; it builds talent and character. Your club's Youth Art Contest gives children in your community an outlet for expression and an opportunity to grow personally, and in turn, has a positive impact in their communities.
Plan a Youth Art Contest in your community today, and be sure to submit your success stories to PR@GFWC.org to be considered for the GFWC Blog. For any action-packed photos showing a child's face, please include written consent (an email will suffice) from a parent or legal guardian confirming permission to publish the photo.
Women's History Month: Celebrating a Legacy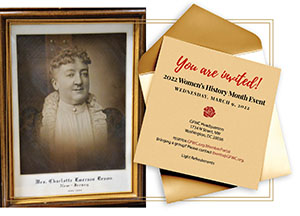 One of the earliest contributors to GFWC's legacy was GFWC's first president, Charlotte Emerson Brown, who was elected as President on April 26, 1890, only three days after the acceptance of the organization's constitution. During Charlotte Emerson Brown's presidency (1890-1894), membership expanded quickly from 63 clubs to several hundred, and grew to representing tens of thousands of women from 29 states. Her motto was "What should be done at all should be done promptly and thoroughly."Wednesday, March 9, at GFWC's Headquarters. You can register to join us for this event through the GFWC Member Portal until Monday, March 7. To attend the Women's History Month Event and reception, proof of full COVID-19 vaccination is required. A negative COVID-19 test cannot be accepted for admittance to the event.

Charlotte was born on April 21, 1836, in Andover, Massachusetts, and died Feb 5, 1895. By the age of 10, Charlotte could read, write, and speak French fluently. She mastered several other languages and studied abroad for years, learning music and modern languages. Later, Charlotte was a teacher and taught modern languages at Rockford Seminary in Illinois. While there, she became a progressive organizer and started her first clubs—a music club and French club. Charlotte's portrait is now one of the earliest in GFWC's collection, and can be seen adorning the walls of GFWC Headquarters at 1734 N St. NW in Washington, DC.  To learn more about the history and to celebrate the legacy of GFWC, attend the annual Women's History Month event from 2:00 p.m. to 4:00 p.m. ET on

GFWC's Thoughts are with the Women's Club of Ukraine 

Conditions in Ukraine continue to worsen now that Russia has launched a full-scale invasion inside the country. For continuous coverage on this war crisis, visit apnews.com.

The Women's Club of Ukraine has been busy teaching first aid and doing what it can to give people hope during these precarious times. GFWC applauds the club for continuing to help its community and is keeping all members in its thoughts.

You can extend thoughts of kindness, unity, and support to the club through its Facebook page.

GFWC Affiliate Organization UNICEF USA is at the forefront of the humanitarian response for Ukraine and is providing essential services to vulnerable children and families affected by the conflict. Donate today to support their efforts and help ensure children have access to clean water, nutrition, health care, education, and safe conditions.

GFWC Affiliate Organization Webinar Series Continues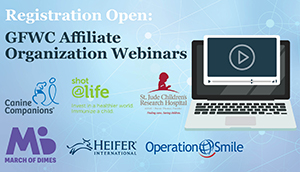 There's still time to register to attend the GFWC Affiliate Organization webinar series, featuring six organizations: Canine Companions, Heifer International, March of Dimes, Operation Smile, Shot@Life, and St. Jude Children's Research Hospital.
Webinars Schedule
The following webinars will be presented live on Zoom by organizations that we work with side-by-side to improve our communities, with time for Q&A.
Operation Smile: Thursday, March 3 at 2:00 p.m. to 3:00 p.m. ET
Canine Companions: Thursday, March 3 at 4:00 p.m. to 5:00 p.m. ET
March of Dimes: Tuesday, March 15 at 2:00 p.m. to 3:00 p.m. ET
Shot@Life: Tuesday, March 15 at 4:00 p.m. to 5:00 p.m. ET
For a listing of webinars and event descriptions, visit Events in the GFWC Member Portal. After selecting the webinar that you wish to attend, click on the blue Zoom registration link within the body text. After completing your registration, you will receive email confirmation that you are registered.
Please note that when you select the webinar in the Member Portal, a blue box on the right side of the page will say "Closed." However, this does not mean you cannot register; follow the above steps with the provided Zoom link.
For ongoing webinar updates, follow News & Notes and visit the Important Dates Calendar on the GFWC website.
Johns Hopkins Webinar March 8
Johns Hopkins Medicine is offering a webinar at 7:00 p.m. ET on Tuesday, March 8, about endometriosis and how it can be a source of severe pain, infertility, and other problems. Join gynecologist Karen Wang, M.D., as she discusses the complexity of diagnosis and treatment of the condition. Visit the Johns Hopkins website to register for this event.
Southern Region: Cynthia Geis, President
The late Nobel laureate Nelson Mandela wrote, "Action without vision is only passing time, vision without action is merely daydreaming, but vision with action can change the world." With these words in mind, GFWC Southern Region President Cynthia Geis chose Putting Vision into Action as her Administration theme. Cynthia said although it is one thing for clubwomen to have a vision or an idea of what they want to accomplish in their communities, they must also develop a plan for how they will bring their ideas to life. Without taking this step, there are only dreams, but when members determine how to combine an actionable plan with their visions for the future, they have the ability to truly make a difference.
When deciding on her theme, Cynthia did not specify one type of project or vision that State Federations and clubs in the Southern Region should focus on, but instead encouraged them to take a closer look at the needs in their own communities and use that information as guidance for creating their plans.
Although the COVID-19 pandemic forced many people to rethink their ideas and plans for the past two years, Cynthia was amazed and heartened by the way clubwomen were able to refocus and continue to support each other and their neighbors. Southern Region members showed persistence and resilience in their ability to find innovative ways to meet and serve the needs of their communities – both locally and globally – through their volunteer efforts. Some examples of this service included sewing and donating thousands of face masks to people of all ages, delivering groceries and prescriptions to home-bound neighbors, and helping with hurricane and recovery efforts across the Region.
Whatever the need and regardless of the conditions, clubwomen have continued to put their Vision into Action.
State Director of Junior Club's Project: Mary Witkowski, Ohio 
It is said that children and infants learn to read from birth to grade three, and from grade three to adulthood, people read to learn. GFWC Ohio Junior Director Mary Witkowski selected Books Nourish the Mind as her Administration's special theme, due to the importance of encouraging literacy and a love of reading at all ages. The initial focus of the theme was on the youngest members of Ohio communities – newborns to children six years of age. Twenty-first century life has moved words from pages of books to the screens of devices, but there are many benefits of early reading programs and reading aloud to children beyond learning language, such as promoting social and emotional development. Mary also chose this theme because books and reading are integral parts of GFWC's Education and Libraries Community Service Program and Epsilon Sigma Omicron (ESO).
GFWC Ohio clubwomen found many new and creative ways to support this theme. Members donated books and supplies to teachers for Read Across America, contributed funds to local libraries for children's programs, established new Little Free Libraries and restocked existing ones, hosted fun reading events, and more.
As the COVID-19 pandemic impacted communities throughout the state, book donations and reading programs were introduced to older readers as well. For example, USO groups were the recipient of paperback books and healthcare workers were gifted selfcare books.
Mary is appreciative of the generosity of Ohio clubwomen in sharing books with children and adults to help facilitate a love for learning through books.
GFWC Marketplace: GFWC Logo Flashlight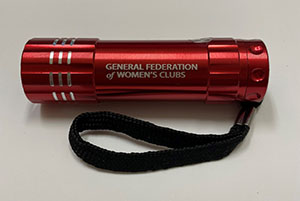 Brighten up your club with the new GFWC logo flashlight! With the GFWC emblem and logo on the side, it's sure to be the perfect accessory. This useful and stylish tool is powered by 3 AAA batteries, which come included with your purchase. Order yours today.
There could be some mail service delays throughout the pandemic. To speed up processing of your order, we request that you pay for your order at time of purchase in the Member Portal. For information on mail service in your area, visit the USPS Service Alerts page.
GFWC
www.GFWC.org