March 31, 2022
View our Important Dates page for upcoming events and milestones.
The Possibilities of a Mixed Media Youth Art Contest 
By Angela Cutrera, GFWC Arts and Culture Chairman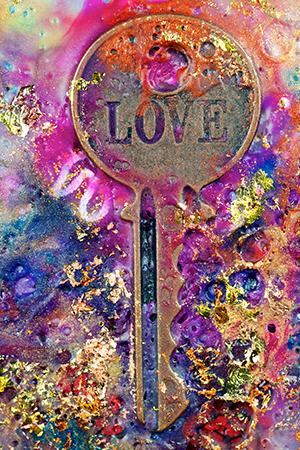 Wrap up Youth Art Month and welcome April with a mixed-media Youth Art Contest! Mixed media is exactly as it sounds. It is the art of using different materials, such as ink and paint, together in one art piece. Using multiple media to create one artwork can inspire many feelings and create a diverse experience for the viewer of the piece. A mixed media Youth Art Contest also provides a wonderful opportunity for your community's children's unique talents to flourish.
Many popular artworks already use mixed media. For example, pen and watercolor are commonly use together in the art world. Mixed media can also include sculptures, which could be a contest option for middle or high school students. Making and painting sculptures requires lots of concentration, but completing this impressive feat could be a very rewarding experience.
Being creative during times of difficulty can alleviate stressors and promote a more peaceful environment in schools. Giving students an outlet to express their sadness, anger, joy, and other emotions through art can greatly help their mental health and artistic desire.
Explore all of the possibilities for mixed media, and put the finishing touches on your club's Youth Art Contest. Let children contribute to your local community's appreciation of art, and share with PR@GFWC.org so other clubs can also inspire new, young artists! For any action-packed photos showing a child's face, please include written consent (an email suffices) from a parent or legal guardian confirming permission to publish the photo.
A Bylaws Committee Report
By Carol Habgood, Bylaws Chairman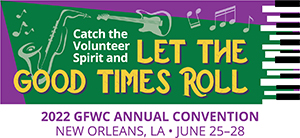 This chairman is honored to serve with the members of the GFWC Bylaws Committee: Becky Weber (Illinois), Joyce DeCunzo (Montana), Brooke Huddleston (Louisiana), and Henri Belcher-Stack (Delaware). Parliamentarian Ida Dorvee serves as advisor to the committee, and Melanie Gisler serves as GFWC staff liaison.
The GFWC Bylaws Committee corresponded via email and Zoom to review the bylaws. There was one proposed amendment received from the Executive Committee. In addition, the proposed amendments that were deferred from 2020 due to the cancellation of the GFWC Annual Convention were reviewed and included in the proposed amendments to the bylaws. The proposed amendments were approved by the GFWC Executive Committee. They will be presented for approval at the 2022 GFWC Annual Convention in New Orleans, and I hope that you will register to attend. The Early Bird Registration deadline is April 30.
The approved proposed amendments are included in the Official Call to Convention.
Cares & Concerns 
Wendy Bowler, GFWC Maine President-Elect, passed away on March 4. Cards and condolences can be sent to her family at P.O. Box 732, Gorham, ME 04038.
Dorothy Crowder, GFWC Washington State President-Elect, passed away on March 26. Condolences can be sent to her family at 9220 Longhorn Loop SE, Olympia, WA 98501.
Volunteers in Action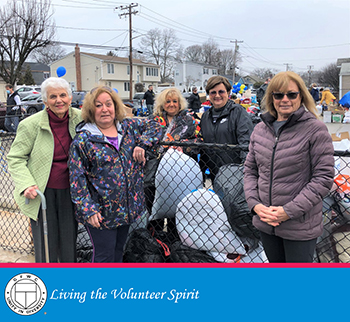 This week's GFWC Blog features GFWC Women's Club of Farmingdale (New York) and North Myrtle Beach Women's Club (South Carolina). Read how clubwomen donated clothing, medical supplies, and non-perishable food for Ukrainian refugees and hosted a Dress for Success drive for young adults entering the workforce.
In recognition of Federation Day on April 24, GFWC is celebrating the long history of clubwomen working tirelessly within their communities to make the world a better place. Through these efforts, GFWC clubs often form long-term partnerships and work with various local organizations to develop projects with a lasting impact. If your club has been working on a project with a local charity or nonprofit for years, send your success stories to PR@GFWC.org to be considered for a special GFWC Blog series.
April 1: Convention Program Ad Sales Deadline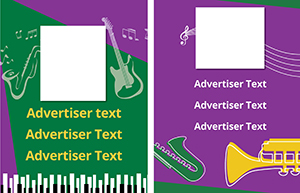 Tomorrow, April 1, is the last day to place an ad in the 2022 Convention Program! Convention brings clubwomen together from across the country to celebrate all of the hard work they've put into their communities. That makes it the prime place to share your love and appreciation for the clubwomen in your life. Purchasing an ad in the 2022 Convention Program, which every attendee receives, is an opportunity to be loud and proud about your club or Federation sisters. Whether they're doing a great job as leaders in this Administration or they've been there for you through difficult times, shine a spotlight on them!
Orders and payment must be received by April 1. Check out our Convention Program ad form to see your options. Submit your form to Publications and Project Manager Taylor Fussman.
UNICEF Continues to Lead Humanitarian Response in Ukraine
Since the beginning of the war crisis in Ukraine, GFWC Affiliate Organization UNICEF USA has remained at the forefront of the humanitarian response for Ukraine. Volunteers are working tirelessly to provide essential services to vulnerable children and families affected by the conflict. Donate today to support UNICEF's efforts and help ensure children have access to clean water, nutrition, health care, education, and safe conditions.
GFWC continues to hold the Women's Club of Ukraine in its thoughts. For continuous coverage on this war crisis, visit apnews.com.
April Convention to-Do Lists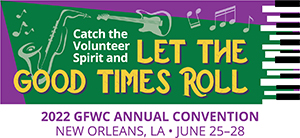 The first step you can take to roll with the good times June 25-28 is to register for the 2022 GFWC Annual Convention. Once you've registered, there are three things you can do this month to prepare for your trip to the Big Easy.
Donate a Raffle Prize
Support the Big Easy Raffle by signing up to make a donation. Submit the Raffle Donation Agreement Form by May 1 to Nishu Raina.
Questions for the 2022-2024 Candidates for Office
During a business session at our 2022 Annual Convention in New Orleans, GFWC will host a Q&A session with the 2022‒ 2024 Candidates in a contested position. We are soliciting thoughtful questions to pose to the candidates regarding their individual experiences, strategic vision for GFWC, and leadership skills. Questions will be selected at random, and the candidates will have two minutes to answer. Please send your questions by email to GFWC Elections Committee Chairman Linda Crish by May 15, 2022.
Book Your Hotel Room
Secure the group rate ($199) of GFWC's room block for one king bed or two double beds. If you book by calling 1-504-561-0500, please reference: group code "GFWC," group name "GFWC 2022 Annual Convention," and account name "General Federations of Women's clubs.
Women's History Month: An Ongoing Celebration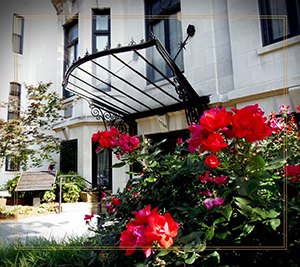 This March, GFWC was excited to celebrate the legacy of its clubwomen through the art and culture that can be found in GFWC's Headquarters at 1734 N St. NW in Washington, DC. Architectural historian, historic preservation specialist, and author Stephen A. Hansen shared information about the history of Dupont Circle and its earliest residents at our annual Women's History Month Event.  Although the month is at its close, we will continue to recognize and honor the dedication, service, and actions of women year-round. Next, we will celebrate the purchase of GFWC Headquarters on April 1, 1922, with a 100th Anniversary Virtual Tour hosted by International President Marian St.Clair! Registration opens on April 1 through the Member Portal, and starting on April 24, those registered will receive a link to view the virtual tour. The tour link will be active until the end of June.
Legislative Corner 
To encourage participation in the democratic process, this monthly column aims to inform members about current legislation and programs that are germane to the GFWC Resolutions. It also highlights important actions of the House, Senate, and White House, and provides follow-up information about GFWC Legislative Action Alerts.
Violence Against Women Act (VAWA) Reauthorization: On March 10, Congress enacted VAWA reauthorization (S. 3623) by attaching it to the must-pass FY 2022 omnibus appropriations bill, H.R. 2741. Many thanks to GFWC clubwomen who participated in the Legislative Action Alerts urging both the House and Senate to support VAWA throughout the legislative process. GFWC International President Marian St.Clair joined advocacy organizations, law enforcement, tribal leaders, Members of Congress, and Administration officials at the White House with President Joe Biden on March 16 to celebrate its passage.  The VAWA Reauthorization Act of 2022 will expand prevention efforts, services, and protections for survivors, including those from underserved communities such as rural communities, and will provide increased resources and training for law enforcement and our judicial system. It will strengthen rape prevention and education efforts, support local rape crisis centers and domestic violence shelters, improve the training and availability of sexual assault forensic examiners, expand access to safe housing for survivors, increase enforcement of cybercrimes, support victims of revenge porn, increase funding for responses to child abuse and child sex crimes, and broaden access to legal services for all survivors.Appropriations: On March 10, Congress enacted the FY 2022 spending bills after lengthy negotiations and agreement to increase spending for domestic programs, defense spending, and support for Ukraine. The President's FY 2023 budget was sent to Congress on March 28. White House Women's History Month Celebration: On March 15, GFWC International President Marian St.Clair attended a White House celebration with President Joe Biden and First Lady Dr. Jill Biden. The focus was Equal Pay Day – the symbolic date signifying when American women catch up to men's earnings from the previous year. The average woman worked an extra 74 days in 2022 to earn what the average man made in 2021. This gap is even more apparent in the challenging economy precipitated by the pandemic. In addition to Cabinet officials, corporate leaders, and advocates, the U.S. Women's National Soccer Team attended the event, having just negotiated an agreement on equal pay with U.S. Soccer in a discrimination dispute.
State Director of Junior Club's Project: Dusty Smith, West Virginia 
GFWC West Virginia Junior Director Dusty Smith chose Opioid Crisis: Be the Change for Babies as her Administration focus. She chose this theme in part to go along with GFWC West Virginia State President Helen Moren's special project, Opioid Crisis/Drug Abuse and Recovery. Dusty was also inspired to select this focus for her Administration after learning that one of her friend's granddaughters was born with Neonatal Abstinence Syndrome (NAS), or a withdrawal syndrome that can occur in newborns who have been exposed to certain substances, including opioids, during pregnancy. When discussing the effects of opioids on the state of West Virginia, the person experiencing addiction is generally the topic of discussion, but not as much emphasis is put on the children who are impacted by their parents' addiction. For this reason, Dusty wanted to help these most vulnerable members of the population.
Dusty encouraged clubwomen to support Lily's Place, a nonprofit organization based in West Virginia that provides medical care to infants suffering from NAS and offers support to families and caregivers. Members could participate by donating money or purchasing items on an Amazon Baby Registry that were delivered directly to Lily's Place. GFWC West Virginia also hosted various baby showers and other events to support this organization. Guidance on how to donate and offer help was provided through newsletters, Facebook, and during conferences.
Despite the challenges brought on by the COVID-19 pandemic, members raised more than $8,900 in funds and in-kind donations for Lily's Place. Dusty is glad her special project brought this serious concern to the attention of other members.
GFWC Marketplace: Juniorette Graduation Cord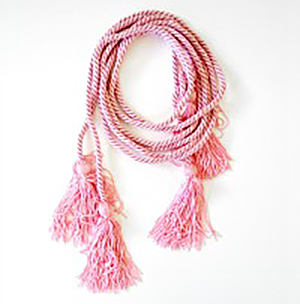 Help your Juniorettes graduate in style with the new Juniorette Graduation Cords available in GFWC Marketplace. These pink graduation cords are a great way to represent members' dedication to volunteer service and making the world a better place. Order yours today.
There could be some mail service delays throughout the pandemic. To speed up processing of your order, we request that you pay for your order at time of purchase in the Member Portal. For information on mail service in your area, visit the USPS Service Alerts page.
GFWC
www.GFWC.org