May 19, 2022
View our Important Dates page for upcoming events and milestones.
Congratulations to Rosie Hidalgo, Office on Violence Against Women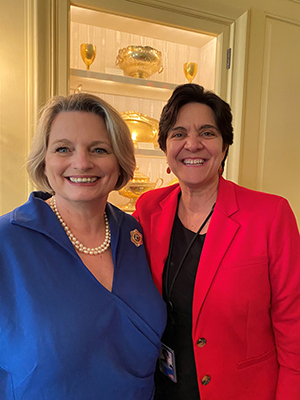 GFWC congratulates Rosie Hidalgo on her Presidential nomination to lead the Office on Violence Against Women at the Department of Justice. Ms. Hidalgo currently serves on the White House Gender Policy Council as the Senior Advisor on Gender-Based Violence and as Special Assistant to the President.
Ms. Hidalgo first visited GFWC Headquarters during the 2016-2018 Administration as a guest of International Past President Sheila Shea to participate in a briefing for the Executive Committee when she served as Senior Director of Public Policy at Casa de Esperanza. Joining the Biden White House in March 2021, Rosie has met with GFWC President Marian St.Clair; arranged for Jennifer Klein, Executive Director of the Gender Policy Council, to speak to the incoming GFWC Board of Directors at Orientation in January; and included GFWC in the March 2022 celebration at the White House of the reauthorization by Congress of the Violence Against Women Act.
Rosie Hidalgo has worked to end gender-based violence for more than 25 years as a national policy advocate and a public servant. She is beloved by the advocacy community and known for her leadership and vision.
GFWC salutes our friend Rosie Hidalgo for her nomination to lead the Office on Violence Against Women at the Department of Justice and wishes her the best during her Senate confirmation.
President's Pick 
By Marian St.Clair, International President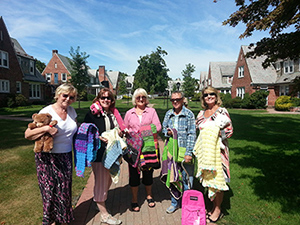 GFWC is proud to share stories each week on the Volunteers in Action Blog about clubwomen making an impact in their communities and around the world. Recently, in honor of Federation Day and Volunteers in Action Week, special emphasis was placed on clubs that have formed long-term partnerships to develop projects with local organizations that have a lasting impact.
One of those clubs was the GFWC Women's Club of Madison (Connecticut), also selected as this month's "President's Pick" for their 22-year partnership with The Village, a local organization that works to build strong, healthy families that protect and nurture children in Greater Hartford. The Village provides critical support to the region around the state's capital by providing a full range of behavioral health, early childhood and youth development, substance use treatment, and other support services for children, adults, and families.
During their partnership, the clubwomen have put smiles on the faces of many children in Greater Hartford by creating and donating more than 1,000 unique, child-size blankets for children who have been removed from their home due to an accident or other incident. "These kids have had tremendous trauma and they are often pulled out of their homes with nothing," Club Treasurer Katherine De Burra explained, "but then they get a blanket that is unique to them and it's really special."
To create the blankets, club members and friends knit or crochet small rectangles throughout the year and then schedule a day to get together to combine the pieces. On occasion, the clubwomen have also donated items such as teddy bears, duffle bags, backpacks, and school and personal supplies.
As the club's mission on its website notes, "We are not known so much by what we keep, but what we share." Indeed! Congratulations to President Patricia Thal and the clubwomen of the GFWC Women's Club of Madison on this exceptional project and their dedication to supporting local children and families.
Cares & Concerns 
GFWC extends its sympathy to GFWC Minnesota State President Jennell Jorgenson-Johnson, whose father, Norman Jorgenson, passed away on May 14. Please keep Jennell and her family in your thoughts.
Volunteers in Action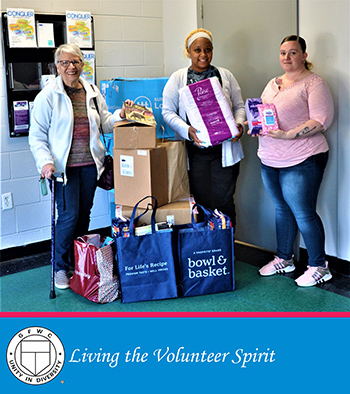 This week's GFWC Blog features GFWC Pennsylvania and GFWC Millville Woman's Club (New Jersey). Check out these stories of how clubwomen donated to GFWC Affiliate Organization UNICEF USA to support their humanitarian relief efforts in Ukraine and provided feminine sanitary supplies to a local homeless shelter.
Have a success story to tell? Email PR@GFWC.org to have your club project considered for the GFWC Blog.
GFWC Offices Closed for Memorial Day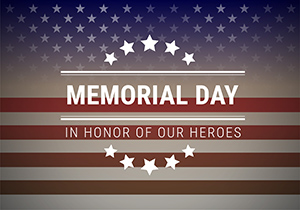 In observance of Memorial Day, GFWC offices will be closed on Monday, May 30. Since registration for  the GFWC 2022 Annual Convention closes on Tuesday, May 31, please reach out with any questions or if you need assistance with your registration the week of May 23-27. You can contact GFWC staff at GFWC@GFWC.org or Events Manager Nishu Raina at NRaina@GFWC.org or 202-628-2478.
YES, You Can Do It! 
By Beth Smith, Health and Wellness Community Service Program Chairman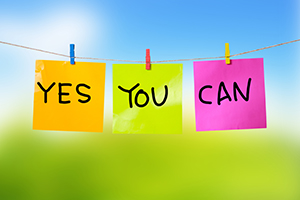 The second letter in our "YES!" mental health series is E for exercise. Exercise doesn't have to be strenuous, structured, or take a long time to have benefits. Do you work in your garden? That is exercise. Do you walk your dog? That is exercise. Do you spend a day cleaning your house? That is exercise.
The key is to incorporate some activity you enjoy into a daily routine. And if you can get outside in the fresh air, that's even better. Why does exercise make us feel better and help our mental health? According to the Centers for Disease Control (CDC) regular physical activity can:
Keep your thinking, learning, and judgment skills sharp as you age.
Reduce your risk of depression and anxiety.
Help you sleep better.
Help you reach or maintain a healthy weight.
Reduce your health risk of developing diabetes, heart disease, and some cancers.
Keep your bones, joints, and muscles healthy.
Improve your ability to do daily activities and prevent falls.
Increase your chances of living longer.
Exercise can distract you from negative thoughts and provide opportunities to try new experiences. It offers an opportunity to socialize and get support if you exercise with others.
Start a weekly exercise group with fellow club members and name it something fun to encourage attendance like "Sanity Session," "Walk It Girl," or "Fab, Fit, and Fun." For variety, members can lead the group in a new activity, you all can meet at a class offered in the community, or you can set up a designated walk at the local park. By creating a scheduled time, members are more likely to add it to their routine. And don't forget to invite your non-GFWC friends to join your club.
Get moving! Exercise is great for your whole body and mind.
Informative and Engaging Affiliate Organization Workshops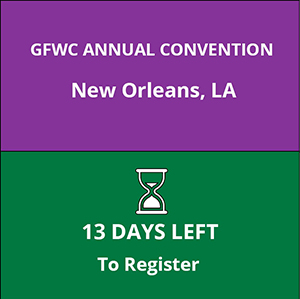 The Affiliate Organization Workshops at the 2022 GFWC Annual Convention offer a little something of interest for everyone. A variety of informative and engaging topics will be covered on how to help make a difference for people around the world.
Shot@Life—Using Your Voice to Make a Difference for Children Everywhere
St. Jude Children's Research Hospital—To Celebrate and Deepen the Engagement Between GFWC and St. Jude Children's Research Hospital
Canine Companions—Making an Impact in Your Local Community: Canine Companions and GFWC
Hope for Justice—Human Trafficking in the United States: The Truth and What You Can Do About It
Heifer International—Investing in Women Around the World
Operation Smile—Our Vision for the Future
March of Dimes—Lead the Fight for the Health of All Moms and Babies
UNICEF USA—Accelerate to Meet the Sustainable Development Goals for Children with the Joint Investment Mechanism
Read more about these can't-miss workshops in the Call to Convention. May 31 is the last day to register for the 2022 Convention in New Orleans, Louisiana. To book a room, use the group code "GFW" (minus the "C") to secure the group rate of $199 at the Hilton New Orleans Riverside.
UNICEF Continues to Support Ukrainian Children and Families 
Several months after the beginning of the ongoing war crisis in Ukraine, GFWC Affiliate Organization UNICEF USA is continuing to provide essential services to vulnerable children and families affected by the conflict. With schools and other facilities being damaged or destroyed, UNICEF has worked with its partners to provide critical health and learning supplies to help keep families safe and allow children to engage in formal and informal education. You can contribute to this humanitarian response by donating to support UNICEF's efforts. Your donations will help ensure children have access to clean water, nutrition, health care, education, and safe conditions.
GFWC continues to hold the Women's Club of Ukraine in its thoughts. For continuous coverage on this war crisis, visit apnews.com.
Techie's Tips: Spoofing Reminder 
You just received an email from a GFWC Officer, GFWC staff, a GFWC sister, or another trusted source asking you to do something strange or unexpected. It might be an urgent request to talk, share private information, or purchase something for them. You're most likely being baited for a response from someone (a spoofer) trying to take advantage.

Without closer inspection, it might be easy to mistake spoofing emails as legitimate:
A name you recognize appears as the sender, but when you hover over the sender's email address it is generic and doesn't match the person's real email address.
It addresses you by name. It may even appear to have the person's signature. Watch out for computer fonts that resemble handwriting!
The content (such as giving to those in need) is relevant to GFWC.
If your email is posted on your club's website for customer service reasons, you should closely monitor for email spoofs. While GFWC cannot prevent your email account from receiving these emails, rest assured that your privacy is a priority. GFWC does not broadcast contact information of members, to be as cautious as possible in the age of the Internet and technology!
GFWC Marketplace: GFWC Navy Face Mask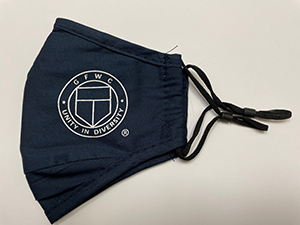 Debuted at the 2021 Annual Convention, the GFWC Emblem Mask is the perfect way to show your Federation spirit while also keeping yourself and others safe from the spread of COVID-19 and its variants. The new solid navy mask has adjustable ear loops and is perfect for everyday use. Order yours today.
For information on mail service in your area, visit the USPS Service Alerts page. To speed up processing of your order, we request that you pay for your order at time of purchase in the Member Portal.
GFWC
www.GFWC.org