May 21, 2020
View our Important Dates page for upcoming events and milestones.

Remember Our Women in the Military This Weekend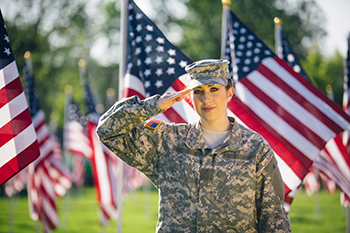 Memorial Day is on Monday, May 25, a day for you and your club to honor the men and women who died while serving in the United States Military. It was originally known as Decoration Day after the tradition of decorating soldiers' graves with flowers. Women in Pennsylvania began this practice as early as 1864 following the end of the Civil War. Soon other states and cities did the same.
Waterloo, New York, held an annual community-wide event beginning in 1866. This led the town to be recognized as the birthplace of Memorial Day by the federal government in 1966. Memorial Day became an official federal holiday in 1971. In 2000, Congress passed a resolution, urging Americans to set aside 3:00 p.m. on Memorial Day "to observe a national moment of remembrance to honor the men and women of the United States military who died in the pursuit of freedom and peace."
Please pause one moment to remember the sacrifice of our valiant military service members. And, remember to submit any observances that your club may be planning while taking social distancing into account to pr@gfwc.org. Your success story could be one of the next features on GFWC's Blog!
Create School Supply Kits for Local Students
Due to the COVID-19 pandemic, many parents have been furloughed and may not have money for their children's school supplies in the fall. Bring the Service Project that was being planned before Convention was canceled to life. Create school supply "kits" for a school near your club!
Below are some steps you can take to help the students in your area before the next academic year.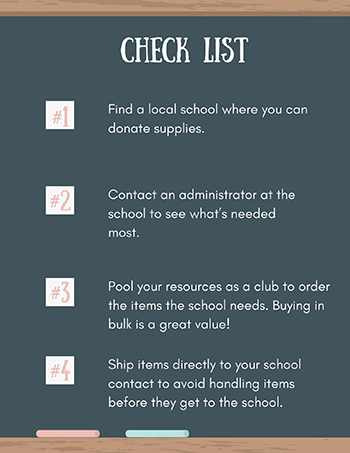 We look forward to seeing what you and your club members can do in your towns!
Cares & Concerns 
It is with great sadness that GFWC announces the passing of GFWC Director of Junior Clubs, Kathy Ferrara (2010-2012). Condolences may be sent to Kathy's sons Robert Ferrara at 125 NE 32nd St. #2210, Miami, FL 33137 and Matthew Ferrara at 24 Remington Drive Apt 10, Freehold, NJ 07728. Please keep Kathy's family in your thoughts during this time.
Volunteers in Action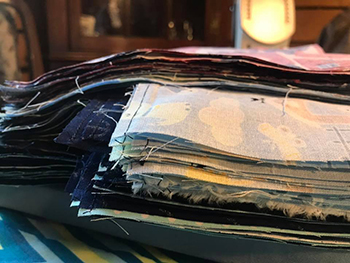 This week's GFWC Blog features GFWC Appalachian Leading Ladies Junior Woman's Club (Virginia), GFWC Newington/Wethersfield Women's Club (Connecticut), and GFWC Waurika Sorosis Club (Oklahoma). Read and comment on their activities providing mask and celebrating graduating students during the pandemic.
Have a success story to tell? Share it with us by emailing pr@gfwc.org.
Headquarters Update
The closure of nonessential businesses in Washington, DC has been extended to June 8. Marketplace orders, pin requests, and other member services that require staff to be onsite to fulfill will remain suspended until Washington, DC reopens. Staff are still working and are available to assist! We hope you'll take advantage of this time to ensure that you have access to the Member Portal. If you are having difficulties logging in, please contact staff Monday – Friday, 9am-4pm, by emailing gfwc@gfwc.org or by calling 202-347-3168.
We appreciate your patience and understanding during this time.
Conserve the Beauty of Our Planet at Home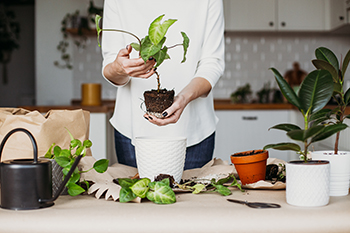 You may be stuck at home, but that doesn't mean you can't enjoy the beauty of the world. Conservation Community Service Program Chairman Angela Cutrera has some ideas on how you can appreciate and take care of our planet while staying safe during this pandemic.
Tour the vast landscapes of a National Park virtually.


Make future plans to design a garden and research all of the fruit tree, vegetable plants, and flower possibilities online.

Research the animals and wildlife in your area. Keep a list and compare with friends for the number, differences, and unexpected! 

Plant an indoor herb garden or terrarium. 

Create art using recyclables. Plastic caps from drink bottles come in many different colors and sizes. 

Design your own deck of playing cards using scrap paper.
Be sure to share your success stories with pr@gfwc.org to be considered for posting on GFWC's Blog! Snap a photo of your club working on a project virtually together and include a summary of your project accomplishments.
State Director's Project: Diana Kleemann, New York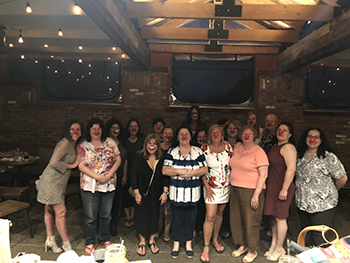 GFWC New York: Jr League of the Women's Club of Farmingdale poses at a club meeting wearing red noses to promote Red Nose Day last year.
GFWC New York Director of Junior Clubs Diana Kleemann has always had a special passion for helping those in need in her schools and community. This Director's theme – "Angels in our Communities" – proves true as she has focused on projects to educate, promote awareness, and advocate for programs which support the welfare of children and teens.
New York Juniors were challenged to support GFWC partnerships and the 2018–2020 Seven Grand Initiatives. To help promote GFWC New York President's Project, Pinwheels for Prevention, Juniors collaborated with their District Director and purchased several pinwheels which were planted in local villages. Junior clubs also raised funds to provide red wagons for St. Jude Children's Research Hospital and donated more than 1,500 pairs of shoes to Soles4Souls. Red Nose Day was promoted in the spring with several members posing proudly wearing red noses to raise funds to help end child poverty.
To align with one of the Grand Initiatives, this Director hosted a luncheon at the State Convention which honored the birthday of Dr. Seuss. Clubwomen rose to the challenge by collecting 350 Dr. Seuss books for local schools and shelters. Fun was had by all when photos were taken with Thing 1 & 2 and a successful Dr. Seuss trivia contest pursued with Seuss-like prizes.
For the final lap of this Director's Administration, Diana has coordinated with March of Dimes to hold a baby shower-themed luncheon at the GFWC New York State Convention in September. This program, "Beanies and Blankies for Babies," calls for collecting baby hats and small blankets for March of Dimes to distribute to military families in need. This Director has been fortunate and proud to lead and represent all Junior clubwomen from New York and will continue to carry on the GFWC Volunteer Spirit and mission going forward!
Parliamentary Pointers: Miscellaneous Facts
by GFWC Parliamentarian Deen J. Meloro

Motions to reaffirm are not in order. According to Robert's Rules, "Such a motion serves no useful purpose because the original motion is still in effect …"

After counting paper ballots, the tellers put the ballots and the tally sheets in a box or bag of some kind and give them to the Recording Secretary. She keeps the sealed container until such time as a recount can still be called for. After that, the ballots and tally sheets are destroyed.

In this highly unusual club year, there are many states that did not have the opportunity to vote on proposed amendments to the Bylaws or on Resolutions. It will be the decision of the 2020–2022 Bylaws Committee and Resolutions Committee whether or not those same items will be brought to the membership next year.

Minutes can be amended at any time, no matter how long ago the meeting was. According to Robert's Rules of Order, "If the existence of an error or material omission in the minutes becomes reasonably established after their approval—even many years later—the minutes can then be corrected …"
Every ten years, a new and updated version of Robert's Rules of Order, Newly Revised becomes available. This year, the 12th Edition is being released. To accompany the 12th Edition, a new version of Robert's Rules of Order, Newly Revised, In Brief will also be available. 
Marketplace: Seven Grand Initiatives T-Shirt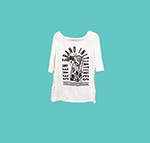 Our GFWC clubs have been doing an awesome job helping to reach our Seven Grand Initiatives goals! Celebrate the projects that you have already completed in style with the GFWC Seven Grand Initiative T-Shirt. With its extra soft cotton and beautiful colors, this might just become your new favorite shirt! Order one at the GFWC Marketplace; your shipment will be sent as soon as Headquarters is able to reopen. 
GFWC
www.gfwc.org